It is often better to convert image files into PDF for better presentation, and online JPG to PDF converters are a great way to do that. However, jpg is not the only image format converted to PDF. Other formats include PNG, GIF, SVG, and BMP. Please read on this article, and we have recommended the top 5 online JPG to PDF converters in the market.
The Best 5 JPG To PDF Converters Online
To help you find the best online and free JPG converters, we have listed the top JPG to PDF converters available on the web. These provide good quality conversions along with some other perks. So, let's dive in:
1. Smallpdf
Smallpdf is a JPG to PDF converter that is available online as well as an app. The software allows you to convert your jpg files into PDF and edit them however you want. It has a very high level of security and will enable you to protect all your data converted to PDF.
It allows you to compress, merge, and edit PDF files. You can upload images from your local storage as well as Google Drive or Dropbox. There is no limit to document size in the app, so you are free to convert files of any size you want.
Let's now look at the advantages and disadvantages of choosing Smallpdf:
Pros
Offers high-level security along with data protection.
Available in iOS, Android, desktop app, and web-based interface.
Allows you to add local storage files along with files from Dropbox and Google Drive.
Cons
Limited features are available in the free version.
---
2. ILovePDF
ILovePDF is a handy tool if you work with PDF files a lot. It offers a gamut of features like signing, filling, merging, splitting, compressing, unlocking, protecting a PDF file, and so much more. You can work on iLovePDF both online and offline, which adds flexibility to its use.
You can work on multiple files simultaneously with its batch processing feature. Moreover, you can connect it to your Google Drive or Dropbox for a more seamless conversion experience.
Here are some advantages and disadvantages of choosing ILovePDF:
Pros
Very affordable compared to other options.
Available in Android and iOS apps.
Intuitive interface and simple to use.
Offers batch processing option.
Multiple file management options.
Cons
Limited processing in free mode.
---
3. Adobe Acrobat Online Tools
You must be living under a rock if you don't know Adobe Acrobat. Adobe Acrobat is one of the widely used PDF readers and editing software. Along with that, it is excessively used to convert files in other formats to PDF.
The most notable feature of Adobe Acrobat is its comprehensive file management tools that will fulfill all your needs. With cloud-based collaboration, you can share and comment on files with your peers, making work easier and quicker.
If you are still confused, consider this list of Pros and Cons for Adobe Acrobat:
Pros
Present in iOS, desktop, and Android apps along with web-based interfaces.
You can store files online or share them directly from acrobat.
Fast and high-quality output.
Offers PDF editing and Conversions.
Allows cloud-based collaborations.
Cons
Does not allow any editing in the free version.
---
4. Free PDF Converter
Another online JPG to PDF converter you may use is Free PDF Converter. It allows you to convert your confidential documents securely. The online PDF converter is free to use and has an intuitive interface that is easy to navigate.
Perhaps the best part about it is that you can download your file anytime till 3 hours after the conversion, after which the file will automatically delete to protect your data.
Here are some advantages and disadvantages of choosing a free PDF converter:
Pros
Files are automatically deleted after 3 hours to protect your data.
Free online JPG to PDF conversion from anywhere.
Cons
Batch processing only in Paid version.
Limited file size for the online version.
---
5. Soda PDF
Soda PDF is the ideal choice if you are looking for an excellent online converter that preserves your document or PG as it is in PDF format.
One of the critical features of Soda PDF is that it allows you to convert files and then edit them with some free editing tools. You can split, merge, annotate and add text to your file before downloading it.
Here are some Pros and cons to look for before you use Soda PDF:
Pros
Preserves the same aspect ratio and orientation as the original image.
Secure conversion to PDF.
Allows you to edit your PDF, including annotation, highlighting, merging, splitting, and so much more.
Cons
Upgraded features like E Sign and Text unlock are only available in the paid version.
---
The Best JPG To PDF Converter For Desktop Users - PDFelement
If you are not comfortable with these online JPG to PDF converters, we highly recommend you try Wondershare PDFelement. Wondershare PDFelement is an all-in-one tool that allows you to convert your files to PDF and also edit them.
All you need to do is select your files or drag and drop them, and it will create a PDF within seconds. You will then be privy to a gamut of tools like annotations.
To convert a file to PDF, follow the steps below. Make sure before starting that you have downloaded and Installed PDFelement from its official website.
Step 1. Locate the file or files you want to convert and right-click on them. Click on "Create PDF" to convert the file/files. And the file will automatically be converted to PDF format and open in PDFelement.
Step 2. You can edit the PDF by adding annotations, highlighting, or text. You can also make it editable or searchable.
Step 3. After you are done, you can save the file by going to "File" then "Save."
Step 4. Save your file once you are done by clicking on the File tab and then Save.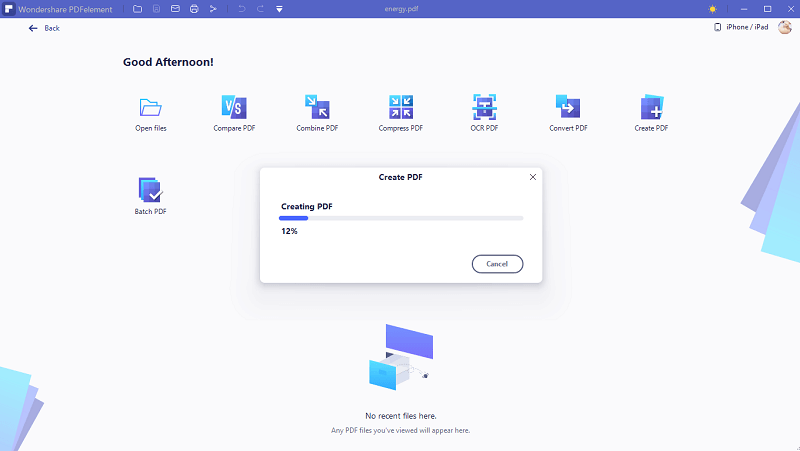 ---
Tips: What is the difference between PNG and JPG files
If you are not a professional graphic designer, then you are probably not aware of the difference between these image file formats.
• PNG stands for Portable Network Graphics, and it is one of the most common lossless image compression formats available. PNG offers exceptional transparency and depth of color that makes it an excellent choice for logos and pictures with fade effects.
• JPG stands for Joint Photographic Group, and they have a lossy compression compared to PNG files. They are mainly used for photography as they have complex shading and colors.
• In short, JPG files are ideal for photography, and PNG files are perfect for images with a bit of text.