More and more people are using mobile devices to process digital documents. And PDF is the most popular file format as it's a stable format that allows you to read text and images the same way across any device. Because of this, you may need a Word to PDF converter App on Android or iPhone for reading and editing. Luckily, this article outlines the top 5 apps to convert Word documents into PDF files directly on your Android smartphone or tablet. And for desktop users, PDFelement Pro will be your best choice.
Top 5 Word to PDF Converter Apps for Android Phones and Tablets
#1: PDFelelemnt for Android (or PDFelement for iOS)
PDFelement is a word to PDF converter free app. This Word to PDF converter App for Android also provides you with various editor tools; it can help you add comments and edit text. It also lets you convert PDF to Word and create PDF documents from other Android apps such as Google Drive, Dropbox, OneDrive, Office, and several other cloud-based tools.

Main Features:
Easily converts PDFs, including scanned PDFs
Edit text in PDF file easily. Change font style and colors without losing formatting.
Import files for conversion from other apps such as Google Drive, Dropbox, File Manager, and more.
Snap a photo and convert any image into a PDF. You are just a few taps away from creating and sharing professional-looking PDFs.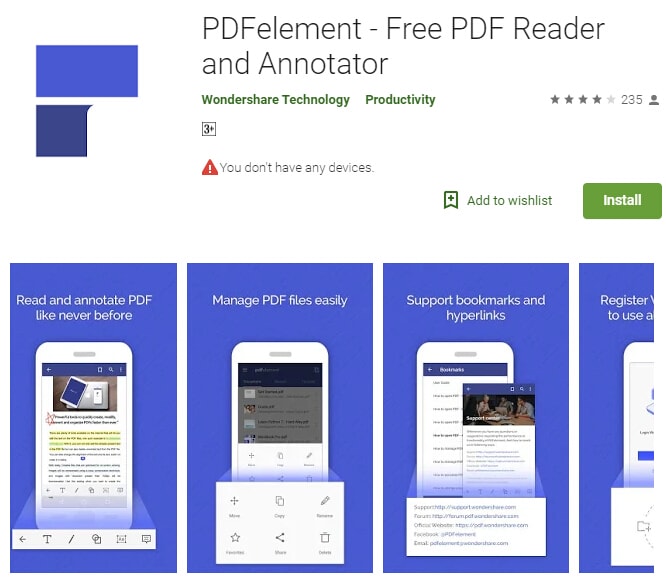 ---
#2: Word to PDF Converter & PDF Creator Online
Word to PDF Converter & PDF Creator Online is an easy-to-use application that converts Word to PDF and PDF to word. This online word to PDF converter accesses your files from your android phone to convert doc to PDF.
Main Features:
Easily convert Word documents to PDF and vice versa in no time.
Enjoy a simple user interface that guides you through converting PDF to doc files.
Supports all document type formats to convert word to PDF.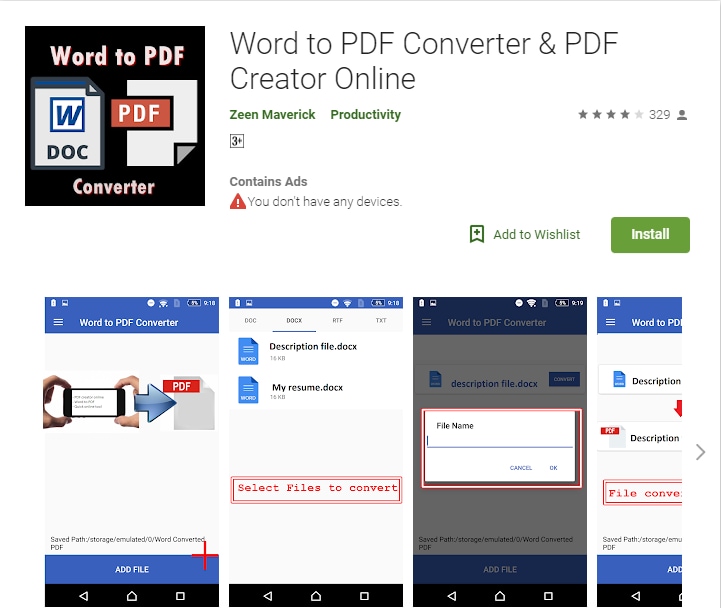 ---
All Files to PDF Converter is another amazing app to convert word to PDF on android. Supported source formats are Word, Excel, PowerPoint, Pages, and Numbers formats. Sadly, this app doesn't support EPUB files like some other converters, but it does support Rich Text Format and Text format documents. This converter also helps you convert your text messages into PDF format.
Main Features:
Convert DOC to PDF, convert PDF to DOC, PDF to JPG, JPG to PDF, and more thanks to this Office Suite Converter.
Supports conversion of videos to diverse formats: GIF, AVI, FLV, MP4, MPG, WMV.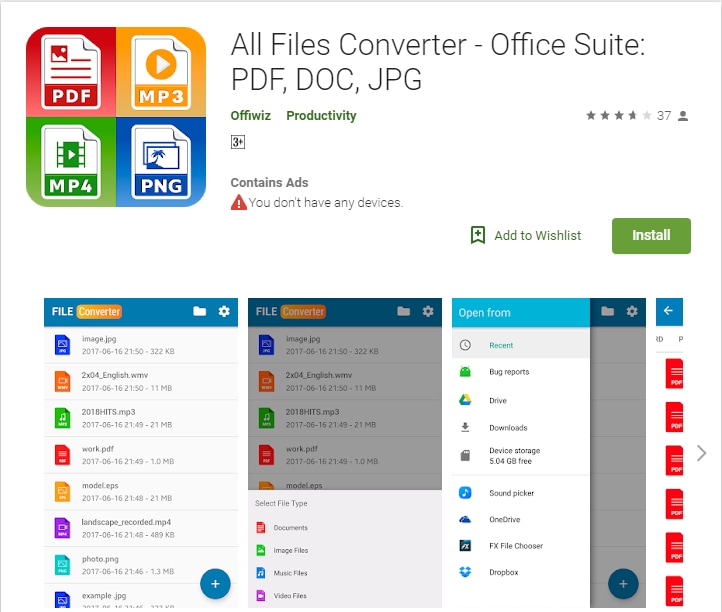 ---
It is one of the great PDF converter apps. PDF Converter will easily convert Word, PowerPoint, Excel, PNG, and JPG documents to PDF format in a matter of seconds. You can share files with any other messaging, mail, or social network application. This app is one of the most popular ones out there, with plenty of good reviews on the Google Play Store.
Main Features:
Convert Word documents easily.
Share the documents you've converted with any other messaging, mail, or social network application.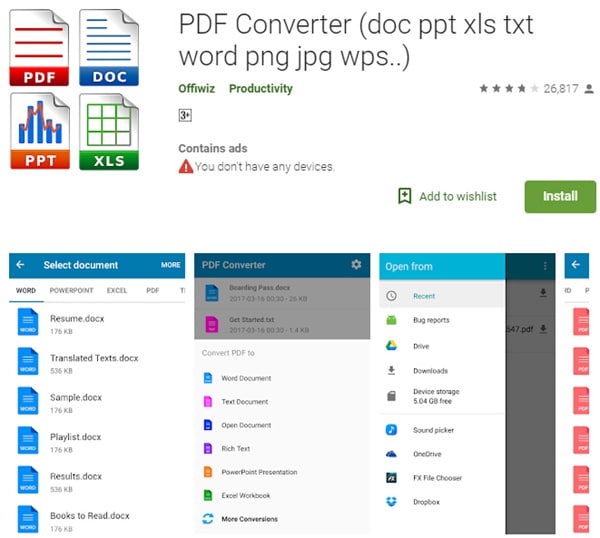 ---
With this app, anyone can easily convert their file to PDF format. Once the file is imported into the app, all you have to do is tap on the conversion symbol and select your conversion output. Note that the file you import must be less than 10 MB in size.
Main Features:
Extremely fast online conversion.
Supports doc, docx, xls, xlsx, ppt, csv, pdf, txt, bmp, jpg, gif, png, tiff files.
High-quality conversion results are quickly sent back to you.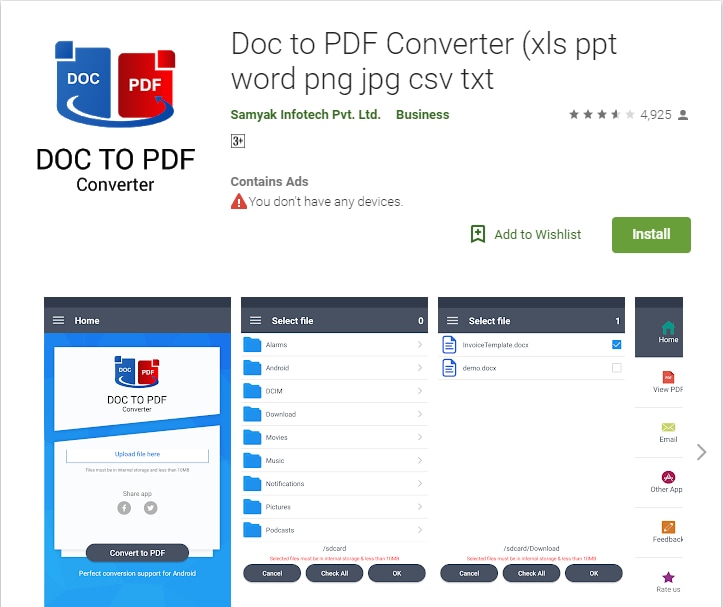 ---
You can use PDFelement for Mac to convert Word, Excel, and PPT to PDF in high quality for desktop users. This program is not only a PDF editor but also a PDF converter and creator. It comes with powerful editing tools allowing you to easily edit, markup, protect, convert, create, and share PDF files.
Why choose this PDF editor:
Convert Word documents to PDF at high speed.
Create high-quality PDF to fit any platform.
Use multiple powerful PDF editing tools.
Easily convert, secure, and share PDF files.