Word and PDF format are both extremely popular and are needed for various purposes and in several cases, a single document can be required to be presented in both formats. Nowadays, many business proposals and other important documents are done using PDF but still Word has its role. Because of this, Word to PDF and PDF to Word conversions are performed by companies and individuals on a daily basis. The increase in demand of this process has led to the introduction of online doc to PDF converters that are availed to all potential clients. Below are the 10 best online doc to PDF converter that you can find useful. If the online converter can't fulfil your demand, please try PDFelement Pro, the best all-in-one PDF converter and editor.
Part 1: Top 10 Best Doc to PDF Online Converter
PDF Online is a popular Doc to PDF online conversion tool in this field since it has the option of converting Doc to PDF and vice versa. It is a free online conversion tool without any major limitations that offers high-quality conversion with no alterations to the formatting. Its fast conversion and simplicity are one of the primary plus points of this tool. All you have to do is to upload a file and it will be converted automatically to your desired format i.e. DOC to PDF without pressing any buttons. The converted file can also be downloaded as HTML.
Cons:
Does not offer batch processing of files, therefore, it's not a reliable option for multiple files.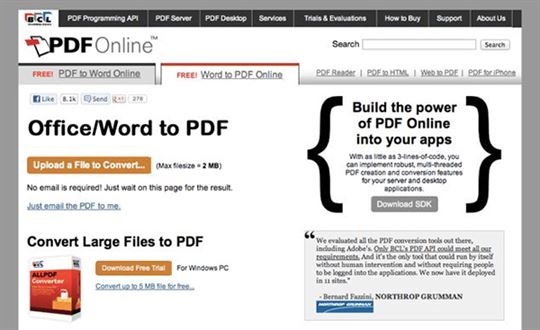 ---
This is a great conversion tool that comes with additional features to convert Doc to PDF online for ease. Small PDF allows you to drag and drop files in its interface to upload or you can opt to select the folder or file with the explorer window. This tool supports only one file at a time. Small PDF also lets you download and upload files to and from Dropbox or Google Drive. Together with reliable conversion, this tool has really good privacy to ensure your document content is safe and secure. After conversion, the document is only stored on their servers for an hour after which it's permanently deleted.
Cons:
Cannot convert more than one file at a time.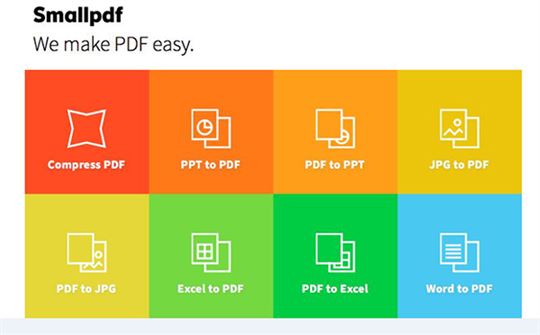 ---
This is a fully featured online converting tool that offers a variety of conversions including from DOC to PDF online and PDF to DOC for free. Convertio lets you upload files from your computer or supported cloud storage and even via URL. This tool supports batch processing, therefore, you have the pleasure of choosing as many documents as you like. The converted files can then be sent to your cloud storage, email or downloaded directly to your computer. Also, if you have multiple files, they can be downloaded in a single zip format.
Cons:
Convert Word documents easily.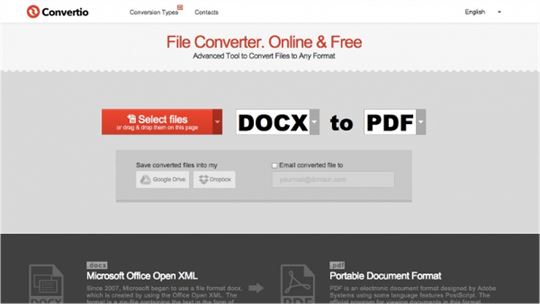 ---
Online2PDF is a document to PDF converter online tool that is dedicated at manipulating PDF files in a variety of ways including DOC to PDF conversion. It gives a simple interface to convert multiple PDF files to DOC and DOC files to PDF files easily. One can both upload the files or drag and drop the files in the interface of the site.
Cons:
You cannot exceed the limit of 20 files.
The files or folders to be converted are limited to a maximum of 50MB.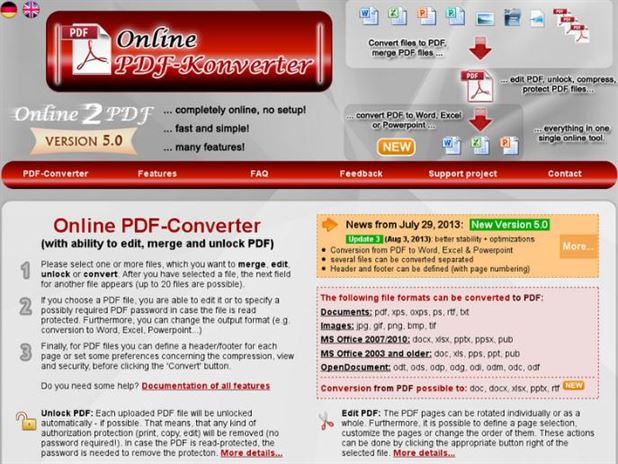 ---
PDF to Word converter is a product of the popular Nitro software company. This conversion tool comes with the least extra features. However, it will allow you to convert both DOC to PDF and PDF to DOC without many complications.
Cons:
Only one file can be uploaded at a time.
You must have an email address i.e. the converted files cannot be downloaded directly to your PC.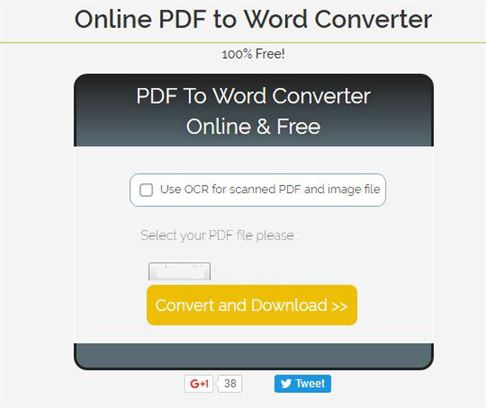 ---
Docs.zone allows you to convert both Word to PDF and PDF to Word with many advanced features. However, this free service is limited and for you to use this tool without limits you have to opt for the premium service that goes for $9.95 per month. This tool has the ability to convert files in batch mode and also offers reliable and fast conversion.
Cons:
you have to pay to accessthe more advanced features.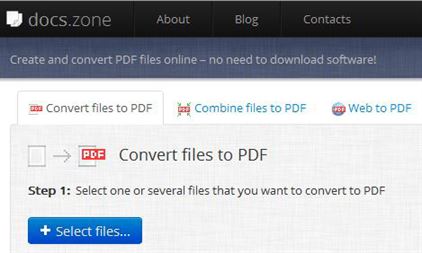 ---
This tool comes with outstanding conversion features but one has to pay so as to enjoy these reliable features and fast conversion. The free version of PDF Converter has a limit on the total number of files that can be converted and also has delayed conversion. However, if you are willing to part with $9 monthly, then you can access all the features without any limitations.
Cons:
One has to pay to access all the features.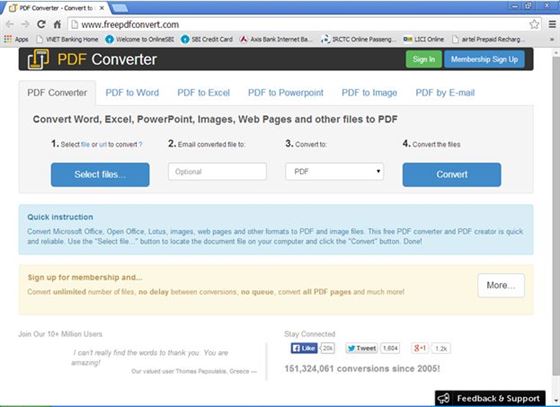 ---
Go4Convert is an online app available for any person in need of a quick way of converting Word files and folders to PDF format. This application has an extensive support for documents, PDFs and texts. IGo4Convert comes in handy for people who use mobile devices like tablets. The program also has the ability of splitting and merging the converted PDF files for you.
Cons:
It doesn't support images.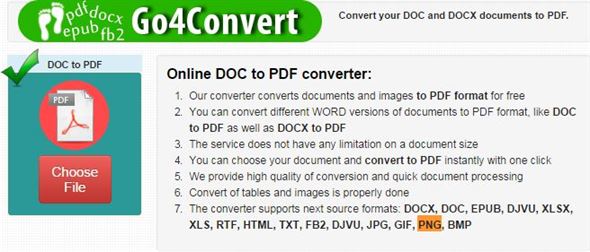 ---
This is a very reliable doc to PDF converter that will allow you to convert DOC format files or folders to PDF format with a lot of ease. You can upload the file by the use of the standard explorer window method and download it on the site.
Cons:
One has to pay to gain access to the advanced features.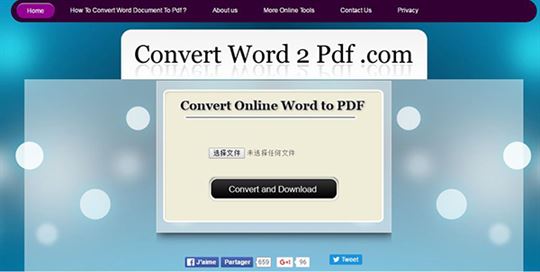 ---
This is another reliable Word to PDF and PDF to Word converter that offers incredible features for free. It converts PDF files to both Docx and Doc formats. This tool also offers fast conversion speeds. Due to lack of servers, the maximum file size limit to be converted is 50MB. The files and folders to be converted are uploaded using the explorer window and the already converted files are downloaded directly from the website.
Cons:
Can only handle a maximum of 50MB at a go.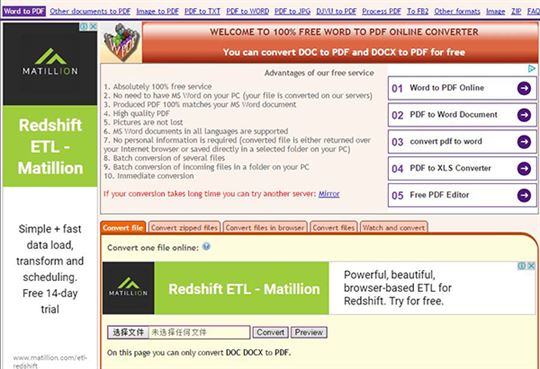 ---
Part 2: How to Convert Doc to PDF
iSkysoft PDF Creator provides you an easiest way to convert DOC documents to PDF format. You can follow the guide below to do this conversion.
Steps to Convert Doc Files to PDF
Step 1. Launch the Program
This tool comes with a full version and a free version. The free version allows you to convert one file at a time and the output PDF is watermarked. You have to download the full version so as to enjoy the full features of this conversion tool.
After downloading the program file, drag it to Applications. The software will only take a few seconds to install. To launch it, double-click on the program icon.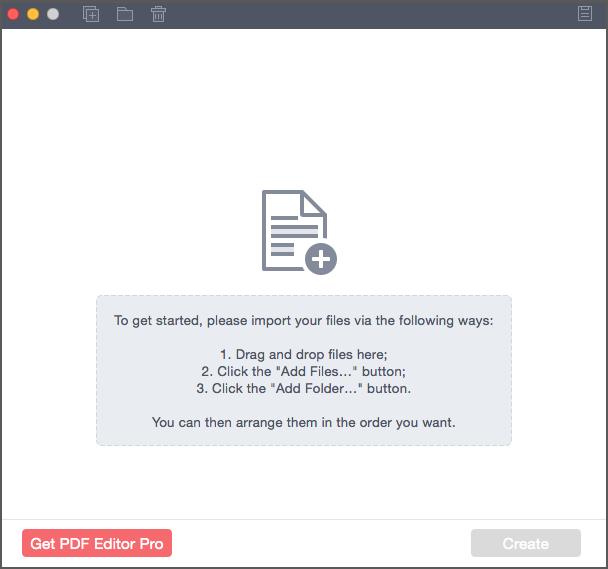 Step 2. Import Files
You can import the doc files to the iSkysoft PDF creator in three simple ways:
Drag and drop the Word folder or files to the main interface of the software.
Click at the add files icon on the top right corner of your screen, select Word files and import them to the program.
Click at the add folder icon then select the word folders files to and upload them to the program.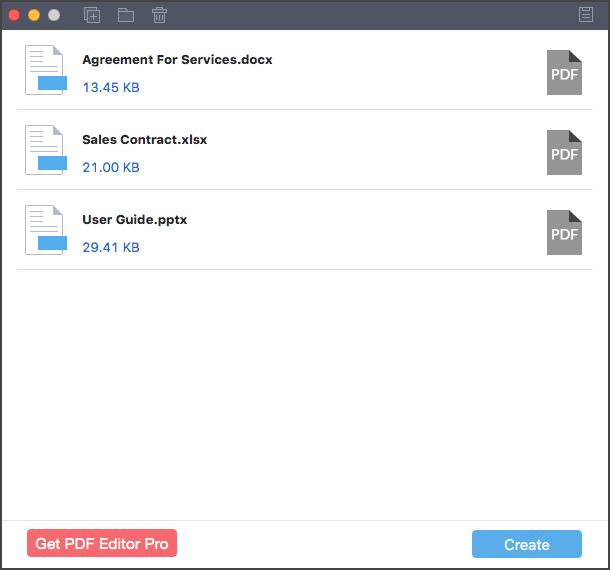 Step 3. Create PDF
After importing the Word files, click on the "Create" button on the bottom right end of the software's interface. Select the destination where the converted files will be saved and then click on the "Save" button to commence with the conversion. Your files will be converted in no time to PDF since iSkysoft PDF Creator for Mac has super fast conversion speeds even for large and multiple files. Once the conversion process is concluded, click the "PDF" button and select the "show in folder" option. here, you will find the output files.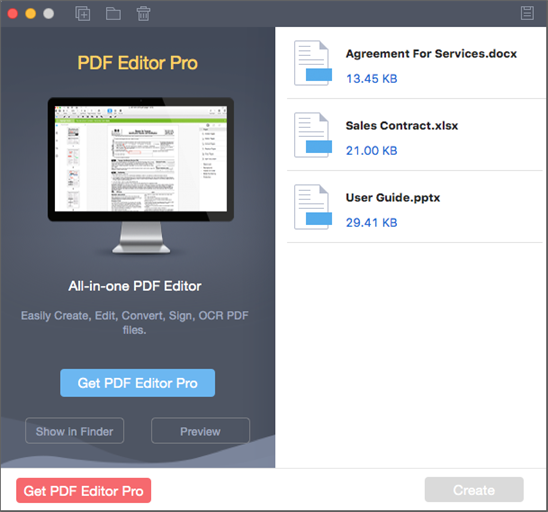 ---
PDFelement Pro for Windows - The Best Doc to PDF Converter
For Mac users, PDFelement Pro for Windows is the best doc to PDF converter. This tool provides you with the easiest and fastest way of converting Excel, Word and PowerPoint files to PDF format in an effective way. PDFelement lets you create high-quality PDF's that are compatible with any PDF reader, PDF editor, PDF converter and other third-party PDF apps.
Key Features of PDFelement Pro:
It supports all Microsoft Office formats.
One can import multiple PDF folders and files and create PDF in batch at once.
Easy to use since you only have to drag and drop the file that is to be converted.
No limitations on the number of files and file size to be converted to PDF.