The Portable Document Format or PDF is one the most popular formats for storage and sharing of documents. Their compatibility across operating systems, ability to work with several Office documents and compact file size are a few of reasons that make it the preferred format.
Now, when we talk about creating a document, a word document created with a word processor is the certain first step. And turning them into a neat, concise, professional quality PDF is the next and current topic of importance. After running through some of the services that convert Word to PDF online, we chose to try Nitro Word to PDF converter online program. Like many other such PDF converters online, we noticed a few problems that need one to think twice before using such a service.
PDFelement Pro- The Best Way to Convert DOC to PDF
PDFelement Pro is an easy-to-master PDF tool. With the help of this tool you can easily convert Word documents to PDF in a high quality and create PDF from other file formats. Apart from PDF conversion, provide this tool multiple editing tools for you to easily edit the content in PDF files, such as texts, images, links and pages etc.
Why Choose This PDF Creator:
High-Quality PDF Conversion – the iSkysoft PDF Creator for Mac delivers a high-quality PDF file and retains the layouts and formatting of the original file. In our tests, we worked hard and failed to find a difference between the file opened in our PDF viewer and our word processor. Promising adherence to ISO PDF standards (ISO 32000-1:2008), the output looks professional indeed.
Batch Conversion – Combining speed and efficiency, the iSkysoft PDF Creator for Mac handles multiple files for conversion. With just a few clicks, the program also lets you create a single PDF document by combining multiple Word files.
Safety and Privacy – The program ensures safety and privacy of your files and follows appropriate encryption that is expected from a professional PDF Creator. You will not have to worry about your files reaching malicious hands or compromising the security of your precious Mac or inviting more junk into your email.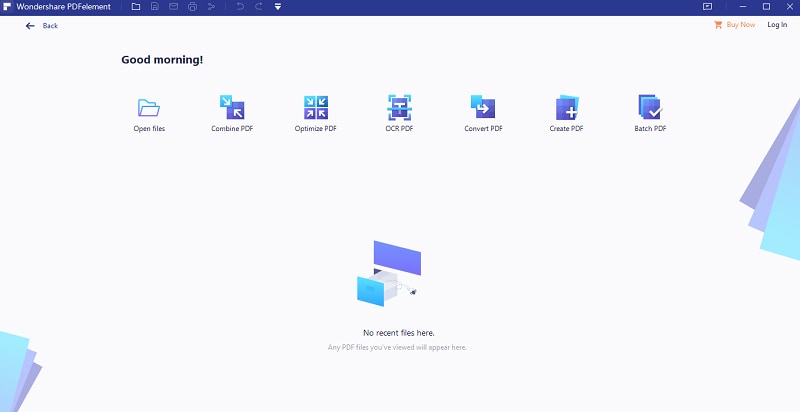 ---
Part 1. Common Nitro Online Word to PDF Converter Problems
1. Safety and privacy of your files.
Word to PDF online Nitro converter does not guarantee the security with the files you upload. There is no way to know if they are exclusive to your access and if there are copies stored online. Your seemingly harmless file conversion could result in you compromising your safety or worse, breaching your organization's safety protocols.
2. Quality of conversion.
The PDF format serves its purpose when a Word file can be rendered as close to the original. However, as is the case with most of the free converters online, Nitro Word to PDF converter does not effectively handle the challenging parts of Word documents: font formatting, tables, frames, markups and such.
3. Conversion of multiple files.
Quite surprisingly and unlike some of the other free services, Nitro Word to PDF converter online does not allow conversion of multiple files. For professionals who have to work on several files, this shortcoming renders the conversion marginal at best.
4. Virus and threats.
Firstly, you need to upload the Word file for conversion. After you convert Word to PDF online with Nitro, you will then have to download the converted file back to your computer. This opens up two unsecured connections. As you can guess, your computer opens itself to virus attacks and other threats online.
5. Ease of use.
The website seems simple and easy to use even if you can manage to ignore the promotional message of their desktop program. However, the need to provide your email address to be able to use the free file conversion is a major beef. Steer clear if you want to avoid more spam!
---
Part 2. Convert Word to PDF with Nitro Online Word to PDF Converter Alternative
The review here is simple, the Nitro Word to PDF converter online is good for the casual, one-time user who wants to upload the file, provide their email address and after a short wait, download the PDF file onto their computer. However, if you are a serious user, who consistently relies on such conversion, needs them done in high quality and in sets, and is concerned about safety, privacy, and security, you will have to get help from PDF Creator Pro. It is a quality Word to PDF converter that addresses the issues with Nitro Word to PDF converter.
Steps to Convert Word to PDF
Step 1. Run PDF Creator for Mac
You can download the Mac PDF Creator easily. To install, drag the downloaded file into "Applications" on your Mac. Then, double-click on the application icon to launch the program.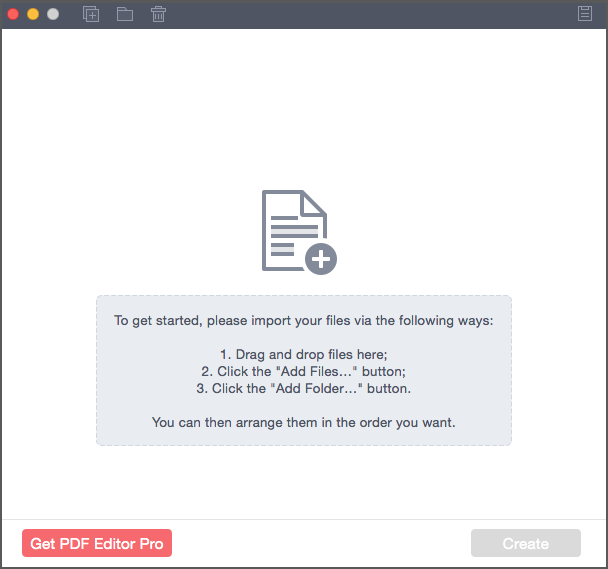 Step 2. Import Word Documents
PDF Creator provides you with three options to add files: drag and drop files to the main interface, or access the buttons on the top left to "Add Files" or "Add Folder" to import an entire folder.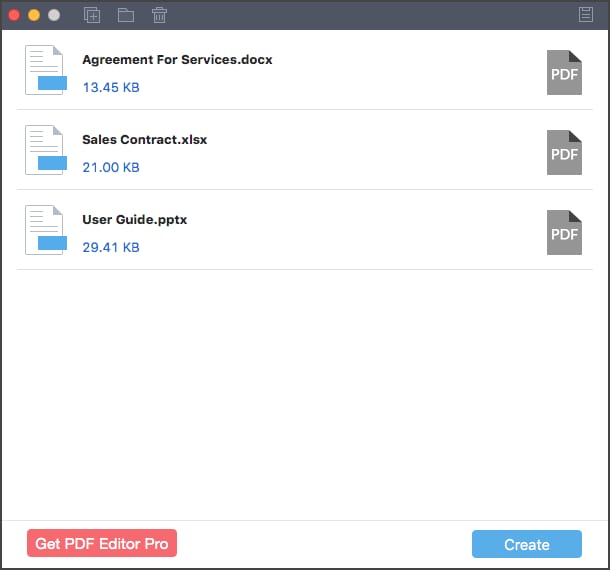 Step 3. Convert Word to PDF
In the final step, click on the "Create" button at the bottom right and choose the location where you would want to save the PDF files. Click "Save" to start conversion. On the final screen, click on the "PDF" icon and then on "Show in Folder" to view the folder with the files converted to PDF format.