PDF or Portable document format are currently becoming the ideal document format and viewer for most people. Word to PDF conversion provides an easy process to create password protected or encrypted documents providing unparalleled security solutions that are not available with other document viewers and formats. However, many people have their documents in Word format with most of them struggling to convert these documents to the better and superior PDF file format.
PDFelement Pro for Windows - The Best Alternative to Neevia to Convert Word to PDF
Where Neevia Document Convertor fails, PDFelement Pro enables you to convert your Word into write protected, password encrypted PDF documents. This is a simple, portable, affordable, and easy to use Word to PDF convertor.
Key Features of This Neevia Alternative
Easy to install and use.
Converts PDF files to Word, PPT and other formats quickly.
Creates high quality PDF files from other formats.
Compatible with all Microsoft Office Word including 2013/2010/2007/2003.
Will convert a 100 page Word document in less than a minute.
Will batch convert unlimited PDF files in a single session.
Will retain up to 100% of the original content and layout.
It is 100% secure and safe from hacking and data phishing and mining.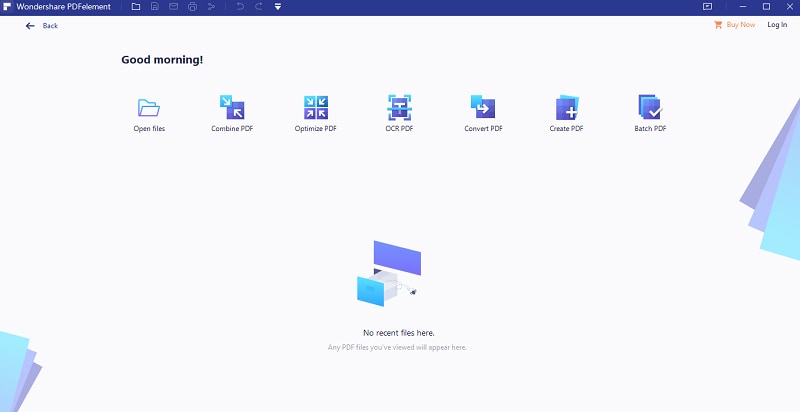 ---
Part 1. Troubleshooting on Using Neevia Word to PDF Converter
Neevia Word to PDF Creator is one of the most commonly used document creator. Developed by Neevia Technologies, this document convertor is popular with legal, insurance, pharmaceuticals, and financial organizations.
Neevia Word to PDF Converter allows you to:
Batch convert Word documents to PDF file format.
Convert multiple documents with ease.
Import multiple documents from the same or different folders.
Interface is not complex to understand for a first-time user and there is no signup required either.
To create PDF documents with Neevia:
You will need to download and install this program on your Mac PC.
Click on the Neevia icon to launch the program then import the Word documents you wish to convert.
Click the 'Create' button to begin the conversion. Then open the outbound PDF files and save them.
Troubleshooting on Using Neevia Document Converter
Failure to convert:
This is normally caused when there is one or more pages that are complex; contain very many vector objects. These pages are easy to identify because the load very slowly. You can remove these pages and upload a test run to check whether the conversion will succeed. You can also simplify the design of the complex pages or flatten them to bitman graphics.
Failure to import:
A common problem with Neevia which is normally caused by loading too many files from different locations on your Mac. Cancel all the uploading tasks and try loading files from the same folder location or one file at a time.
Program failing to run:
This is normal when using a slow Mac PC or when there are too many other programs running at the same time. Close or non essential programs on your PC or try to restart your computer if the problem persists. You can also uninstalling and reinstalling the program.
---
Part 2. The Best Alternative to Neevia to Convert Word to PDF
When Neevia PDF Creator does not work, you can use PDFelement Pro to convert Word documents to PDF in a simple steps.
Steps to Use Alternative to Neevia to Convert Word to PDF
Step 1. Download the Mac PDF Creator
The PDF creator for Mac is compatible with all Mac Operating System. Download the program from the iSkysoft page. This program is compatible with Windows Vista, Xp, 7/8/10. Mac OS X 10.11, 10.10, 10.9, 10.8, 10,7 or 10.6.
Step 2. Install PDF Creator
Install the program file by dragging it to the 'Applications' on your Mac PC. The installation will be completed in seconds. Please note that this program comes with a trial and full version. The trial version is free to download and will allow you to create a PDF file one at a time with the created PDF files having a watermark option. To enjoy the advanced features of the PDF Creator, register for the full version on the iSkysoft page.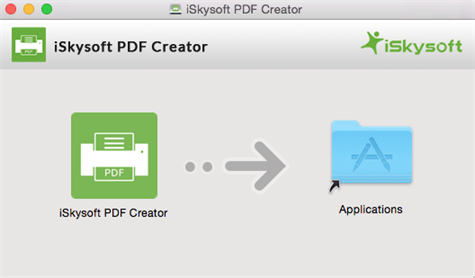 Step 3. Launch PDF Creator
Double-click on the program icon to launch it and convert Word documents to PDF files.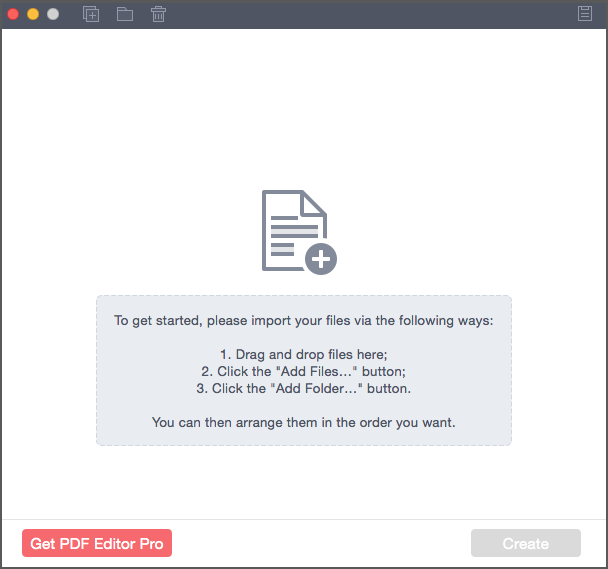 Step 4. Convert Word to PDF
To convert the documents import the documents by:
Dragging and dropping the documents to the program.
Clicking the 'Add Files' button.
Clicking the 'Add Folder' button.
Click the 'Create' button to start converting the Word documents. The PDF conversion will start immediately. You can then open the created PDF files and save them on your Mac PC.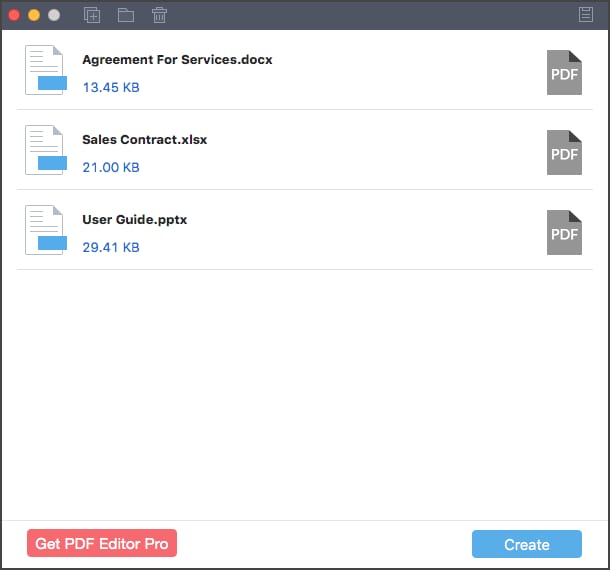 These 4 steps will take you through the steps of converting your Word documents to PDF files. They are easy to follow and the program has a friendly interface that is easy to install and use.
Do not struggle anymore with poor quality programs that ruin your Mac PC and create poor quality PDF files. Get your own copy of the iSkysoft PDF Creator for Mac today. You will get a free trial copy of this program with all features once you register to purchase. You have a 100% money back guaranteed if this program does not meet your expectations. Get your own iSkysoft PDF Creator for Mac today.