When you convert Excel files to PDF, you'll be able to secure and share them with ease. The persons who receive the files will also be able to open, print and distribute them with ease even if they don't have Microsoft Office installed on their computers. In this article, we focus top 10 best and free Excel to PDF converter available on the web, including PDFelement Pro.
Part 1: Top 5 Free Excel to PDF Converter for Windows PC
#1: PDFelement Pro for Windows
PDFelement Pro is without a doubt the best Windows software for creating, converting, editing, sharing and securing PDF documents.
It's all you need to enjoy full speedy conversion like never before. You can convert Excel files to PDF by just uploading them to the program and clicking the "Create PDF" option (single file) or the "Combine PDF" icon, (multiple files). The software supports not only the conversion of Excel files to PDF, but also Word, PPT, image, text, HTML, EPUB and more. You can also create PDF from scratch.
Pros:
The program comes with a mine of editing options that gives you full control over PDF.
You can create/fill PDF files with ease.
It uses the OCR feature to help you copy, edit or convert image-based files.
Cons: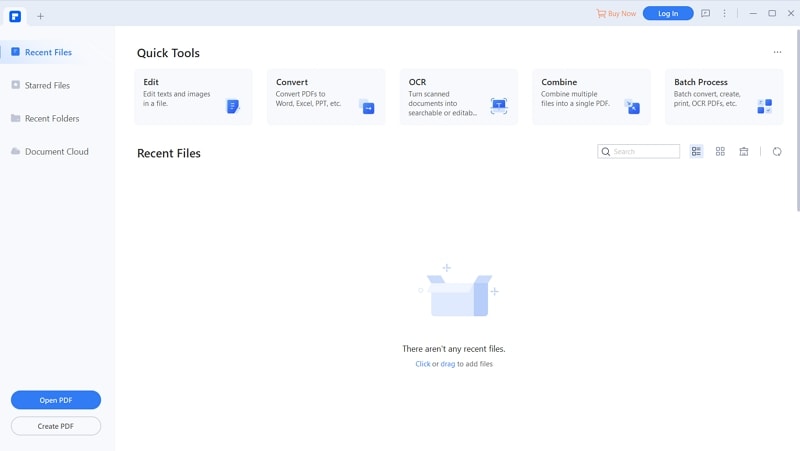 ---
doPDF is a free PDF creator that allows you to convert any type of printable documents, including Excel files to PDF. The program enables you to convert files to PDF by either printing to PDF via the virtual printer driver doPDF or using the doPDF startup window. You can also install novaPDF for Microsoft Office during installation and enjoy one-click conversions to PDF from Office applications (Word, PowerPoint, Excel, Vidio, Publisher and more).
Pros:
doPDF is simple and fast since it barely uses memory or CPU resources when converting to PDF.
You can search for texts within the created PDF.
Supports both the 32-bit and 64 bit Windows operating systems.
Cons:
It has just a few advanced options, and since it's a free software, adverts are allowed.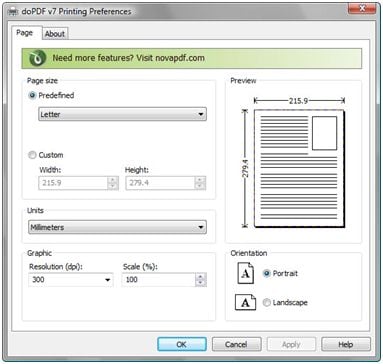 ---
Free PDF Cube is an amazing tool for creating PDF files from all the printable files and images. The software installs as a virtual printer and converts Excel to PDF, Word to PDF ppt TO pdf, image to PDF, XML TO PDF and more without the help of Adobe Acrobat Software or any other third party application. The PDF creation process is simple and involves clicking only one button.
Pros:
You can create PDF from over 600 file types.
After conversion, users can insert PDF file information and even encrypt the file.
Works in batch process for all the supported files.
Cons:
You can't merge files into a single PDF or customize page size unless you buy the pro version.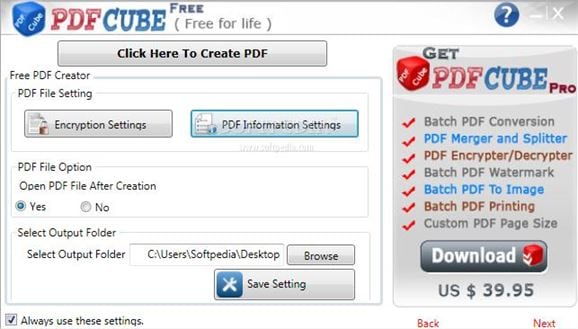 ---
This is a free software that installs as a printer subsystem, enabling virtually all Windows applications(that can print), to convert files to professional looking PDF documents with just a click of a button. It integrates PDF creation ability into any solution, application, service or terminal server environment and more.
Pros:
Despite being a free software, there are no watermarks and no popup web ads.
It creates PDF documents quickly.
Cons:
The program requires PS2PDF converter for successful installation and usage, and Ghostscript is the recommended one.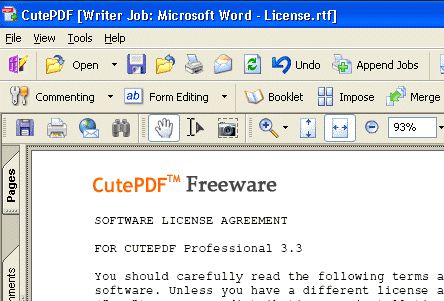 ---
Free Excel to PDF Converter is designed to help you convert Microsoft Excel spreadsheets to PDF in a simple and fast way. It's easy to use since it features a user-friendly interface and the PDF creation process also involves just a few clicks. The software support batch conversion of Microsoft Excel 2000, 2003, 2007, 2010 and 2013 spreadsheets into high-quality PDF format and doesn't require Acrobat Reader, Adobe Acrobat or other third-party PDF readers.
Pros:
The program is available for free download.
It's simple to download and install.
You can merge multiple Excel sheets into a single PDF document.
Cons:
It doesn't have advanced features, which may be a disappointment to regular PDF users.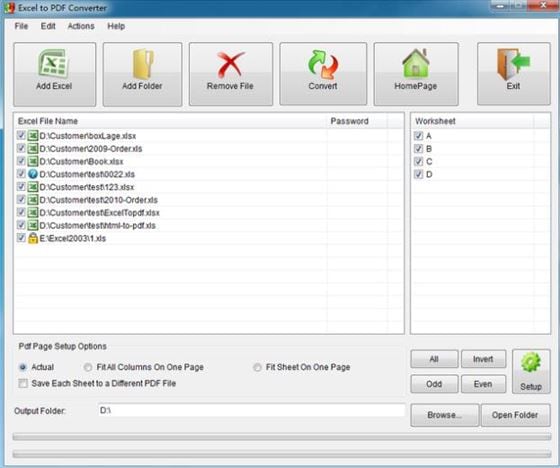 ---
Part 2: Top 5 Free Excel to PDF Converter for Mac (macOS 10.15)
#1: PDF Creator for Mac
If you deal with hundreds of documents on a daily basis, you'll love the super fast conversion speed of PDF Creator for Mac even on large or multiple files. The software allows you to easily convert Microsoft Office files including Excel, Word and PowerPoint files into PDF. It supports all the Microsoft Office file formats, including, XLS, XLSX, PPT, PPTX, DOC, and DOCX.
There is no limitation on the file size or number, meaning that once you install the software on your Mac, you'll be free to import Word, Excel or PowerPoint files and convert them to PDF in batch at once. The output PDFis produced in high quality and preserves the layout and formatting of the source file. In fact, it can work on any PDF editor, PDF converter, PDF reader and other third party PDF programs.
Pros:
The program is extremely easy to use.
It keeps your files private but easy to take and transfer.
You don't have to pre-install Microsoft Office on your Mac to create professional looking PDF.
Cons: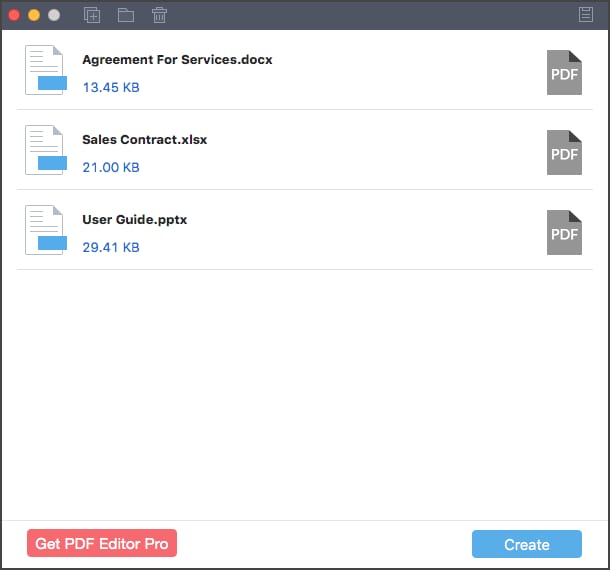 ---
Adobe Acrobat enables you to create Adobe PDF files from Excel Word and PowerPoint in a convenient and efficient way. You can either use the "Create PDF" tool or the Print command in Mac OS. You should know that when you print your Excel to PDF, the program converts your file to Adobe file rather than printing sheets of paper.
Pros:
It is a funtional PDF tools.
Can convert, create and edit PDF.
Cons:
It is too expensive.
The original Office application must be installed on your computer to create PDF files.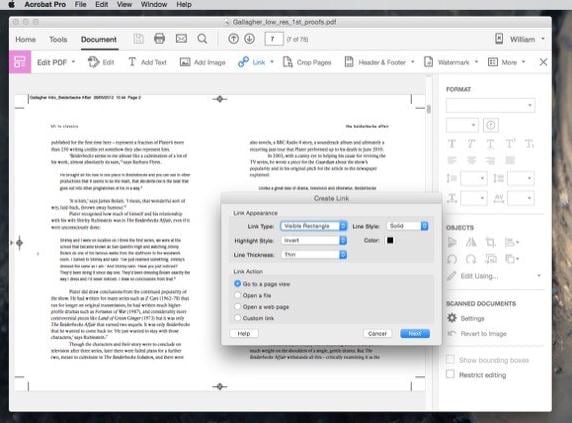 ---
Soda PDF Mac refers to a free PDF reader and converter for Mac OS that can be used to create PDF from popular file formats, including Excel, PowerPoint, Word and more. The conversion process is easy to understand and the program converts your files quickly and accurately. It can also open and print all .ePub, .pdf, .cbz, and .cbr files. You'll also be able to annotate documents, review them and use the underline/strikethrough features.
Pros:
It features a redesigned interface for Mac OS X.
You can use it to read digital books in 3D.
It lets users fill and save forms digitally.
Cons:
A few users have reported that the software crashes, especially if you have opened many applications.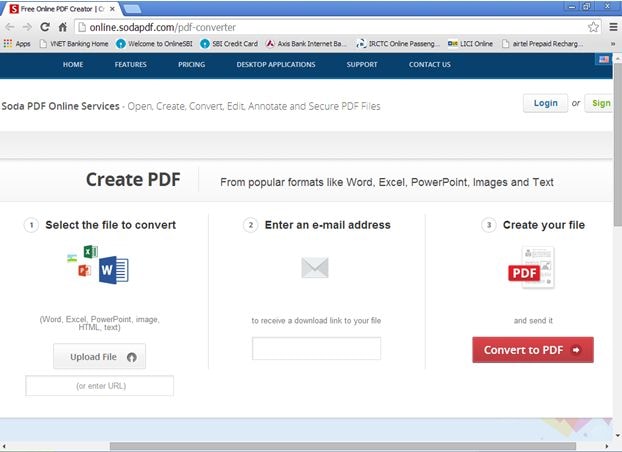 ---
Apple's preview is an excellent app that supports easy viewing and editing of PDF documents as well as images. You can use the program to convert Excel to PDF by clicking on the View> Customize Toolbar and then selecting the print option. The software also comes with multiple editing features that you'll enjoy using.
Pros:
You can share files through email, chats, social network accounts.
The program allows you to add digital image of your signature to PDF documents.
It can be used to fill forms.
Cons:
Come with less functions.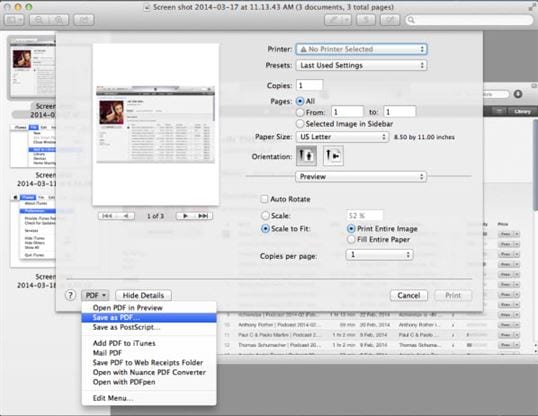 ---
This is a printer driver for Mac OS X that lets you generate PDF documents from any popular format (including Excel) by printing. It doesn't use Ghostscript to create PDF files, but utilizes the internal PDF capabilities for Mac OS X. The output PDF files are stored in the directory/ Users/ Shared/ PDFwriter.
Pros:
Creating PDF by just printing is easy.
There are frequent updates which boost the software's performance.
You can merge files to create one PDF file.
Cons:
It's heavily based on CUPS-PDF, and therefore, the output file size can be large.