Though there are great PDF creators that you can download to create PDF documents, for all those times when you need to make a PDF file on the go, online PDF creator is the best option. Here is a list of the top 10 free online PDF creator.
Part 1: Top 10 Online Free PDF Creator
#1. PDF Online
PDF Online is an easy and quick PDF maker to convert files of different types into the PDF format. The website supports the conversion of Word, Excel, PPT, TXT files and Images files like JPG, PNG, BMP, TIFF, GIF. All you need to do is upload the file onto the browser and wait for the conversion to be complete.
Pros:
The interface is quite simple and user-friendly.
The process of conversion is fast and effective.
Cons:
Only does basic conversion and has no other features.
Documents with images and tables will take long time to load.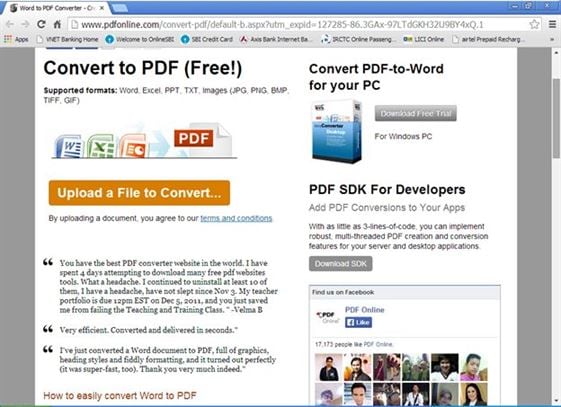 ---
#2. Google Doc
Google Doc is one of the PDF creator online services to create a PDF from other formats. Without even searching for another software you can simply go to Google Docs sign in, upload, edit, upload and convert your file using the "Download As" option.
Pros:
Google Docs can convert any file formats to PDF.
It is easy to handle and operate.
Cons:
One needs to have a Gmail account to access Google Docs.
For larger files the conversion process might be slow.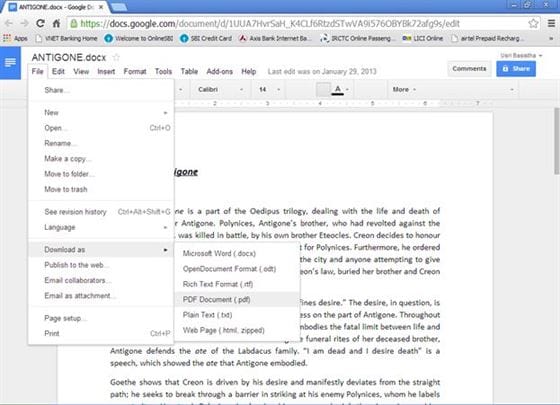 ---
#3. HTML to PDF Converter
HTML to PDF Converter as the name suggests is a very straightforward application. It has a simple interface where you insert your target URL and download the converted PDF file.
Pros:
The application doesn't require users to register to use it.
Any web page can be converted to a PDF file.
Cons:
It offers no opportunities for editing the file before conversion.
It can only convert target URL pages.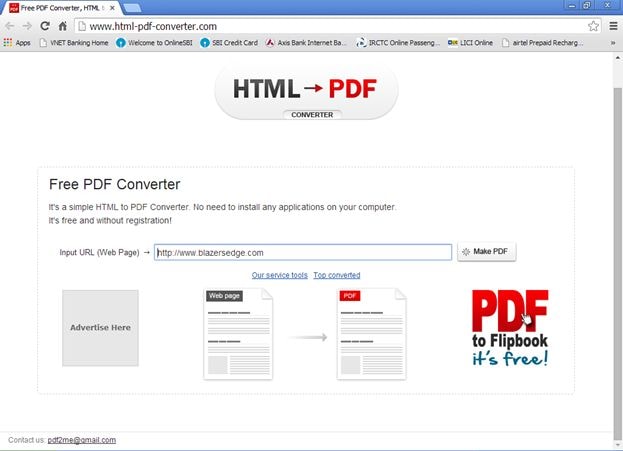 ---
#4. PDF Converter
With the help of this free PDF creator, you can convert common file types like Open Office, Microsoft Office, graphic images, web pages, vector graphics to PDFs. For this you can upload the original file and provide your email address where the converted PDF will be mailed shortly.
Pros:
The application smoothly converts quite a few file types.
Has an easy to operate interface.
Cons:
The converted file cannot be downloaded directly but only via email.
The process may take some time.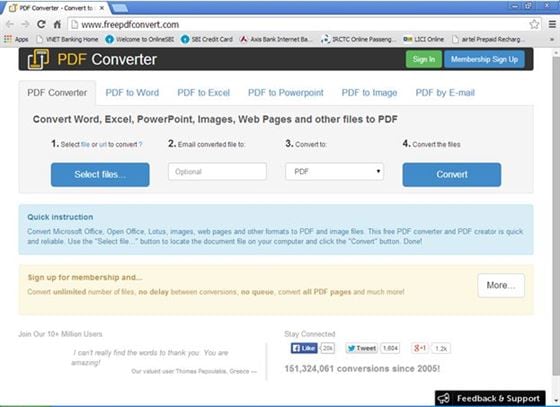 ---
#5. Online PDF-Converter
This online free PDF creator allows you to convert files to PDFs, besides you can also merge or secure PDF files. The file to be converted simply needs to be uploaded and then the 'Convert' button needs to be selected.
Pros:
A plenty of file formats can be converted through this application.
Allows to merge up to 20 files into one PDF.
Cons:
The maximum size of a file that is being converted is only 50 MB.
Not more than 20 files can be merged into one PDF.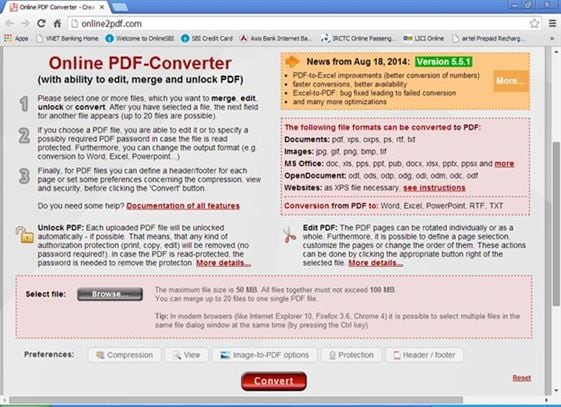 ---
#6. Neevia Document Converter
The Neevia Document Converter is a free PDF creator software that lets people quickly create PDFs out of the common file types, such as, doc, docx, ppt, xls. This program also comes with options of encrypting the PDF files, or watermarking them.
Pros:
The online interface also provides the option of merging multiple PDF files together.
Users can also resize and compress PDF files.
Cons:
The upload limit of every file size is 2 MB.
It will take too long time to convert large files.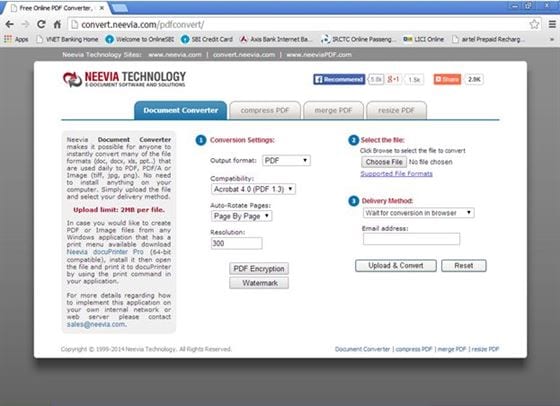 ---
#7. CutePDF Editor
CutePDF Editor is one of the best PDF creator applications that you can upload PDF files and edit them. And it lets you convert scanned images into PDFs, besides numerous other PDF editing provisions.
Pros:
Permits users to merge multiple PDF files into one PDF document
Comes with the facility to reorder, extract and duplicate pages.
Cons:
Only scanned images can be converted to PDF.
It comes with a separate control panel.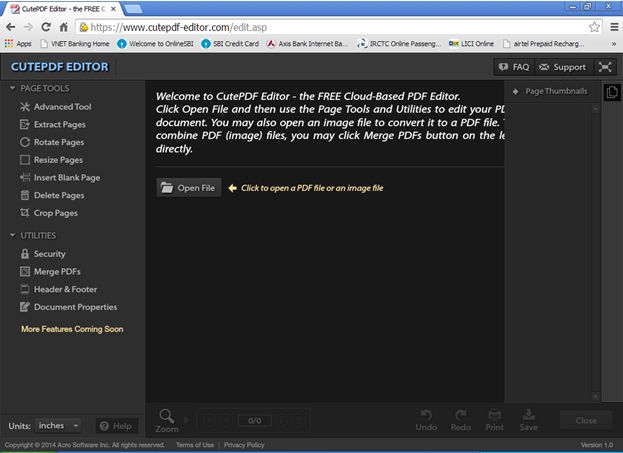 ---
#8. PDF24
This online free PDF maker creates PDF documents from a long list of file types online, like html, doc, dot, jpg, jpeg, png, xls, xlw, xlt, ppt, pps, odt, ods, rtf etc. The interface need not be installed to convert files.
Pros:
Can convert a large variety of file types.
The PDF creation is carried out on the browser.
Cons:
Cannot edit the PDFs that are created.
The converted PDF is only sent via email.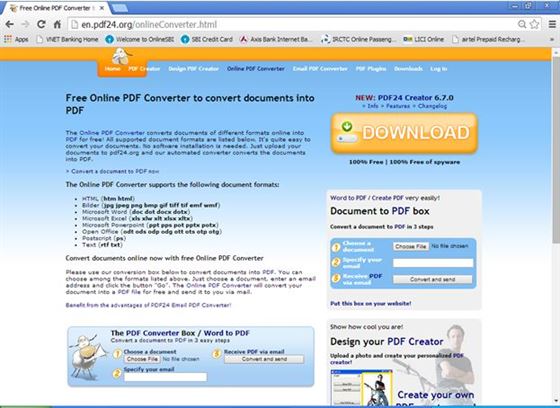 ---
#9. PDF Burger
PDF Burger is a very popular and simple online free PDF creator to convert common file formats into PDF. It lets the user convert multiple files into one PDF besides also letting users convert web pages to the PDF format.
Pros:
No limit on the file size of the uploaded document.
Can also convert PDF files into Word documents and Images.
Cons:
Cannot edit the PDF files that are created.
Can't password-encrypt PDF files.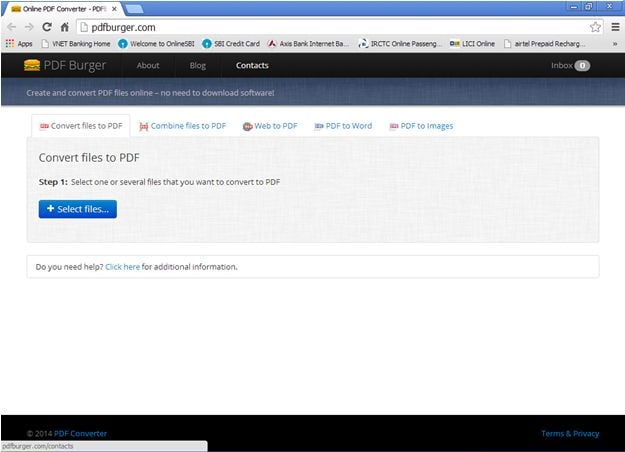 ---
#10. Soda PDF
Soda PDF is an online free PDF creator that converts files of the popular formats like doc, xls, ppt, htmt, txt and images. It also functions as a PDF reader and converter.
Pros:
It converts files of all the popular formats into PDF.
It has a simple and easy-to-use interface.
Cons:
It can't let users edit PDFs as of yet.
The converted PDF reaches the user via email.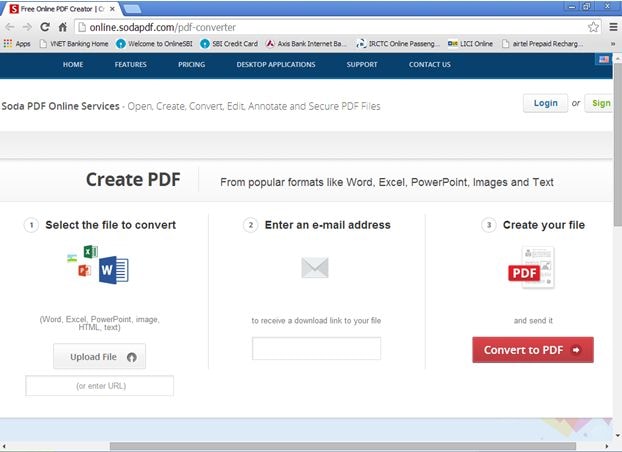 ---
PDFelement - The Best PDF Creator
PDFelement Pro is a multi functional PDF creator. This PDF creator make it easy for you to create PDF files from Word, PPT, Excel, blank page and other file formats. You can also use this tool to create fillable PDF form easily. If you are interested in the features of this PDF creator, then you should take a look below:
Edit PDF texts, images, links, pages and other elements with multiple PDF editing tools.
Markup PDF and add watermark to PDF easily, easy to add digital signature to PDF document.
Convert the PDF into a format as Word, PPT, Excel, Pages, HTML, RTF and images. Split or combine PDF files with ease.
Create forms, or you can fill them out with PDF editor. Extract data from PDF form easily.
Possibility to set and remove passwords and watermarks for your PDF files. Redact the sensitive content of PDF documents.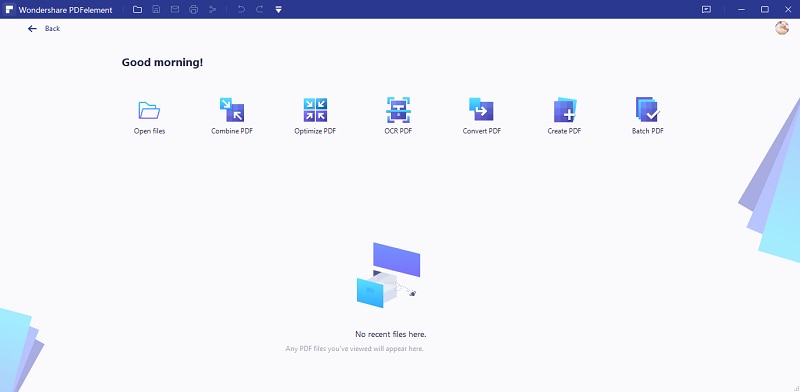 ---
Part 2: How to Choose the Best PDF Creator to Create PDF Files for Free
| Features | Conversion of Word, Excel, PPT or HTML files to PDF | Edit PDF Documents | Secure PDF with Password | Easy Mark-up and annotation of converted PDF | File Size Limitation |
| --- | --- | --- | --- | --- | --- |
| PDFelement | | | | | Unlimited |
| PDF Online | | --- | --- | --- | 5 MB per file |
| Google Doc | | | --- | --- | 2 MB per file |
| HTML to PDF Converter | Only HTML | --- | --- | --- | Unlimited |
| PDF Converter | | --- | --- | --- | 80 MB per file |
| Online PDF-Converter | | --- | | --- | 50 MB per file |
| Neevia Document Converter | | --- | | --- | 2 MB per file |
| CutePDF Editor | Only scanned images | | | | Less than 5 MB per file |
| PDF24 | | --- | --- | --- | 5 MB per file |
| PDF Burger | | --- | --- | --- | Unlimited |
| Soda PDF | | --- | --- | --- | Unlimited |