The PDF format has become one of the most popular ways of distributing documents, books, magazines and all kind of written material. Important papers, such as research findings are distributed in the format. Your favorite magazine or book is also distributed in this manner. When you want to highlight or make notes on part of the PDF, you cannot do so unless you have a good PDF annotation tool. The fact that many people are now using their Smartphones to read these documents means that they need an PDF Annotator for Android. With this app, they can read their PDF document and make small notes or highlight important areas. Here is a list of the top 10 PDF Annotator for Android. If you need to use PDF annotation app on all platform - Windows, Mac, iOS and Android, you can try PDFelement Pro.
Part 1. Top 6 PDF Annotator for Android
1. PDFelement for Android
This is the best PDF annotation app for Android that you can use to read, annotate and manage PDF files on the go. The beauty of the program is that you can annotate the text in the document. You can write notes and comments and also highlight the text in color.
Pros:
It is easy to use and the annotation can be erased.
The user interface is wonderfully clean.
The app helps you combine different format files into a new PDF.
It avaliable on Windows, Mac, iOS and Android.
Download PDFelement for Android >>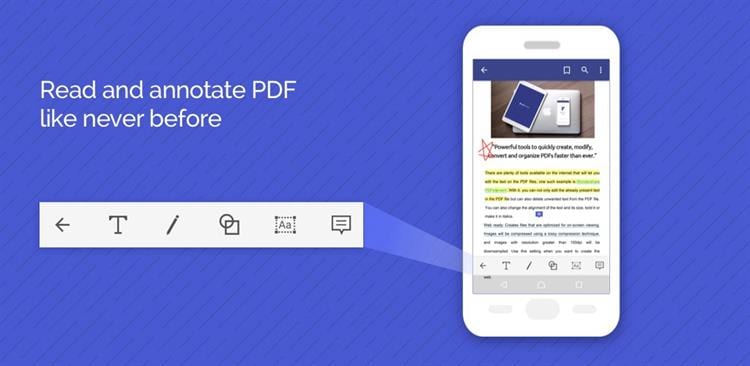 ---
2. PDF Reader Pro
PDF Reader Pro is a book reader allows reading books for free and offline in PDF, EPUB, WORD, EXCEL, PowerPoint, Image, TXT. With a light, clean and easy-to-use interface, it has become one of the best annotation tools for PDF on Android phones.
Pros:
It can circle, underline, highlight and write notes, freehand, on PDF files. Al you have to do is write or draw on your screen.
Users can customize any PDF, add signatures, text, and stamps with the free application.
Cons:
The Android version is not as good as the iOS version.
Hard to search file system, can't organize PDF documents.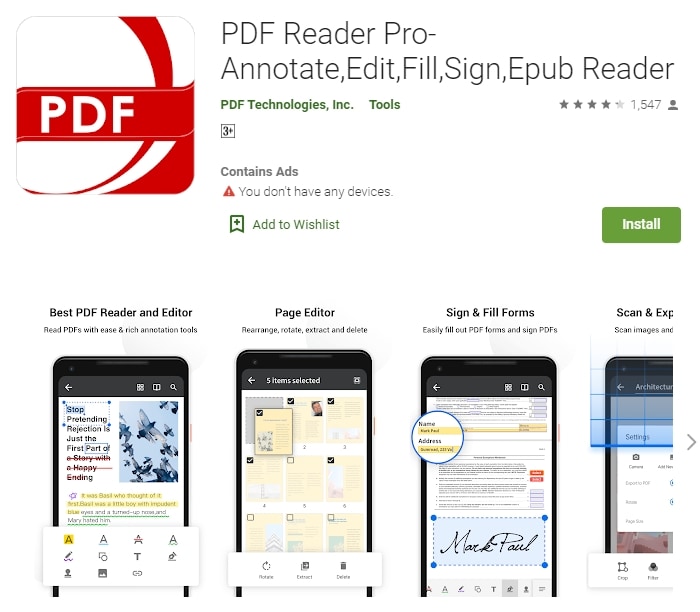 ---
3. Xodo PDF Reader
Xodo PDF Reader is the perfect annotation app for Android and reader that you can find for Android. It has a lovely user interface and is designed for this purpose. You can add signature, annotate, fill forms and collaborate using this tool.
Pros:
Fills in forms and allows collaboration.
Easy to highlight text.
There are several annotation tools that you can use.
Cons:
The PDF files must be downloaded to your internal memory and not SD card or else the tool will not read them.
Sometimes, it will suddenly go black and then crash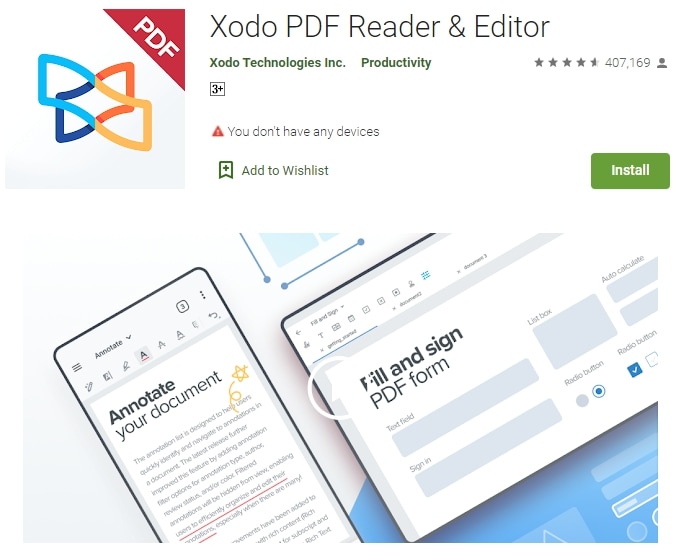 ---
4. Adobe Acrobat Reader
This is the popular Adobe Reader, but for Android phones. It allows you to annotate the text on your mobile device. The annotations can be saved on the PDF file, and then later removed. It also has a search function which you can use to find your annotations if you are going through a large document.
Pros:
It is fast and simple and has excellent PDF annotation app.
Cons:
It can be fussy when it comes to file names.
Download Adobe Acrobat Reader >>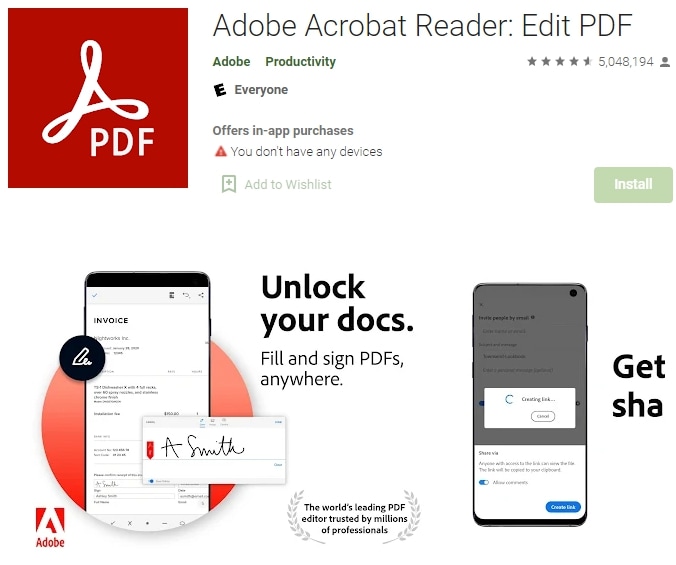 ---
5. PDF Reader
This is a PDF reader and PDF annotator that allows users to annotate and edit PDF files. It supports different format to reading, such as PDF, text, ePub, and image file formats. When reading books on Android, users can add predesigned stamps, including Approved, Sign Here, Confidential and more.
Pros:
Apart from annotating files it can also edit them.
Great interface and user experience.
Cons:
Shows too many advertisements.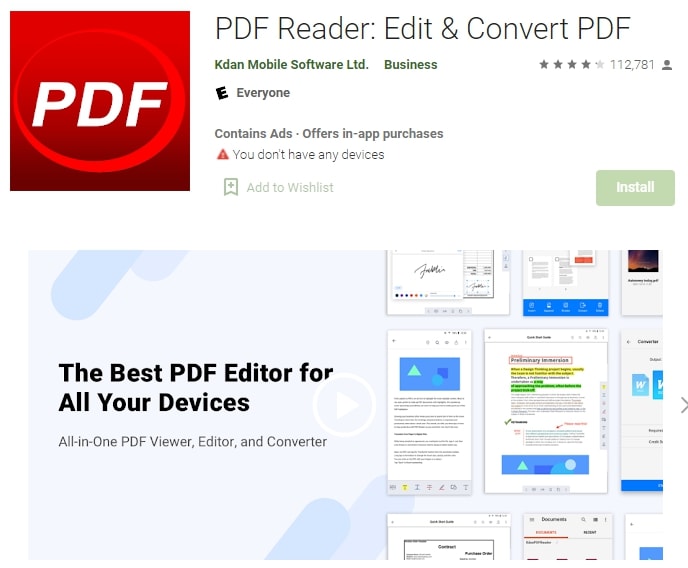 ---
6. Foxit PDF Reader & Editor
This is a reader and editor which allows you to annotate text on an Android mobile device. You can also sign documents to protect them after you have made your annotations on them. It also provides Sign and protect PDF options which is useful for collaboration and protecting your work. It allows for the reflow of PDF files so they can be read without having to use the zoom feature like in most other readers.
Pros:
It is extremely powerful.
Cons: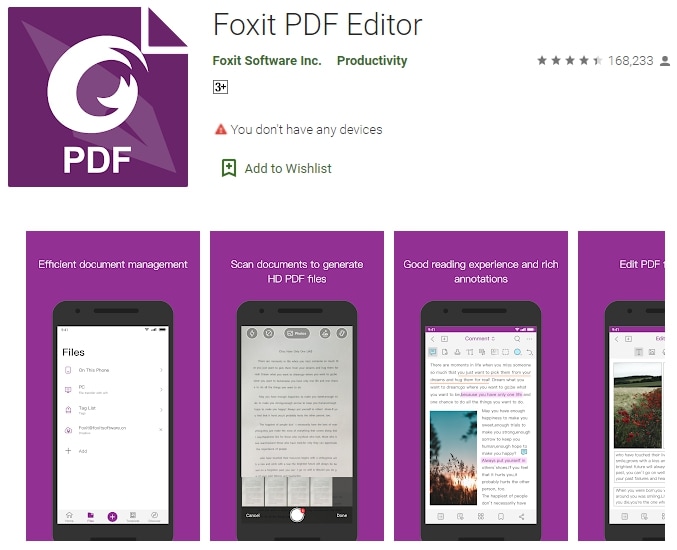 ---
Part 2. The Best PDF Annotator for Desktop Users
PDFelement Pro is a PDF Annotation tool that you can use to annotate PDF files in your personal computer. You can write notes and comments and also highlight the text in color. Moreover, this PDF annotation software can also help you convert PDF, edit PDF, protect PDF, share PDF and more.
3 Easy steps to annotate PDF using PDFelement Pro
Step 1: Download and launch PDFelement Pro.
Step 2: Click on the 'Open File' button to open PDF files to the PDF annotator.
Step 3: Go to the 'Comment' tab and select markup tools to annotate your PDF file. There are several annotate tools, such as highlight, strikethrough, shapes, pencil, sticky notes, stamps and more.
Tip: Detailed guide on how to annotate PDF files >>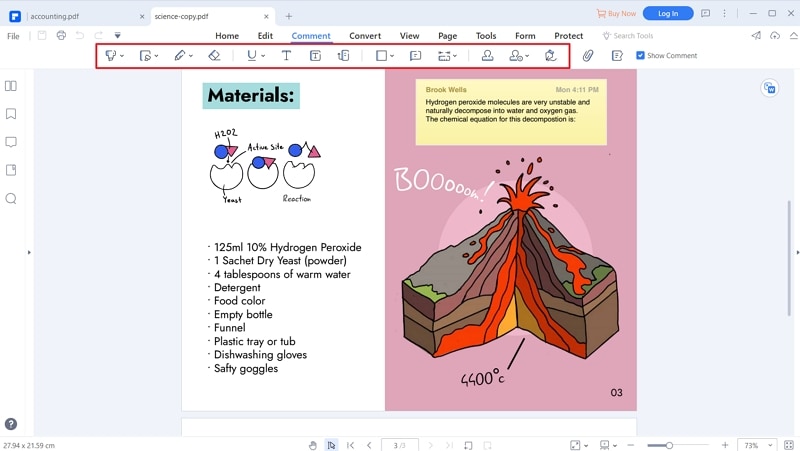 Key features of PDFelement Pro:
Start creating PDF files using this tool. You may also design a document in another format and then convert it to PDF.
You no longer have to go through several online resources looking for PDF form templates. You can now design your own.
You can now set up your own unique Digital ID for your PDF files. This will improve the security of your documents.
Use this tool to scan printed documents and then turn them into editable text using the highly accurate OCR process.
You can now get your work done easily since there is a great user interface that is easy to follow. Get all the tools with just a few clicks of the mouse.