This article shows you the easiest and most effective PDF page resizer - PDFelement.
Resizing a PDF file is important when you want to make your file easy to share, store, or process. However, finding the best PDF resizer tool is easier said than done. Your choice of a PDF page resizer tool can make or break your experience. If you need quality PDF page resizing, you need to choose the right tool. In this article, we take you through a complete guide on the best PDF page resizer tools for you.
Top 5 PDF Resizer to Helps Users Resize PDF
Finding the best PDF resizer tool can be challenging, especially if you are a newbie. However, we have simplified everything by curating the top 5 PDF resizer tools as listed below.
1. PDFelement
PDFelement easily tops our list of PDF resizer tools owing to its prowess. This program has immense features that rapidly transform how users handle their PDF tasks. This mazing PDF resizer tool allows users to resize their PDF in several easy and reliable ways. Users can customize their PDF resize options to meet their needs by simply changing the respective page box details. PDFelement is easy to use, fast, compatible with many devices, supports a variety of file formats and is equipped with top-notch PDF features.
Compatibility: Windows, Mac, iOS, Android
Pros
It offers plenty of excellent PDF features.
This program is compatible with nearly all file formats.
It supports batch processing.
It provides both the free trial version and affordable premium version.
It has an intuitive interface that makes navigation extremely easier.
---
2. PDFresizer
PDFresizer is a dedicated online PDF resizer tool that is worth trying. This program allows users to resize their PDF files to several quality presets, including low, medium, high, and very high quality. You can also resize the page size by selecting the type of paper listed in the presets. The good thing with this program is that it allows users to upload multiple files at the same time and process them without the need to buy or install the software.
Compatibility: Web
Pros
It supports batch processing.
It supports various quality presets.
It supports several different types of file formats.
Cons
Users can only upload a combined maximum size of 100MB.
It reduces PDF files at the cost of quality.
Users can only upload a maximum of 50 files at the same time.
---
3. Adobe Acrobat
Adobe Acrobat is a common name in the PDF industry, and it is no surprise that it finds a place on our list. This program is equipped with several powerful features, including resizing PDFs. Adobe Acrobat lets you resize your PDF by automatically scaling it to fit the paper or by manually scaling through percentages.
Compatibility: Windows
Pros
It offers several good PDF features.
It allows users to automatically and manually resize PDFs.
Cons
The expensive subscriptions turn off many people.
It has lengthy steps that make it hard for newbies to navigate easily.
---
4. PDF2GO
PDF2GO is a popular online PDF resizer tool used by plenty of users. This online tool has a well-designed interface that makes user navigation easier and full of fun. With this program, users can upload PDF files from the local computer, Dropbox, Google Drive, or via a URL link. This free online tool allows users to choose presets and customize page sizes to meet their needs.
Compatibility: Web
Pros
Users can upload and save files from cloud storage services such as Google Drive and Dropbox.
It provides several presets for users to resize their PDF files.
The interface is straightforward and easy to use.
Cons
The quality of the files is a bit low.
It limits the number and size of files you update.
It doesn't have many great features.
---
5. Docupub
Docupub is a simple yet functional PDF resizer tool. This program gives users a platform to resize and scale their PDF page settings and resize them according to their needs. Users can choose from the available presets, customize page size, and organize their documents as per their needs. The process is simple. You just upload the file, choose desired presets, and trigger the PDF resizing process.
Operating system: Web
Pros
It provides several page size presets for ease of PDF resizing.
Users can organize their page alignment.
It allows users to manually customize page settings.
Cons
The interface is not that attractive. It looks clumsy.
Users can only upload combined maximum file size of 24MB.
The quality of the output file is low.
It lacks several other PDF features.
---
How to Resize PDF Page with the Best PDF Resizer
PDFelement is a powerful all-in-one PDF software designed to help users handle all types and sizes of PDF tasks. PDFelement is known for its amazing collection of features, fast processing and rendering speeds, great compatibility with diverse devices, support for a variety of file formats, ease of use, and affordability. With this program, you can convert, create, annotate, edit, protect, share, print, compress, merge, and perform OCR on your PDF files. You can download the free trial version to check these features, then upgrade to the premium version for an unlimited experience.
How to resize PDF Page with PDFelement
PDFelement has an intuitive interface that makes it easy to use irrespective of whether you are a newbie or an expert. The following steps illustrate how to resize a PDF page with PDFelement.
Step 1
Open a PDF File
First, open PDFelement on your computer to access the main interface. Click the "Open files" icon on the interface, and you will be taken to the file explorer window. Choose the PDF file that you want to resize, then click "Open" to upload it.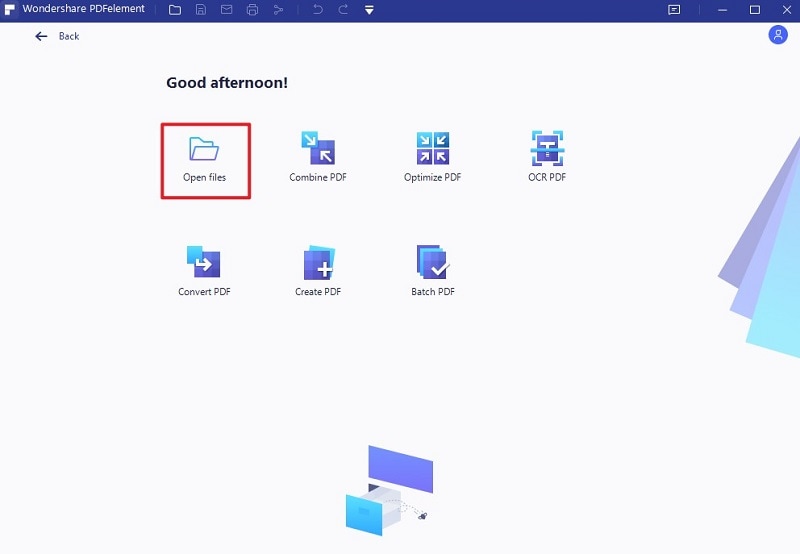 Step 2
Organize PDF Pages
When the PDF file is loaded on PDFelement, proceed to the "Page" tab on the toolbar. Select the various pages displayed on the screen and organize them to meet your need. You can drag to reorder, delete, or rotate the pages as per your need.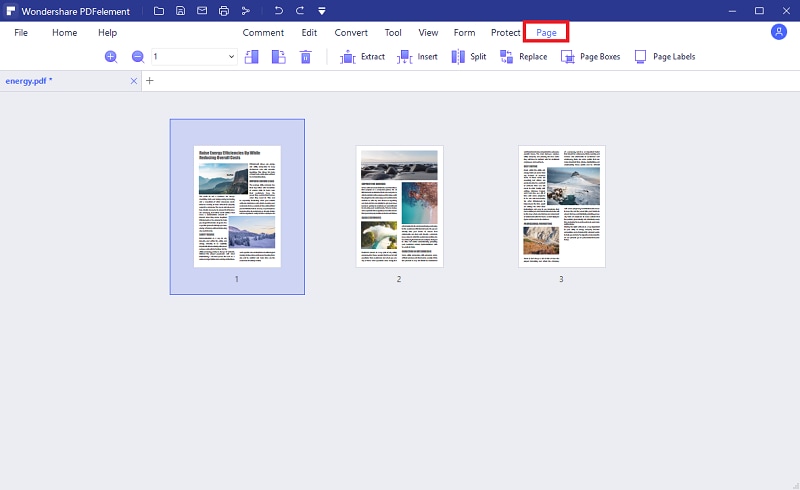 Step 3
Resize PDF Page
When you are satisfied with the page organization, click the "Page Boxes" tab, and the program will display the "Set Page Box" dialog box. Here, click the "Apply to" drop-down arrow and select "Cropbox" option. Adjust the values of left, right, bottom, and top values to resize your PDF page. When you are done, click the "Apply" button to resize your file.