When we view a document in word, it's quite easy to select and highlight certain texts, but can we do the same with PDF? You can choose to use Weava highlighter extension. Let you highlight important parts of a document to direct attention to the most essential parts. But Weaver is not alone, PDFelement Pro is an alternative to Weave highlight for a variety of platforms like Web, Mac, Windows, Linux, and iPhone.
Today we will give you a detailed guide on how to highlight PDF with Weava Highlighter Extension and as well as how you can highlight using PDFelement.
How to Highlight PDF with Weava Highlighter Extension
Weava is a Chrome extension that can highlight PDFs and websites with a variety of styles and colors of your choice. Weava is a workspace for your research and studies, that renders highlights and other features on the active website URL and online PDFs. Allow you to create a citation, organize your highlights and access your highlight any time.
Here are the steps on how you can highlight a PDF using Weava Highlighter Extension:
Step 1: Download Weava extension and sign up for an account from the official site of Weava. Open the PDF or website that you would like to highlight on Weava.
Step 2: Once the PDF is open, Click on the Weava sidebar and navigate to the bottom right-hand side to enable the highlight mode. Make sure to enable the highlighter mode before starting with PDF.
Step 3: Now drag the mouse across the paragraph or text that you would wish to highlight and pick the highlighter popup. Alternatively, you can highlight by right-clicking on the selected text, then choosing the color, and then click "Highlight".
Step 4: After the highlight is done, click on the Weava icon on your Chrome browser, or you can click "Alt+Shift+S" shortcut to open the Weava sidebar and refer to what you've already highlighted.
Note: All the highlights are saved on Weava, so to see the highlight done on the PDF open it in Weava. If the PDF does not open directly in the Weava viewer, click the Weava icon, or try to refresh the page.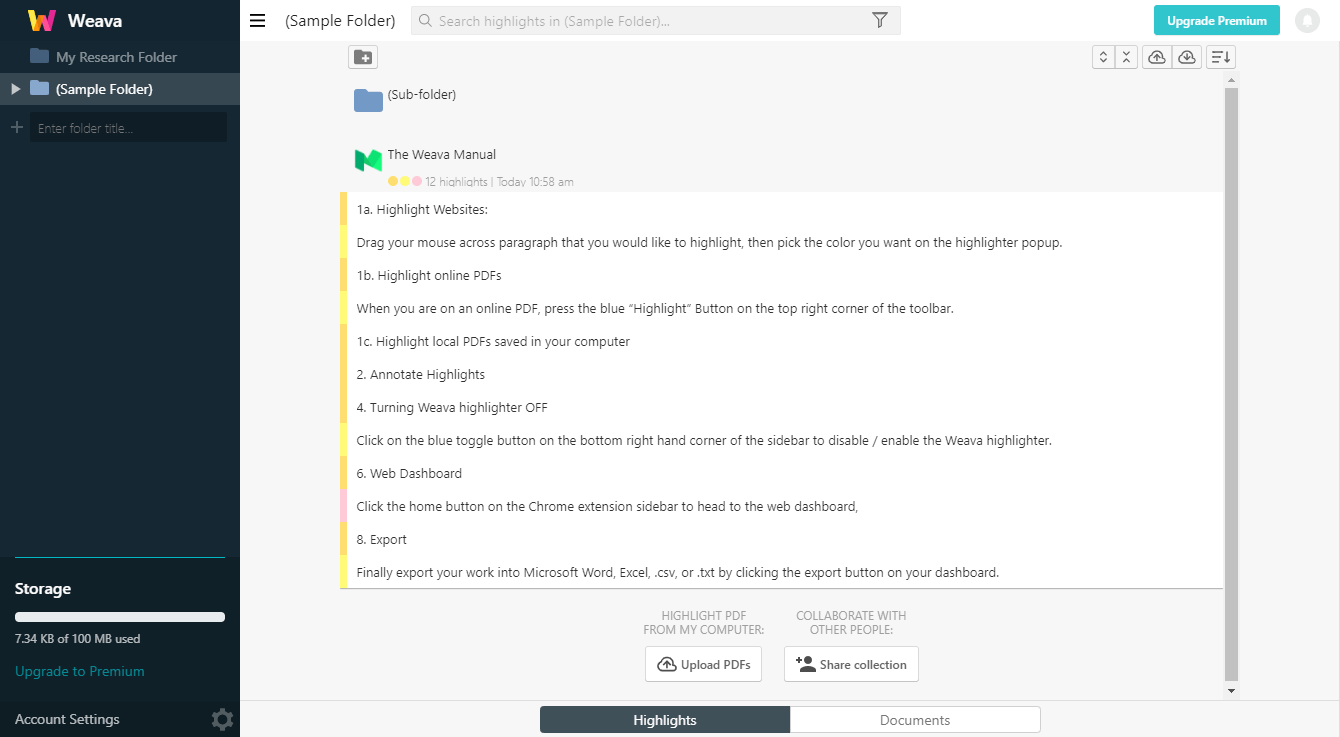 ---
How to Highlight PDF with Weava Highlighter Alternative
If you want the best and convenient alternative to highlight PDF and that works well, you can count on PDFelement Pro . This software is power packs with powerful features. Allows you to create, convert, edit, organize, split, duplicate, remove, delete, resize and rotate graphical images within your PDF. It has an easy-to-use interface which makes it more convenient to highlight and changes are directly done on PDF. Every time you open a PDF you can see the highlight without having to open it in certain settings like that in the case of the Weava highlighter extension. Color-label your highlighters with a full range of colors and choose the color-labeling that makes sense to you!
Here are detailed steps on how to highlight PDF in PDFelement a Weava highlighter alternative:
Step1: Open PDFelement to load a PDF document
To add a highlight to the PDF you have to install PDFelement from the official website and launch a PDFelement on your computer, open the PDF file to do that click on the "Open File" on the home page. Choose the desired file that needs to be highlighted and click on "Open" to open it to the interface.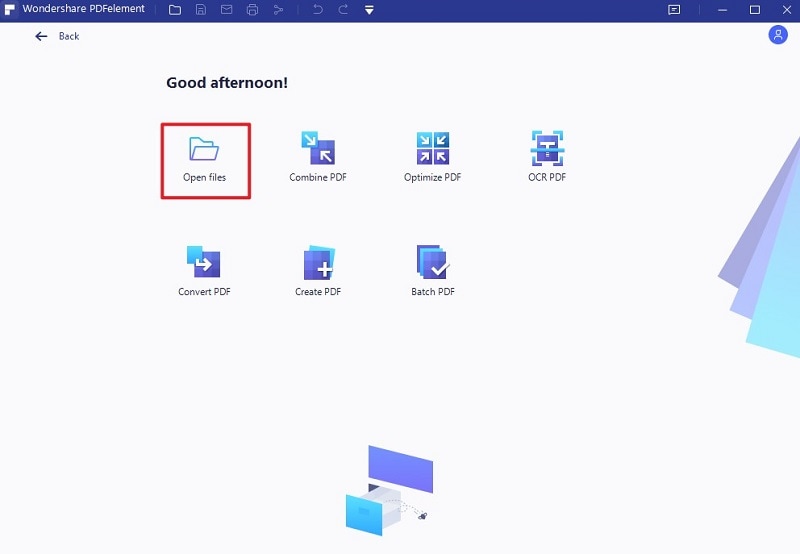 Step2: Click Comment tab to highlight PDF
Click the "Comment" tab from the top to highlight PDF. This will allow you to use a full-set of markup choices from highlight to comment to sticky note to shapes at your disposal. Use the cursor to select shapes you want to use as a highlight.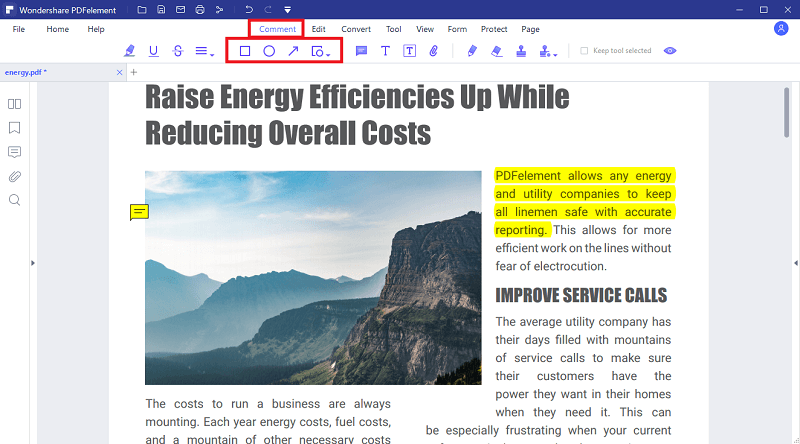 Step3: Right-click the shape to choose Properties
Right-click the shape and choose properties, the "Properties" window will show on the right. Use this section of properties to set the "Color," "Size" or "Opacity". Select the color you want to highlight or you can set as a default.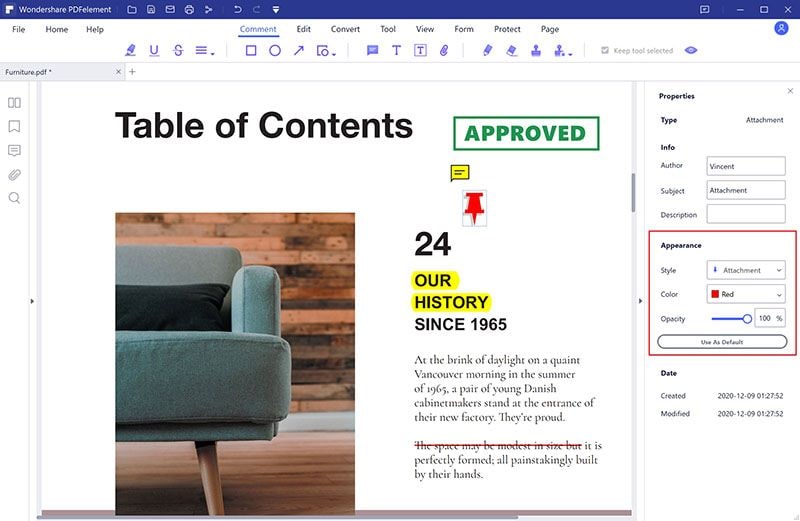 Step4: Save the PDF file
Click on the "File" in the menu bar and click on the Save option in the drop-down menu. Doing so saves highlights done on. You can directly use the "Ctrl+S" shortcut to save the new version of the file.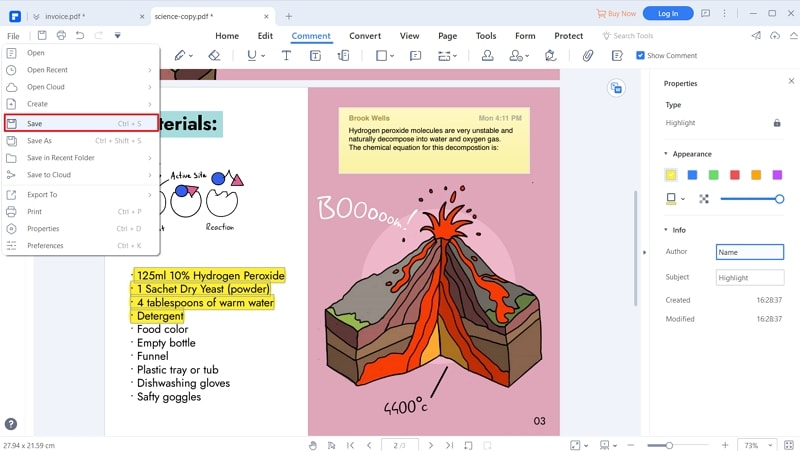 To conclude, in this article we have given a brief about the Weava highlight and PDFelement that is integrated with broad range highlight tools that you can implement on your document easily. You can organize, optimize, merge, split multiple PDF document with PDFelement. It simplifies your PDF and documentation experience by providing one-stop for all the PDF editing features and focus on productivity.