This article guides you in selecting the right PDF editor for Windows and how to use the best PDF editor for Windows - PDFelement.
There are many free PDF editors in the market, yet people struggle to pick the right one. Most of these free PDF editors are exaggerated and only give you under-par results when you try them. Therefore, it is easy to get caught in that fix if you are in the dark about picking the right free PDF editor for Windows. Many people have made this mistake, and you don't want to follow that trend. Fortunately, this article gives you a detailed guide on the top free PDF editor for Windows.
Top 10 Free PDF Editor for Windows
There are several free PDF editor software on the market. However, narrowing to the best PDF editor for Windows is easier said than done. The following are our top 10 free PDF editors for Windows.
1. PDFelement
PDFelement easily becomes our top pick free PDF editor for Windows for many reasons. This PDF editor is tailored to meet user needs, and its free version is equipped with plenty of powerful features. PDFelement allows users to edit texts, images, drawings, links, footers, and headers. You can edit text fonts, colors, and styles. PDFelement has one of the most elegant interfaces that easily steals the user's glance. Furthermore, the icons are elaborate, and users don't experience a steep learning curve.
Operating system: Windows, Mac, iOS, Android
Pros
It is intuitive and easy to use.
It is compatible with a variety of devices and operating systems.
Compared to its competitors, the free version has several good features.
It supports nearly all input and output formats.
It supports more than nine different languages.
Users can edit various content in PDF, including links, images, texts, and shapes.
Cons
The Free version will save files with watermarks.
---
2. Foxit PDF Editor
Foxit PDF editor is a good desktop, mobile, and web application PDF editor. This tool allows users to edit texts in paragraphs, columns, and pages. You can modify text size, font, and space and even add multimedia to your document. Furthermore, you can change the page layout and add watermarks, footers, headers, and bate numbers. Other general editing features include crop, flatten, rotate, add, and delete pages. Foxit's free trial version is only available for 14 days.
Operating system: Windows, Linux, Mac
Pros
It allows users to use popular storage sharing products.
It runs on various popular operating systems, including mobile platforms.
Cons
The annotation feature is not great.
Newbies will likely get confused with the navigation process.
---
3. PdfFiller
PDFFiller is an excellent online PDF editor with several excellent features. PdfFiller allows users to make changes to PDF files easily. You can change the existing texts or type them anywhere in your PDF document. This program provides options such as adding text boxes, highlighting target content, or unwanted blackout content in your PDF. Furthermore, users can rearrange, duplicate, delete, or add more pages to a PDF file. Once you have made the changes you wanted, save the changes and download or directly print the edited document. Furthermore, you can choose to share the document with your friends or clients to either edit or fill out the target fields.
Operating system: Web
Pros
It provides basic and relatively advanced editing features like adding text boxes and fillable fields.
Users can save their changes or share them with other people online.
It supports several popular file formats such as Word, Excel, PowerPoint, and image file formats.
Cons
This free version lacks better-advanced features.
The free trial is only accessible online.
---
4. Nitro PDF
Nitro is an easy yet effective PDF editor used by many people across the globe. Nitro PDF free version offers a mix of basic and advanced PDF editing tools. Here, you can type and edit texts, fill in forms, insert images, add and remove hyperlinks, and electronically sign documents. With this free version, you can import documents for editing from Dropbox, OneDrive, local computer, and Box.
Operating system: Web
Pros
Although the free version doesn't have many features, the basic available features can still be helpful for basic PDF editing.
This free version also supports PDF conversion to Word, Excel, and PowerPoint formats.
Users can source or upload files to the cloud for ease of retrieval.
Cons
The free service is much limited.
The user interface doesn't look attractive.
---
5. Smallpdf
Smallpdf is a popular name in the PDF industry and quickly makes our top picks. This program offers basic PDF editing tools and is worth it because it is free. This online platform provides basic editing features, and you don't expect to run significant changes on your PDF file. Besides PDF editing, you can use it to convert PDF to and from formats like Word and Excel.
Operating system: Web
Pros
It provides basic PDF editing tools.
It supports file conversion.
It supports over 24 different languages.
Cons
Users are limited to processing only two files per day.
This free version lacks annotation and markup features.
The fonts are much limited.
---
6. FineReader PDF
FineReader PDF is an AI-based PDF editor designed to provide maximum efficiency in the digital workplace. This program makes it easy to digitize, edit, share, collaborate, and protect various types of documents in a workflow. The PDF editing option is excellent. You can edit texts and entire paragraphs, add new text paragraphs by typing or copy-paste, rotating, and edit table cells. You can also change the formatting of your texts, sentences, or entire paragraphs. Alter text fonts, styles, colors, alignment, spacing, and typeface.
Operating system: Windows, Mac
Pros
It offers several content editing options.
Users can fix major modifications without going back to the layout to recreate them. This saves both time and energy.
With this program, you can edit any PDF file, whether digital or scanned.
Cons
It lacks full-text indexing for faster text searches.
Good features are available with the premium version, yet it is expensive for small businesses.
---
7. Epubor
Epubor is a PDF solution tool developed to satisfy diversified customer needs. This program is tailored to provide the best solutions for eBooks and audiobooks. This product is available both as a free and pro version. It supports annotation, adds new PDFs, and doesn't limit the size of the PDF being edited. It also provides various edit fields and filed functions to transform how you edit your PDF files.
Operating system: Mac, Windows
Pros
It provides a safe library to store PDF pages.
The interface is easy to use, and users don't need to follow strict instructions or have expertise.
It is also a file converter and supports ePub, TXT, PDF, AZW3, and Mobi files.
Cons
It is best for eBooks and audiobooks.
It doesn't offer several editing PDF editing features as its competitors.
---
8. PDFLiner
PDFLiner is a cloud-based PDF editor with plenty of good features. This program allows users to edit, fill in forms, share files, sign files digitally, and custom brand their PDF content. The free service is online-based, and users can easily edit their PDFs. The process involves uploading, editing, and downloading the edited PDF file. Users can add texts, sign, and add images, among others. You can change the font, size, color, or even highlight the target texts for text editing. Furthermore, you can insert drawings and underline or simply mark specific content in the PDF document.
Operating system: Web
Pros
It has several basic PDF editing features.
Users can create new documents from scratch and edit them to meet their needs.
It allows users to store their documents in cloud-based storage.
You can add fillable fields to your PDFs.
Cons
It does not support Android or iOS devices.
The free version is very limited.
---
9. Kofax Power PDF
Kofax Power PDF is a powerful PDF solution designed to help users create, convert, share, edit, and sign PDF files. Many people love Kofax PDF owing to its simplicity and effectiveness. With this program, you can edit texts, images, and objects with ease.
Operating system: Windows, Mac OS 11.6 Big Sur
Pros
The office-interface style is easy to use.
It supports various popular file formats like Word, Excel, PPT, HTML, and JPG.
It keeps your documents secure.
Cons
The premium version is pricey.
The basic office interface is easy to use but doesn't look appealing.
---
10. PDFescape
Foxit PDF Editor is also one of the best PDF editors worth trying. This program is an open-source PDF reader and editor used by scores of people worldwide. The free version is an online platform that requires a steady internet connection. The bright side is that it keeps the original document formatting, and users don't have to adjust to typical software requirements. With this free online program, you can crop, delete, rotate, shift, and insert texts, images, shapes, and other contents into your PDF file.
Operating system: Web
Pros
It keeps the original document formatting, and hence users don't have to be dictated by the software requirements.
It offers all the basic PDF editing features.
The page size limit increased to 100.
Cons
It has very limited fonts.
It doesn't offer advanced editing features.
The free version is only available online.
---
How to Use the Best Free PDF Editor - PDFelement
PDFelement is a powerful all-in-one PDF editor that transforms the way users interact with PDF files. This program is versatile and offers many amazing features ranging from basic to advanced useful ones. With this program, you can edit various content in a PDF file ranging from images, texts, drawings, links, headers, footers, and bate numbers, among others. This tool has an intuitive and elegant interface that makes user navigation easy and full of fun. Everything is straightforward and is a no-brainer to all categories of users, including newbies. Other features of PDFelement include converting, creating, annotating, printing, organizing, compressing, sharing, and protecting PDF. Furthermore, PDFelement supports the OCR feature, and users can unlock scanned files, both editable and searchable. Other major highlights of PDFelement include excellent device compatibility, batch processing, affordability, and amazing processing and rendering speeds.
How to Easily Edit PDF with PDFelement
PDFelement provides a seamless way to edit PDFs, as shown in the following steps.
Step 1
Open a PDF File
First, run PDFelement on your computer to open the main window. Click the "Open files" button and browse the target PDF file on the subsequent file explorer window. Choose that PDF file and click "Open" to upload it to the program's interface.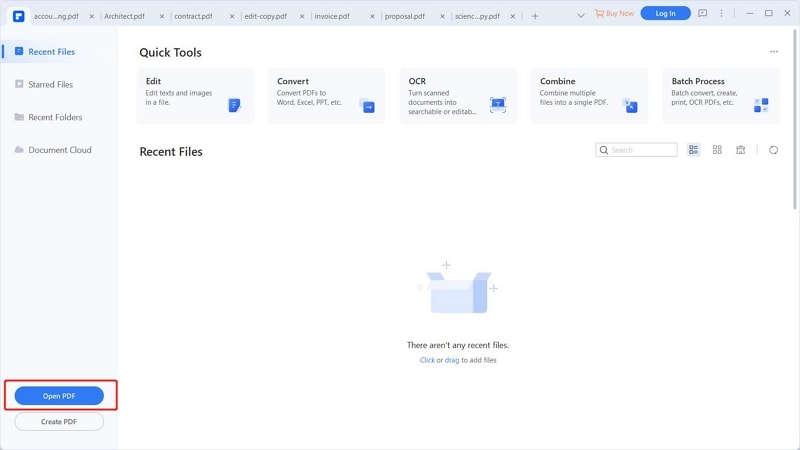 Step 2
Edit PDF
Now that the PDF file is loaded, go to the "Edit" tab, and you should see several PDF edit options below it.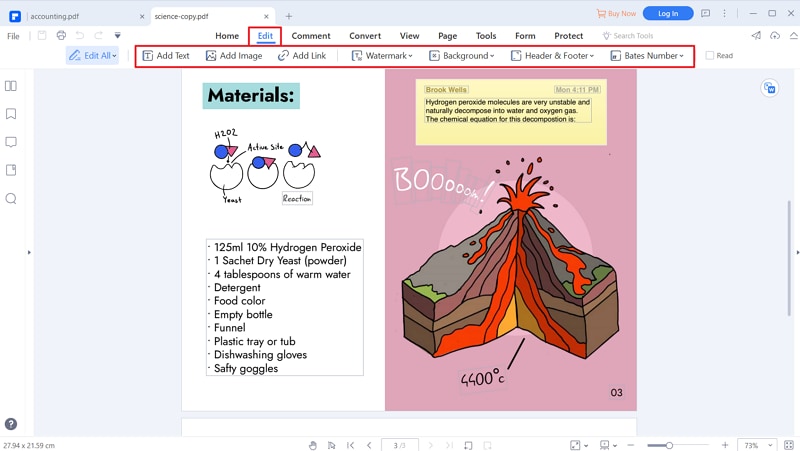 To edit texts, drag the "Edit" slider on the top-right to activate it. The PDF texts are now editable, and you can change the font, color, and style, among others.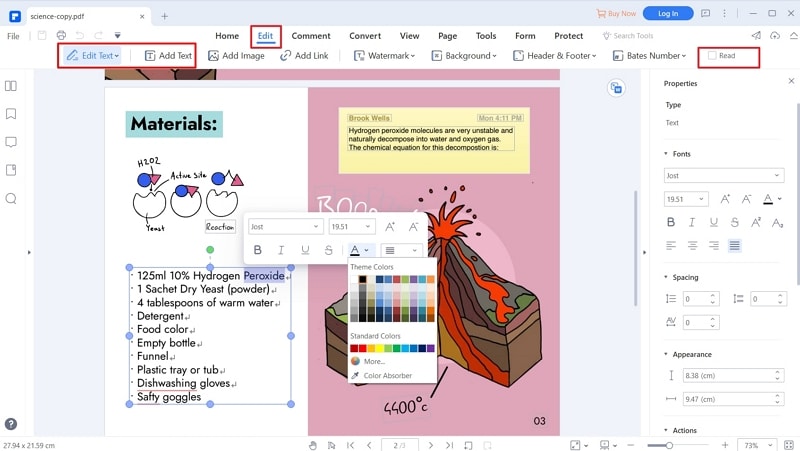 Right-click on the target image and select the desired image editing options to edit pictures. You can choose to rotate or overturn the file as per your need.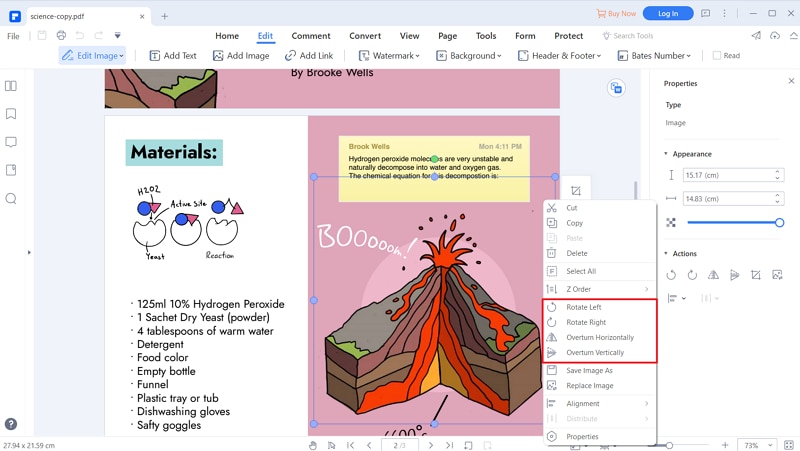 Step 3
Save PDF File
When you are satisfied with your selections, it is time to save your changes on the file. Go to the "File" menu and select the "Save" option. Your edited file is now saved, and you can exit the window if you want to.