This article guides you to get the right PDF compressor and how to use the best PDF compressor - PDFelement.
The success of PDF compression depends a lot on the type of PDF compressor you use. You won't tolerate substandard results, especially if you are handling sensitive or important documents. Since a PDF compressor can make or break your critical tasks, it is important that you choose your PDF compressor wisely. Well, there are many PDF compression tools out there but which ones are the best? In this, regard, this article expounds more on some of the best PDF compressors you can use.
Top 8 PDF Compressor Tools
Finding the best PDF compressor can be a challenging task. Fortunately, we give you a list of some of the best PDF compressor tools to choose from. These tools include.
1. PDFelement
PDFelement is undoubtedly the best all-in-one PDF compressor tool. This program is designed with the user in mind and therefore makes the way you compress PDFs not only effective but full of fun. PDFelement allows users to choose desired compression levels, namely low, medium, and high. Users can start over the process without uploading the same file again if they are not satisfied with the output file. Furthermore, PDFelement supports batch processing and is compatible with many Operating systems.
Operating system: Windows, Mac, iOS, Android
Pros
It is compatible with nearly all devices and operating systems.
It supports batch processing.
This program has an intuitive and easy-to-use interface.
It offers excellent processing speeds.
It allows users to choose from up to 3 compression levels.
Cons
The Free version only allows compressing 3 files.
---
2. Nitro
Nitro is a common name in the PDF industry and is easy to feature in our list. This program gives a seamless platform for users to compress and optimize their PDF files. Nitro is equipped with a relevant set of tools to get rid of unwanted objects and compress images in your PDF to make it smaller. Users have the option to choose whatever they want to remove to shrink their files. Depending on your preferences, you can remove bookmarks, attachments, document content, unused objects, and invalid links.
Operating system: Windows
Pros
Users can optimize the size by choosing the content they want to remove.
The layout is straightforward, and its tools are available. This makes it easy to use.
Cons
It is not available for Mac and only runs on Windows.
Several users complain that the program frequently hangs.
Its compression is achieved by removing images or other contents to shrink the file.
---
3. Adobe Acrobat
Adobe Acrobat is one of the finest PDF compressor tools worth giving a try. This program is flexible and gives users a variety of ways to compress their PDF files. Here, you can compress and optimize the size of your PDF by removing images, fonts, and other items that are no longer required. Furthermore, you can leverage the File Size command to compress your PDF file.
Operating system: Windows, macOS Android
Pros
It allows users to remove PDF objects to shrink the PDF.
It offers multiple ways to compress PDFs ranging from one click to advanced options.
It supports batch compression.
Cons
Some compression methods may make some of your images unusable in the print production flow.
The compression process is not that straightforward and can prove tricky to newbies.
As usual, Adobe subscriptions are pricey.
---
PDF Compressor Tools Comparison Chart
The following table gives a summary of the comparison between three PDF compressor tools namely PDFelement, Nitro, and Adobe Acrobat.
| | | | |
| --- | --- | --- | --- |
| PDF Compressor | PDFelement | Nitro | Adobe |
| Operating system | Mac, Windows, iOS, Android | Windows | Windows and some versions on Mac like Adobe Acrobat 2020 Pro |
| Price | Has a free trial. Pro version from $69-$79per year. | $134.99 | $179.88 billed annually. |
| Compression Degree | Ranges from low, high, to medium. | Doesn't offer compression degrees. You only delete objects and optimize the size. | Provides options to remove unwanted objects to shrink the PDF. It doesn't offer a straightforward way to adjust compression levels. |
| Compression quality | The output file is of great quality. | The output file is relatively high quality. | Good quality output though some images might turn unusable in print workflows. |
| Compression speed | Very fast | Fast | Faster |
| Ease of use | Easy | Relatively easy | Lengthy and trickier for newbies. |
---
4. Sodapdf
Sodapdf is another excellent PDF compressor tool used by many users across the continents. This program offers both online and desktop versions. For the online version, users can upload files from the device, Google Drive, or Dropbox. This program allows users to choose compression levels such as min, low, mid, high, and max.
Operating system: Windows, Web
Pros
The offline premium version supports batch compression.
It offers a free trial account.
It provides multiple compression levels.
Cons
The free version is limited, and most features are available with the pricey premium version.
Users complain about frequent crashing and disappointments after updating to the newer version.
---
5. PDF2Go
PDF2Go is an easy-to-use online PDF compressor. This tool allows users to upload PDF files from the computer, URL link, Dropbox, or Google Drive. It gives users basic, strong, and preset compression levels to determine the quality of their PDF files. The good thing about this program is that it is easy to use, and users can turn images into grayscale to further their compression.
Operating system: Web
Pros
It has a simple interface, and users can easily navigate it.
It provides compression level presets, and hence users can customize their file compression quality.
Users can upload files from multiple sources, including Dropbox, Google Drive, URL links, and the local devices.
Cons
It is slower with larger documents.
The free version is limited and bombarded with ads.
---
6. PDF Converter
PDF Converter is a simple yet effective online PDF compressor. The program allows users to source input files from the local computer, Dropbox, URL link, and Google Drive. This program permanently deletes processed files from its servers, and no residual copy is retained. Furthermore, it leverages the 256-bit encryption technology to fortify its security.
Operating system: Web
Pros
It is safe and secure. Thanks to the 256-bit encryption technology.
Users can upload PDFs from the cloud.
Cons
It struggles with larger files.
The free version does not support the custom Operating system option.
---
7. Preview
Preview is an inbuilt Mac application that allows users to view a wide range of file formats, including PDF. Although it is not primarily designed to compress PDF, you can still use it to shrink your PDF files on Mac.
Operating system: Mac
Pros
It is inbuilt on your Mac PC and hence easily available.
The process is not that complicated to follow.
Cons
It is likely that the compressed file is of lower quality compared to the original file.
It doesn't have better PDF features because it is not a dedicated PDF compressor tool.
It is only available on Mac.
---
8. PDF Expert
PDF Expert is easily one of the finest PDF compressor tools worth trying. Its Operating system and versatility make it an excellent tool. With this program, you choose the compression level by dragging the slider to desired size reduction percentage. When the program is compressed, you can choose to share or save the file to your device.
Operating system: Mac, Web
Pros
Users simply drag the slider to choose a file compression level.
Users can save the output file or share it directly via email.
Cons
It is not available for Windows and Android versions. It only runs on Mac systems.
---
How to Compress PDF File with the Best Compress PDF Tool
PDFelement is an excellent all-in-one PDF software suitable for compressing PDF files for all types and sizes of tasks. The array of top-grade features, ease of use, intuitive interface, and amazing Operating system make it a top choice for many people, companies, and organizations. PDFelement allows users to convert, create, edit, annotate, protect, compress, organize, and perform PDF OCR. The good thing with PDFelement is that it supports batch conversion and nearly all file formats. Download the free trial version to test its features, then upgrade to the affordable premium version for a better experience.
How to Compress PDF with PDFelement
Compressing PDF with PDFelement is a simple and effective process. The following steps show how to compress PDF using PDFelement.
Step 1
Open a PDF File
Launch PDFelement on your computer, then click the "Open files" icon on the main window. Upon clicking this button, the program will display the file explorer window to allow you to browse and upload the target PDF file. Simply select the PDF file you want to compress, then click the "Open" button to add the file to PDFelement.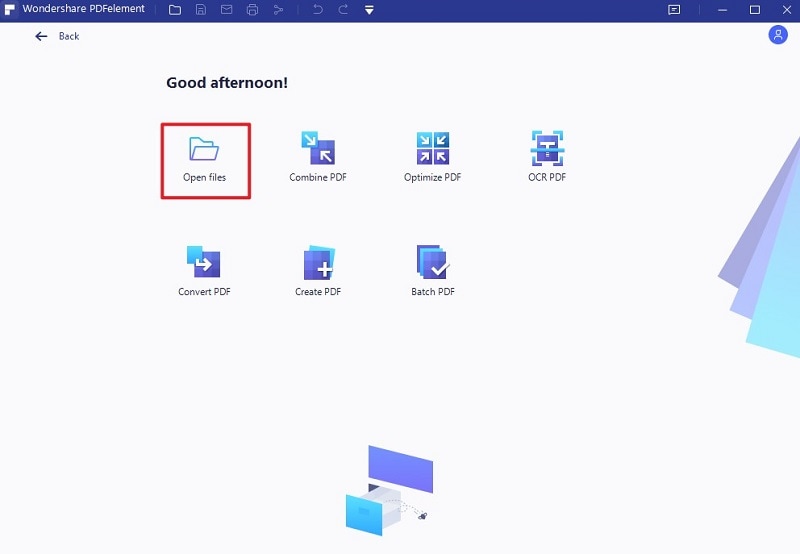 Step 2
Compress PDF
The "Compress PDF" window will pop up on the screen to allow you to select the desired compression quality.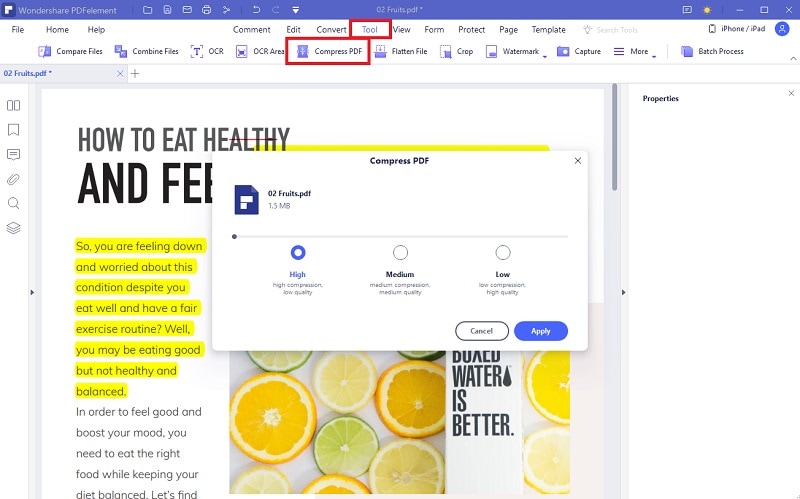 Step 3
Choose the Compression Degree
Choose the desired PDF compression quality on this screen. You can either choose High, Low, or Medium compression based on your preferences. If you need quality compression, then you should go for the "Low" compression option and vice versa. Click the "Apply" button to start the compression process when you are done.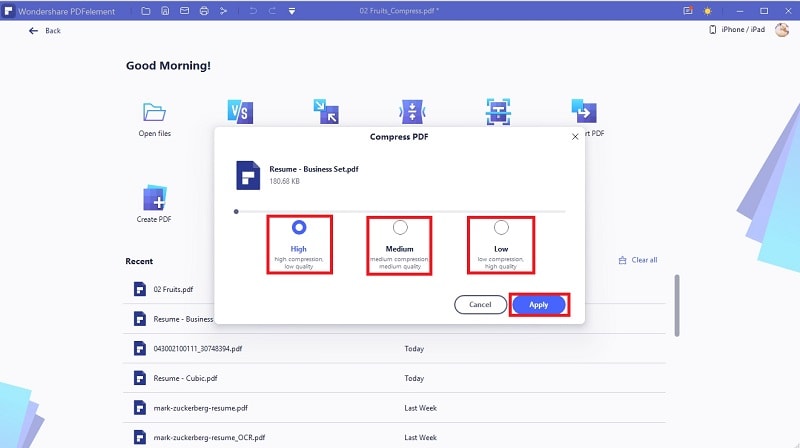 Step 4
Open and Save the Compressed PDF
The program will display the PDF compression details on the screen when the compression is completed. If you are not satisfied with the size of your output file, just hit the "Start Over" button to go back. Otherwise, click the "Open" button, and the program will open your compressed file. Finally, you need to save your file. Just go to the "File" menu and select "Save." Your newly compressed file is now saved, and you are free to close it or proceed to edit.