Nitro PDF is an ultimate tool for creating, editing, signing as well as securing PDF files and digital documents. To be able to use Nitro PDF application, you need to download Nitro PDF Serial. The installation of the serial is a simple and straight forward process. Once you have installed it, you will be able to use the application more productively.
Part 1: The Highly Recommended Nitro Alternative
PDFelement Pro - The Best Nitro Alternative
The best alternative solution for Nitro PDF is PDFelement Pro. It has all the features that Nitro PDF comes with plus more interesting ones. It gives you total control over your PDF files. It allows you to do everything you like such as inserting, deleting, cropping, rotating, adding watermarks, background changing and more.
Why Choose This PDF Editor:
Diversified PDF editing tools
Convert PDF to other editable formats.
Create PDF easily.
Fill out and create PDF forms.
OCR scanned PDF documents.
Share PDF to other platforms.
How to Edit PDF Files With Nitro Replacement
Step 1. Install the Nitro PDF Alternative
To install iSkysoft PDF Editor 6 Pro, download it and then save it to your computer. After that, locate the place that you saved the installation file and then press Enter on your keyboard or double click on it.
Step 2. Import PDF Files
Once iSkysoft PDF Editor 6 Pro has installed successfully, launch the program. Look for the "Open" button on the "Home" menu and click on it. After that, choose the PDF file you want to import from the local folder and then click "Open File" to load it.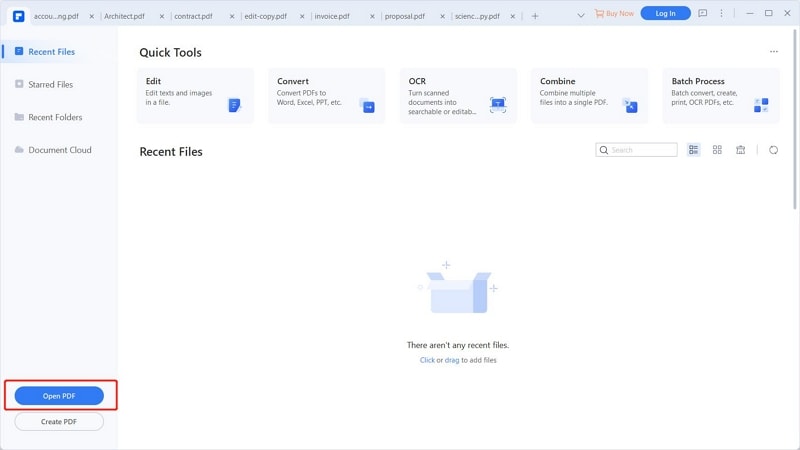 Step 3. Edit PDF Texts
Under the "Edit" tab, click on "Edit Text". After that, click on the area of your page where you would like to make the changes. If you want to add new text, simply go to "Edit" tab then select "Add Text". After that, choose the area where you want to add text. You can also adjust font text and color by simply going to on Edit, Edit Text and then conduct your desired changes.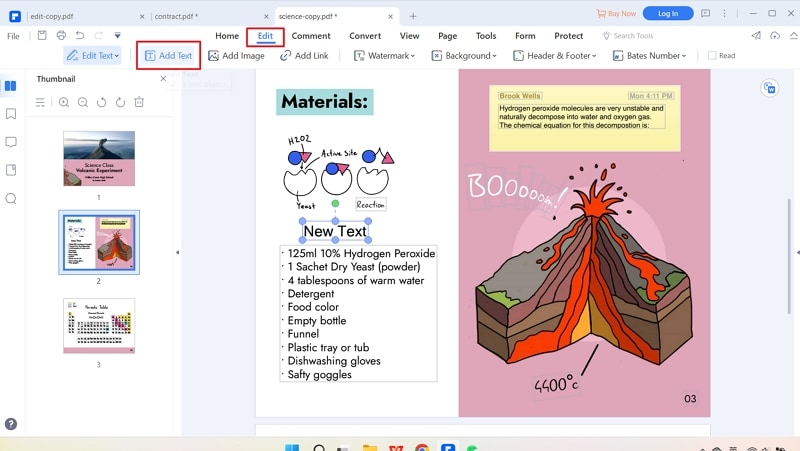 ---
Part 2: Nitro Pro 10 VS Nitro Pro 9 VS Nitro Pro 8 VS Nitro Pro 7 VS Nitro Pro 6
There are various versions of Nitro PDF that you can use. They include Nitro Pro 10, Nitro Pro 9, Nitro Pro 8, Nitro Pro 7, and Nitro Pro 6. The following are their features.
Nitro Pro 10
Price: $159.99 USD
Nitro Pro 10 is the latest version of this application. It unveils a handful of new tools that you will not find in its predecessors. Here are some of its features:
- It offers more intuitive PDF creation tools.
- You can use it to create PDF from documents such as word and subsequently re-edit them using the powerful text editing tools it comes with.
- It comes equipped with its own serviceable OCR engine.
- It features improved accuracy with text, image as well as table recognition and adds an automatic de-skew function for aligning images correctly when they are being scanned.
- It has an option for creating PDF Portfolio.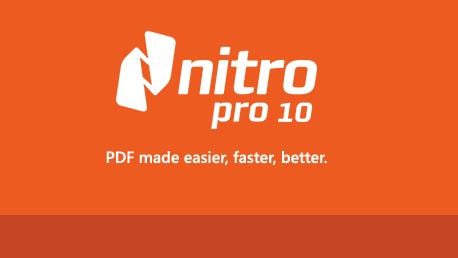 Nitro Pro 10 Pros:
Batch processing.
Cloud integration.
Nitro Pro 10 Cons:
Does not offer a way to embed audio and video files.
---
Nitro Pro 9
Price: $64.99
This version of Nitro Pro has features that allow you to edit and work with PDFs, including:
- A whiteout tool that you can use to delete selections of text, images, annotations as well as form fields from a PDF page securely.
- A measurement tool that allows you to easily define the distance, perimeter and area for a set of points based on the scale that you will define.
- A batch printing feature that you can use to queue a number of documents to print simultaneously.
- A spellcheck feature that enables you to review that text that you have typed in a document.
- Cloud integration that enables multiple individuals to work on a document at once.
Nitro Pro 9 Pros:
Batch printing.
Spellchecker.
Nitro Pro 9 Cons:
OCR crashes for large documents.
---
Nitro Pro 8
Price: $64.99
Nitro 8 is heavy on features and has very impressive performance. It is also very easy to use. Some of its features include:
- The convert function that enables you to convert a batch of PDF documents to Word, Excel, plain text and images.
- OCR function that allows you to convert scanned PDF files.
- Intuitive interface with top-level tabs including File, Home, Review, Edit, Protect, Forms, and Help.
- Toolbars with large icons to allow you to identify functions easily.
- Expanded Asian language support.
- More streamlined conversions to Office formats.
- Expanded support for third party applications such as Evernote.
Nitro Pro 8 Pros:
Automatic OCR during conversion.
Scanned document detection.
Nitro Pro 8 Cons:
Multimedia elements cannot be added in the PDF files.
---
Nitro Pro 7
Price: $119.99
Nitro Pro 7 features include the following:
- A redefined user interface that makes it very easy for to use the application.
- Ability to convert PDFs into more editable formats.
- A preview handler that allows you to view what you are working on clearly.
- DMS integration.
- It allows for secure redaction of text.
Nitro Pro 7 Pros:
Web browser integration.
Stamp signature.
Enterprise deployment utility.
Nitro Pro 7 Cons:
PDF loading is slow in comparison to Acrobat.
---
Nitro Pro 6
Price: $159.99
- It support editing of images in PDFs.
- It has a familiar user interface with elements from MS Office 2007 as well as Adobe Acrobat.
- It has excellent layout preservation in complex PDF to Word conversions.
- 256-bit encryption.
Nitro Pro 6 Pros:
Convert form and to Word/Excel.
No loss of formatting on conversions.
Batch conversions.
Nitro Pro 6 Cons:
Freezes continuously on batch conversions.
---
Part 3: How to Download, Install, and Use Nitro Pro
To download, install and use Nitro Pro, the following is what you will need to do.
Step 1. First, you will need to decide on the version of Nitro Pro you want to download. After deciding, go to Google or another search engine and then look up that version of Nitro Pro.
Step 2. In the search results that will come up, choose a website that looks genuine to download the application from. When the website opens, you should be able to see a Download button. Simply click on that button to save the installation file on your computer.
Step 3. On your computer, trace the location of the Nitro Pro installation file and then double click on it to start the installation process. Wait until the process completes, and then use the shortcut on your desktop or go to Start on your computer, All Programs, and then locate Nitro and Click on it to open it.
Once you have done that, you can use the application to create, edit, sign and do many things with it depending on the version that you have installed.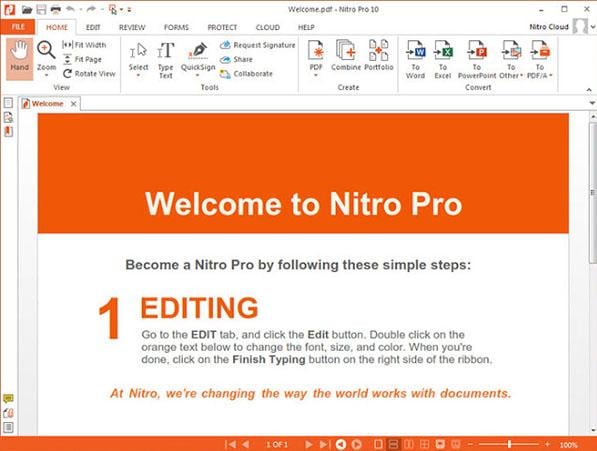 Top 5 Ways to Get Nitro PDF Discount
You can get Nitro PDF Discount from the following sites.
1. http://www.colormango.com/product/nitro-pro_105971.html
2. http://www.tipradar.com/15-discount-coupon-code-on-nitro-pdf-pro-9.html
3. http://www.fyvor.com/coupons/nitro-pdf/
4. http://couponpaste.com/stores/nitro-pdf-coupon-code/
5. http://couponsclock.com/coupons/nitro-pdf-pro/
To get the discount, you just need to access the websites and the follow the instructions that have been given on how to get the discount code.
---
Part 4: Top 5 Common Issues of Using Nitro Pro
When using Nitro, you may encounter the following issues.
1. During conversion, Nitro Pro sometimes crash or freeze.
Solution 1: You may encounter this problem your system lacks proper maintenance. To resolve it, you need fix entries of broken registry and also eliminate the ones that are not being used.
2. During the conversion process, unusable large images appear.
Solution 2: You may get face this problem if the original file was an image before conversion To resolve it, you simply need to turn on the OCR feature to get the usable images after re-converting those PDF files.
3. The message "Failed Conversion or User Interacted" appears during conversion.
Solution 3: This is a common problem that you do not need to worry very much about. To resolve it, you simply need to go to the Control Panel of your computer, get rid of Nitro PDF Creator and then reinstall it.
4. After the conversion, active hyperlinks does not seem to work.
Solution 4: You are likely to get this problem if you are using an older version of Nitro Pro. So you will simply need to go for latest Nitro Pro update.
5. Nitro PDF Creator experiences problems due to corrupted plug-ins that cause invisibility of PDF files in a browser.
Solution 5: To resolve this issue, you need to repair the plug-ins.