There are times when you need to resize a PDF file that is too large to be distributed. You may have come across entire magazines, with very good ages, having a file size less than 20MB. This is because they have been resized so they can be distributed effectively. Free online PDF resize tools come in handy when you want to reduce the size of a PDF file. They are fast and secure. Some are basic, but there are those that have advanced features. This article will take you through some of the best 5 online PDF resizer and their features. If you ever need to resize a PDF file, you should try some of the tools that we shall mention in this article.
Part 1. Top 5 Online PDF Resizer to Reduce PDF Size for Free
1. PDF Resizer
PDF Resizer is a free online PDF resize that is available for personal or business use. You can use it to resize your files so as to save on bandwidth, computer resources, and enable people to download your PDF files without having to wait for long. The site allows you to upload any number of files to be compressed at the same time. This batch compression is great for people who have many PDF files to distribute. The great thing about this tool is the fact that it allows you to select the type of compressions that you want. There are four different presets, namely low-quality, medium quality, high quality and very high quality. You may also resize the size of the page.
Pros:
It has preset compression options that you can choose from.
It allows for batch compression of multiple files.
It has no limit on the number of files or the files size.
Cons:
There are none at the moment.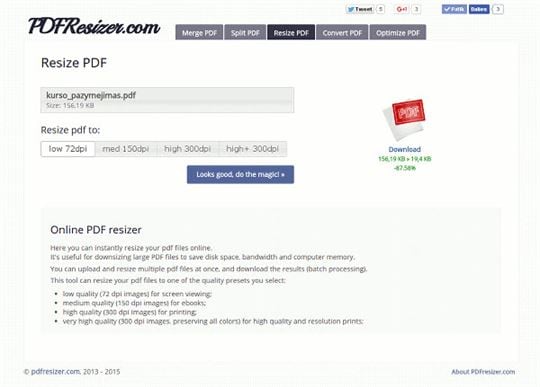 ---
2. PDF2go
It is quite a hassle when you are preparing a PDF files for online publishing. Now when it is completed, you find that the final file is hundreds of MBs huge. This is not optimal for online publishing and people may reject it simply because of the large file size. With PDF2go you can resize your PDF file and still maintain the quality that you want. This tool not only resizes PDF files, but allows you to upload files in other format, which will then be converted to PDF before they are resized. This is a versatile tool with other advanced PDF editing tools. You can do all your creation, editing and resizing with this tool and not have to install any PDF editor to your computer.
Pros:
It can convert files from other formats before resizing.
It allows you to choose the quality that you want.
It can batch resize multiple files.
Allows for splitting of PDF if you want several small files.
Cons:
There are none at the moment.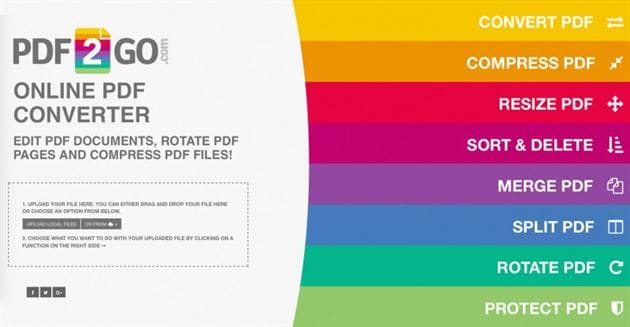 ---
3. PDF Candy
PDF Candy is a free online page resizing tool. Sometimes you do not just require reducing the file size of your PDF document, but you may need to reduce the size of your ages too. This is a great tool for doing just that. The site is secure so all your files are protected. You only need to drag them to the resizing tool and then wait for a few seconds before you get your reduced PDF files. It can also take files from Google Drive and Dropbox. Unfortunately, the site does not have any presets for customizing the amount of compression that you will get, so you have no control over the final quality of the compressed file.
Pros:
Reduces the page size as well as the final document size.
It is safe and secure.
It works very fast and you will have your compressed file within seconds.
Cons:
It does not allow you to determine how much compression is done; therefore you have no control over the final quality.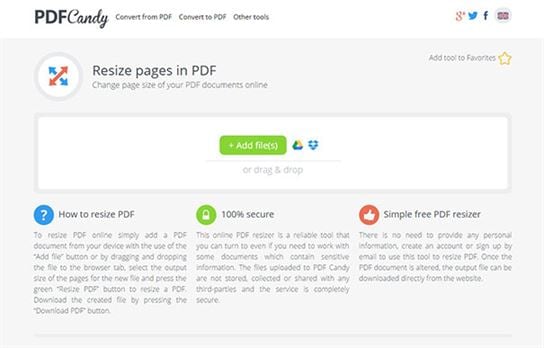 ---
4. PDF Compressor
The PDF Compressor is a free online resize that is functional and easy to use. The simple interface should not disillusion you into thinking less of its capability. Unlike many other tools, PDF compressor does not affect the DPI settings of the PDF file, which means that your file still retains the same quality as the original. This is great for online publishing because you still need sharp images and text. You may also compress a single file, or send multiple files in a ZIP file. The multiple files will be compressed individually, placed back in a ZIP file and then sent to you. This is also a secure compression tool, so your work will not be stolen.
Pros:
It can compress multiple files.
It does not affect the DPI of the file therefore maintains the same quality.
It is secure and all your files are safe from theft.
Cons:
You can only upload a maximum of 20 files at a time.
There may e some errors when batch compressing files.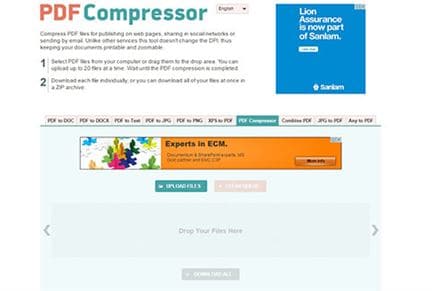 ---
5. Soda PDF
The name of Soda PDF is a free online PDF resizer that give you control over how your final PDF will be after it is compressed. You will be able to say what type of compression you want. This tool can even increase the size of your file should you ever need to. The tool allows you to upload files from your computer, Google Drive and Dropbox. The tool also works with all devices that can access the internet. This means that you can send files using your Smartphone or Tablet. In terms of security, all your files will only be stored for 24 hours and then deleted. This is unlike other tools which only store your files for an hour at most.
Pros:
It allows you to control the size and quality of your final file.
It picks documents sent from mobile devices.
Cons:
It is not as safe as many would want, given that the files and link are kept on the server for 24 hours. Other sites keep them for just an hour.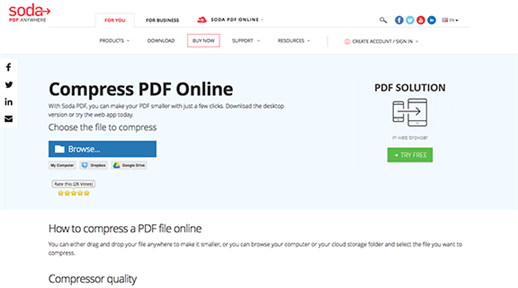 ---
Part 2. The Best PDF Resizer
PDFelement Pro is a desktop tool that you can use to resize your PDF files. When you resize your files using this tool, the quality is maintained. Images remain as sharp as they were in the original. You may also resize individual pages before merging them into a final PDF. This way, you may leave some pages uncompressed and compress those that do not have images. You will keep pages with original images, and compress pages with text.
Easy Steps to Resize PDF Files
Step 1: Download and install iSkysoft PDF resizer.
Step 2: Click on "Open File" to import PDF files.
Step 3: Go to "File" menu, choose "Save As Other" option and then click on the "Optimized PDF" to resize your PDF files.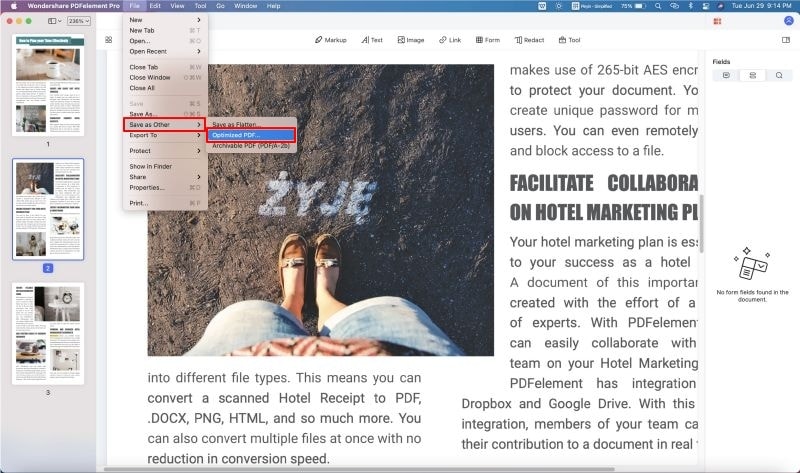 Why Choose PDFelement Pro to Resize PDF Files
Apart from resizing PDF files, you can also use PDFelement Pro to edit and convert PDF files easily. With advanced OCR feature, you can convert and edit scanned PDF documents just in a few steps. There are many other PDF editing features available in this tool. Here are a few of them:
Create and Convert – you can now create your own PDF file straight from a blank page, allowing you to exercise your creativity. You can also create documents in other formats and then convert them to PDF.
PDF forms – you may need a survey published and require a PDF form. Now you can create your own using this tool You can also edit and fill out other forms.
Sign your work – You can now append a digital signature op your work. This adds security for your documents.
Edit & OCR – scan multiple printed documents and then turn them into editable text using the highly accurate OCR feature.
Simple user interface – work comfortably and efficiently with the simple user interface of this program. All features are easily accessible with just a few clicks of the mouse.