If you are an avid PDF user then you will attest to the fact that bookmarks can be one of the best ways to enhance the way you interact with PDF files. Unfortunately, many don't know just how simple creating bookmarks on PDF is. In fact, it is a breeze if you have the right tool for the job. Well, a lot of tools can help you create PDF bookmarks but not every tool is equal to the other. This is why we will be reviewing 10 of the best PDF bookmark maker you can use on your PC, Mac devices and even off the web. In this article, you can also learn how to make bookmarks in a PDF with PDFelement Pro .
Part 1. Top 5 PDF Bookmark Maker for Mac and Windows
We will start with the world of windows and Mac devices (macOS 10.13 High Sierra included) and we will look at five PDF bookmark makers that stand a cut above the rest in this domain. Remember, we will be looking at some of the tools you can use even with the latest macOS i.e the macOS 10.13 sierra.
1. PDFelement Pro
PDFelement Pro is a powerful PDF bookmark maker you can use to make a bookmark in PDF and lots of other amazing PDF tasks. It is a great tool for working in PDF documents whether you are using Mac or Windows and one of the features to salivate for i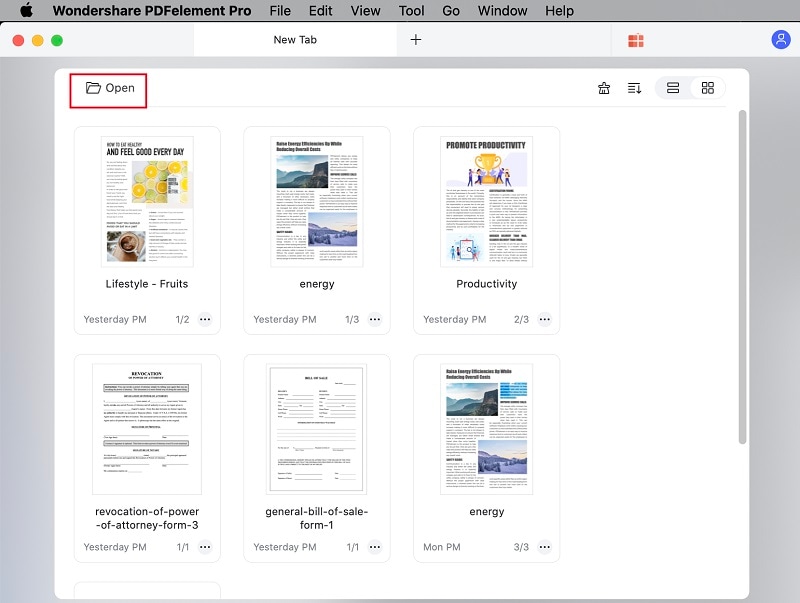 n this editor is the advanced OCR feature that turns paper work into editable PDF images. We also love that it can handle PDF forms in a multitude of ways including helping extract data from such forms.
Pros:
It is a low cost editor with lots of professional PDF features.
It works on both Mac and Windows.
It has a super intuitive interface that is very easy to navigate through.
---
2. Adobe Acrobat DC
Adobe Acrobat DC has got to be the first name that pop ups whenever you hear the name PDF right? And, it's not by a fluke as it was the inventor of PDF. The latest version of this tool features a glittering touch interface coupled new Document Cloud online service that inevitably gives you access to all your PDF files through Acrobat mobile apps or via a computer's Web browser. Basically, the Acrobat DC comes in two forms, the standard, and the pro version. The latter is more powerful featuring advanced features like the ability to compare two PDF versions, reading PDF aloud, it can scan paper to PDF while it also supports Microsoft Office 2016 for Mac. Now you can use this tool to add bookmarks to PDF and much more in the realm of PDF.
Pros:
It has Easily navigable tabbed interface.
It has a plethora PDF editing features.
Acrobat remains the industry standard for PDFs.
Cons:
It is a bit expensive for smaller enterprises.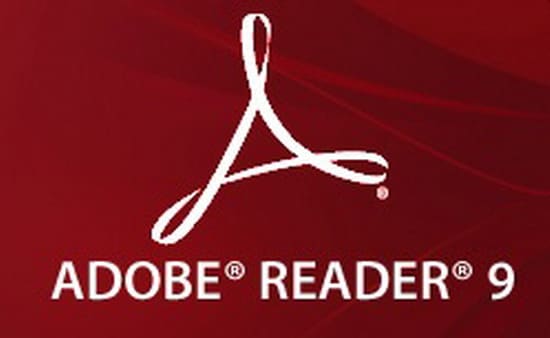 ---
3. Foxit Reader
Foxit Reader is not a new name in PDF as it has been growing in popularity even since it jumped into the market in around 2015. It is another very capable alternative to the adobe reader for adding bookmark. This tool has everything you need to read, create, sign, and annotate (comment on) PDF documents and fill out PDF forms. The latest version of this tool even allows you to track your PDF in terms of who opens the file plus where and when the file is opened. Yes, it has a bookmark making a feature that you can always take advantage of free of charge.
Pros:
It has a nice looking user interface that borrows a lot from the MS Office's Ribbon style.
It has advanced security features to protect your PDF including DocuSign.
It has read feature which can read PDF out loud through headphones or your PC's loudspeakers.
Cons:
The UI is quite busy which can be a complication for new users.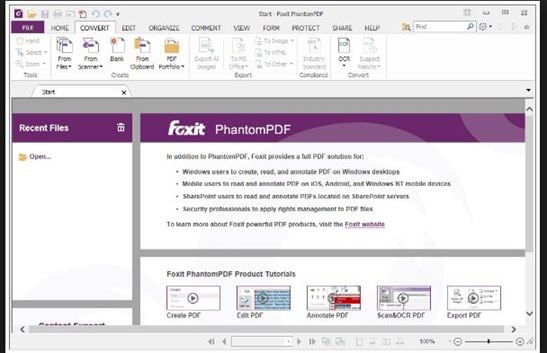 ---
4. NitroPDF
NitroPDF is another PDF bookmark maker worth a place on this list owing to the extensive PDF features integrated into the tool. This is the tool with lots of PDF content editing features not the mention the tools to undertake version control in the case of document collaboration while you can also fill forms, sign documents and add security features to the PDF docs. Again, there is an option to organize your PDF documents by adding PDF bookmarks.
Pros:
It comes with business-ready PDF features.
It has a familiar ribbon style interface.
It allows cloud intergration.
Cons:
It doesn't have a dedicated mobile app.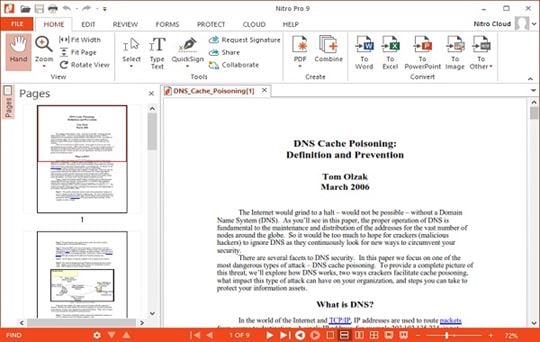 ---
5. NovaPDF
NovaPDF is a PDF software tailored for windows OS and one that is very good for handling bookmarks. The tool has the ability to create bookmarks in PDF based on formatting detection rules. In other words, you can be able to configure the software to automatically turn a word/sentence/paragraph into a PDF bookmark using bookmark definition. Moreover, the tool comes with other features that allow users to convert regular documents into PDF not to mention that you can also go as far as customizing your PDF documents through editing, securing and sharing them.
Pros:
The application integrates perfectly with Microsoft Office suite providing other options for customizing the way you save your office documents to PDF.
It has a good range of PDF handling features.
Cons:
Users have found adding watermarks in precise locations a little cumbersome.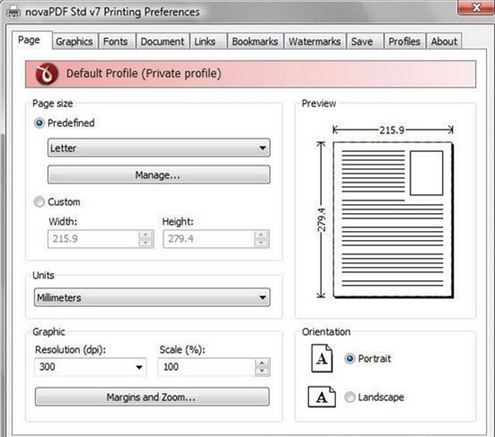 ---
Part 2. Top 5 Online PDF Bookmark Maker
There are also cases when you may want to add bookmarks to PDF but you may not want to install a tool to do this. If that is the case then here are 5 tools that you can use for this:
1. PDFOnline
PDFOnline is arguably one of the best online PDF bookmark maker to make bookmark in PDF file online. It is also an online PDF reader/editor that also offers different type of PDF conversions. The tool also has a PDF cloud option for handling PDF everywhere.
Pros:
It has comprehensive PDF tools.
It has API for integrating PDF solutions to apps.
It is free to use.
Cons:
It is limited in terms of the file size you can upload and handle.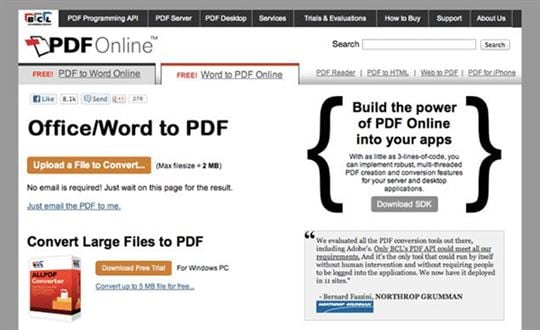 ---
2. Sejda PDF
Sejda PDF is a simple online PDF software that allows you to convert, edit, merge and split documents right in your browser. You can also use this PDF tool for creating bookmarks in pdf online. Yes, you can use this tool even on your mobile devices like tablets and mobile phones although with limited functionality. Still, there is a desktop option for those who want to work offline but you can just use the online Sedja PDF to make your PDF bookmarks without installing any software.
Pros:
It is pretty easy to use.
Works online as you don't need to install software.
It allows Bates Numbering.
Cons:
It is limited in functionality.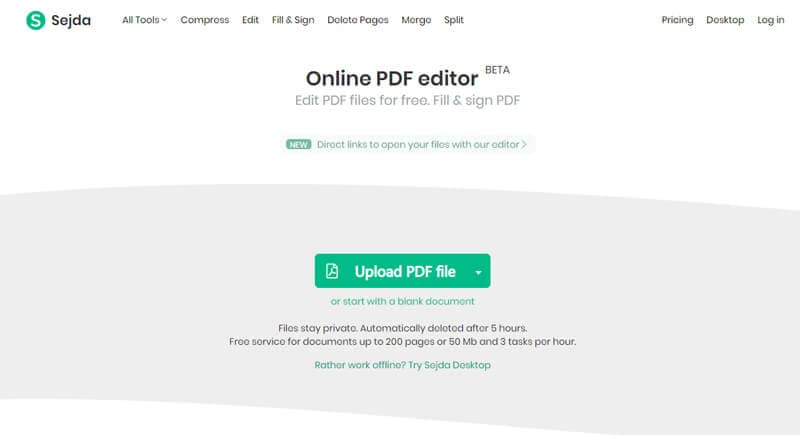 ---
3. PDFecape
PDFecape covers lots of PDF functions including reading, editing, creation, form filling, and annotation. You can also use the tool to make a bookmark in PDF using this tool, but there's a limit on the size of PDFs that you can handle with PDFescape– 10MB or 100 pages. The free online editor will also be unable to edit text in existing PDF files.
Pros:
Free online PDF editor though there is a desktop version for advanced features.
It is good with PDF forms.
Cons: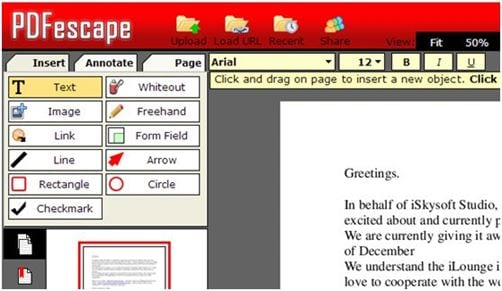 ---
4. PDFOnlineReader
PDFOnlineReader is a simple PDF Reader but with tools that allow users to not only create bookmarks in PDF but also view PDF documents, add annotations, highlight texts and add bookmarks to the PDF documents. All you need to is upload your document and you are good to go!
Pros:
It is a free online PDF service.
It is free to use.
Cons:
It is very limited in PDF functionality and in the size of files you can handle.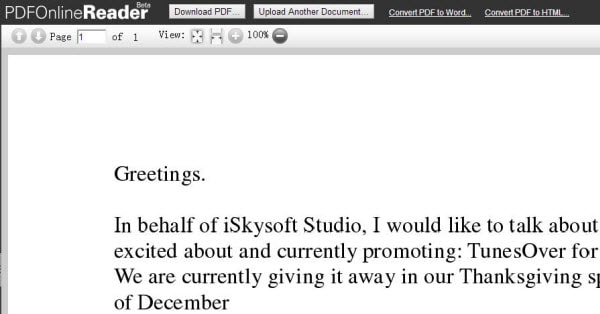 ---
5. SodaPDF Editor
SodaPDF might be the last on this list but it could as well have been the first! Well, it is one of the online PDF editors with the most attractive UIs and you can take advantage of this tool to make PDF bookmarks online and much more PDF work. In particular, there is a plethora of PDF conversion features and other tools to make bookmark in PDF file, split PDF, compress PDF, protect PDF and do page numbering.
Pros:
It is one of the best PDF converters online.
It has a super cool user interface.
It has comprehensive PDF features for an online tool.
Cons:
It is limited in PDF functionality.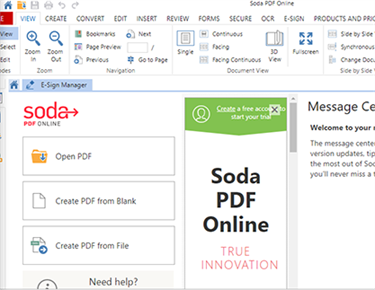 ---
Part 3. How to Make Bookmark in PDF File
Now that you know a thing or two about the best tools for making bookmarks in PDF, how about we tell you how you can use one of these tools to do so? You can use PDFelement Pro for this keeping in mind that it is one of the best on the list. As a matter of fact, this tool has tons of cool features to edit PDF documents-you can edit text, images and PDF pages. You can also create PDF, combine PDF pages, split PDF into smaller pages plus you can convert to and from PDF. PDF form handling is another aspect that the PDFelement Pro is good at and it's not just about filling in those PDF forms at your disposal, you can create PDF forms, turn old forms to interactive ones and even do some data extraction with this tool.
The tool also affords you tools to bookmark PDF, do Bates Numbering, Customize PDF and control user permissions. In terms of document security, PDFelement Pro is also let you sign, secure and share PDF in a way that many PDF tools can.
Steps on How to make bookmark in PDF file:
With this multi-functional PDF bookmark maker, you can easily make bookmarks in a PDF file. The steps below will show you how to make a bookmark in PDF document just in a few simple steps.
Step 1. Launch PDFelement Pro
To create PDF bookmarks using this tool, you will first need to free down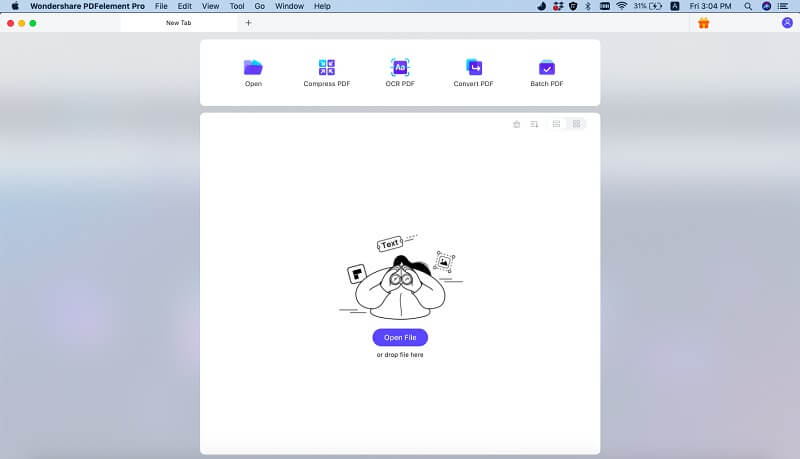 load the PDF bookmark maker and launch the software on your Mac or PC computer.
---
Step 2. Open PDF Files
The next step is to import PDF files to the program. To do so, you can easily click on the "Open File" button and select the desired PDF to open the file with this PDF tool. You can also drag and drop the selected PDF file to the "Edit PDF" tab with ease.
Step 3. Make Bookmark in PDF File
After you've imported the PDF file to the program, you can click on the "View" button to open the left side toolbar. Then you can choose the "Bookmark" option and right-click on the space on the bookmark menu. From the pop-up window, you can click on the "Add Entry" button and enter the name of the bookmark you needed and you can easily make bookmark in a PDF file.