A PDF reader app is more than just a file opener. The purpose of PDF apps is to provide different tools and features for navigation, annotation and storage of PDF files. They offer different document management tools for a smartphone such as note taking. PDF note taking app is a PDF editor that contains not only note taking PDF tools but other functions as well. Today, we will talk about the best PDF note taking app that you should have on your smartphone. The PDF apps that we will discuss in this article can also be downloaded in the desktop version as PDF note taking app Windows and PDF note taking app Mac. So, without further ado let's take a look 3 of the best PDF note taking apps.
Best 3 Note Taking Apps You Can Choose
1. PDFelement Pro
Making to the top of the best PDF note taking app list, is PDFelement Pro. PDFelement Pro is a free to install PDF note taking app. It is a smooth app that focuses on boosting your productivity and helps you read, manage and annotate PDF files. Some of the top features of this note taking PDF app include markup, annotation, highlight, strikethrough contact shapes and freehand drawing. You can also combine different format files into a new PDF. It also offers many file management and sharing features. Moreover, you can also take notes and add comments to the content of your PDF. Thus, PDFelement Pro is the one-stop-shop for all your PDF needs.
Supported Platforms: Mac, Windows, iOS and Android
Pros
Offers a wide range of PDF note taking tools making it simple to annotate documents
You can edit, replace, extract, delete and share PDF pages using this app
The user-friendly interface makes it easy to use the app on the go
Watermark and password protection features provide protection against unauthorized use
Free app to download and use
Cons
Adjusting text size on a smartphone screen can be a bit of a hassle using this app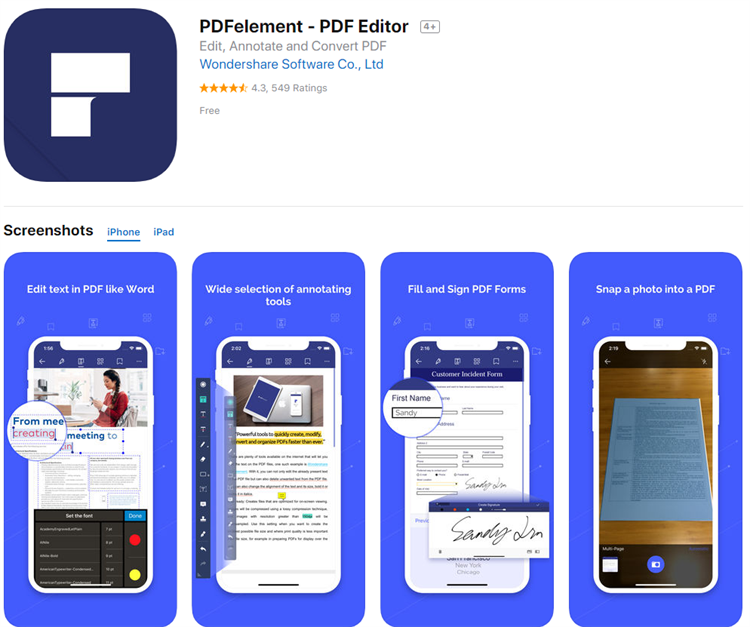 ---
2. Xodo PDF Reader and Editor
Xodo is another note taking PDF app which features several PDF tools such as editor, annotator, signer, converter etc. One of the best things about this app is that it delivers smooth navigation and auto-sync feature which allows you to edit PDFs with Google drive, One Drive and Dropbox. All in all, this is a great PDF app to read, annotate, sign, convert, manage and share PDFs. This is why it is one of the top 3 PDF note taking apps on this list.
Supported Platforms: Windows, iOS and Android
Pros
Wide range of tools to organize and merge PDF
Flexible zoom and view modes
Supports cloud storage services
Cons
Sometimes lacks and slows down the device
The app crashes sometimes when you try to take notes on a large file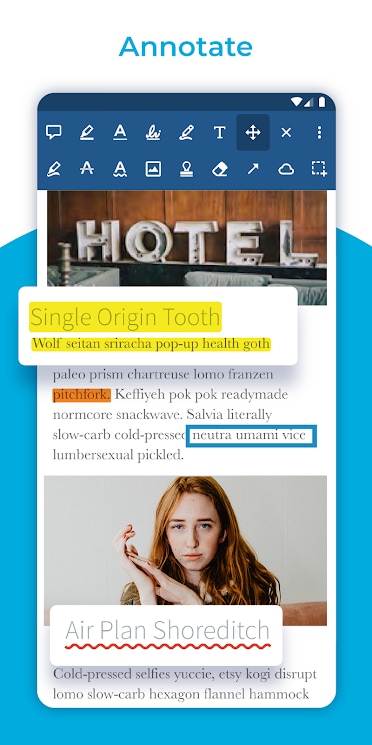 ---
3. PDF Reader Pro
Last but not the least, to conclude the list of 3 best PDF note taking apps is PDF Reader Pro. PDF Reader Pro is a reliable, efficient and functional PDF viewing app that comes with a spectrum of different features. It allows you to annotate, edit, scan, manage and share PDF documents. It also features note taking PDF tools that make it a decent PDF note taking app for smartphones. PDF Reader Pro is available across different terminals so it has a version for PDF note taking app Windows and PDF note taking app Mac.
Supported Platforms: Mac, Windows, iOS, Android and Linux
Pros
Works quickly without any complications
Offers efficient management of PDF documents
Different PDF editing and annotation tools are available
Cons
Poorly designed user interface
Large PDF files slow down the app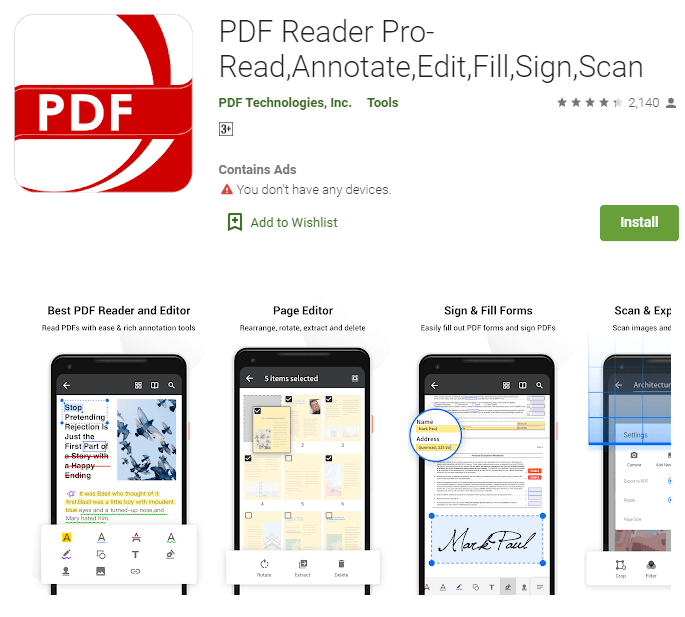 ---
Best Note Taking App for Mac and Windows
PDFelement Pro has made it at the top of our list and rightfully so. It is not just a PDF note taking app for mobile phones but also works great on desktop. PDF note taking Windows app of the PDFelement Pro gives you different features to annotate, edit and share PDF. Similarly, PDF note taking app Mac of PDFelement Pro comes with different tools. Featuring a wide range of advanced tools user-friendly interface and smooth navigation PDFelement Pro is the best all in one PDF software.
Here are the best three features of PDFelement Pro:
Optical character recognition (OCR) feature for professionals to quickly scan PDF files
Allows you to add annotations and notes to the document
Advanced password protection feature and redaction tools protect your PDF document from unauthorized access