Normally, the PDF format is used by authorities to convey confidential content. Due to this element, there is a need to alert users of such PDF files that the information is confidential. You can add confidential watermark to PDF to guarantees classification or forbid others from reading the document. There are some exceptionally smooth PDF software available that, aside from essential PDF creation administrations, add watermarks on PDF files. If you want to share delicate PDF documentation and need some assurance that your files won't be changed, circulated or abused in whatever other way, you need to acquire a reliable tool for PDF confidential watermark.
How to Add Confidential Watermkark to PDF
PDFelement Pro for Mac - The Easiest Way to Add Watermark to PDF Files
Subsequently, in the event that you want to add confidential watermarks to PDF files, I suggest that you use PDFelement Pro. It is an exceptionally recommended PDF editor for Mac users that will allow them to add watermarks with ease. This is without any reservations one device that will permit you to import PDF files to the program and add watermarks. PDFelement Pro for Mac gives users a chance to redo the color, textual style, size and position of the watermark so it shows up on the report page with an expert look. Additionally, you can change over PDF files from Excel, Word and PowerPoint and in addition add comments to PDF records with this program.
Key Features of This PDF Editor
Allows users to add watermark on a PDF, and also give alternatives to customize the watermark.
With the help of this tool, you can add watermarks to multiple PDF files in batch easily.
Allows users to edit PDF files pretty much as you would do with a word processor.
Enables you to encode PDF with secret key, and decode secured PDF effortlessly.
Convert PDF files to Word, Excel, PowerPoint and different files.
---
Steps to Add Confidential Watermark to PDF on Mac
PDFelement Pro for Mac lets you successfully add watermarks on PDF files effortlessly. This software will make it easy for you to add and customize your watermarks so that your document gets that professional look. The following tutorial will demonstrate to you the procedure you will need to follow in order to accomplish to add watermark to PDF on Mac.
Step 1. Launch the program
To begin with, you should download and install PDFelement Pro for Mac. This software completely supports Mac OS X 10.7, 10.8, 10.10, 10.11 to 10.12(Sierra). You will need to drag the program to your application files in your Mac. This method will take a few moments.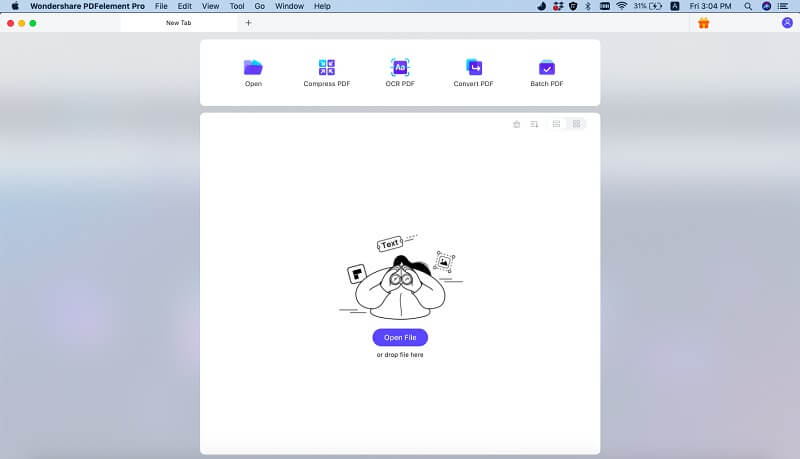 Step 2. Import PDF file
After an effective installation, you have to import your PDF file from your Mac. When you open the program on your Mac, tap on "Open File". You will be coordinated to your Mac's drive where you store your PDF files. Look for the PDF file that you need to edit and click "Open".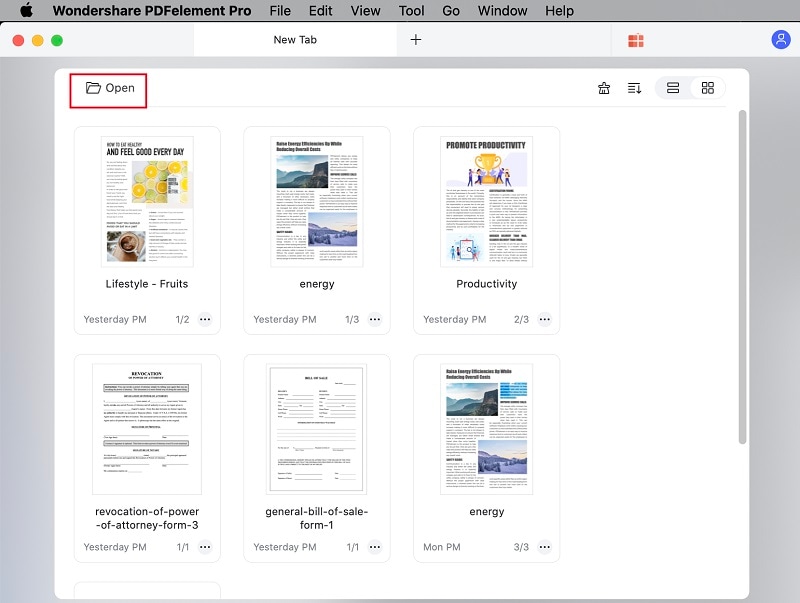 Step 3. Start adding PDF confidential watermark
After you have imported the PDF file, you can simply go ahead and add the watermark to your PDF document. You will do this by clicking "Watermark" under the "Edit" menu. Then choose the "Add" Option. A window will appear where you will pick the type and design of the watermark. When the setting is done, click "OK". In seconds, the watermark will appear on the PDF page.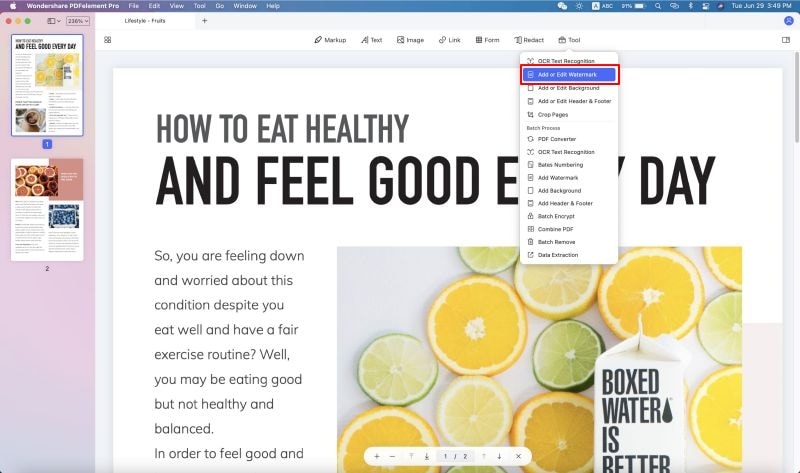 Step 4. Batch add watermark to PDF files
If you want to add watermarks to multiple PDF files, you can go to the Homepage of the program and click on the "Batch Process" button. Then click on the "Watermark" button and select the "Add" option. Click on the "Add Files…" to import the PDF files. And then you can continue to use above same steps to add watermark in your PDF files.