PDF files are stable and do not lose their format and structure when sent over the internet like most other document file formats such as word documents do. This means that many people are increasingly being required to sign PDF files sent to them over the internet and then sent them back over the same channels. This calls for a system of signing files without the need to download them. For most people, the most readily available option for signing PDF files on their computers is to use the Adobe Reader signature. This is because Adobe Reader is the native PDF app and most personal computers come with an Adobe reader already installed which makes it easy to find. In this write-up, we will explore how to add Adobe Reader signature to PDF files.
Part 1. How to Add Signature to PDF with Adobe Reader
Adobe Reader is the native PDF application. It has many features that enable you to perform any PDF functionalities. One such functionality is adding Adobe reader digital signatures to PDF files. To do so, simply follow these steps.
Step 1. Open your PDF File
Make sure that the Adobe Reader is installed on your computer and you have the right subscription for you to use this feature. Now click the 'open' icon to open the PDF file you want to sign.
Step 2. Sign your PDF
Click the 'Sign' and then on the pop-up menu select to 'Place Signature' and then choose the signature from the four options you have. Here you can create the signature from your name using a style, use your mouse to create the signature, upload a scanned signature or use your webcam to take an image of a handwritten signature. Chose an option that works for you then follow the onscreen promotes to complete the process.

---
Part 2. Sign PDF with Adobe Reader Alternative – PDFelement Pro
Although Adobe Reader is the native PDF application, it is designed with too many functionalities that often overwhelm it and make it less appealing as it can seem more complicated. If you find the Adobe Reader not working for you the best option you have is PDFelement Pro. Just like the Adobe Reader, PDFelement Pro is designed to help you carry out all your PDF functions. This means that it comes with all the important features that Adobe Reader has and is equally powerful and fast. However, unlike the Adobe Reader, its interface is designed to be user friendly which makes it easy for anyone.
To use PDFelement Pro to add a signature to PDF files simply follows these steps.
Step 1. Open PDF file
Launch PDFelement Pro on your computer once you have it successfully downloaded and installed. Next, open the PDF file you want to sign by clicking the 'Open File' tab and then selecting the file from your computer.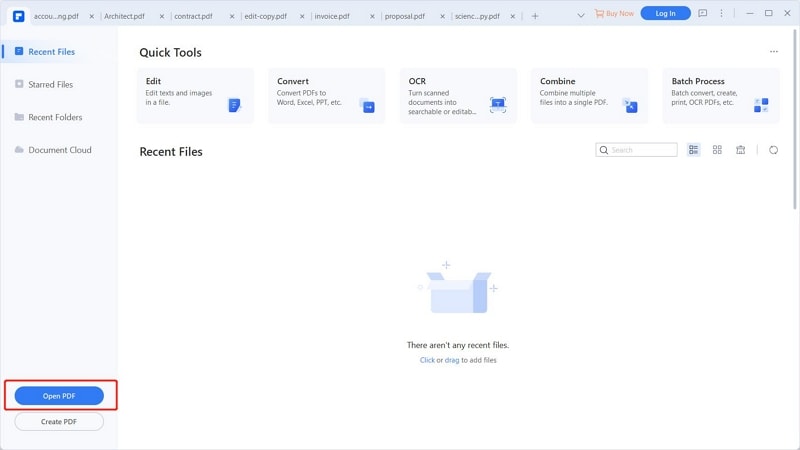 Scenario 1. Create the electronic signature
Creating a electronic signature is quite easy. Click the 'Comment' tab and then select the 'Create Stamp' tab. Simply sign your signature on a blank piece of paper and then scan it or take a snapshot of it and upload it to your computer as an image. Alternatively, you can use the writing board to make your name signature.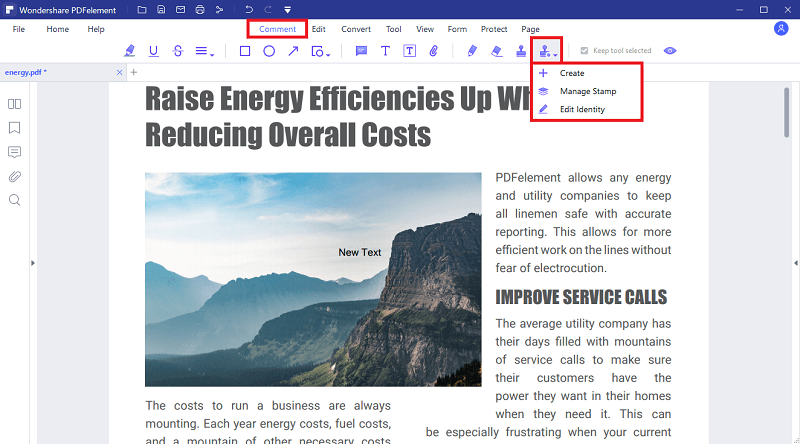 Step 3. Add your electronic signature to the PDF
Now follow the onscreen prompts to select the signature you just created above on your computer. Now add the signature by clicking 'Select Picture', and make sure it fits well then complete the process and save your file.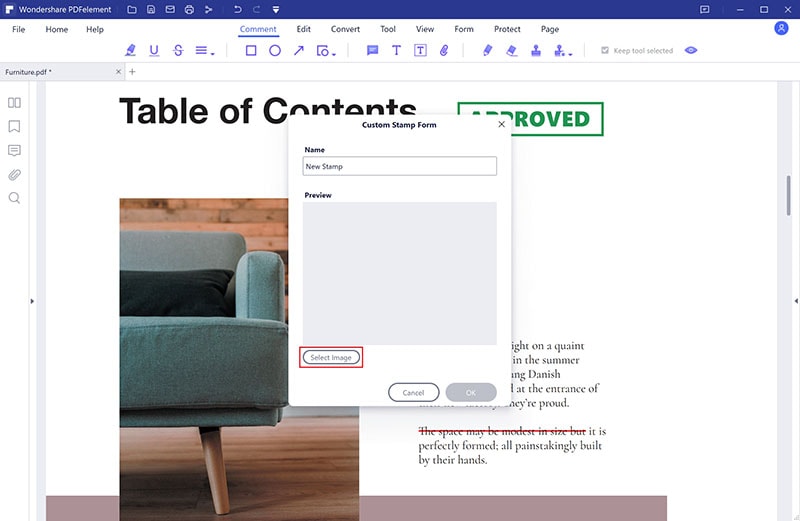 ---
Scenario 2. Create a digital signature
An alternative method is to use PDFelement Pro to create a digital signature and use it to sign the PDF files. To do this, simply follow these steps:
Step 1. Insert digital signature
Click the 'Protect' tab and then select 'Sign Document' and then hover the cursor where you want to add the signature. A dialogue box for 'Sign Documen' will pop up.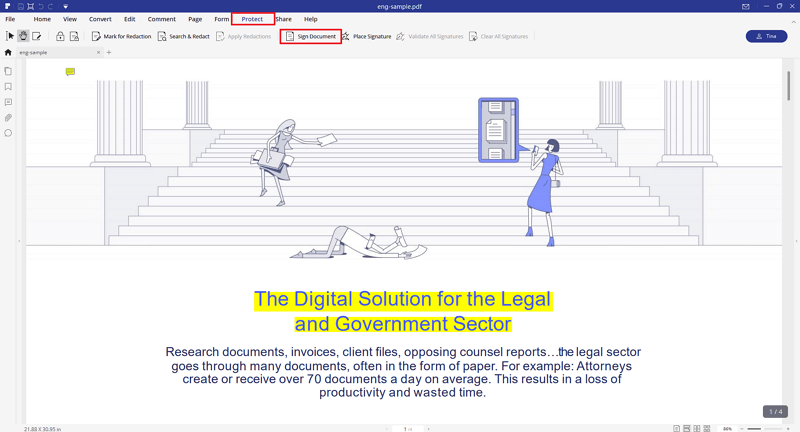 Step 2. Create your digital signature ID
To create a signature ID simply click on the 'New ID' button and import your digital ID. This will to the dialogue for '' where your digital ID will appear as your signature. Simply click the 'SIGN' button to complete the process.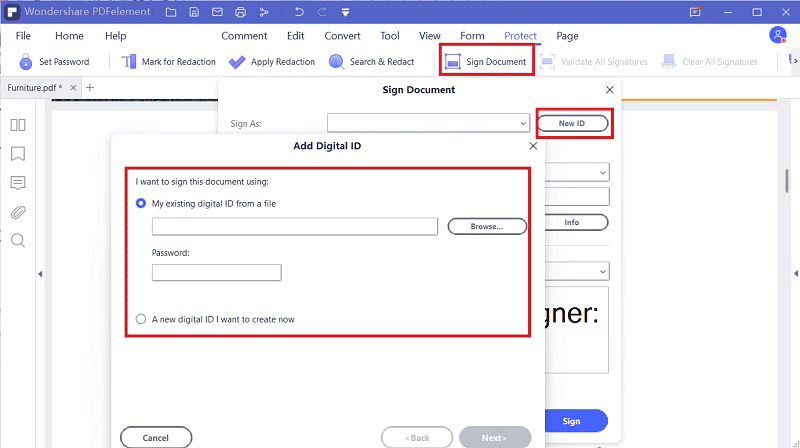 ---
Video on How to Sign PDF with Adobe Reader Alternative