Have you ever wanted to print, edit, or open a document, yet you are prompted to enter the password every time you do it? What if you are dealing with multiple documents or the operation is more frequent? This can significantly eat your time and energy. Fortunately, there is a sure way to convert secured PDF to unsecured PDF. This way, you simply open the document and edit it without entering passwords. In this article, we will take you through a detailed guide on converting secured PDF to unsecured PDF.
How to Convert secured PDF to Unsecured
PDFelement Pro is a powerful PDF software equipped with a plethora of amazing features. This tool is an obvious pick for myriads of people and organizations owing to the immense features, speed, ease of use, affordability, compatibility, and support for a wide range of file formats. This program allows users to create, convert, annotate, print, read, organize, compress, share, protect, and perform OCR on PDF.
How to Convert Secured PDF to Unsecured
Step 1. Open Password-protected PDF File
Once you have downloaded and installed PDFelement on your PC, proceed to run the program. When the PDFelement interface is displayed, click the "Open files" button to enter the file explorer window. Now browse for the target password-protected PDF document and click "Open" to upload it. Now, the "Password" pop-up window shall appear on the screen asking you to enter the document password. Simply enter the correct password in the password field, then click "OK" to confirm and open your PDF document.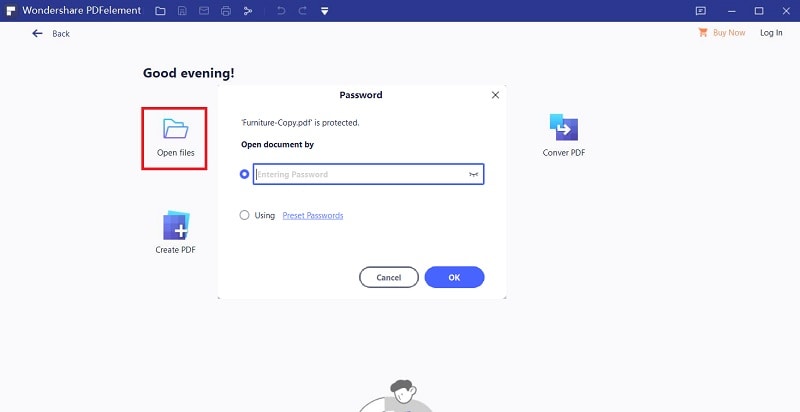 Step 2. Unsecure PDF
With the password-protected PDF document now open, you can proceed to convert secured PDF to unsecured PDF. To do so, go to the "Protect" tab on the toolbar. From the "Protect" sub-menu, click the "Set Password" option, and the "Security" window will be displayed. On the Security window, uncheck the "Open Password" and "Permission Password" checkboxes. Again, delete the respective passwords and click the "Save" button at the bottom-right of this Security window. Your PDF file is now password-free.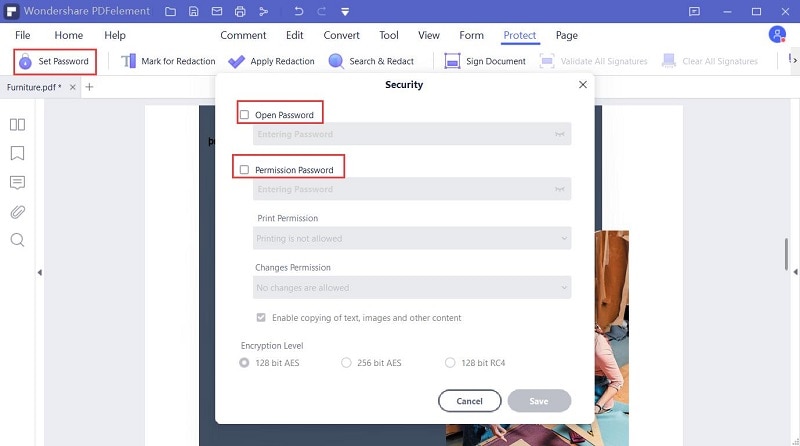 Step 3. Save Unsecured PDF
After converting secured PDF to unsecured PDF, you need to save the changes to avoid the program discarding them. Simply navigate to the "File" menu and select the "Save" option. If you want to change the location or name of your unsecured PDF file, choose the "Save As" option and follow the on-screen instructions to complete the process.