Many people look for answers to one fundamental question, and that is how to create password protected PDF? This is the most sensible step to take if you want your PDF file to remain secure. Some of your PDF files may contain sensitive information, and if you want to create password protected PDF, then you have come to the right place. Here, we will tell you how to add a password to your PDF file with PDFelement Pro. So, go ahead and read the full article to know everything about it.
How to Create Password Protected PDF with PDFelement Pro
The tool that lets you add a password to your PDF file is PDFelement Pro. This all-in-one tool is a robust PDF editing tool which lets you secure your PDF file, edit PDF, add notes and annotate your PDF document, add picture, edit the picture, the OCR feature lets you work on scanned PDF files as well. If you are wondering how to create a password for PDF file using PDFelement Pro, there are two methods provided. Let us explain both the methods one by one.
Solution 1: Create Password Protected PDF with Permission Password
If your PDF contains sensitive data, then it is always better to encrypt them with a password. That way, you will be sure that your PDF file is protected from everyone. And you can share the password with those who need to see the data. This way, you will also be in peace of mind knowing that no unapproved person will get access to your PDF file.
Step 1. Download the software
First, download PDFelement Pro in your computer where you would like to operate. Once done, you will have to launch the tool and click 'Open PDF' to import the PDF where you would like to add a password.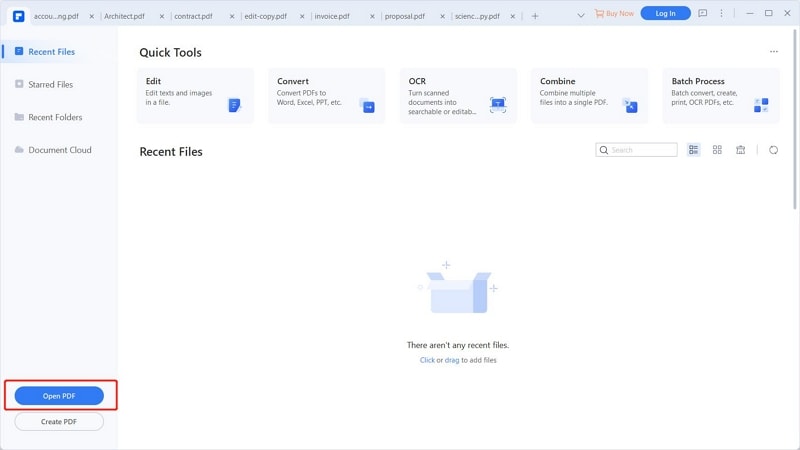 Step 2. Creat password protected PDF
When you imported the PDF file, click on 'Protect' and then hit the 'Apply Password to Encrypt the PDF File' option. Now, you can add 'Open Password' which require a password to open the document. On the other hand, you can create permission password under the 'Permisson' option to avoid the viewer who want to print, edit or copy PDF contents.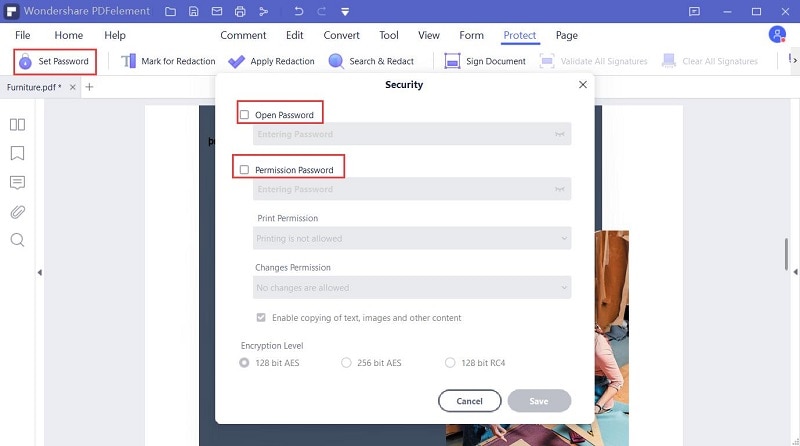 Step 3. Save password protected PDF
After you have created password for PDF, you need to save the PDF so that the changes can be saved.
---
Solution 2: Create Password Protected PDF with Open Password
The second method is more useful for those who would like to have a password for a few PDF documents that need to open daily. There is an option to set a default password as well. This way, you will not have to type in the password every time you try to open the protected PDF file.
Step 1. Create password PDF for daily opening
For this, you need to click on 'Protect', then click the 'Set Password' icon, now you need to enter a commonly used password. Once done, click on 'OK'.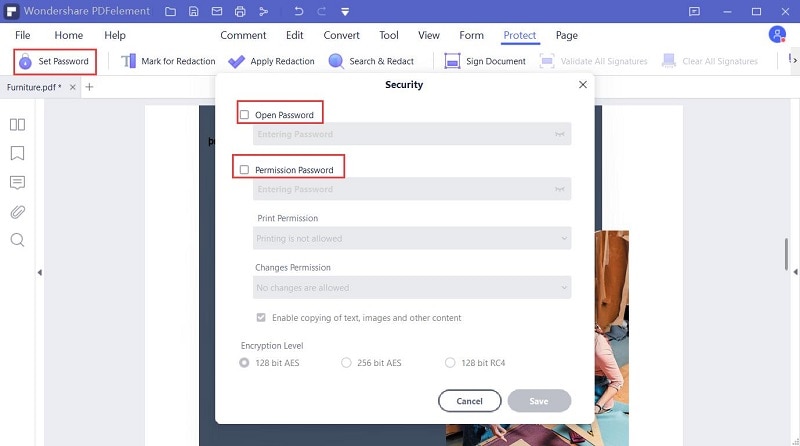 When you enter a commonly used password, the tool automatically detects the password that you have entered while setting up the password and opens the file for you.
If you are not sure about the best encryption software to use, try PDFelement Pro that will let you create password and protect your PDF file from everyone. Not just this, this tool comes along with many other useful features as well, for example, you can edit your document, modify your PDF, merge and split pages of the PDF document, and more.