Digital signature is the process of ensuring that the PDF is not changed during transmission. It is the most secure and advanced type of electronic signature. Each digital signature provides users with the unique identity and authenticity of the signed document to provide the highest level of assurance. In this article, we show you how to digitally sign PDF with PDFelement Pro.
Part 2: How to Create Digital Signature in PDF
If you are wondering how to digitally sign a PDF document then all you need to have is PDFelement Pro. With PDFelement Pro you can use it to do virtually anything on a PDF file from creating one, edition one to converting one any other document you may think of. Still not sure how to digitally sign a PDF, then follow the below steps:
Step 1: Open your PDF file
Before you even consider how to add an digital signature to PDF, the first step you need to take is to get your PDFelement Pro program ready. Now on the PDFelement Pro home screen click on the 'Open File'. Next, select the file you want to sign digitally and the program will open the PDF file for you.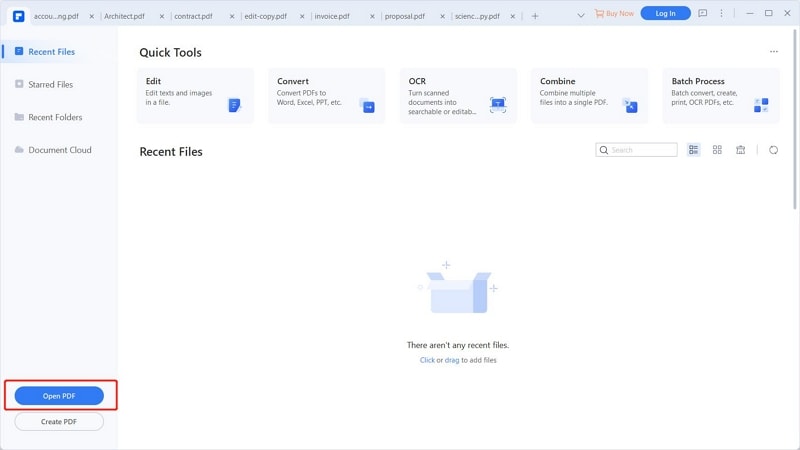 Step 2: Create your digital signature
Select 'Protect' and then click the 'Sign Document' tab. Now click on the area where you are supposed to add an digital signature. A dialog box for 'Signing the Document' will pop up where you are to add the signature.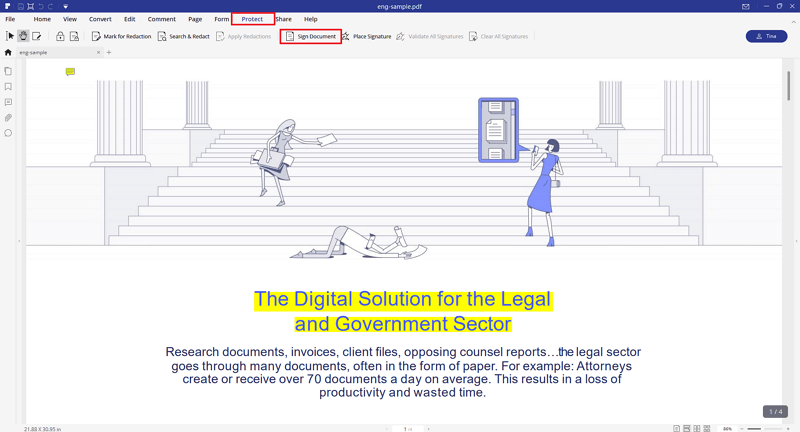 Step 3: Digitally sign a PDF
To digitally sign the PDF file you will need a digital ID. To get one click on the ID button and then follow the on-screen directions to create a new digital ID by providing all your personal information such as your name, address, job title, etc. after you have created your new digital ID you will be redirected to the 'Signing the Document' dialog box where all the information on your digital ID will appear. To digitally sign the document simply click the 'SIGN' tab and your document will be signed with your digital ID.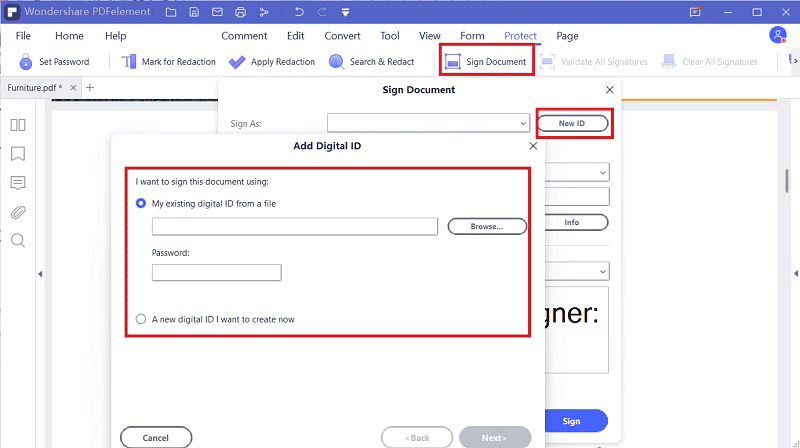 Step 4: Save your PDF file
Your document has now been signed digitally, close and saves it on your computer for uploading online. Now you don't have to worry about signing documents online when making applications for government programs or when handling your work-related documents. Whenever you need to sign a document online your computer all you have to do is to use the PDF element and digitally sign them is a few simple steps.
---
Video on How to Create Digital Signature in PDF