Whether you are using PDF for business, education, or for general use, PDFs are a wonderful way to share information. You may feel PDF files are secure, but they are not completely secure, and unauthorized access to your system or any virus attack can expose your valuable data. To safeguard PDF you can encrypt PDF online without the need to download any software. When PDF carries uttermost important data it is best to encrypt a PDF. Things become pretty easy as you can easily encrypt PDF online.
How to Encrypt PDF Online
HiPDF is an all-in-one fully functional online PDF editor. It includes features for beginner and advanced users. With this solution, you can work effortlessly and seamlessly. It is a hub of all the PDF tools that include; convert from PDF, to convert from PDF into any format. You can edit, merge, lock, compress, resize, rotate, extract, and much more. With HiPDF security interaction you can use it anytime.
It is the quickest way to edit PDFs online. Just upload a PDF, process the feature, and download it back to your computer. Here is a step-by-step guide on how to encrypt PDF online using HiPDF:
Step 1. First and foremost, visit the official website of HiPDF and select on the "All Tools" icon at the top first icon and then go to the "Protect PDF" tab.
Step 2. HiPDF offers two methods to upload a file, click on the "Choose File" or drag and drop a file or to upload the file.
Step 3. Now the PDF is uploaded on the window, Enter the confidential password containing 6-20 characters into the input box, and after that click on the "Encrypt" button to implement the password.
Step 4. At last, click the "Download" button to download the encrypted PDF file on your local system. You can also directly save it on google drive or share a password-protected PDF by mail.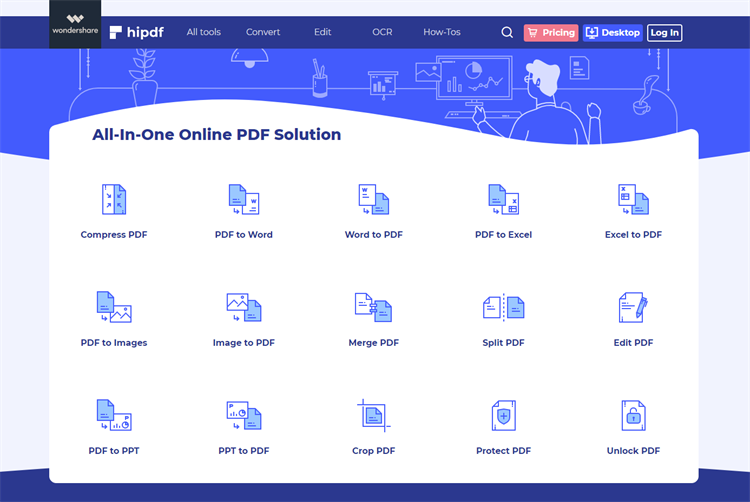 ---
How to Encrypt PDF on Desktop
PDFelement Pro is intuitive software that enables you to create, edit, convert, sign, annotate, and protect PDF files. It is a cross-platform editor that runs on both Windows and Mac operating systems. Moreover, this software comes with an advanced OCR engine for scanning paper documents. Its approach is simple and efficient and makes it working with digital documents stress-free. Most users prefer desktop applications due to security reasons. So here we are with the best desktop PDF editor - PDFelement. Easy to install and use make it the best choice. Now let's get straight on how to encrypt a PDF on a desktop application.
Step 1: Open a PDF file
First of all, it requires you to install and you need to open PDFelement on your computer. On the software, you can see the "Open files" icon on the home window, click on it. A file explorer window will open up. Use it to add the PDF file into the software that needs to be encrypted and click on the "Open" button to load it to the program.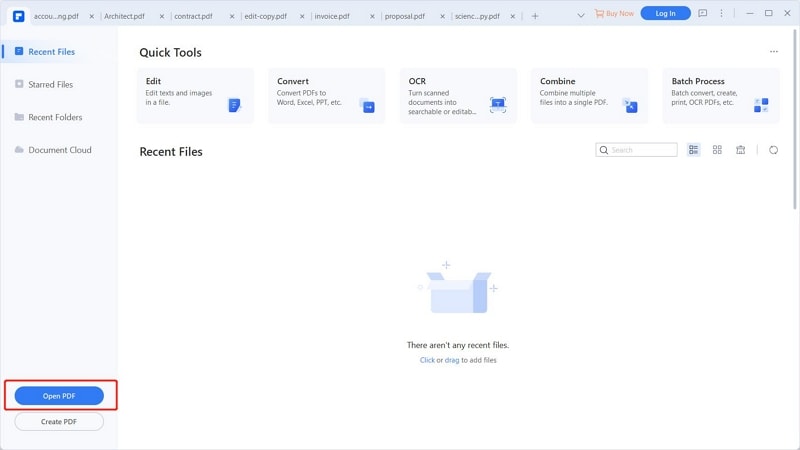 Step 2: Encrypt a PDF
Once the PDF is loaded on PDFelement, click the "Protect" tab which is on the top horizontal toolbar then choose the "Set Password" option. Thereafter it will display the "Security" dialog box, use this part to configure an Open Password or Permission password. Open password is enforced to restrict others so that user can't open or view the PDF document. And with the help of the Permission password, the restrictions can be enforced to limit certain features. Enable Open or Permission Password by clicking on the respective checkbox. Enter the confidential password and determine the choices you wish to take to level up the encryption. Click the "Save" button to implement the encryption.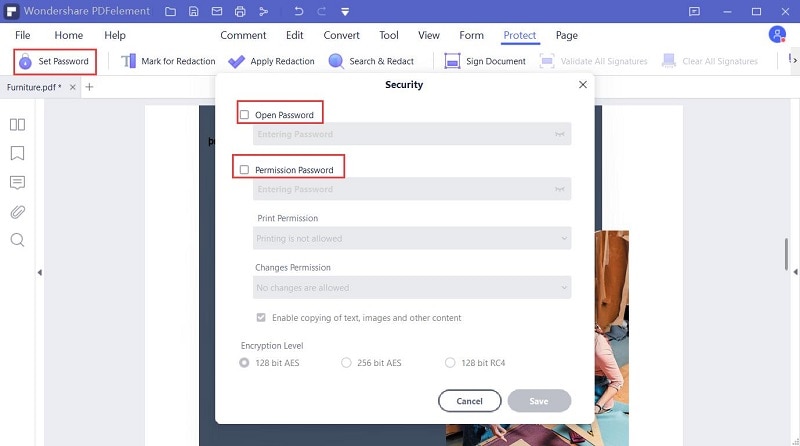 Step 3: Save Encrypted PDF
Once you have made the selections, click the "Save" icon on the topmost toolbar to permanently save the encryption password on the PDF.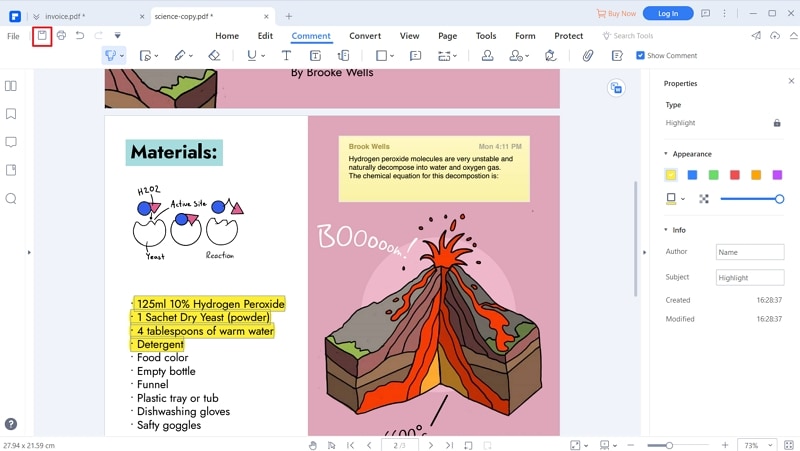 ---
Other Tools to Encrypt PDF Online
PDF is one of the most widely used digital formats for electronic documents in all workplaces and education institutes. PDF documents are easy to share that makes it a universal format for web documents. But unfortunately, while these documents are easier to share it's hard to encrypt without specialist software. Here are our top 4 picks for the best online PDF software. Each of the software has specific strengths and limitations, so we'll leave it up to you to decide which is the most ideal for your PDF editing needs.
1. Smallpdf
It is quite a simple and advanced PDF editor. It offers tools to convert, compress, and edit PDFs and contains other PDF modifications tools. It's simple drag and drop feature lets you drop any PDF file for editing. It also offers the ability to perform cloud conversions. Smallpdf processed document fast and quick way and not compromise with the quality.
Encrypt PDF Online with Smallpdf:
Drag and drop your PDF to the toolbox, choose a file or you can directly import a file from the drive, dropbox, etc.
Once the file is uploaded, enter the password you want to set.
Click the 'Encrypt PDF' button to add the password to the PDF.
Let the process complete and download your encrypted PDF file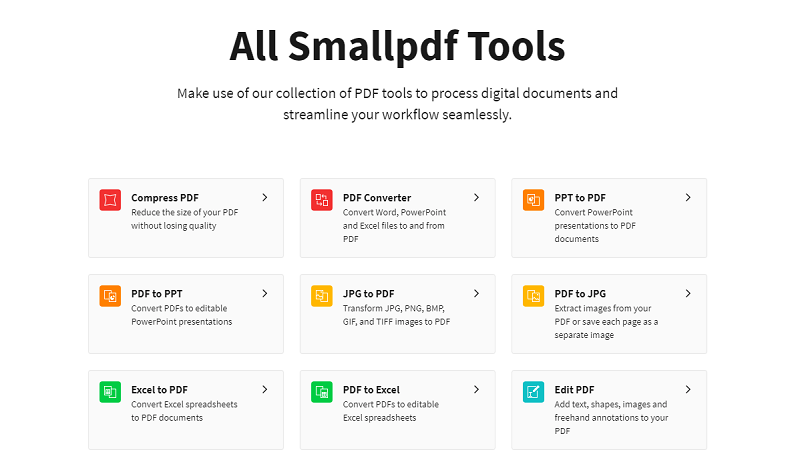 ---
2. CleverPDF
It has a clear and colorful user interface that makes it more interesting and captivating. It offers a variety of conversion tools and PDF utility to edit, compress, split, merge, unlock, protect, delete, rotate, or image convert a PDF. Its desktop version is also available for Mac and Windows users.
Encrypt PDF Online with CleverPDF:
Select a PDF by clicking the 'Choose file' button or simply drag the file to the encrypt PDF page.
You can select an encryption method, open password, or owner password with restrictions on copying and printing.
Click the "Start Conversion" button and the encryption will start.
Download the encrypted PDF file after processing.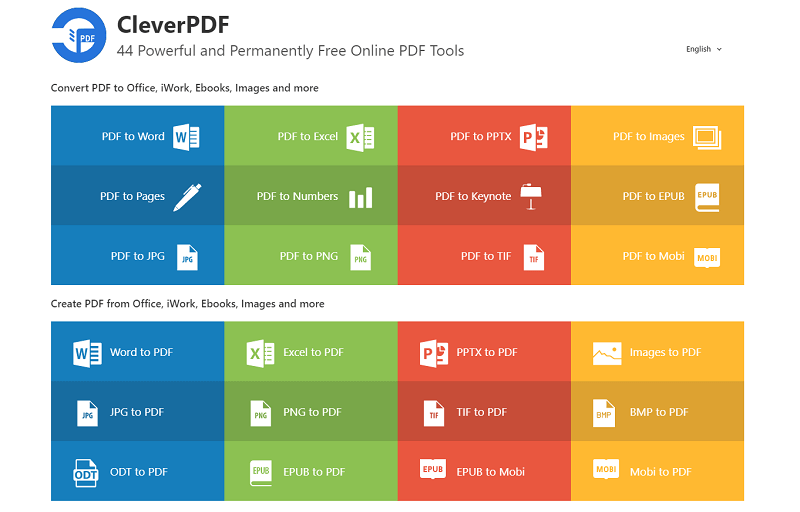 ---
3. PDF2Go
Online PDF Converter provides both powerful PDF converters and editing PDF documents with only a few clicks. Using its PDF editor, users can enhance PDF through various features merging, compressing, editing, optimizing, etc. It also lets you repair your broken PDF file which is an added advantage.
Encrypt PDF Online with PDF2Go:
Upload a PDF file, you can drop a file or choose a file search button
Enter the open password and repeat it. You can choose to set a limit on what users are allowed to do.
Click on the "Start" button, once the process completed, the PDF is encrypted.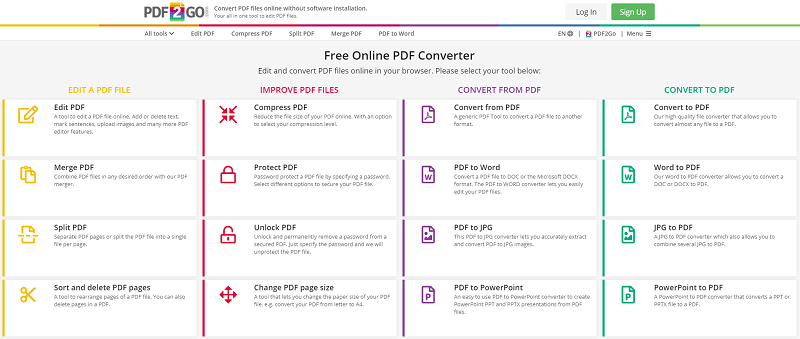 ---
3. Adobe Acrobat
When it comes to PDFeditors the very first name comes is Adobe after all it is the creator of PDF format. It allows you to convert PDFs, edit, compress, split, sign and protect them to just about any format. However, its advanced feature doesn't come for free. It is best suited to power users who need robust editing features and the highest quality output.
Encrypt PDF Online with Adobe Acrobat:
Click the "Select a file" button, or drag and drop a PDF into the file drop area.
Enter the desired password, and then retype it again to confirm the password.
Click the "Set password" button at the bottom.
Once the process is complete. Download the protected PDF document, or you can sign in to share it.