Turning your documents into PDF format can be your daily work, but it is not totally safe and protected. Anyone can go through your important documents and you may also be a victim of cyber hack. You can lose your important documents, which you never wanted to expose. PDF encryption can add security to documents and images such as confidential business documents, portfolios and more. Now let's learn how to encrypt PDF files in a few steps.
Part 1. How to Encrypt PDF on Mac
You will find many tools out there specifically for this purpose, but PDFelement Pro can be your first choice to encrypt your PDF files. It includes a number of features for Mac like, editing, creating, and protecting PDFs etc. It is also used by businesses and individuals to convert PDF files and documents to EPUB, Image, Text, Microsoft Word and Excel formats.
Among all the features, the encryption of PDF for protection is the highlighted feature. The adding of password can control the modification and viewing of PDF. But, even more importantly the encrypted PDF file enhances security when you want to keep your business documents and contracts confidential. You can benefit a lot from this high performance tool, as it can help to boost your overall productivity.
It is very easy to encrypt a PDF on Mac with PDFelement Pro. The following steps will tell you how to easily finish the task.
Step 1. Import the PDF You Want to Encrypt
Run the software and then click the "Open File" button to add the target PDF into the program. After the file is fully loaded, you can then go to the "Protect" menu and click on the "Password" button, then select the "Encrypt with Password" option from the drop-down list.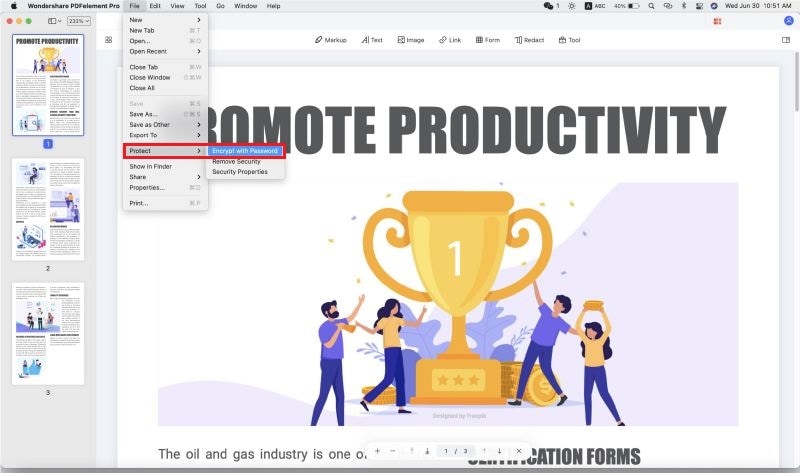 Step 2. Set a Password for Encryption
A pop-up window will come, and you will able to set your preferable password to encrypt your PDF. From here, you can freely customize the protection, either preventing your document from being printed or from being edited. Just click "OK" to make your PDF file fully encrypted.
Note:
Document Open> from this segment, you can allow or disallow password protection to access the content of the files.
Permission> from this segment, you can allow or disallow the permissions to edit and print the files.
Encryption Level>from this segment, you can choose the level of encryption. There are options from low to high.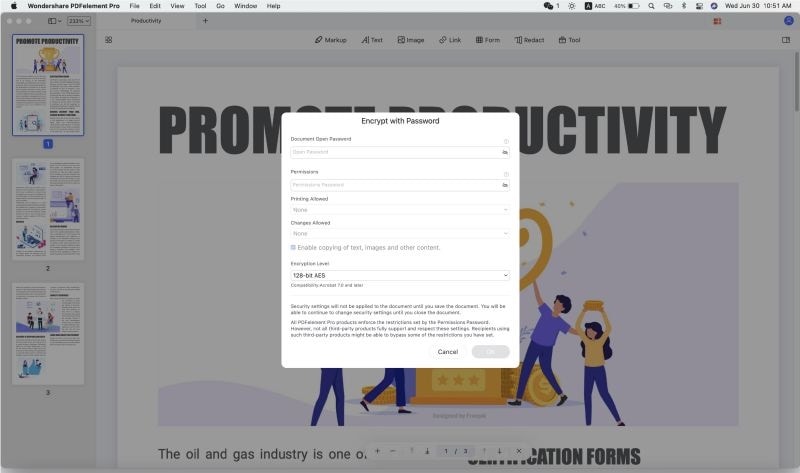 ---
PDFelement Pro - The Best Way to Encrypt PDF
Excep encrypting PDF files, PDFelement Pro can also provide you multiple PDF editing tools. With those practical tools, you can easily edit texts, image, links and other elements in PDF files. You can also use this PDF tool to convert PDF to Word, PPT and other popular file formats.
Key features of Thies PDF Editor:
Edit PDF texts, images, links, watermarks with ease.
Easily convert PDF to Word, Excel, PPT, EPUB and more formats.
Create PDF from other formats and create PDF forms easily.
Easily mark up and annotate PDF files with multiple markup tools.
Easy to add password or signature to protect the PDF file.
Add watermark, signature and password to PDF.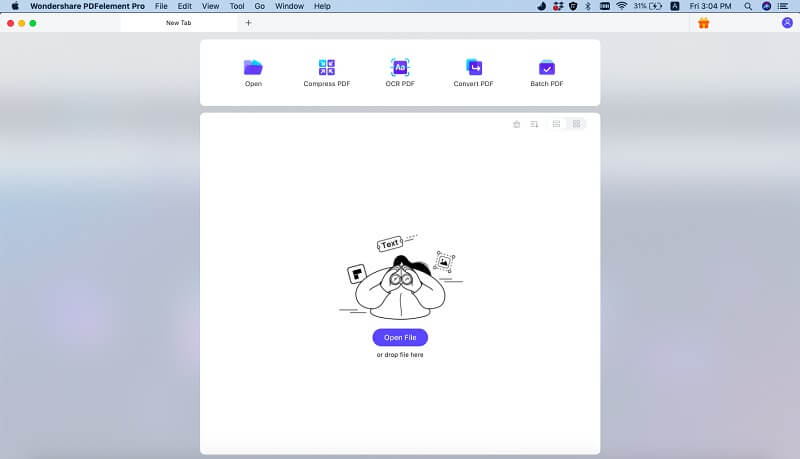 ---
Part 2. How to Perform PDF Encryption on Windows
Now, what should you do if you are using the Windows operating system? PDFelement Pro is there for solving the problem of Windows users. It can protect your PDF file with a password security system. You may restrict your file to open with a password. And you also may give restriction on editing, copy-paste, and printing the document.
The main key features include:
Editing PDF easily, as on Microsoft Office Word
Encrypt your PDF files with password and editing/printing permission
Convert PDF documents to MS Word, PowerPoint, Excel and many other formats
Create PDF files from lots of documents like Word, Text and Excel
Markup and annotate PDF documents easily
Now our concern is on the PDF file encryption. Take the following steps to save your confidential documents from the unwanted person with the help of PDFelement Pro.
Step 1. Open the Target PDF in the Program
Click "Open" to import the PDF file that you want to protect into PDF Editor. Then select the "Protect" tab from the menu bar. Here you will notice the options like "Password", "Sign Document", "Place Signature", "Validate All Signatures", "Clear All Signatures". "Password". It is to apply "Password" to encrypt the file.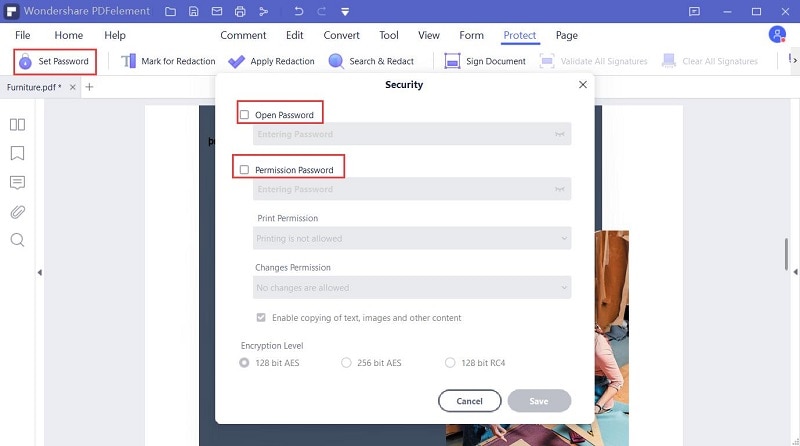 Step 2. Encrypting File with a Password
Now, if you want to protect the file by password, click on the "Password" Tab. There a window will come. Give tick mark on the password providing access box, then the password providing options will be open for you. Then click "OK" to get an encrypted PDF.
Note: If you tick mark on the permission box, there you will get some options to customize your permissions.
Printing allowed >>you will set permission to make it from being printed by others.
Changes allow >> same is here, you will set permission to protect the document from being edited by others.
---
Part 3. How to Encrypt PDF for Free
The use of PDF documents has become the new order of the day. Being an easy to access and read document format, it is preferred as a readable text and picture file format PDF encryption is also possible to prevent unwanted access and unauthorized copying of sensitive information, hence the need to encrypt a PDF. PDFMate is one of the top software used for encrypting PDF files by using its built-in PDF password encryption feature. This feature in addition to its ability to convert, merge, split and scan PDF files makes it a name to recon with amongst software for encrypting a PDF with password. This feature simply ensures privacy by making sure that once there is a PDF password encryption, the file cannot be copied or accessed without inputting the password.
PDFmate encrypts PDF for free for users in an absolutely effective manner. It is also one of the few PDF encryption software with free download at no cost at all and easy to use as well. If you have been asking the question how do you encrypt a PDF file on Windows? Or simply looking for how to encrypt a PDF for free, follow these few easy steps below.
Step 1. First, you have to download PDFmate PDF converter which is available for free download from their website.
Step 2. After download has been completed, install the program and launch it on your PC where you want to encrypt a PDF file.
Step 3. Now select the "Add PDF" then select the PDF file that you want to encrypt from your computer.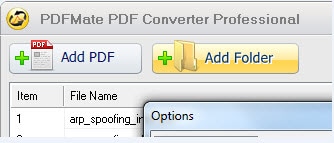 Step 4. Now, go to "Advanced Settings" from the top right corner and on the "PDF Options" dialog box, select the "PDF" tab on the left.
Step 5. Check the "Open Password" box. This password encrypts PDF files and will be required to open the document.
Step 6. Check the "Permission Password" box as well. This encrypts PDF with password which will be requested when trying to copy, print, edit or convert the encrypted document.
Step 7. When done with all the passwords, simply click on the "OK" button and the program will immediately start encrypting PDF with passwords entered by you.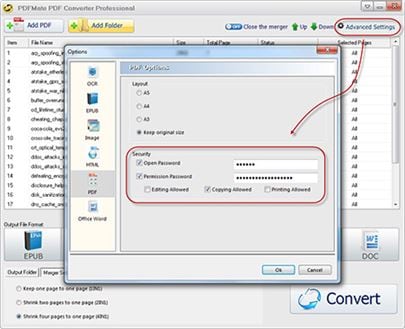 Conclusion: PDFmate is a good program to encrypt PDF files and it has a simple and easy to navigate user interface with straight forward steps to perform a Free PDF encryption on a file.
Cons:
Only available for Windows devices
Not completely free.
---
Part 4. Encrypt PDF File online
1. PDFProtect
As the names implies, PDFProtect is an online source for encrypting PDF files from all forms of unauthorized access. The websites feature a fast and easy process to encrypt PDF files with password without requiring registration or email before you can access their PDF encryption service. It also has a safety and privacy service which deletes any file uploaded for PDF file encryption after 15 minutes from the upload time hereby keeping the encrypted PDF private.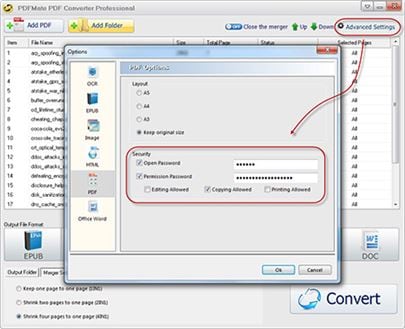 ---
2. Soda PDF
Soda PDF is another website for PDF file encryption services. This website is a service that helps with the protection of confidential PDF files by encrypting PDF files with password to prevent illicit access. The website makes use of a highly secured 256-bit AES encryption level to encrypt PDF which makes their PDF file encryption safe and impenetrable. This encryption service provides option of uploading PDF files from cloud storage such as Google Drive and Dropbox and they perform PDF encryption free of charge.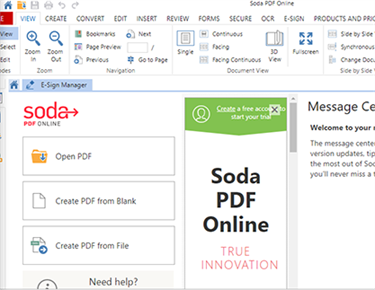 ---
3. CleverPDF
CleverPDF is a complete online PDF tool box with a whole lot of features aside just being a platform with answers on how to encrypt a PDF file with a password. CleverPDF comes with PDF features such as converting, Watermarking, Split or combine, compress or even to Unlock an ecrypted PDF file.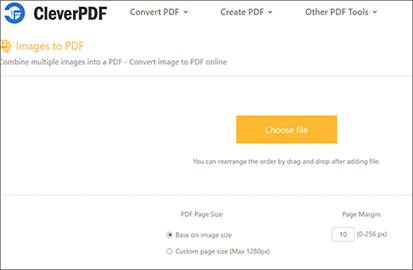 The process of encrypting PDF with password is not an action that can only be done with the use of an installed software. In a situation where there is no PC readily available, encryption of PDF files can also be done online from any mobile device or any device with an internet access. There are a couple of websites where PDF file encryption can be done in no time and for free as well. Below are the top three websites that can be used to encrypt PDF files online.
When looking for how to encrypt a PDF file online, the process involved for most website is basically the same and very similar. For the steps, we will take PDFProtect website as a case study.
Step 1. Go to the browser on your internet enabled device and enter the URL to access the website.
Step 2. On the home page of the website, simply drag the PDF file which you want to encrypt and drop it into the box that reads "Drop files here or click to upload". Alternatively, simply click on the button and then select the location of the PDF file.
Step 3. Enter the password you wish to use encrypt PDF file into the "password" box just above the upload box on the site.
Step 4. Now, simply click on "Upload and encrypt" button and the website will upload and password encrypt the PDF file in just a few seconds depending on the size of the PDF file.
Step 5. In a few seconds when the PDF file encryption has been completed, you will see a download link, simply click on the link to download your encrypted PDF file to your local storage.
Step 6. You can also click on the "Remove all" button to immediately delete all uploaded files from the server.
Conclusion: The process of trying to keep your PDF files save by encrypting PDF file with password online is an alternative method on how to encrypt a PDF file since it can be used at any time on any internet enabled device that can access the website.
Cons:
Requires Internet access to carry operation.
Users have to upload their documents to another server before encryption which might expose it to hacking.
Some of the websites might have PDF size limit.
---
Part 5. Encrypt a PDF in Adobe Reader
Adobe Reader is no doubt one of the leading names when it comes to accessing PDF documents and managing them. Adobe Reader does not only edit, read and manage PDF files it also has an Adobe PDF encryption feature embedded in the program. Just like every other software programs, to encrypt a PDF in Adobe Reader is not an uphill task.
Below are the steps required on how to encrypt a PDF file using Adobe Reader:
Step 1. First make sure Adobe Reader is installed on your PC and then launch the program.
Step 2. On the Home screen, click on the "Open" option to open the PDF file you wish to encrypt.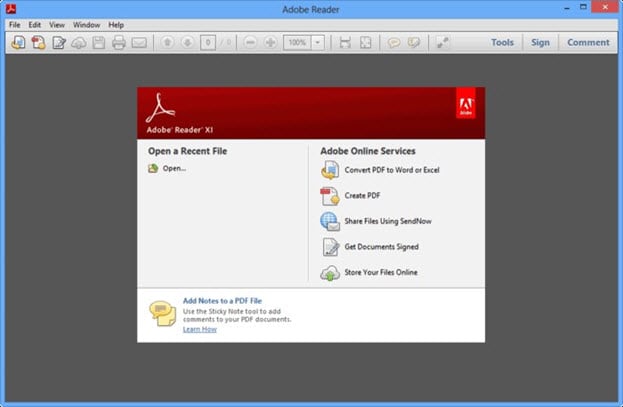 Step 3. After the files have been opened, click on the "View" menu, then navigate to "Tools" and then select "Protection". Move on now to click on the "Encrypt with password" option.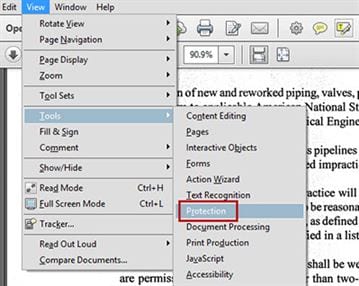 Step 4. On the pop up window, click "Yes" and then type in the desired password. Afterwards click Ok to complete the process.
Conclusion: Adobe Reader is an easy to use and powerful PDF program that can be used to Encrypt PDF files with a password.
Cons:
It is not a free program, although if offers a free 7-day trial.
Does not possess features like some other free PDF readers.