PDF documents are the new way to present any kind of professional document in the business circles. Apart from professional circuit, you can find its influence in the normal spheres also owning to their clean and clear look. The security options allow you to protect your PDF document in ways more than one like password protection and signature feature. But sometimes this security option can also pose a problem as you might not be able to access some files without their password. This is generally a problem as then the content can neither be read nor edited in any way until the password is removed. In this article, I will tell you how to remove password from PDF.
Part 1. How to Remove PDF Password on Mac
One of the most popular PDF password removers in the market is the iSkysoft PDF Editor 6 Professional for Mac, which has features that can remove passwords from PDF document that have been secured with passwords. You can then also convert the file into various other formats and edit it using the numerous features available. There are features that allow you to add bookmarks, annotations, delete pages or add pages and save it on your computer.
Why Choose iSkysoft PDF Editor 6 for Mac:
Open a password secured PDF file with ease.
Convert PDF to images, Word, Excel, PPT, EPUB and more formats.
Easily edit PDF texts, graphics, images, links, watermarks, etc.
Create PDF from other formats and create PDF forms easily.
Combine multiple files into PDF and split PDF into several files.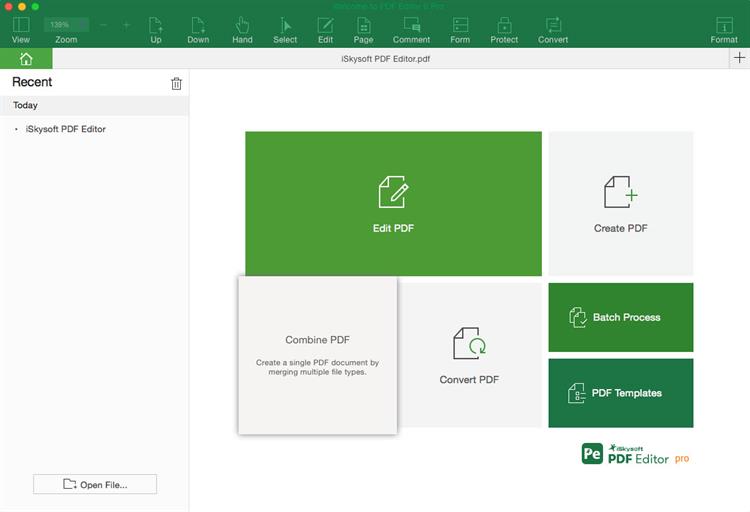 Step for Removing PDF Password
You need to follow two steps to edit a protected PDF file. Firstly you need to get rid of the password restriction which the software does by converting your file into Word format so that the whole file is now free of any kind of passwords. Let's get started.
Step 1. Import Password Protected PDF
After installing the software, first import the protected PDF document you want to unlock by clicking on the "Convert PDF" option. Browse the various files and select the PDF file you want. Click on "Open" to import it to the software application. If you want you can add multiple files to the software but it might slow the process.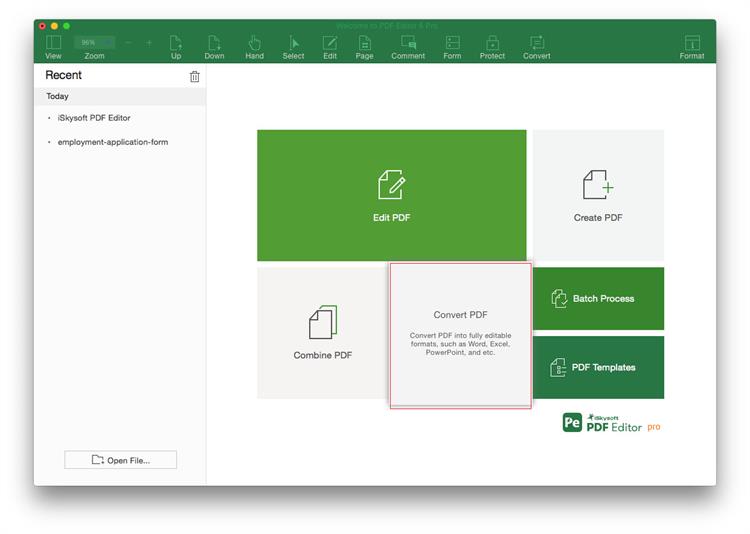 Step 2. Convert PDF to Remove Password
Once the required files have been imported to the software application, open the "Convert" menu and select the output format as "To Word" or others to start the conversion process from PDF to Word. As soon as the conversion process starts you have also started the decrypting process i.e. the removal of any or all passwords from the protected PDF document because by converting it into Word you can now easily open, read and edit the document.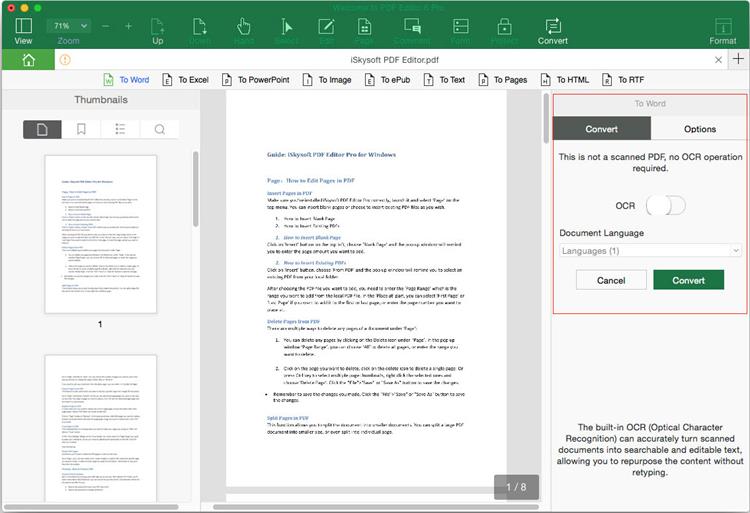 Step 3. Batch Remove a Password from a PDF File
To save the time, you can choose to convert password secured PDF in batch to remove passwords from PDF files. In the welcome page, click on the "Batch Process" button. Then choose the "Convert" option and click on the "Add Files" button to import PDF files to the new opened window. After that, click "Convert" to start converting password secured PDF files in batch.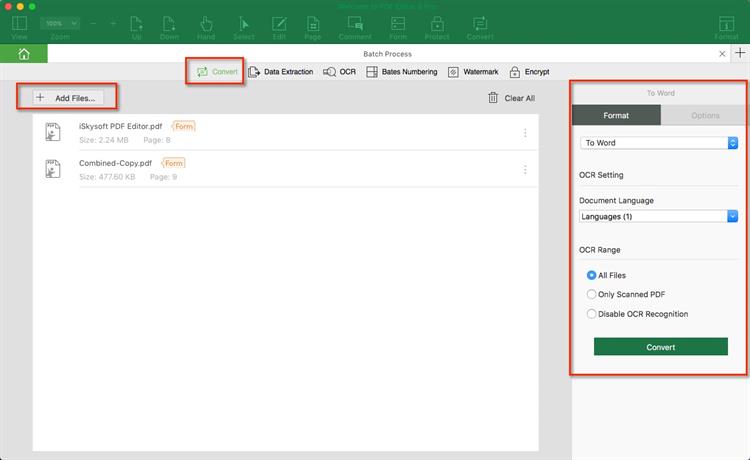 Part 2. The Guide for Removing Password from a PDF on Windows
The same kind of problem is faced by Windows users also and ironically the solution is also the same – iSkysoft PDF Editor 6 Professional for Windows. The software does almost the same thing like the one for Mac OS but it also possesses other features that make it distinct software in the market.
iSkysoft PDF Editor 6 Professional for Windows allows its users to convert multiple files without hampering the speed. Another great feature of this app is the inbuilt OCR technology which allows you to edit scanned PDF documents. Though this software works just like the one for Mac OS but the process is entirely different.
Key features of This PDF editor:
OCR scanned PDF files with desired OCR language.
Convert PDF to word and other formats, and allow batch convert PDFs.
Edit PDF texts, graphics, images, links, watermarks, etc easily.
Create PDF from other formats and create PDF forms easily.
Combine multiple files into PDF and split PDF into several files.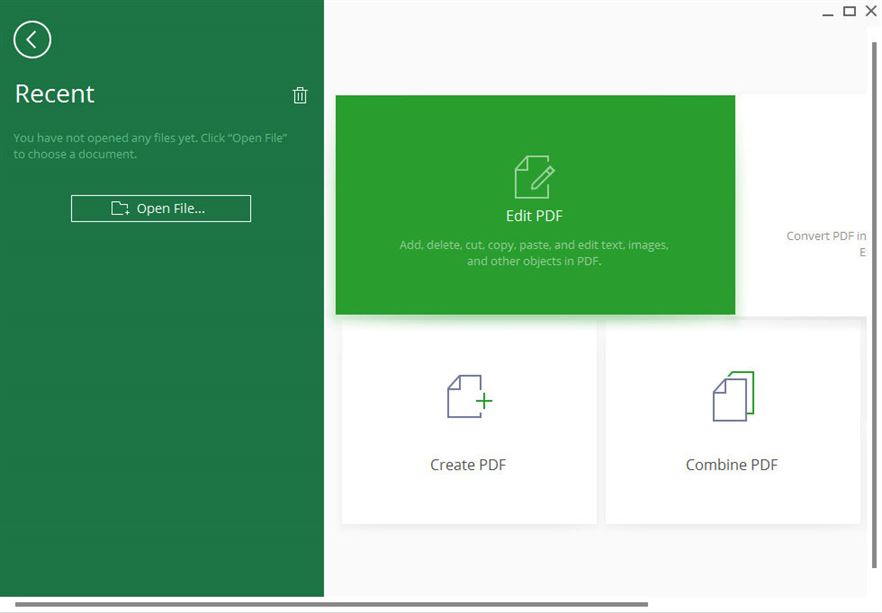 Step 1. Import PDF Files
Launch the program. To import files, click on "Open" and then browse the files and choose the one you wish to decrypt. If the PDF asks for open password and closed edit permission then input the password and edit in the software without converting the file.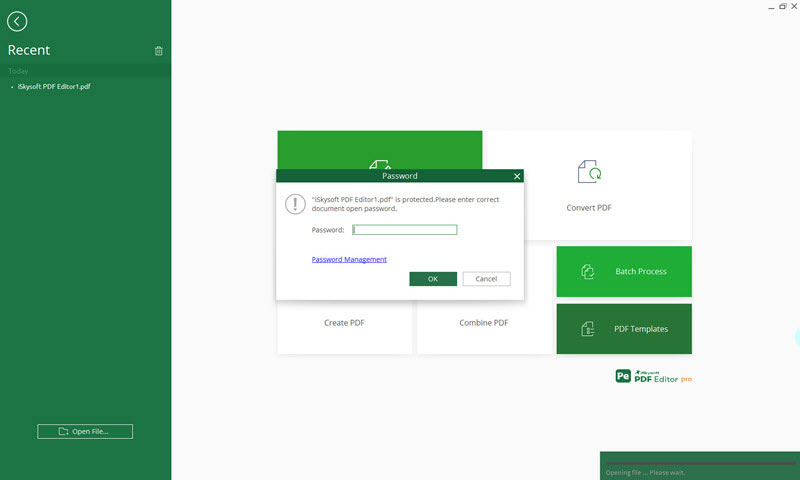 Step 2. Start Removing Password
On the "Home" tab of the application choose the format in which you want to convert the protected PDF file. You will then be prompted to select the destination where the file needs to be saved and then click "Save" to begin the conversion. Converting the file also simultaneously decrypts it i.e. as soon as your PDF file is converted the software removes all kinds of passwords.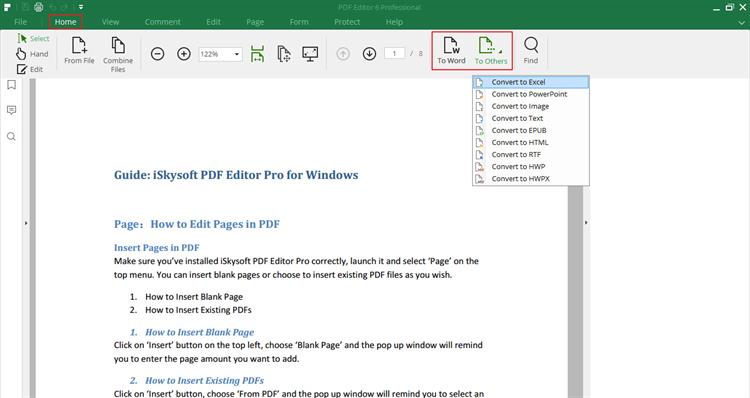 Part 3. Remove PDF Security Using Google Chrome
Chrome browser can be used on both Windows and Mac and thus this method is applicable whether you're using a Windows PC or Mac to unlock an encrypted PDF File. Just drag and drop the PDF File on your Chrome browser > Feed in the password > Press "Ctrl + P" (for Windows) or "Command + P" (for Mac) > Select "Save as PDF" >"Save".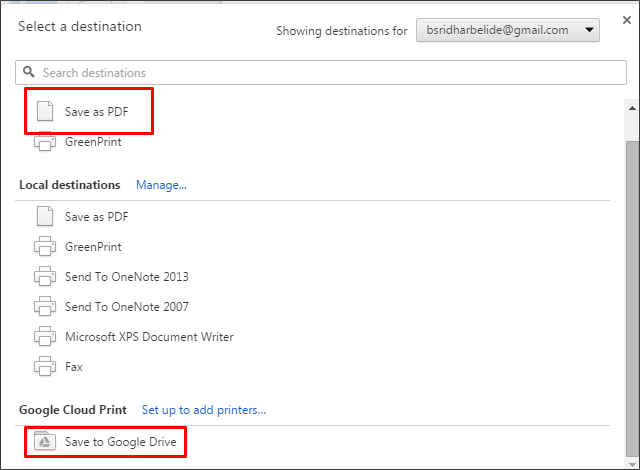 You can specify a destination to choose the unlocked PDF File and access it whenever you like.
Part 4. Remove Security from PDF Using Online Tools
There are various online tools for Windows and Mac to unlock a password protect PDF File as well. These tools work to remove the PDF Password and there is no need to download or install them on your PC. All you need to do is visit the websites listed below (any one of them), upload your PDF File and follow the online instructions to get rid of its password. These tools do not take long, are secure and don't tamper with the content of your PDF File.
1. iLovePDF
iLovePDF is an online PDF tool that can help you to remove PDF security easily. You may drag and drop a PDF File or browse and elect one from your Google Drive/Dropbox.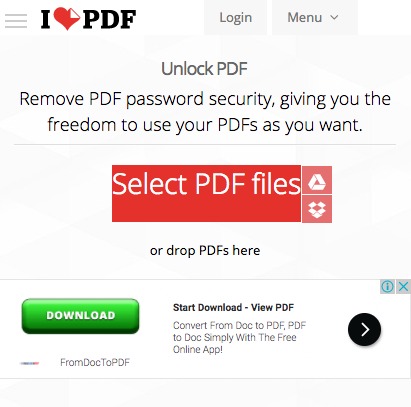 2. Smallpdf
Visit the official website of Smallpdfto know about this online PDF Password Removal tool. It is very intuitive to use and does the job in seconds.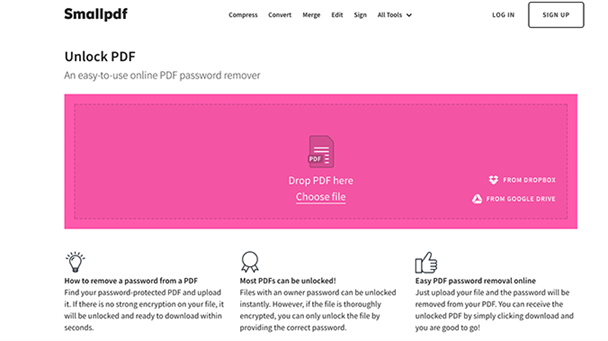 3. PDF Unlock
Visit PDF Unlock online tool's official website, you can simply import your File to unlock it with ease.