If you want to protect your document from theft, a common technique is to insert a watermark in PDF. So how can you insert a watermark to a PDF? There are several tools are ranging from online to desktop that can insert watermark in PDF. However, only a handful of them provides satisfactory performance. If you are looking for the best way to insert a watermark in PDF, just know you are not alone. Frankly speaking, several people also ask the same question. Fortunately, this article gives you a complete guide on how to insert a watermark in PDF.
How to Insert Watermark in PDF
PDFelement Pro is the best tool to insert a watermark in PDF. This program has plenty of excellent features that help transform how you interact with your PDF file. Under the edit option, users can add links, watermarks, page numbers, and bate numbering among others. Apart from editing, PDFelement enables users to convert, create, protect, annotate, perform OCR, create forms, fill forms, apply digital signatures, and organize PDF files with ease. The list of PDFelement capabilities is long. What makes PDFelement an indispensable tool for multitudes is the ease of use, compatibility, and affordability. There is surely a lot that you can do with PDFelement and be sure to take your experience to another level.
How to Insert Watermark in PDF with PDFelement
Here is a step-by-step guide on how to insert watermark in PDF with PDFelement
Step 1. Upload a PDF File
First, open PDFelement on your PC by double-clicking the PDFelement icon. On the primary window, locate and click the "Open files" icon. The program will automatically take you to the file explorer window. Browse the target PDF file then click "Open" to upload it to the PDFelement window. Alternatively, you can drag the target PDF file to the PDFelement window.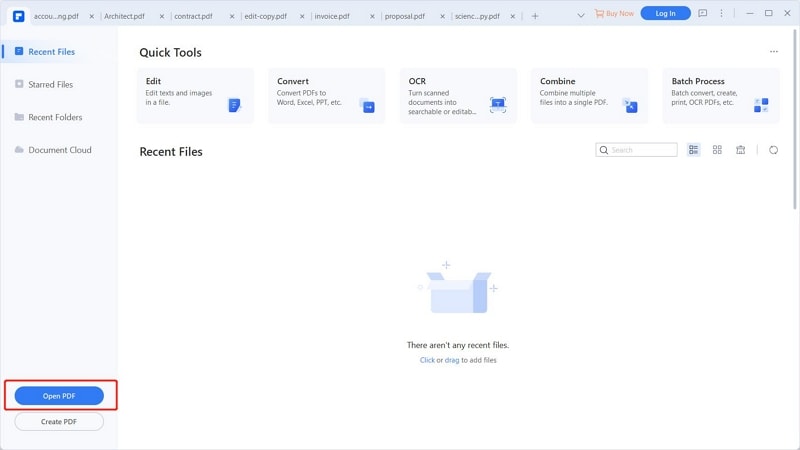 Step 2. Choose to Add Watermark
Once the PDF file is uploaded, navigate to the "Edit" section on the toolbar. Ignore the other Edit sub-menu and click the "Add Watermark" drop-down icon. The program gives you two options. You can either add a watermark or edit the watermark. Simply click the "Add Watermark" option to proceed.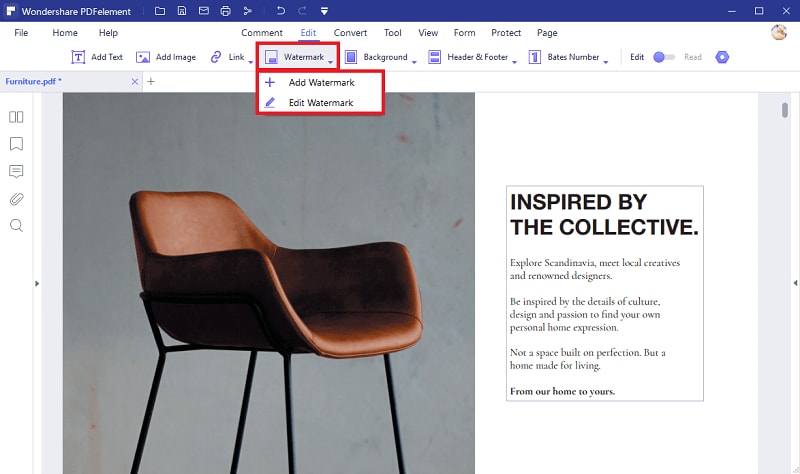 Step 3. Create a Watermark Template
The program will then open the "Add Watermark" dialogue box. First, you need to create a suitable watermark template. Just go to the bottom left of this Add Watermark dialogue box and hit the "+" button with the "Please create a template first" information beside it.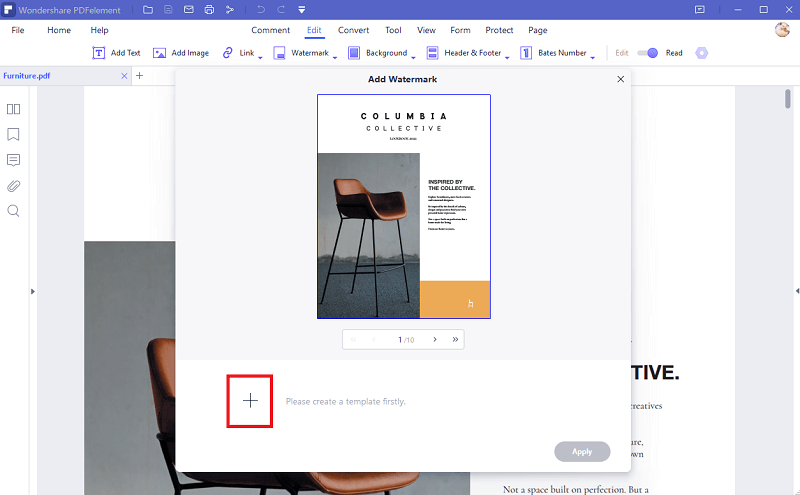 Now, you should see the "Watermark Type" pop-up window. This popup offers three types of watermarks namely text, PDF, and image. Choose the desired type as per your preference. If you choose the Text option, you will have to type the desired text and make some preferred appearance settings. PDF and image options are no different. In this case, we will go with the image watermark. Therefore, we choose the "Image" option.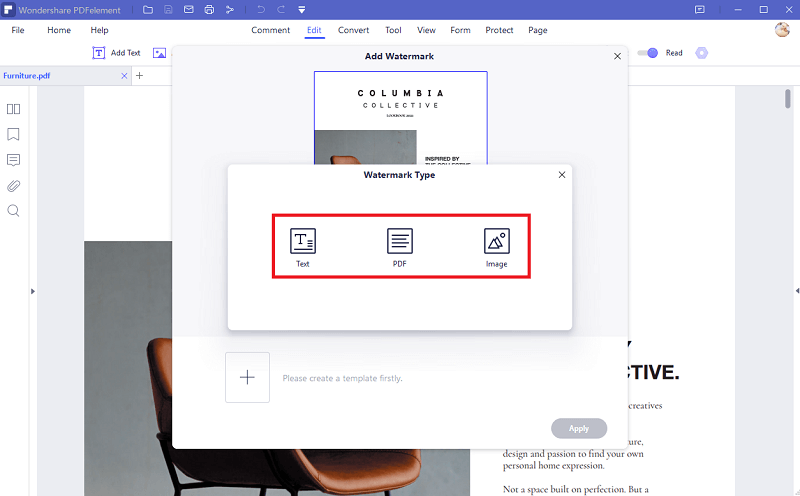 Step 4. Insert Watermark in PDF
Upon selecting the image option, the "Create Watermark Template" pane will appear on the left. Click the browse button and upload the image you want to use as a watermark for your PDF file. Choose the desired proportion of pages and position of the watermark as well. Once done, click the "Save" button below it.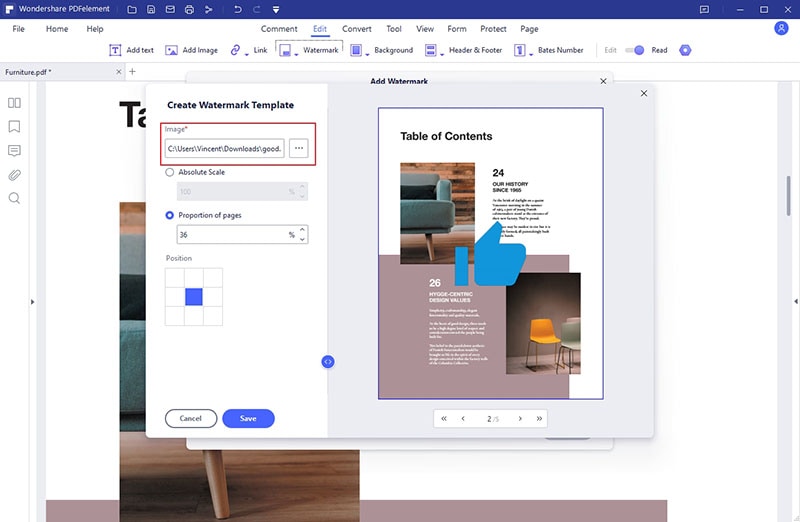 Step 5. Insert Watermark in PDF from File
If you are now satisfied with the selections you have made, the final step is to insert the watermark in a PDF from the file. With the respective file now uploaded and all the preferred selections made, hit the "Apply" button and the program will insert the watermark on your PDF file. Check that the watermark is successfully added. If this is the case, click the "Save" button to save the changes you have made on your PDF file.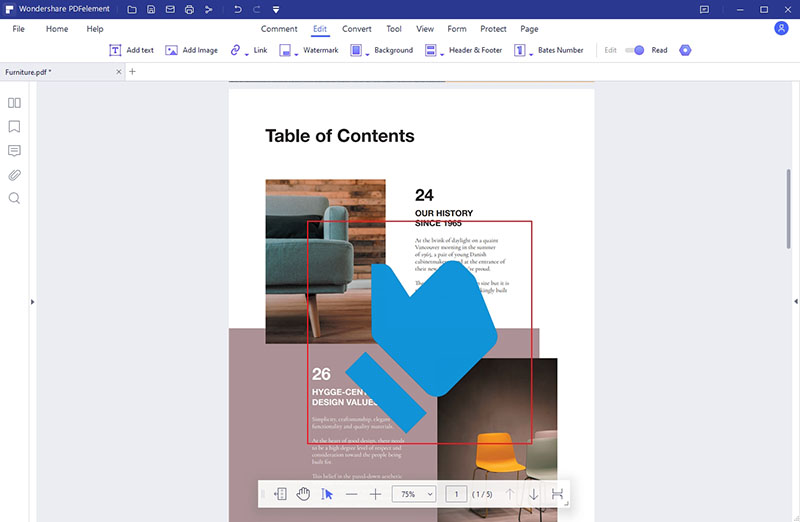 ---
PDFelement is the Best Tool to Insert Watermark
From the above guide, it is no brainer that PDFelement makes it extremely easy to insert watermark to PDF. Just a few straightforward steps and you are done inserting a watermark to your PDF. It also provides a variety of watermark options and preferences. For example, you can add a text, PDF, or an image type of watermark to your PDF file. Again, you can use this program on a variety of platforms ranging from Windows to Mac. Besides, PDFelement has several other great features that you can explore and use after inserting watermarks on your PDF file. Some of the key features of PDFelement include:
Features of PDFelement
It allows users to convert PDFs to and from any popular file format within a click.
With PDFelement, users can annotate PDF with comments, stamps, drawings, and text markups.
Built with an OCR feature and thus users can convert scanned images or PDF to both searchable and editable files.
PDFelement offers several PDF editing features ranging from basic ones like crop, split, rotate, and cut to advanced ones like edit links images, links, add watermarks, numbering, and bates among others.
Protect PDFs with passwords and permissions.