Have you ever tried printing a PDF file then you are bombarded with a prompt that you need to enter a permission password before printing? Yes, you might know the password, but you will be prompted to enter this password every time you print that document. This can prove sucking and time-wasting, especially if you do it often. To get out of this mayhem, you need to unlock PDF to print. Fortunately, it is possible to remove print protection from PDF using the right tool. In this article, we shall give you a complete guide on how to unlock PDF for printing.
Step-by-Step Guide on How to Unlock PDF Print
PDFelement Pro is the best PDF solution tool used for a variety of tasks. Ranging from learning institutions, financial institutions, and hospitals, among others, PDFelement finds extensive usage. This program is equipped with an array of amazing features that makes it ideal for all sizes and types of organizations. With PDFelement, users can print, edit, annotate, convert, create, organize, share, perform OCR, compress, create and edit PDF forms. Download PDFelement today and enjoy the ease of use, affordability, compatibility with virtually all devices, and super-fast processing speeds.
How To Unlock PDF To Print
Step 1. Open PDF File
Start by launching PDFelement on your computer. Once the main interface is displayed, hit the "Open file" button. You will be immediately taken to the file explorer window. Now browse for the PDF file that you want to unlock, then hit the "Open" button at the bottom right to upload the PDF file. Enter the correct document password in the subsequent prompt and click "OK" to open the PDF file.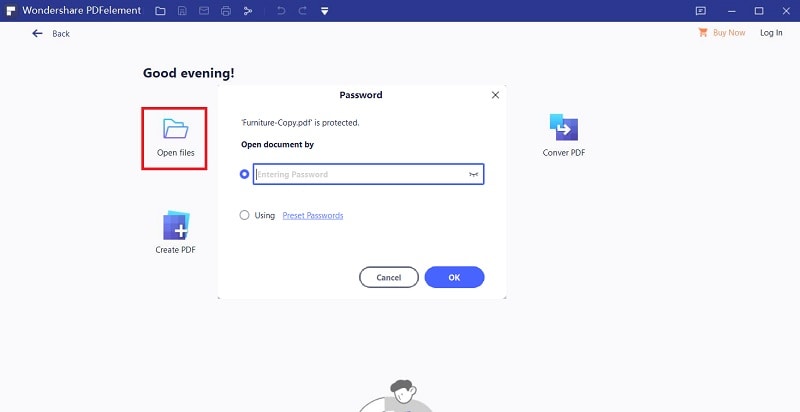 Step 2. Unlock PDF
Now that the PDF file is open, navigate to the File>Properties. From the "Properties" window, choose the "Security" tab followed by the "Permission" button at the bottom. In the "Security" window, uncheck the "Permission Password" checkbox and delete the respective password. Click "Save" to save the changes and exit the window.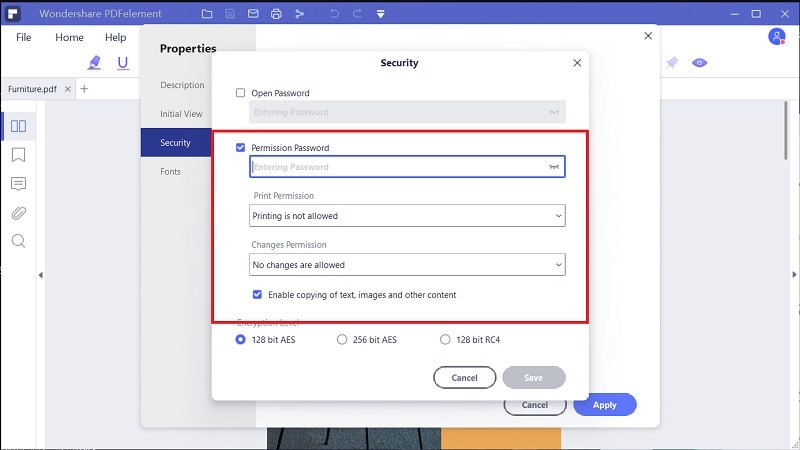 Step 3. Print Unlock PDF
Now that the permission password is removed, proceed to print your PDF. Simply go to the "File" menu then select the "Print" option. Follow the on-screen instructions to complete your printing.