There are many reasons why you would want to protect your PDF files from copying. Perhaps you have written a new ebook that you want to share as a PDF file with a few individuals as part of your marketing campaigns. You don't want them to reproduce the book as this could hurt future sales. What do you? Protect PDF file from copying and printing. Alternatively, you could want to share some important information online but you are afraid that some readers will copy and pass the information on as their own work. What do you do? Protect the PDF from copying text. This way you can rest assured that no one will reproduce your work without your permission. To help you protect PDF from copying this article explores the best method of doing so.
How to use PDFelement Pro to Protect PDF from Copying
The best method to protect PDF from copying is to use a special tool known as the PDFelement Pro. This is the best all-in-one PDF program on the market designed to solve all your PDF problems. It comes with a wide range of powerful features to make it easy for you to edit PDF files, annotate them, perform OCR and create and convert different files to PDF. It is also designed to help you protect your PDF files from copying by changing the file settings so that in order for anyone to copy from it then they will need a password. To protect your PDF file from copying using this tool, simply follow these steps:
Step 1: Download, Install the Tool then Import the PDF File
To start you need to download and install the PDFelement Pro on your computer. Now hit the 'Open File' icon on the PDFelement Pro's home screen. You will be able to browse your computer in the window that opens and once you find the PDF file you want to protect from copying select it and then click the 'Open' icon. Now your PDF file will be imported into the PDFelement Pro tool.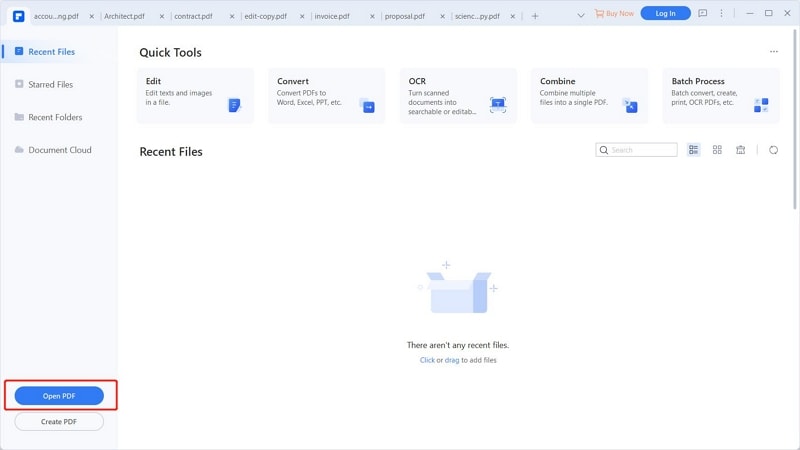 Step 2: Protect PDF file copying
Click the 'Protect' button and then hit the 'Password' button. Now select the 'Apply password to encrypt the PDF file' and when a pop window appear, click 'Require a Password to Change security settings and get access to specific functions' option. In the spaces provided enter a password as directed and then click 'OK'. Now your PDF file is protected from copying and anyone who wants to copy a section of it will have to enter the password you just filled in before permission to copy is granted.
You can also prevent printing and editing at this stage. To restrict printing simply click on the 'Printing allowed' icon and in the drop-down menu select 'None'. This will restrict printing completely and no one will be able to print the file unless they enter the password. To prevent editing simply hit the 'Changes allowed' icon and in the drop-down menu select 'None'. This way no one will be able to edit or modify the file without entering the password first.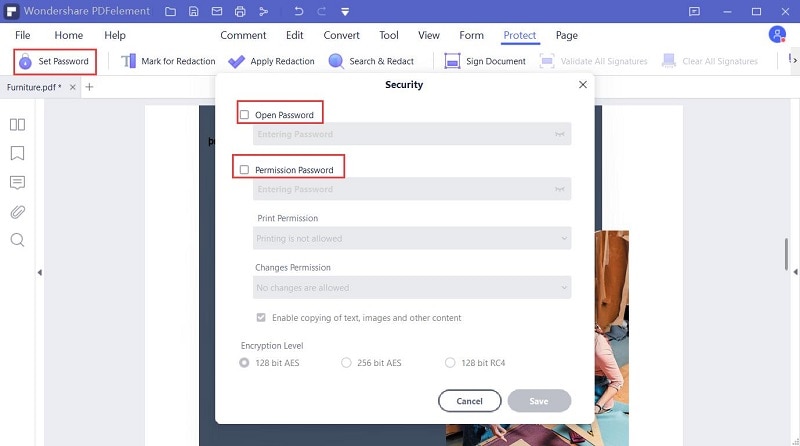 Step 3: Save the file
Now close the file and when prompted click to save the changes. Your PDF file has now been protected from copying, editing, and printing. No one will be able to perform any of the three processes on your PDF file unless you give them the password. This will keep your work safe from others.