Adobe Acrobat is a popular PDF redact tool in the market. However, scores of people are still struggling on how to redact PDF in Adobe. Adobe Acrobat redact feature allows you to remove the PDF content that you want to hide before sharing. It is true that Adobe has lengthy processes and is not friendly to amateurs. If you are a newbie and want to redact PDF in Adobe, then this article is here for you. In this article, we give you a step-by-step guide on how to redact a PDF in Adobe Acrobat and its alternative - PDFelement Pro.
How to Redact PDF in Adobe Acrobat
Adobe Acrobat is a pioneer PDF tool in the market. This program offers a collection of features that makes it easy to handle PDF files. With Adobe Acrobat, you can protect, edit, share, convert, sign, stamp, compare and organize PDFs, among others. Again, the Adobe Acrobat redacts feature helps you remove texts and images then create a copy before sending it. While Adobe Acrobat offers plenty of features, its major downside is the expensive subscriptions and the lengthy processes.
Step-by-step Guide on How to Redact PDF in Adobe Acrobat
Step 1. Open Adobe Acrobat on your computer and then proceed to "Tools" > "Redact."
Step 2. Once you are on the Adobe Acrobat redact page, locate and click the "Select a File" tab. Follow the on-screen instructions to upload your target PDF file onto to redact PDF Adobe page.
Step 3. Once the PDF file is uploaded, click the "Mark for Redaction" tab and select the contents you want to remove. With the "Find Text" option, you can choose images, texts, pages or search for specific content with the "Find Text" option.
Step 4. Click "Apply" then "OK" from the subsequent pop-up. Adobe will redact the PDF and create a new file while the original remains unchanged. You can proceed to the "Save" option to choose the desired location.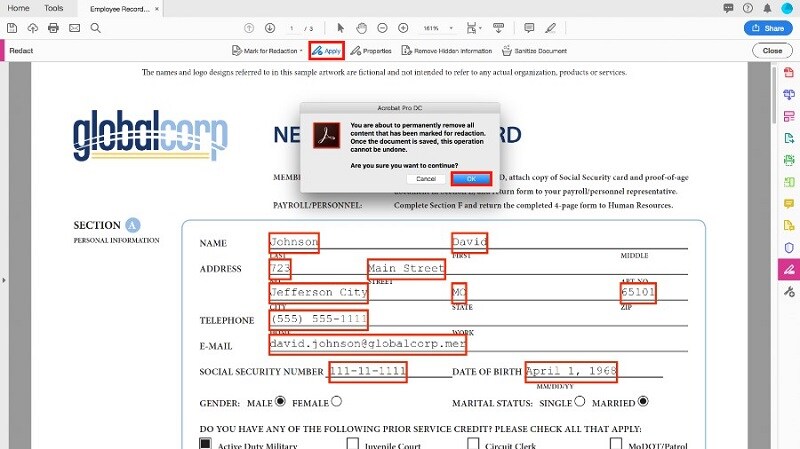 ---
How to Redact a PDF without Adobe Acrobat
PDFelement is the best all-in-one PDF software. This amazing program is suitable for different types and sizes of organizations for plenty of reasons. PDFelement is specially designed to simplify your interaction with PDF files. It lets you flawlessly edit text, images, and links on your PDF, protect, annotate, convert scanned images to editable formats with OCR, convert PDF to and from a variety of formats, print, share, and compress PDF with ease. The good thing with PDFelement is its ease of use, compatibility, and affordability.
Easily Redact PDF In Adobe Acrobat Alternative
Step 1. Open PDF File
First, run PDFelement on your computer to display the main window. Proceed to click the "Open files" icon and you will be taken to the file explorer window. Find the PDF file that you want to redact, then click the "Open" button to upload it to the PDFelement window.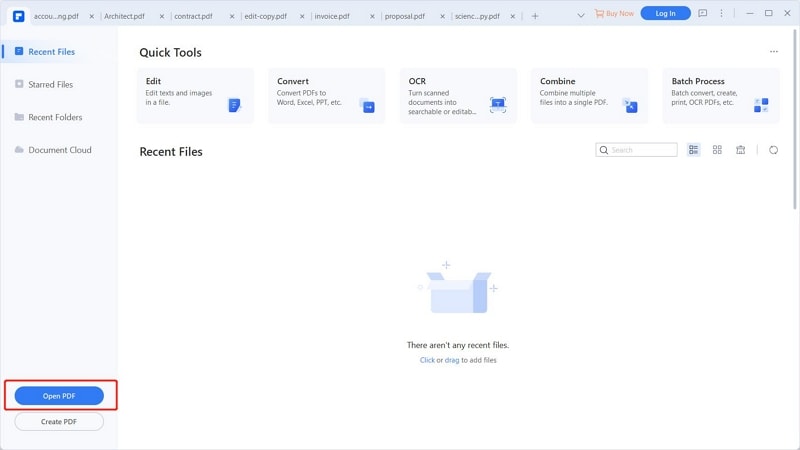 Step 2. Mark for Redaction
When the PDF file is successfully uploaded, go to the toolbar and hit the "Protect" tab. From the options displayed below it, select the "Mark for Redaction" icon. The program will immediately pop up a small window showing you two steps to redact the PDF. Click "OK" to confirm and begin the process.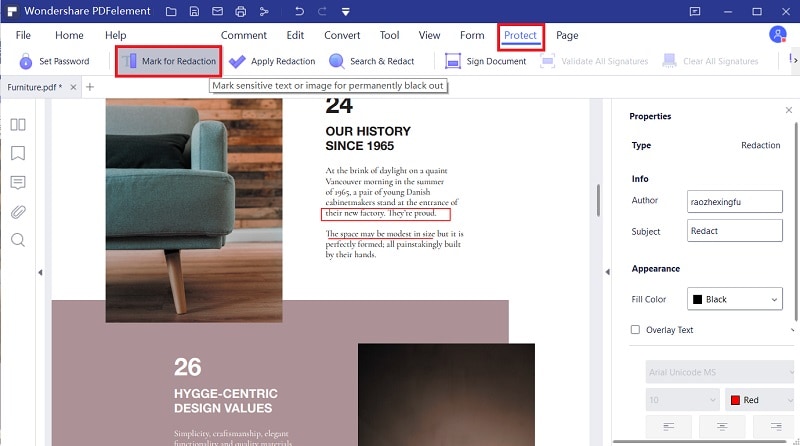 Step 3. Apply Redaction
Using your cursor, drag to draw a rectangular box over the target content. When the edges of the rectangular box turn red, click the "Apply Redaction" tab below the menu bar. Again, a small pop-up window is displayed, prompting you to confirm whether you want to redact PDF. Click "Continue," and the redaction process will commence immediately.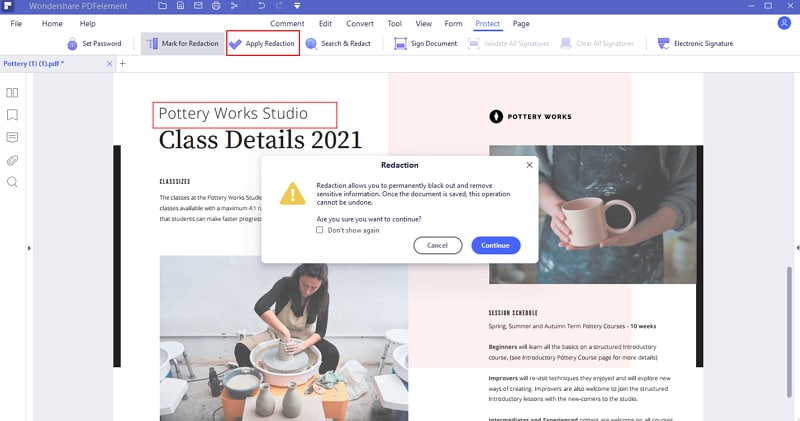 Step 4. Save the Redacted PDF File
When the redaction process is completed, proceed to the top of the window and click the "Save" icon. This should save your PDF with the changes you have just made.