At one point or another, you may have come across a PDF password protected file. If you do not know the password, you will not be able to access the contents of the secured PDF file. Fortunately, you can convert secured PDF to Word format, and then copy and paste the texts from the secures PDF file. Below is an easy way on how to do.
Part 1. The Easiest Way to Convert Secured PDF on Mac
However, many PDF applications you can find from the Internet will not be able to convert the secured PDF files. Luckily, I happen to find PDFelement Pro which can do the job perfectly. Below detailed guide will show you how to turn secure PDF into Word format on Mac (macOS 10.15 Catalina) with this outstanding PDF tool. Let's just follow below step-by-step tutorial to start the conversion.
Step 1. Import Secured PDF Document
Run the program. Click on 'Open File', you will get a pop-up window for selecting secured PDF files. Drag and drop the secured PDF files to the window. The locked PDF will be imported to this converter immediately.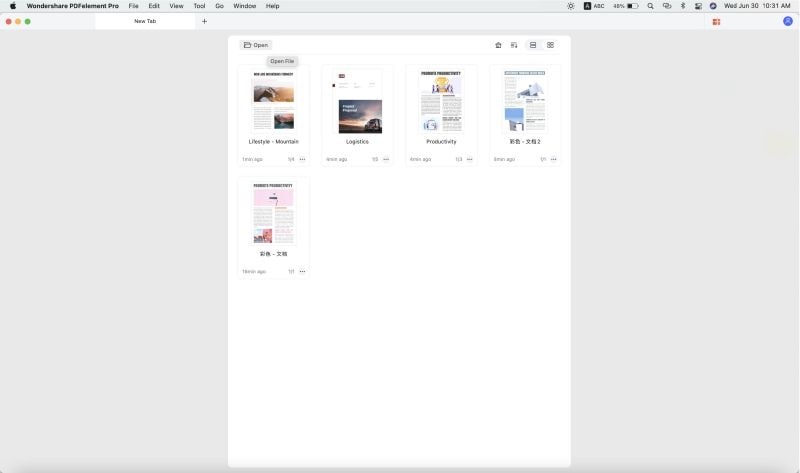 Note:If the PDF document has been encrypted with password to avoid opening, you have to input the correct password to open the file when you import it to the program.
Step 2. Start Converting Secure PDF to Word
Click the 'Tool' button, then choose 'PDF Converter' on the menu. When a pop-window shows, click 'Add' to add the secured PDF file, then click 'To Word' to start converting locked PDF to Word.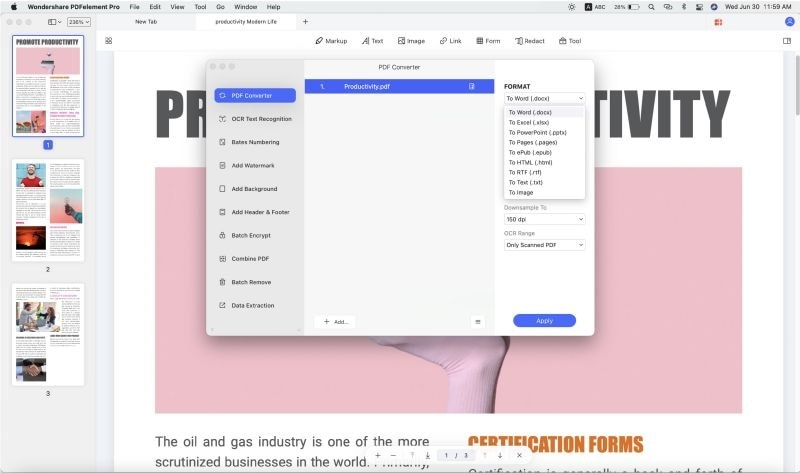 ---
Part 2. The Simplest Way for Converting a Secured PDF on Windows
For Windows users end the cat and mouse hunt since you also need to download the amazing PDFelement Pro to be able to convert the secured PDF file to Word. With this PDF converter on your computer you will be able to convert the PDF to various formats such as Word, Excel, PowerPoint, HTML, Plain text, Rich Text just to name a few. As you covert it will decrypt the PDF file thus giving you edit permissions this means you will be able to add texts, delete texts, copy text and even print the document if you wish. Furthermore, you will be able to edit the PDF with just a few clicks. This application comes with OCR technology and support popular languages such as Spanish, English, French and others.
Converting the secure PDF file will give you the all forms of authorization such as editing, viewing and printing. Here is a quick and accurate way to convert the PDF to Word using PDFelement Pro.
Step 1. Open secured PDF file
Download and install the program on your computer. Then launch it on your computer. Go to the 'Open File' button and add the PDF file.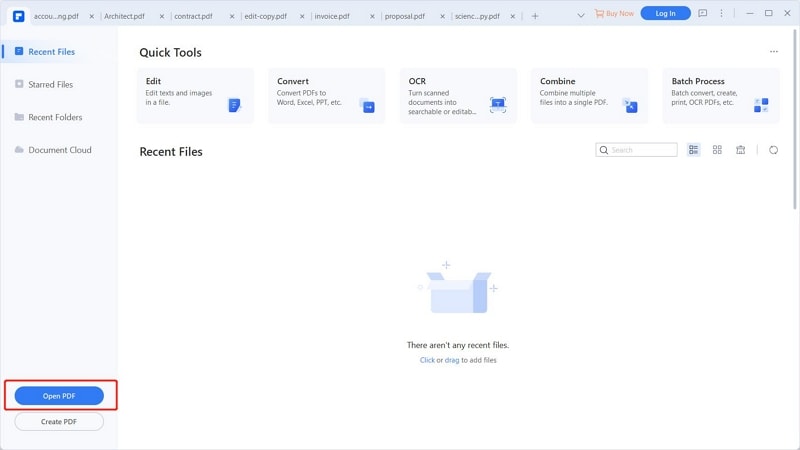 Step 2. Convert PDF File to Word
Go to 'Convert' and choose 'To Word' to convert the secured PDF file. After choosing the destination folder to save your file, then click on 'Save' to start converting the PDF to word. Be patient it is so fast. For protected PDF you should input the password before you start converting the files.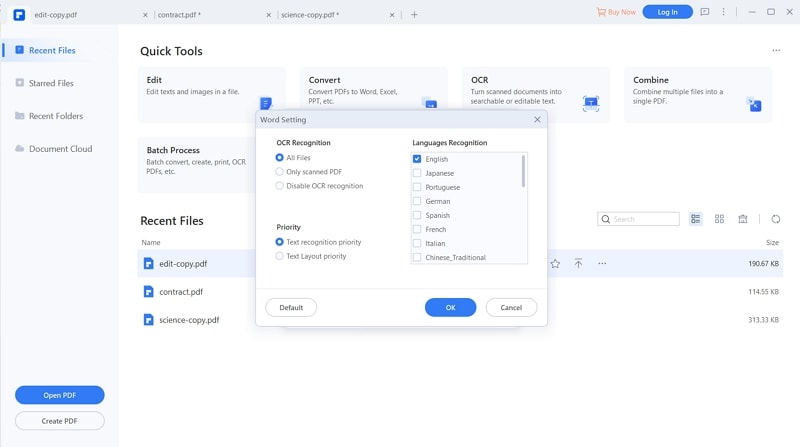 Why Choose This PDF Converter:
Directly convert secured PDF to other editable formats.
Convert or edit scanned PDF files with accurate OCR technology.
Convert to multiple formats such as Microsoft Word, Excel, PowerPoint, EPUB, HTML, images and Plain Texts.
Edit PDF texts, images, links, pages and more, and markup and annotate PDF easily.
Protect PDF with passwords, watermark and signature.
---
Part 3. Top 3 Easy Way to Unlock Secured PDF
#1. Using Google Drive
Google Drive does not have a feature you can use to remove protection from PDF files. However, you can download the file and save it on your computer. Once the download is complete, use the following steps:
Step 1. Open the file in a web browser by dragging and dropping it into a new tab. If this fails, right click on the file and click the 'Open with' option. Choose your preferred browser from the drop down list.
Step 2. Right click the file then click print.
Step 3. On the select printer option, select the printer 'Microsoft print to PDF', and then click on print.
Step 4. This move will ensure the unprotected PDF file will be downloaded to a location of your choice.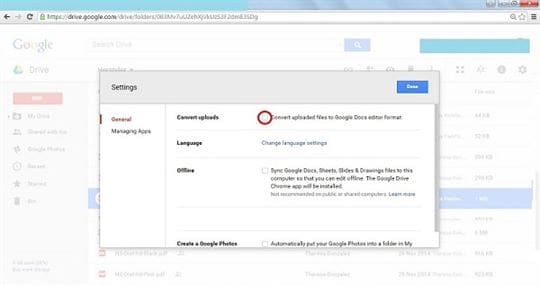 ---
#2. Using Google Chrome
Google Chrome has an in-built PDF writer and PDF reader. The two features can be combined to remove a password in any PDF document. This is how it is done:
Step 1. Drag the desired PDF password protected file into your Chrome browser. Once you have uploaded it, you will be required to enter a password.
Step 2. Enter 'labnol' (without the quotes) as the password and press enter on your keyboard. The file will open within a few seconds, depending on the size of the file.
Step 3. You can now go to Chrome's file menu and select print (or CMD + P on Mac or Ctrl +P on Windows). Select the printer as 'Save as PDF' and press enter or click the 'Save' button.
Google Chrome will then save the file to your desktop and it will no longer need a password to be accessed. You can re-open the PDF file using your favorite PDF reader or Google Chrome any time you need it.
Alternatively, choose the option 'Save to Google Drive' in the dialog for printing only if you enabled Google Cloud Print. Once through, the accesible version of the PDF file will be uploaded to Google Drive from your Chrome Browser.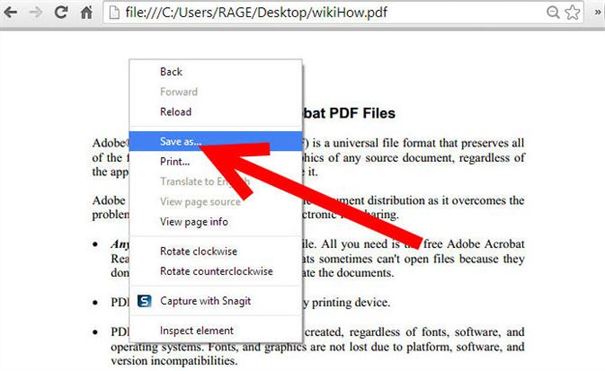 ---
#3. Using Online Tool (PDFUnlock!)
To use this free online tool, you will need to go to www.pdfunlock.com. Once there, you will find the option of selecting a file from three options which are My Computer, Dropbox and Google Drive. The file will start uploading. The upload process takes several minutes, or more, depending on size of the file.
Upon completion of the file upload, click on the 'Unlock!' button. It normally takes less than 10 minutes for the file to be unlocked. After the unlock process has completed, you will be given a link where you can download your PDF file and save it to a location of your choosing on your computer. Open the downloaded file and you will discover it is no longer password protected.