The most widely used tool to read, edit or do any work in PDF is Adobe Acrobat range of software. Be it Adobe Acrobat Standard and Pro for just reading PDF on PC or be it Adobe Acrobat Standard and Pro software for editing the PDF file; the Adobe has turned PDF into a standard document file format. It is Adobe that first introduced the file format PDF for professional file documents which can neither be changed nor be tampered by an external user. Since then, PDF has become the standard norm for many organizations.
Adobe Acrobat's range of software has become the de-facto software for handling all the kinds of PDF related operation. Be it editing text, image or adding and splitting PDF files; Acrobat has catered to everyone's needs. While both standard and pro version are efficient to handle PDF, both of them have specific differences regarding feature and suitability. So, let us take a look around to know more.
Part 1. Adobe Acrobat vs. PDFelement Pro
In this article, we discussed Adobe Acrobat Standard, Adobe Acrobat Pro, and PDFelement Pro. Although on overlook they all look PDF editing software which has nothing but to edit and convert PDF files, when we look inside we can see essential differences between the three software. So, let us make a table list to see that difference between the software. In that way it will be easier for you to decide your ideal software:
Features

Adobe Acrobat Standard

Adobe Acrobat Pro

PDFelement Pro

License
It is a Paid license.
It is a Paid license.
It is a Paid license.
Target users
It is essentially made for home users who would be happy with basic tools for a daily PDF editing job.
It is meant for professional users or industrial users who will require advanced tools and settings for professional PDF editing.
PDFelement Pro is suitable for both casual as well as professional users.
Supported OS
Windows Server 2008, 2012, Windows 7, 8 and 10.
Windows Server 2008, 2012; Windows 7, 8 and 10. Mac OS X: 10.9, 10.10 and 10.11.
Windows XP/Vista/7/8/8.1/10; Mac OS X 10.10, 10.11, 10.12, 10.13 and 10.14.
Key Features
1. Best for beginners and home user.
2. It contains a basic tool like editing text and images, converting PDF file format to other document formats, setting the page layout and margins.
1. It is suitable for professional users who would enjoy the depth in their tools.
2. it contains all the features of Adobe Acrobat Standard such as create, edit, sign and convert PDF files.
3. Other than above it has in-depth functionalities like optimize PDF, add dates and numbering, create technical PDFs in Autodesk AutoCAD, Vision, as well as adding audio or objects on a PDF.
1. It is suitable for all kinds of user, especially for the intermediate who want to advance their skill but at the same time would like to have comfort of their basic skills.
2. It features Converting PDF from and to hundreds of files in different formats; powerful OCR feature supports more than 28 languages, making scanned PDF editable; edit MS office files without compromising on the format and page layouts.
Price
$12.99/month with annual commitment per system.
$14.99/month with annual commitment per system.
$79 for a single system with perpetual license.
---
Part 2. The Best Adobe Acrobat Alternative
While Adobe Acrobat is the leading software when it comes to handling PDF files, the Adobe Acrobat Standard and Adobe Acrobat Pro both are subscribed software. So, it means you will have to pay monthly to continue to use the software. Furthermore, the license of this software is available only for five years. After that the software will expire, needing the users to either renew the subscription or purchasing a new product. All this can seem a bit intimidating for personal and small-scale industry users. Therefore, it is necessary to take a look at Adobe Acrobat Alternative software to replace the Adobe Acrobat without affecting the performance or efficiency.
One of the emerging leaders in Adobe Acrobat alternative is PDFelement Pro. The software is equipped with all the latest tools and features that make it best suitable for all kinds of user. Whether you are a casual PDF editor or a professional who use it on a daily purpose, everyone will find it comfortable to use PDFelement Pro with ease. The software comes with various features such as:
The main features of PDFelement Pro:
Merging and splitting PDF, convert PDF files to other popular file formats.
Editing the texts, images, links and pages in PDF Files.
Creating a PDF file from Word, PPT, Excel and other file formats.
Batch Processing with password security.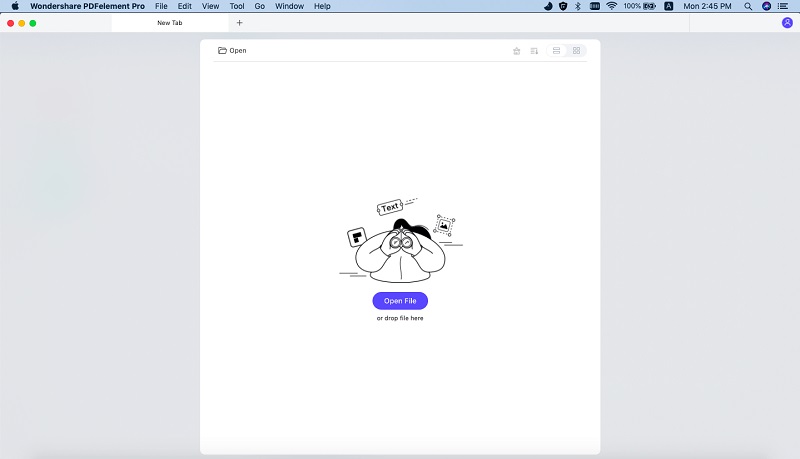 ---
Part 3. How to Use Adobe Acrobat Alternative
PDFelement Pro is defintely the best alternative that you can go for, for Adobe Acrobat Standard. PDFelement Pro allows you to edit, create, as well as convert any type of PDF files smoothly. There is an advanced OCR funtion as well that lets you edit and convert scanned PDF files. Follow the steps below to manage your PDF files using PDFelement Professional easily.
Step 1. Open PDF File with the Program
This PDF editor provides you 3 easy ways to open PDF files easily. First, launch the application. Then minimize the software and browse for the PDF file. Drag the file to the minimized icon of software. When the software maximizes, drop it in the screen interface, the PDF file will load and open.
Click on the 'Open File' button on the bottom-left side of the interface. A dialogue box will appear from where you will browse the file and select the file which you want to open by clicking on open.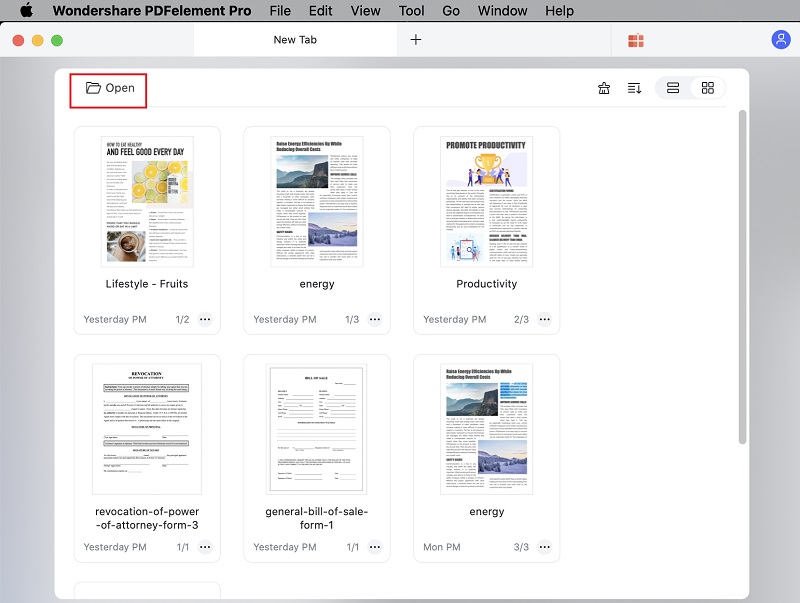 You can also click on the arrow on the top-left of the interface. Then click on 'File' tab in the menu bar. Then click on open on the left side of the interface, followed by Browse button on the top and select the PDF file from the dialogue box.
Step 2. Edit PDF Texts
After you've imported the PDF file to the program, you can open the 'Text' menu. Under this tab, you can use multiple PDF editing tools to edit PDF texts easily. To do this, click to select the text content and then you can change font size, font color and type on the right side toolbar easily.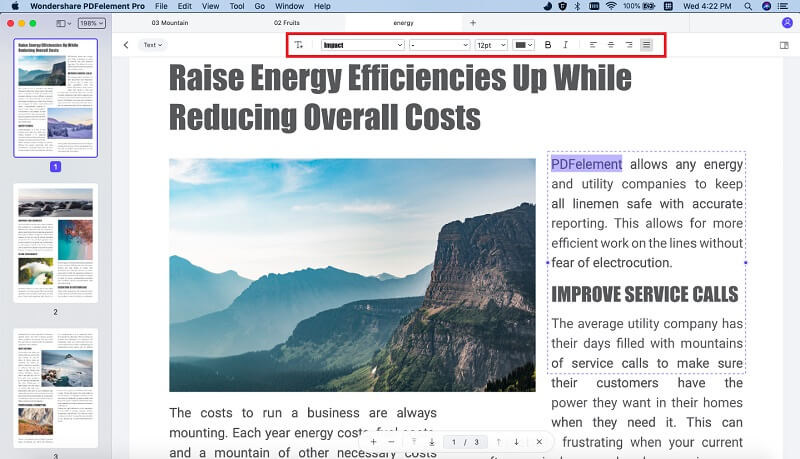 Step 3. Edit PDF Pages
If you want to edit PDF pages, you can click on the 'Page' button on the right of the interface to edit PDF pages easily. You can rotate, crop, replace, delete, add page label and custom the print size of your PDF pages by using 'PageBox' feature.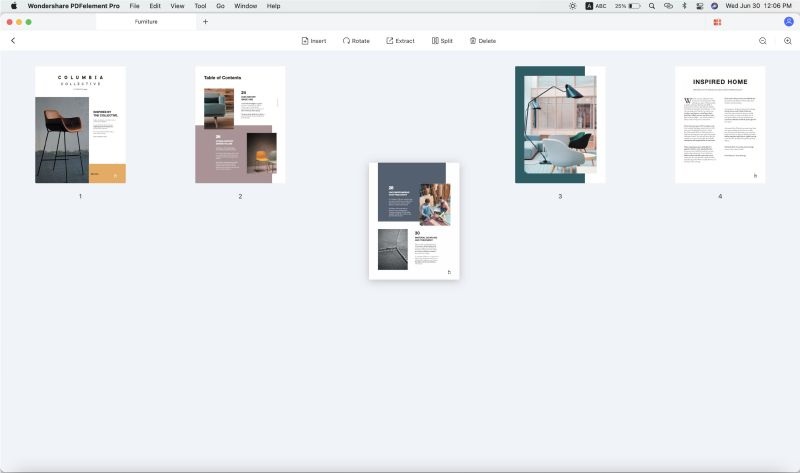 Step 4. Fill out PDF Forms
To fill out a PDF form, you can go to the 'Form' tab. The PDF editor will automatically detect whether the PDF form is an interactive or non-interactive form. You can fill in an interactive form directly. By adding 'Text Comment', you can fill in a non-interactive PDF form easily.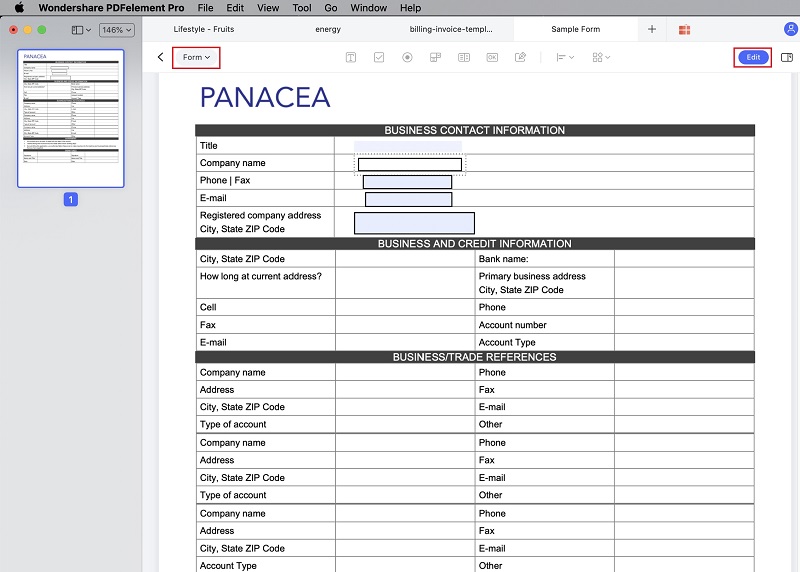 Step 5. Convert PDF to Other Format
Sometimes you may want to convert PDF files to Word, PPT, Excel and other file formats. To do this, you can click on the 'Tool' button, then you can choose the desired file formats from the main toolbar. After you've confirmed the settings, you can click 'PDF Converter' button on the left side toolbar to start to convert a PDF to other file formats.