Redacting a document is a very vital practice if you deal with confidential documents. Every party ranging from sole proprietors, law firms, government agents to companies has to redact their documents to hide private and sensitive information. The majority of people understand the significance of document redaction, but they are faced with the challenge of finding the best app for the job. In this article, we list top 5 PDF redact app that can use to redact PDF on Android or iOS devices.
---
Part 1. Top 5 PDF Redaction App to Redact PDF on iPhone and Android
#1: PDF Expert 5
If you are searching for an incredibly effective and easy way of reading editing and annotating PDF documents on your iPad, then you must seriously consider using PDF Expert 5. This is an iOS PDF application that allows you to edit and annotate your PDF files. It's a very powerful app that allows you to redact your PDF files by highlighting them with their dark color. The PDF Expert 5 also enables you to view and manage your files, digitally sign your files from your screen, and also to merge PDF files, fill PDF forms, zip files and send them to Email, iCloud, Google Drive, and Dropbox. This app also comes with a sleek design and supports various file formats such as PDF, Spreadsheet, Videos, Images, Archives, Audios, and Presentations.
Pros:
Marks crucial things in journals, books, and documents.
Allows the signing of documents and contracts digitally.
Keeps your PDF files secure and safe with passcode protection.
Easily imports files and documents from SkyDrive, Dropbox, Google Docs and more.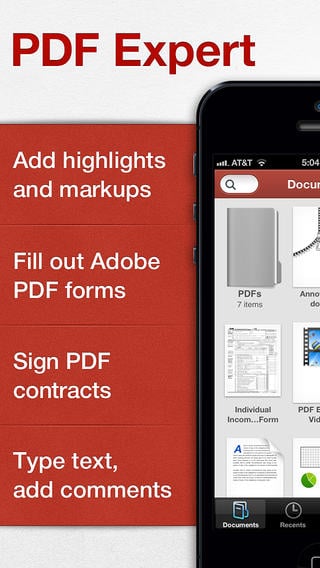 #2: PDFpen 2
Another recommended application on iOS platform is PDFpen 2. This intuitive application allows you to annotate and redact PDF files using proofreading marks and stamps, edit texts, comments, and draw lines. The PDFpen2 gives you the full annotating and editing functionalities for your PDF documents, and it has recently been updated to work with iOS 8. Millions of apps designed for managing and editing PDFs don't receive frequent maintenance to keep up with the competition, but PDFpen 2 is always ahead of the curve. This application gives you everything you need to edit and view PDF documents within a concise and clear interface hence allowing you to annotate your documents with handwritten texts and notes.
Pros:
Allows you to edit and view documents within a concise and clear interface.
Keeps your documents well organized by sorting them into folders.
Keeps your documents secure and safe with passcode protection.
Creates you a digital backup copy via Evernote, Dropbox, iCloud, and Google Drive.
Cons:
Has limited organization options since one can only order documents by date or name.
Not suited for large collections of PDF.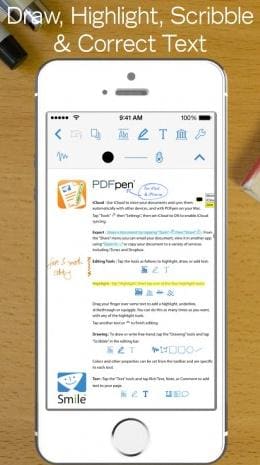 #3: Foxit PDFMobile
Foxit PDFMobile is designed to give you a comprehensive suite of tools for managing your documents under one roof. This is a very powerful PDF tool that supports both Android and iOS devices. This tool supports PDF, Excel, and Word file types. It redacts objects, images, and texts on your PDF file. With this app, you can edit, annotate texts, scan, rotate, and protect your PDF files and documents. Foxit PDFMobile is built on Foxit Reader technology hence making it easier to use. Also, this app is well designed and lets you share your PDF files through Bluetooth and email. Another significant feature of this app is that it blends well with Google Drive, OneDrive, Dropbox, and Evernote.
Pros:
Easy to use.
Supports most formats that are converted to PDF.
Creates high-quality PDF documents.
Cons:
Doesn't support advanced PDF features like embedded 3D models.
It keeps crashing.
You have to buy the paid version to enjoy its features.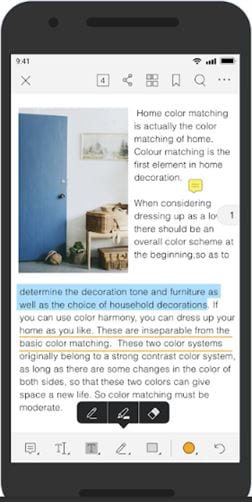 #4: PDF Max
PDF Max is a great app that you can use in redacting documents. This PDF editor is good for editing and creating your documents. You can also share your documents and add signatures easily and faster. PDF Max can also be used for storing files in Google Drive, iCloud, and Dropbox. With this software, you can also share your PDF files via email and access synchronized documents from any device. PDF Max supports both iOS and Android devices.
Pros:
Easy to use.
Speedy response.
Faster importing and exporting of PDFs.
It syncs tour documents across all devices.
Cons:
Takes long to import large PDF files.
#5: PDFfiller
PDFfiller is another software that you can use in redacting your PDFs. The app is free and available in Apple Store and Google Play Store. This app edits, blacks out PDF texts, and allows one to add digital signatures to his or her documents. PDFfiller has a great interface that lets you read and view PDFs easily. The app also allows you to print share and export PDF files via email.
Pros:
Easy to use.
Has a lot of features.
Cons:
Has a cluttered interface.
The process of being refunded upon canceling your subscription is long and tedious.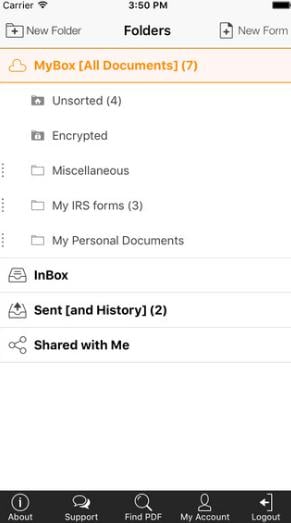 ---
Part 2. PDFelement - The Best Tool to Redact PDF on Desktop
(Editor Pick!)
If you are planning to redact a PDF document on Mac and Windows, PDFelement (or PDFelement for Mac) is your best choice. This is an all-in-one redaction program with a broad range of editing tools. It not only aligns and distributes texts fields to edit documents in PDF but also assists in adding, deleting, replacing cropping or extracting images on PDF files. With this app, you can also delete, add, crop, rotate, organize and rearrange your PDF images with ease.
Key Features of PDFelement:
Convert PDF to Word, and other formats and create PDF from Webpages, images, and text files
Add, delete or edit texts, images, graphics, links, watermarks, etc. in PDF
Quickly mark up and annotate PDF with various PDF annotation tools
Combine or split PDF and fully control PDf pages, easily fill out PDF forms
Edit and convert scanned or image-based PDF with OCR features
Add watermark, password, signature to PDF documents easily
How to Redact PDF with PDFelement on Windows / Mac
Step 1. Launch the PDF redaction tool
Download and then install the PDF redaction tool to your PC. Install it by dragging it to the application folder and then launch the app.
Step 2. Import PDF File to the Program
You can import the PDF file by clicking the "Open File" button, and then select the file to be redacted from the computer drive or you can also drag and drop the file to the interface after which an automatic upload will occur.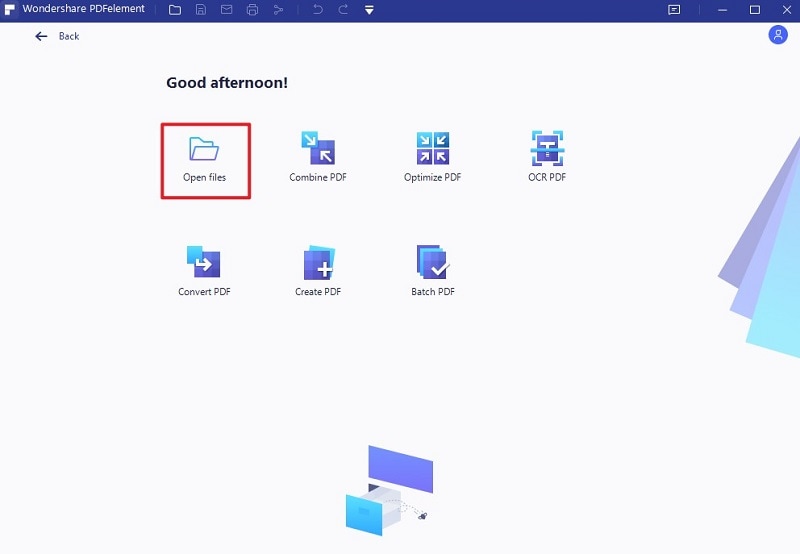 Step 3. Start Redacting PDF
Here, go to "Mark for redaction" under the "Protect" tab.. Highlight or select all the information you need to be removed from the PDF and redact it. This will make it easier to share the file without giving out confidential information.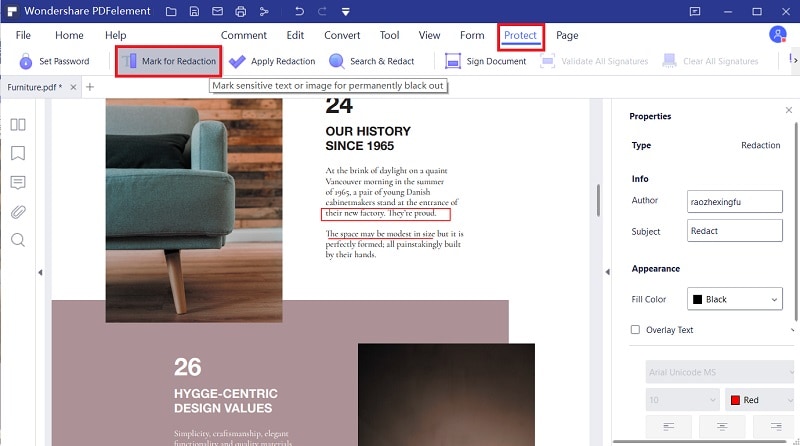 After that, click on the "Apply Redaction" to save the changes.