When sharing PDF files with other people through email or on a local area network, one of the things you need to take very seriously is the confidentiality of the information contained in those files. If there is information that you do not want the general public to see, you need to redact it with PDF redaction software before you communicate it to the public. Redaction allows you to mark items in order to show that you would like to redact it. It is feature that is adopted in most PDF software programs. By redacting, you permanently black out or delete the portions of text or images you do not want the public to see. Below we will introduce you to top 5 best PDF redaction software for Mac, including PDFelement Pro.
Top 5 Best Redaction Software to Redact PDF on Mac (10.15 Catalina Included)
#1: PDFelement for Mac (10.15 Catalina Included)
At the top of the list is PDFelement. PDF redaction is easy with this program, since it allows you to remove specific information that you do not want to be featured in your document. With this redaction software, you can easily redact any element of your PDF document.
Apart from this, this software is also a professional PDF redaction software that can help you to edit PDF documents like you usually do with a Word Processor. It allows you to fully edit texts, notes, images, links, watermarks and more. It also allows you to add up markups and annotations very easily. Besides being a powerful PDF editor, it is also a converter that you can use to convert PDF documents to Word format very easily without messing up their original layout. Not forgetting the redaction feature that allows you to conceal confidential information before sharing it in the public.
Pros:
Easily redact a PDF document and add password to protect your PDF file.
It allows you to create new PDF files very easily from formats such as Word, PowerPoint and Excel.
You can use it to improve the security of your PDF files by adding watermarks and e-signatures or by encrypting them using passwords.
It allows you to merge and split files very easily.
It comes with OCR technology that allows you to turn scanned PDF files into editable and searchable format very easily.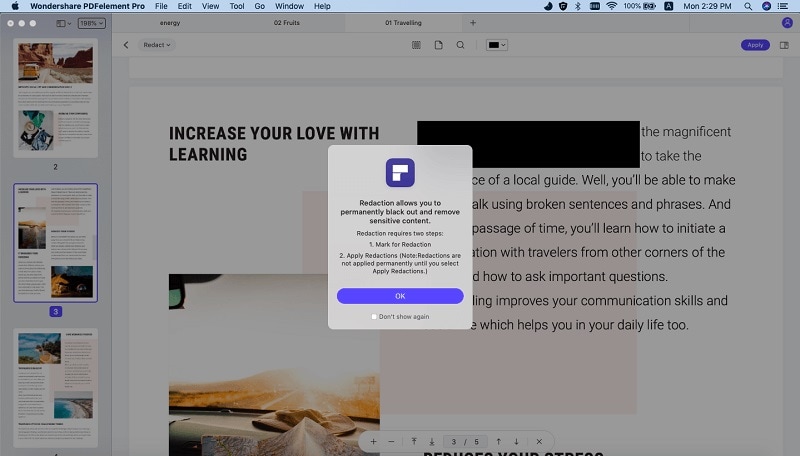 ---
2: PDFPenPro
PDFPenPro offers you a lot of editing features that you will use to customize your PDF files the way you want. Some of the things that you can do with it include correcting typos in PDF text, exporting PDF content to Word documents, signing your PDF files with handwritten signature and so on. Even it is not exactly easy to use the pen that this software employs using your mouse, but you will still be able to use it to handle your PDFs without any hassle. It also has a redaction feature that will help you protect images and texts that you want to keep private in your PDF files.
Pros:
You can use it to add real signatures to your PDF documents for increased protection.
It allows you to edit your PDF files using a pen.
It comes with OCR technology that allows you to edit scanned PDF files easily without the need of printing it first.
Cons:
It does not support pen pads.
It is very difficult to write when you are using a mouse.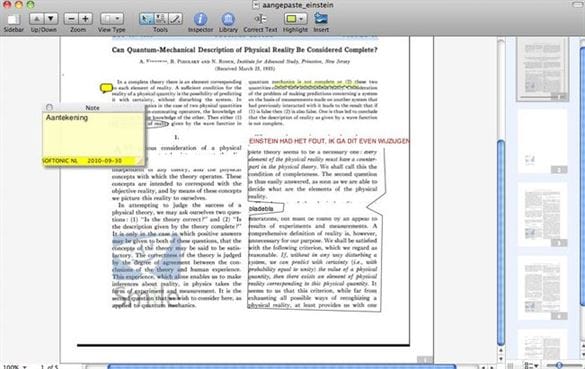 ---
3: Skim
Skim is a PDF reader cum note taker for Mac that is designed to help you read as well as annotate scientific papers with ease. It has a redaction feature that you will find to be very useful when you want to protect your PDF files from the public. You will also find it to be very useful for viewing PDF files on your Mac. You can utilize it for giving very powerful presentations in class or at your place of work. Other features that it comes with include a handy preview of links, bookmarks and a magnification tool. It is a highly customizable application that you can use to do many things.
Pros:
It has a lot of options for annotating.
It allows you to take snapshots of PDF files.
It comes with built-in transitions that make it easier for you to give presentations.
Cons:
Some features that it has are not very intuitive.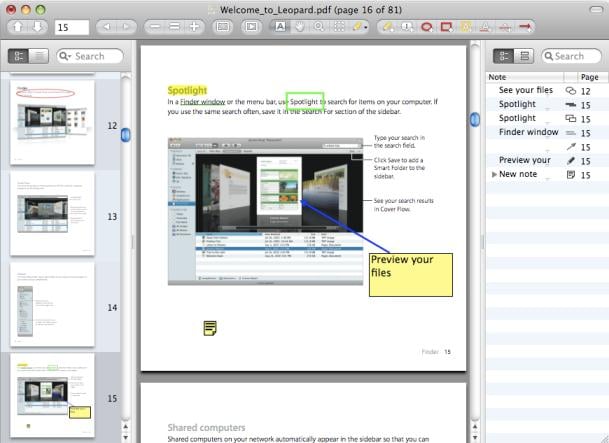 ---
4: Adobe Acrobat for Mac
Adobe Acrobat for Mac offers you the wonderful functionality of Adobe Reader with additional features that you will love, including the ability to redact PDF files. It has solid and stable features that make it one of the best PDF editors for Mac. It provides cloud services for those who want to have an endless amount of space to store their documents. It can also be used for merging and combining PDF files, creating, signing and analyzing PDF forms, protecting PDF files with permissions or restrictions.
Pros:
It has a wide variety of tools as well as features that you can use to create excellent PDF files and presentations.
It is an excellent PDF conversion program that you can use to convert your PDF files into different file formats.
It is very easy to use.
Cons:
It does not convert documents to EPUB formats.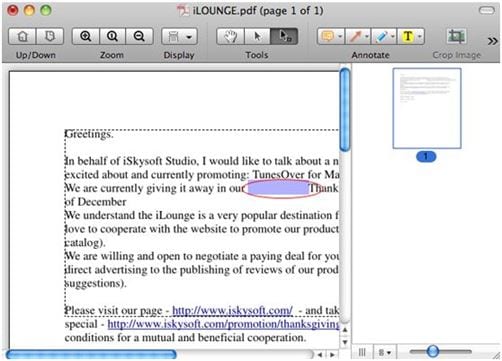 ---
5: Proview PDF Editor for Mac
Proview PDF Editor for Mac is equipped with a wide range of tools that you can use for editing existing documents and build new ones with ease. It enables you to add and remove PDF attachments very easily. It is also very intuitive. Whether you are a new user or a veteran of Adobe applications, you will not have any trouble at all using it. It has very clear icons that you will not have a hard time at all locating. It also comes with templates that you can start using to create forms right away. Every feature that it has is very easy to execute.
Pros:
It is equipped with comprehensive interactive tools and formatting features that will make it absolutely easier for you to work with PDF documents.
It provides you with the ability to label multiple pages together.
Cons:
Documents that are edited using the trial version carry the "Demos" watermark when they are saved.
It has inadequate features as compared to the Pro version.