If you are looking to know "How to add attachments to PDF?", then this article is the perfect answer. There weren't many facilities to add attachment to PDF file earlier. However, with advances in technology, now, it is possible. The attachment could be any file which holds other formats such as Word and Excel. It may be an image or a link. Whatever it may be, we are here to explain the detailed process to add attachment to PDF and view PDF attachment. Let us proceed to read the article and know more.
Part 1. The Best Way to Add Attachment to PDF
iSkysoft PDF Editor 6 Professional for Windows(or iSkysoft PDF Editor 6 Professional for Mac)is a prominent software available for both Mac and Windows users. It stands out for its high-level compatibility and user-friendly interfaces. With the help of this PDF Editor you can easily add attachment to PDF files. If you are new to the browsing experience please don't worry about the customization. The process of adding attachment to PDF files can be very easy with this professional PDF editor.
So, just free download the PDF Editor from the website and use it to add an attachment to PDF. You will see the detailed process in the following paragraphs.
How to Add Attachment to PDF
Step 1. Start iSkysoft PDF Editor 6 Professional
To start the program, you have to download the software from the acknowledged website. Install it after the download completes. It takes only a few minutes.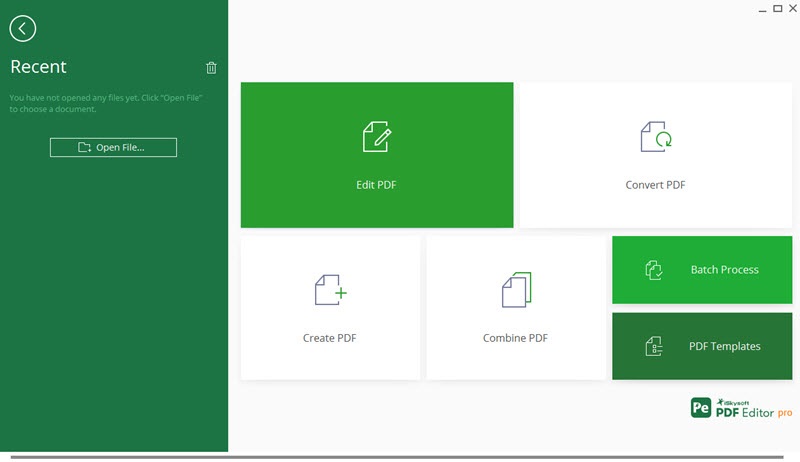 Step 2. Open a PDF File
Now, import the PDF file directly into the iSkysoft PDF Editor 6 Professional by clicking on "Open File" from the interface.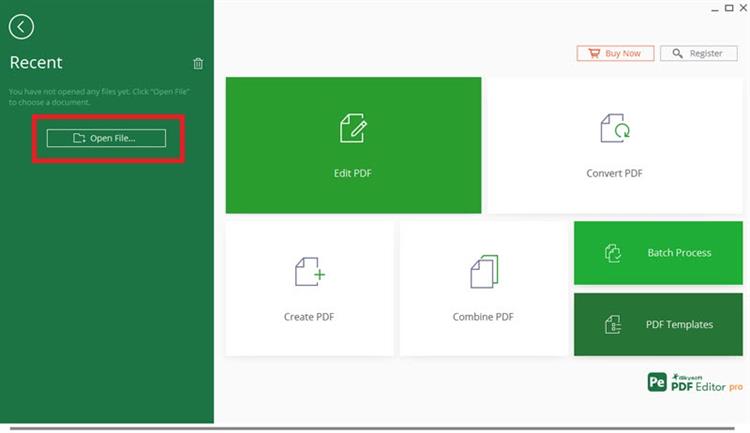 Step 3. Add Attachment to PDF File
In this step, you have to add attachment to PDF files. So, open the file and click on "Comment" menu present at the top. You will have multiple options in front of you post you click on the "Comment" menu. From that, please choose "Add attachment" option.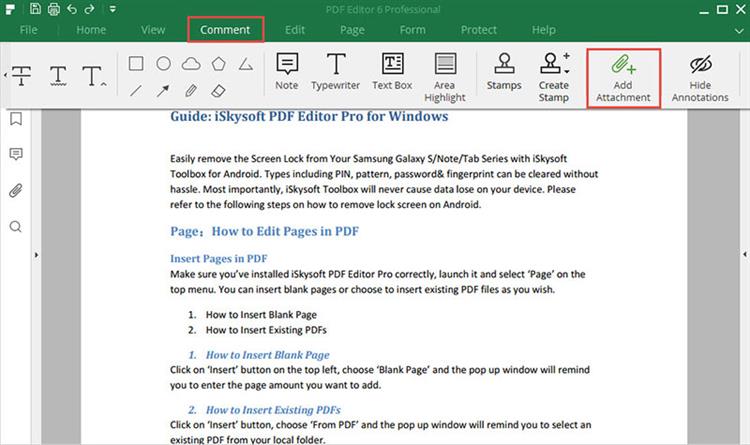 Step 4. Add Attachment Button to PDF Form
Just in case you need to add attachment button to PDF form, first, you will need to import a PDF form to the program and then visit "Comment" menu. Click on the "Add Attachment" to add attachment button to PDF form with ease. Then you can click the attachment button to open the file attached to the PDF form.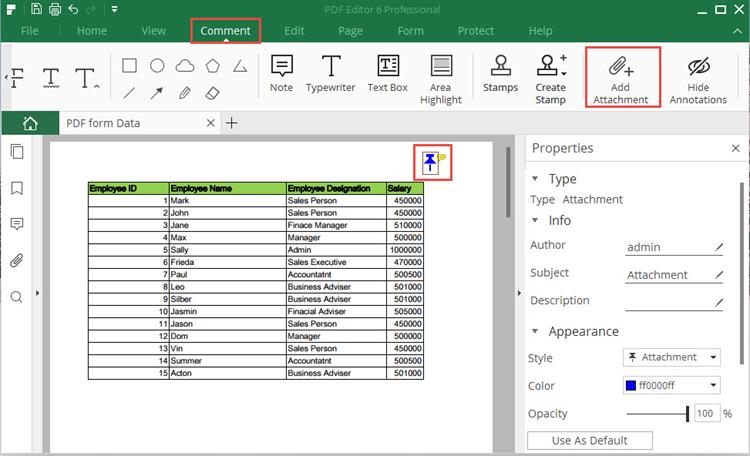 Step 5. View PDF Attachments
The file which you selected to attach to the PDF will be added. Now in order to view the PDF attachments, you have added, just double click on the attachment icon. Click on the "Yes" button On the pop-up window to view PDF attachments with ease.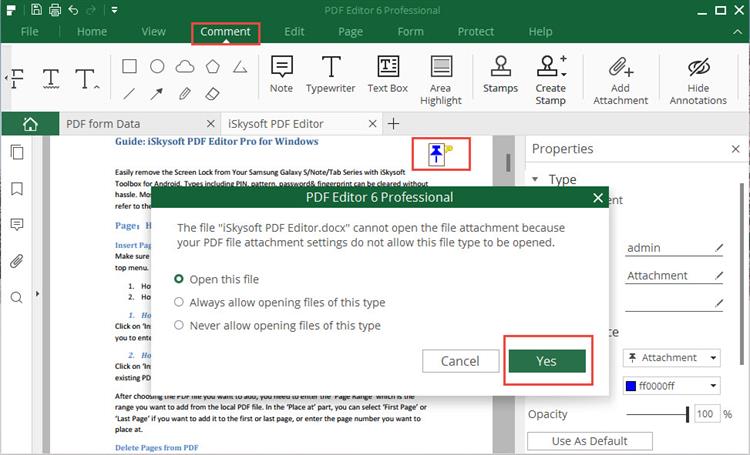 The one software which does all the other job of PDF editing such as adding attachments, background, inserting images and a lot more is none other than iSkysoft PDF Editor 6 Professional for Windows(or iSkysoft PDF Editor 6 Professional for Mac). The iSksyoft PDF Editor 6 Professional is considered as the best PDF customization tool for all editing tasks. You can easily embed attachments in PDF by one click formation. With this software, you have all the rights to change or edit the PDF file as per your wish without any restrictions. The iSkysoft PDF Editor 6 Professional team has designed the interface even for the non-technology users so it is easy for everyone for daily usage. Sounds interesting, isn't it? Download the software and observe the magic it does. So, without delaying anymore we are presenting some more useful features of this tool so that you will have a better view about iSkysoft and its functionalities.
Key Features of iSkysoft PDF Editor 6 Professional:
You can create the PDF, convert, split, merge and extract the text easily.
You are free to create the PDF forms and so the templates are free to use.
You can annotate, highlight and watermark the file for security reasons.
You can add a password and sign digitally for the pages or for the whole document.
You can perform the OCR once if the scanned PDF file is accessed.
You have full control to access the software.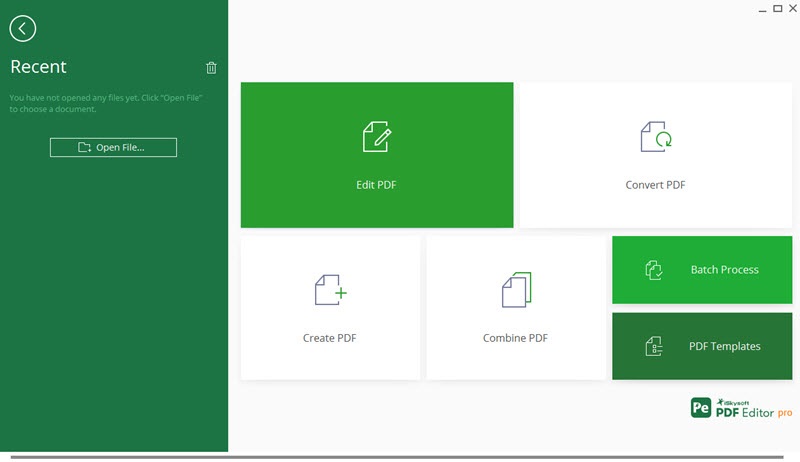 Part 2. How to use Adobe to Add PDF Attachments
Adobe Reader has been very popular from the beginning right when it was launched. And why not, you can create, convert, split and merge the PDF file using Adobe Reader. Although, Adobe Reader has its own set of complications overall it is quite simple and easier for many professional PDF users. Using this software, one can add Adobe PDF attachments.
So, in this section of the article are going to introduce this feature of Adobe with which you can add attachment to PDF. The complete process is mentioned in the below-mentioned steps, just go through the steps to understand the process for a better way of using Adobe.
Steps on How to Add Attachments to PDF Using Adobe
In Adobe Reader, you can add the attachments in form of comment file. So, you don't have any confusion whether it is the comment or attachment.
Step 1: Download the Adobe reader and install it on your personal computer.ite and then click on the "Try Online PDF Editor" button on the page. This will open the online tool to begin editing.
Step 2: Installation may take few minutes.
Step 3: Open the file and select tools from the menu. Choose "Edit PDF" and select "More". Then choose "Attach file".
Step 4: You will get the dialog box to choose the file from the local disk.
Step 5: That's it. Finally, save the PDF document.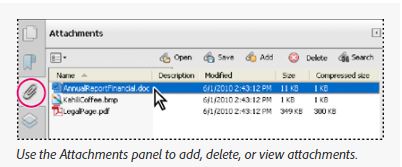 Note: It is easy to add an attachment to PDF and hence it named as Adobe PDF attachments.
Common Issues on Using Adobe to Add Attachments to PDF
Although Adobe Reader is a great software, however, it is also not short of issues.
The software might ask you to reinstall again and again.
The attachment file won't be accepted by Adobe Reader. It says "file does not exist".
Sometimes, the add attachment option may hide inside the menu.
The file may attach twice into the PDF document.
Hence, to conclude we would like to say that iSkysoft PDF professional is free from any such issues and is definitely better software than Adobe when it comes to add an attachment to PDF file.