PDF, the acronym for Portable Document Format, is a file format established by Adobe which can include text, pictures and graphics. The problem with PDF files is that they cannot be freely edited in their original form. There are times when the users may need to copy or edit the data in a PDF file, which is a difficult task such as converting data into the Excel format. It is not an easy task in converting PDF files to Excel format of a good quality. In these cases, it is suggested that you choose the appropriate PDF to Excel converter open source software with adaptability, cost and features. To assist you we are providing you with the list of PDF to Excel open source converters with one best tool to resolve all of your PDF related issues. So, if you are searching for open source PDF to Excel converter, lets have a look, this article covers details about top 5 PDF to Excel open source software.
Part 1. Top 5 PDF to Excel Converter Open Source Software
There are numerous tools available in the market which claims to be the best in converting your PDF files to Excel sheets for your convenience. However, not all of them can serve you the way you expect. Each one is different and caters to different needs. To ease out your confusion, we have hand-picked some of the best tools to solve your purpose. We present you the 5 best open sources PDF to the Excel converters. These PDF to the Excel converters allow you to convert PDF files to XLS or XLSX format easily. Such types of software are for free downloading.
1. Free PDF to Excel Converter
Free PDF to Excel Converter is is a very handy and versatile program which can be used to convert a PDF file to MS Excel. It also supports batch conversion which means you can convert multiple PDF files into Excel format in one shot. It supports XLSX (2007-2013) as well as XLS (97-2003) formats in addition to CSV. Click on "Add PDF" or "Add Folder" button on the toolbar. Post adding the files to the list, click on the "Convert" button to begin the process.
Pros:
It also provides you an option to combine all the PDF files into a single Excel file as an additional benefit.
Cons:
Lacking of any advanced features.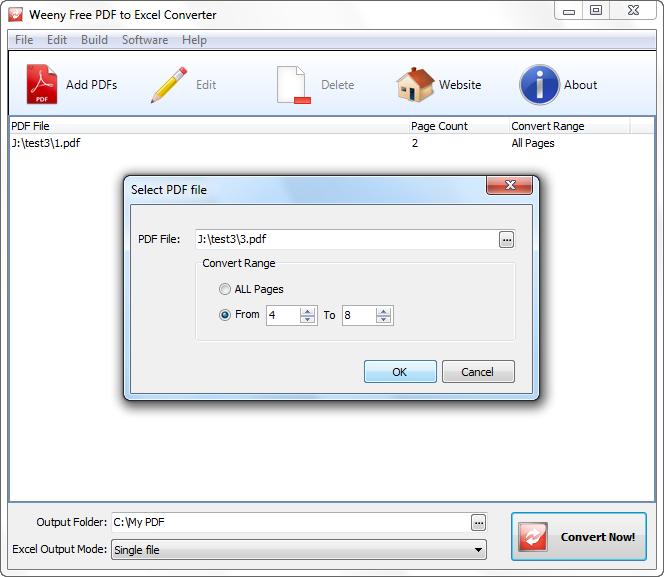 ---
2. Convert PDF to Excelt
Convert PDF to the Excel is a type of free PDF conversion software that lets you transform your PDF documents into CSV format, which can be easily opened with MS Excel. Click on the "Add File" and choose multiple files if needed. Now the system shows you the entire list of all the files to be converted. Now click on the "Start" button at the bottom right of the interface to start the process. You can select the "Open Folder after Complete" option to open the output folder to view the converted file.
Pros:
Convert PDF to the Excel assimilates the basic features required for converting jobs without having to spend a lot of time and effort on the process.
Multi conversion process available with fast conversion facility.
Cons:
The in-built features and unique options make it tough suitable for beginners as well as the professionals.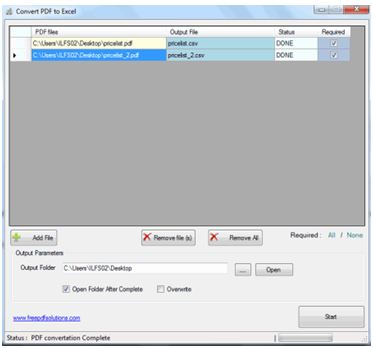 ---
3. Blue Fox Free PDF to the Excel Converter
Blue Fox Free PDF to the Excel Converter is yet another versatile tool that converts PDF files into Excel format. Every page of the source PDF file is converted into a separate excel sheet. Start the program and click on "Add File(s)". Now choose the file from your device to add it to the list. Click "PDF to the Excel" button on the toolbar to begin the conversion.
Pros:
Automatic interface makes it easy to use for the users.
Cons:
This tool can convert PDFs with selectable text only.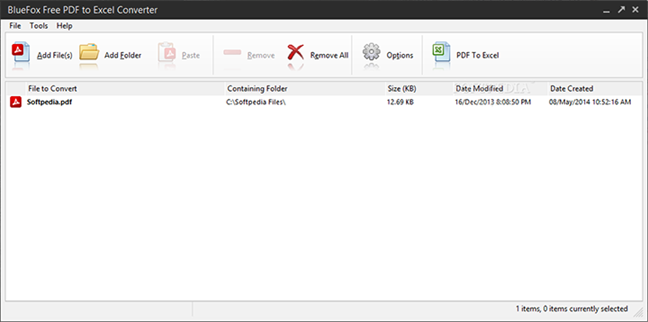 ---
4. PDF to the Excel using GT Text
In an Excel sheet, the data is stored in cells. In a scanned PDF the data is converted into MS Excel, you may need to extract the text region wise. That is where GT Text helps you. Now open GT Text and click on "Capture Screen Image" to arrest the screen to the GT Text screen. Then click and drag your mouse in a column.
Pros:
You can bring the GT Text window other column to capture the data.
Provided with free PDF Readers.
Cons:
You have to execute every step until you have finished capturing the entire data.
Responsive time is slow.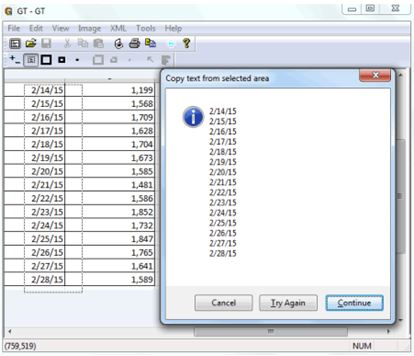 ---
5. Free PDF to All Converter
Free PDF to All Converter another free and user friendly PDF to XLS converter. This tool can easily convert searchable PDF file into format able MS Excel file. Just click on "Add PDFs" button on the toolbar. Select the PDF file to get converted by browsing your device. Click on "All Pages" or set the range of pages you wish to convert and the click on the "OK" button to add the file on the list. After finishing the uploading, select the "Output Folder" and click on "Convert Now!" button.
Pros:
The best part of the program is that the output file maintains most of the formatting of the source PDF file.
Cons:
You will be required to repeat the step in case you wish to add more files.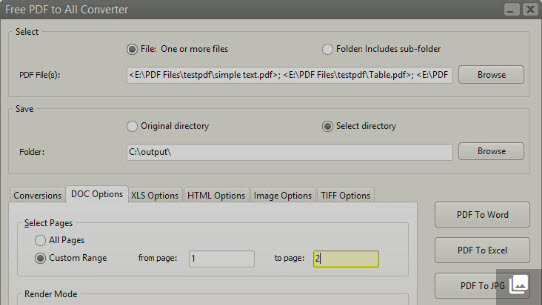 ---
Part 2. The Best PDF to Excel Converter
PDFelement Pro which is the best PDF to Excel converter. It is a complete PC software which offers you a broad spectrum of unique features which can be used to alter your PDF files with minimum efforts.
3 Steps to convert PDF to Excel easily
Step 1: Download and install PDFelement Pro on your computer.
Step 2: Drag and drop your PDF files to the program, or click on "Open File" to import PDF file to the PDF converter.
Step 3: Click on the "Convert" button and choose the "To Excel" option to convert PDF to Excel.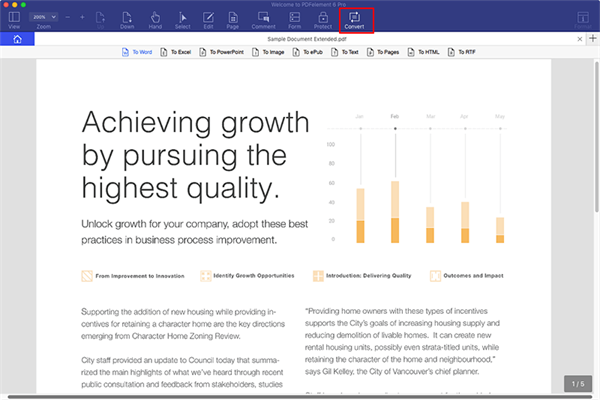 ---
Why Choose PDFelement Pro to Convert PDF to Excel
PDFelement Pro is aesthetically appealing and an extremely user friendly interface. It is loaded with a wide range of advanced options; and the tool is apt to use for professionals as well as beginners. All you must do is to import the files to the main screen and then start modifications in them.
Offers you the possibility to convert PDF files to a broad range of output formats like DOCX, DOC, XLS, BMP, GIF, edit or insert text and images, insert links, etc.
Additionally, you can implant watermarks, modify the background, add check-box or radio buttons, electronic signatures, and also password- protect your PDF files.
The tool performs the conversion tasks quite quickly without any errors throughout the. And it also doesn't consume a lot of CPU space.
Secure and organized way for PDF editing.
You can stamp PDF files, which can be dynamic, static for business purposes.
Plus you can edit text for publication purposes.