PDF documents are today popular documents in business since they are secure and shareable easily across all platforms. Editing and manipulating PDF documents has been a major challenge for many people, reducing their work productivity. New tools have been developed that make editing a PDF file easier. To add image to PDF online, you will need to use these tools. There are many PDF editors online that you can use to add images to your PDF document. It is not easy to find an effective PDF editor that allows you to add an image to your PDF without changing its resolution. This article will provide you with a list of 5 tools to add an image to your PDF online and PDFelement (or PDFelement for Mac), which is an offline tool. PDFelement is a great offline PDF editor that has advanced editing features on a user-friendly platform.
---
Part 1. Useful Tools to Add Image to PDF Online
1. PDFfiller
PDFfiller is an online PDF editor with a cloud storage platform and comprehensive digital signatures solutions with no download required. The price of PDFfiller starts at $8 per month.
Pros:
PDFfiller has a powerful digital signing feature with SendToSign.
PDFfiller can convert, edit, annotate, and print documents in either PDF, Word, PowerPoint, or Excel.
An 'Audit Trail feature allows you to monitor all your activities and an encrypted folder with two-factor authentication to protect your documents.
Cons:
PDFfiller does not have a task manager, this makes it difficult to manage your tasks on the dashboard.
2. Smallpdf
Small PDF is an online PDF editor that has various functionalities. Small PDF can convert PDF files to JPG, Word, Excel, PPT, etc. Small PDF allows you to compress, merge, split, and rotate your PDF document. Smallpdf has a free version, while PDF Pro starts at $12 per month.
Pros:
Your PDF document is safe since you can use a password to protect your document.
You can insert a page number in your PDF document.
It is easy to use Smallpdf.
You can ensign your PDF.
Dedicated customer care or support.
Cons:
It is difficult to add large files for conversion.
You cannot use Smallpdf to convert files more than two times. It will prompt you to upgrade to PRO.
3. PDFescape
PDFescape has great features and options for editing PDF documents. It has a great interface, though, for a novice user, it might be a bit tough to navigate. PDFescape has great features like strikeout, underline, insert a link, etc. PDFescape pricing starts at $5.99per month.
Pros:
PDFescape allows you to add images to your PDF document.
You can fill out PDF forms in PDF escape by use of PDF form fields.
PDFescape allows you to insert links to other pages and websites into your PDF file.
PDFescape does not add any logo or watermark to your file.
Cons:
You cannot use the desktop version of PDFescape if you are a free user. The desktop version is only available to those with ultimate memberships.
You cannot upload files that are more than 40 MBs in size.
4. CutePDF
CutePDF allows you to edit your PDF files for free. The cloud-based PDF editor gives you to make mirror changes to your document, comment on the document, and also secure the document with a password to restrict access. To convert a file into a PDF, you can drag and drop the file into the program. CutePDF has a special introductory price of $49.95 that includes a form filler for free.
Pros:
You can replace the page contents.
It allows you to add bookmarks to a PDF document.
You can add images to a PDF file, crop, and move pages using the Drag and Drop tool.
It has a scan to PDF functionality.
You can add headers and footers to your documents, Page numbers, etc.
CutePDF uses the latest SSL technology, which means your files are secure as everything is encrypted on the platform.
You can add hyperlinks to your PDF document.
No annual maintenance fees
Cons:
There is no interactive editing.
There is no adequate information on how you can add media such as sound clips and short videos.
There is little content on the help section of CutePDF.
5. HiPDF
HiPDF is a powerful cloud-based PDF editor that you can use to add image to PDF online without downloading the software. Navigating the platform is easy thanks to its user-friendly interface. The paid version of HipDF starts at $6 monthly.
Pros:
Your documents are secured because HipDF incorporates a high SSL encryption that enables you to protect your documents using a password.
HiPDF can compress many PDF files at the same time.
The OCR conversion feature will convert scanned documents into editable formats.
Cons:
You cannot edit a text directly on an existing PDF document.
It takes quite some time to convert large files that are more than 100MBs or more than 1000 pages.
The original fonts for Ms. office are not available in HiPDF.
---
Part 2. Add image to PDF Online or Offline
PDF tools help you create, manage, and protect your documents. They are also effective in simplifying complicated PDF tasks. You can add images to your PDF online or offline, depending on your needs. Online PDF editors are free to use, do not require any installation, occupy less space, and are very convenient, they can be accessed anywhere and at any given time, provided there is an internet connection. Offline PDF editors have a security and privacy guarantee, have more advanced features, and most offline PDF editors support interactive editing. You don't need to get worried about internet connection when using offline editors. There is no possibility of document leakage for offline editors since files are not uploaded to the internet, and no server or individual can access them provided you do not export them to your cloud drive. This is not the case with online PDF editors that require documents to be deleted permanently from their servers after a given period since they can be accessed online.
---
Part 3. A Great Tool to Add Image to PDF Offline: PDFelement
PDFelement is a powerful offline PDF editor, and you can use it to create, organize, and secure your documents. PDFelement has comprehensive features and excellent performance. It combines essential business features on a simple and intuitive interface. It is a great tool to add images to your PDF files offline and is available in Mac and Windows operating systems.
1. Why Choose PDFelement
PDF element, as earlier mentioned, is a comprehensive PDF editor with advanced features to help you edit your PDF documents with ease. If you are looking for an effective PDF editor to work with, you should consider PDFelement.
Highlight features:
PDFelement is a great tool to add an image to a PDF, and it is effective for large files that cannot be handled by online editors.
PDFelement supports interactive editing, i.e., editing your texts directly to your PDF. It is not possible to edit texts directly using online PDF editors.
PDFelement allows you to restrict or not a password-protected document this makes your documents secure.
PDFelement can accurately convert a scanned PDF file into editable formats such as Word, Excel, and PowerPoint. You can also convert your PDF file to Word, Excel, or PowerPoint. You can take advantage of the batch feature to compress multiple files in PDFelement
2. Tips on How to Add Image to PDF with PDFelement
PDFelement can be used to add image to your PDF document. To add image to your PDF, you need to follow the following steps:
Step 1: To add images file to your PDF document, you need to first launch PDFelement by double-clicking on the PDFelement program on your computer or right-clicking your mouse and select the "Open File" option.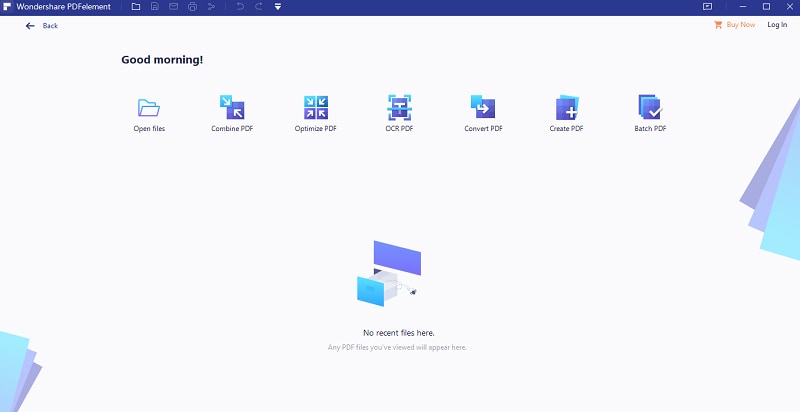 Step 2: Click "Edit" at the top of the PDFelement and then select "Add Image" and choose the image to import it to PDFelement. The image will automatically be added to your file. Make sure you place your cursor where you want the image to be. You can crop or even rotate the image.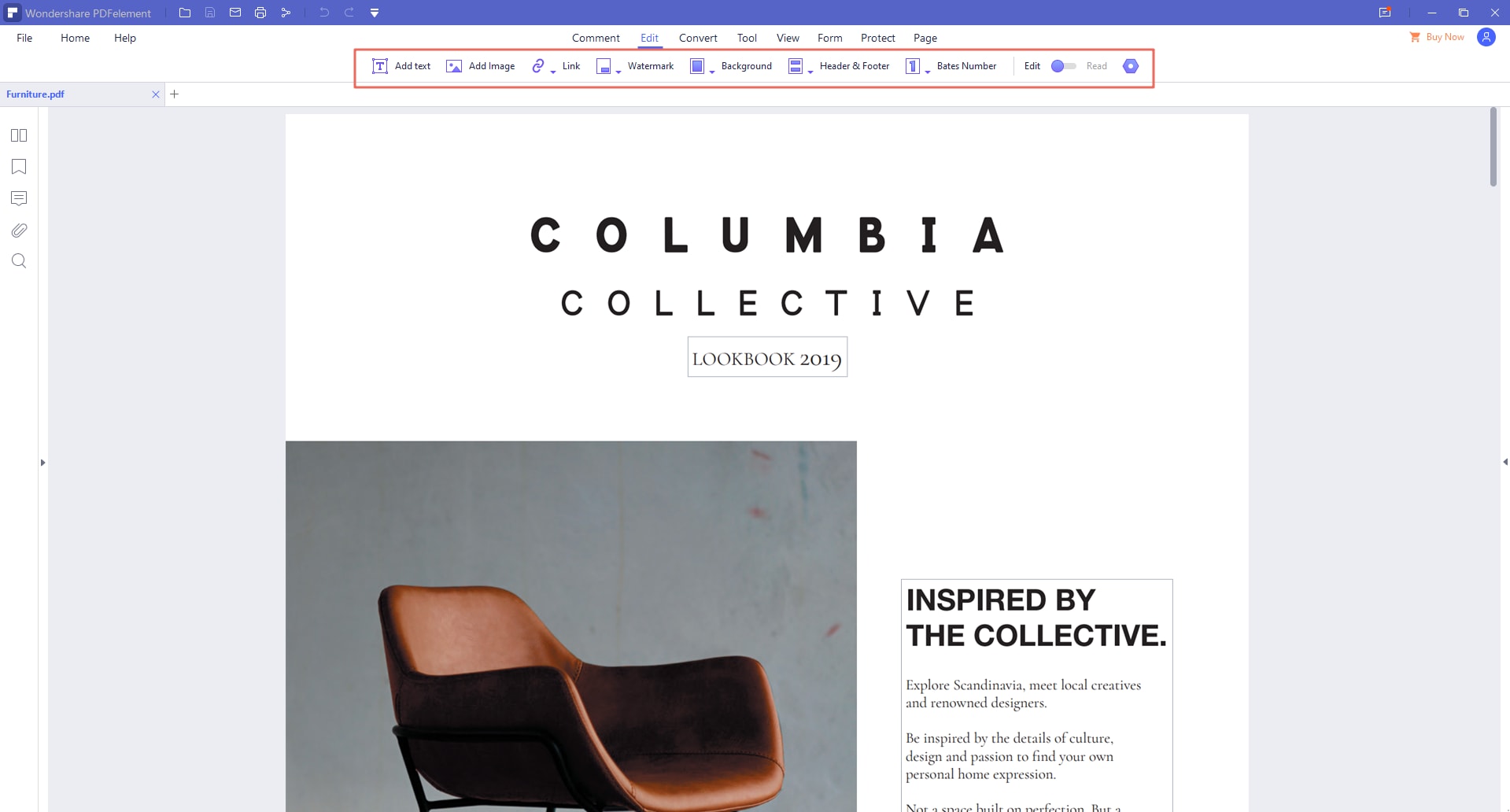 Step 3: The last step is to save your PDF file with the image and export it to your computer.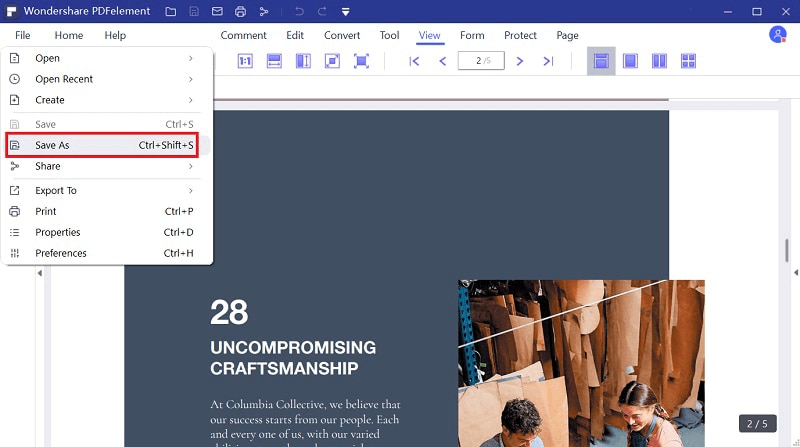 ---
Conclusion
To conclude, this article has explored 5 tools that you can use to add image to PDF online and PDFelement (or PDFelement for Mac), which is a useful offline tool. Online tools explored are HipDF, CutePDF, Smallpdf, PDFescape and PDFfiller. You do not have to pay a subscription fee to use Online PDF editors to add an image to your document, in contrast, most offline editors will require you to pay to access advanced features since most free versions have limitations. Online PDF editors have image size limitations that can be added to your PDF document whereas Offline PDF editors can add large megabyte images to your PDF file. Online PDF editors require an internet connection to add images to PDF files, for offline PDF editors you do not need to worry about internet connection to add an image to PDF.
People who need to perform minor edits to their PDF files are more willing to use online PDF editors. Those interested in advanced features to edit PDF files, such as interactive editing, will choose offline editors with more powerful and advanced features; they are willing to pay the subscription fee to use offline PDF editors. Offline PDF editors provide high security to PDF documents, and people dealing with sensitive documents that require privacy and confidentiality will be willing to use Offline PDF editors that are secure compared to online editors. It is necessary to assess your business needs before deciding on which editor to adopt, whether online or offline PDF editor.