Adobe Acrobat PDF Forms Filler and Creator is a popular solution as a PDF form creation and filling program. However, Adobe Acrobat PDF Form Filler can experience some issues. Sometimes, this is because you do not know how some of its functions work. At other times, it could be because of the way Adobe PDF form creator was used to make the form. Below are tips and tricks on using Adobe Acrobat PDF Forms Filler and Creator. If you think Adobe Acrobat is too expensive, you can try the best alternative - PDFelement Pro .
Part 1: Adobe Acrobat Forms Filler and Creator Alternative
PDFelement Pro - The Best Adobe Acrobat Alternative
There are many PDF viewers, and managers in the market today, but none of them are as good as the Adobe Acrobat. This program has been in the market for years, and almost none of the other PDF viewers can match its potential. But PDFelement Pro is the closest thing to an Adobe Acrobat. It is the cheaper alternative to Adobe Acrobat but as powerful as Adobe.
Why Choose This PDF Editor:
Easily make a fillable PDF and fill out PDF form with PDFelement Pro.
1 click extract data from multiple PDF forms and scanned PDF files.
Supports OCR features with multiple OCR languages.
Compresses files to save space. Combine and split PDFs.
Converts scanned or standard PDF to other editable files.
Encrypts files for protection. And decrypt secured PDFs.
Converts PDF to Excel, PowerPoint or Word, and create PDF.
Easy Steps to Create and Fill Out PDF Form
Step 1. Launch PDFelement Pro
First download and install the Adobe Acrobat PDF Form Filler alterantive. And then launch the program.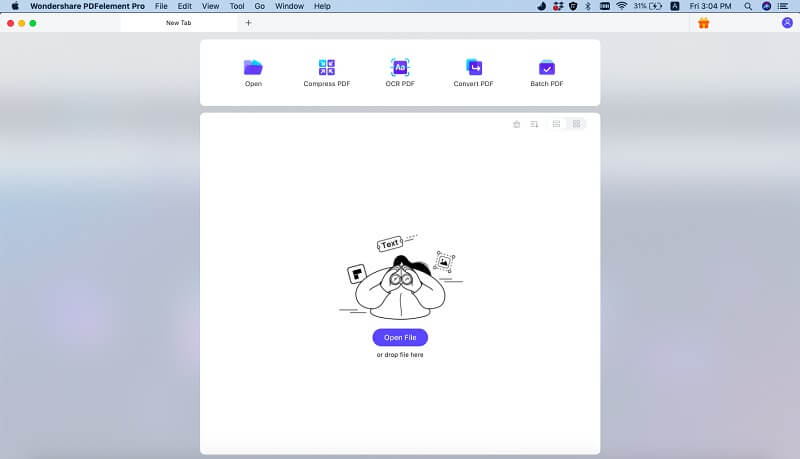 Step 2. Create PDF form
To create a new PDF form, you can click the "Form" option and select "Text Field", "Check Box" and other form elements to create a new form. Or you can download free form templates from the program and create a PDF form from the template you want.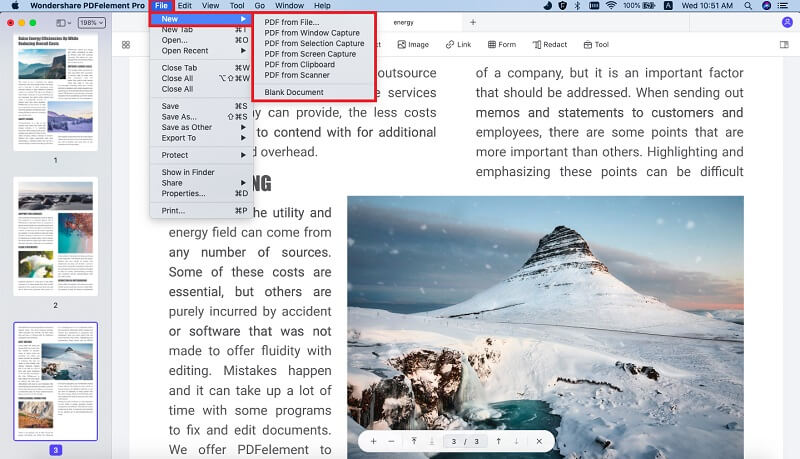 Step 3. Fill in PDF form
You are able to fill out the PDF form you have just created or the PDF form you imported form your local folder. Simply click "Form" and click "Edit" to directly fill in the form. Alternatively, click "Edit" and click "Add Text" or "Markup", and then click "Add Text Comment" to fill PDF form.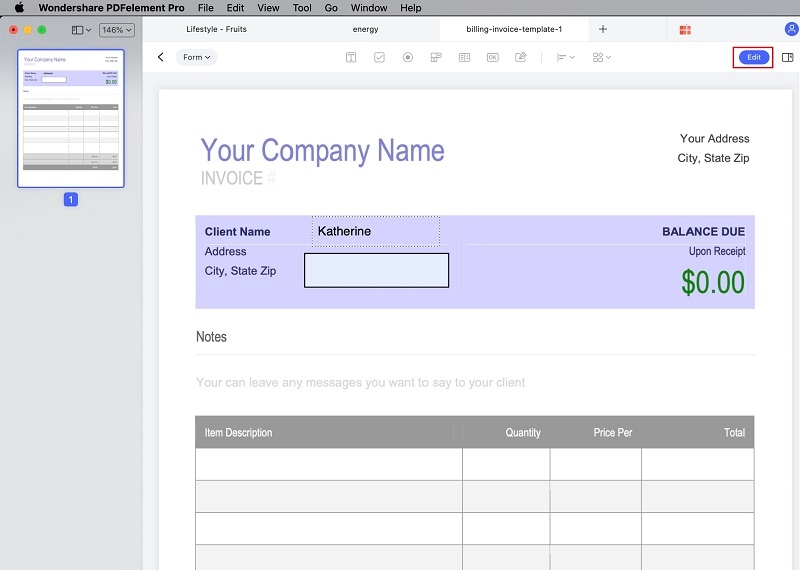 ---
Part 2: How to Create a Fillable Forms with Adobe Acrobat
The Adobe Acrobat can also be used to create fillable forms in PDF files. But this feature is only available in the full versions of Acrobat, and are left out of the features of Reader. So no one can use the Adobe Acrobat Reader to create fillable forms in PDF files. If they wish to create fillable forms, they need the full versions of Adobe Acrobat 8, 9 X or XI, or the pro versions. The users can also convert files such as Word files, and Excel files, and create forms using Adobe Acrobat as well. As most of the users are using the most recent versions of the Adobe Acrobat, the following steps are needed to create fillable forms using the Adobe Acrobat X:
1. Create PDF form with a template:
Step 1: Open Adobe Acrobat.
Step 2: Go to the Form tab and select the Create New Form option.
Step 3: In the pop-up window, check the option of "Select a template". Then choose the template you want and create your PDF form. After that, save the PDF form.
2. Create PDF form from existing file:
Step 1: Open Adobe Acrobat and go to Form > Create New Form.
Step 2: Then check the option of "Start with an electronic document" from the pop-up window to create fillable PDF form by converting an existing files.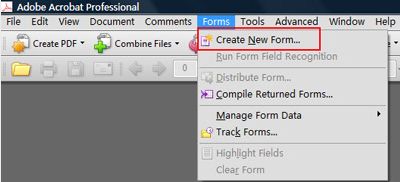 ---
Troubleshooting on Using Adobe Acrobat PDF Form Filler
1. It is impossible to fill in forms
First, make sure you have an Adobe Acrobat version 8 or later. Your security settings could also be a problem. So, ensure that they allow you to edit the forms you upload into the program.
Another reason you might be having trouble filling in the form could be because the form you are trying to fill is not interactive. In this case, you can try using the Typewriter tool so that you can add data into the form.
2. Problem Saving Filled PDF Forms
After successfully filling in your PDF form on Adobe Acrobat, you might have trouble saving it. This can be because you are using an older version of Acrobat Acrobat. To enjoy the saving feature, you will need to have Adobe Acrobat 8 Professional or any variant of Adobe Acrobat 9 or later.
Another reason you might have trouble saving data typed into the PDF form could be that the person who created the form did not enable the "Form Fill-in & Save" function when creating the forms.
3. Data Disappears from Saved PDF Forms
Sometimes, after filling in the forms and saving them successfully, the filled in information disappears after a subsequent opening of the file. To avoid this common problem, you should make a copy of the file before closing it. Then after closing the file, you should get rid of the original and the copy of the filled in form should work just fine.
4. Cannot sign PDF Forms
Typically, Adobe Acrobat PDF Form filler lets you append your signature to the forms by letting you drag and drop your signature on the form. If this is not working, your signature settings might be the issue. An uninstall and reinstallation of the program might also fix the issue.
5. Reader-enabling Forms Not Present In Advanced Menu
This could be because the form does not allow editing. Additionally, you might be talking about Adobe Reader, a completely different program that does not support form filling like Adobe Acrobat does.
---
Part 3: How to Fill Out Forms in Adobe Acrobat
The Adobe Acrobat can be used in a lot of ways to fill out forms in PDF files. However the best way to so is described below. Just follow the given steps to enable the Adobe Acrobat to fill out electronic forms in the PDF files.
Step 1.At first open the PDF file in which the form has to be filled out. The file should be opened in such an Adobe Acrobat which has the Adobe Professional client installed.
Step 2.Then go to the "Tools" menu.
Step 3.After that go to the option of "Typewriter", and then enable the type writer. This is for Adobe Acrobat 8 or 9.
Step 4.In the Adobe Acrobat 10, File --> Save As -->Reader Extended PDF --> Enable Adding Text in Documents.
Step 5.Then add texts or do any change in the PDF form. Lastly, save the PDF file.
Step 6.Be sure to have opened the file in a Professional mode of the Adobe Acrobat.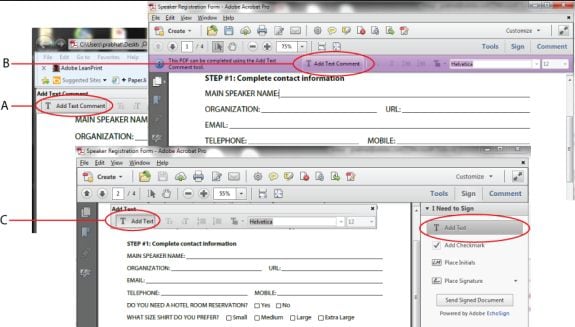 ---
Part 4: Adobe Acrobat Form Templates Free Download
There are a lot of websites all over the internet from the users of Adobe Acrobat can download the Templates for free. But not all of them are virus, and malware free. So downloading a file from the wrong website may harm the computer. So it is safe to download from websites who are famous for their services so that no malware or virus can creep into the computer.
Free websites to download Adobe Acrobat Templates: