This article simplifies everything regarding how to create a fillable PDF using the best tool - PDFelement.
Fillable forms are becoming more important than ever in the current digitally advanced world. Every business, organization, and institution would probably require a fillable form for different purposes. It can be about contract PDF forms, employee personal data and information, or multiple-choice questions. Whichever the case, it is important to know how to create fillable PDF forms. Fortunately, there are several ways to create fillable PDF free. In this article, we give you a detailed guide on how to create a fillable PDF free.
How to Create Fillable PDF Free
PDFelement is a top PDF solution used by many companies, organizations, and people across the continents. The collection of excellent features makes it a powerful all-in-one PDF solution. With PDFelement, you can edit, print, annotate, protect, compress, perform OCR, share, convert, create, and fill PDF forms with ease and speed. This program is super-fast, secure, affordable, and supports a wide range of devices and file formats.
How to Create Fillable PDF Forms with PDFelement
Creating fillable PDF forms with PDFelement is a straightforward task, as explained in the steps below.
Step 1
Create a Blank PDF
First, open PDFelement and proceed to the "File" section. From the dropdown options, choose "Create" then "Blank PDF".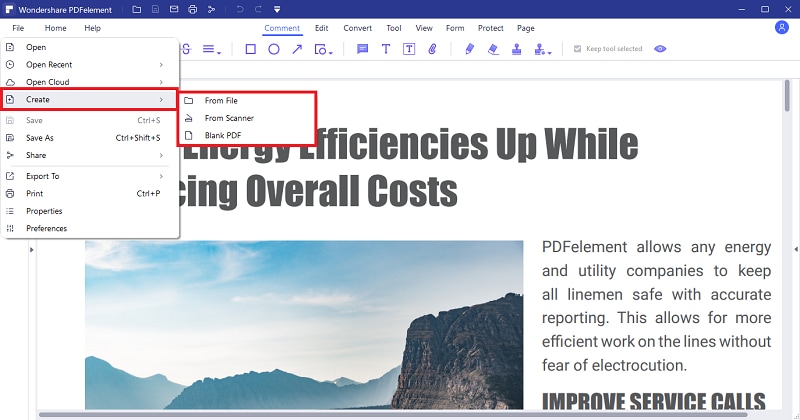 Step 2
Add Form Field
When the blank PDF is created, go to the "Forms" tab, and you should see several form field icons. These include radio button, text field, combo box, item list, button, signature field, and checkbox. Select the target form field and click on the target area on the PDF. For example, if you want to add a text field, just click the "Text field" icon and click the target area on the PDF. The text field should appear there. Do the same for other form fields.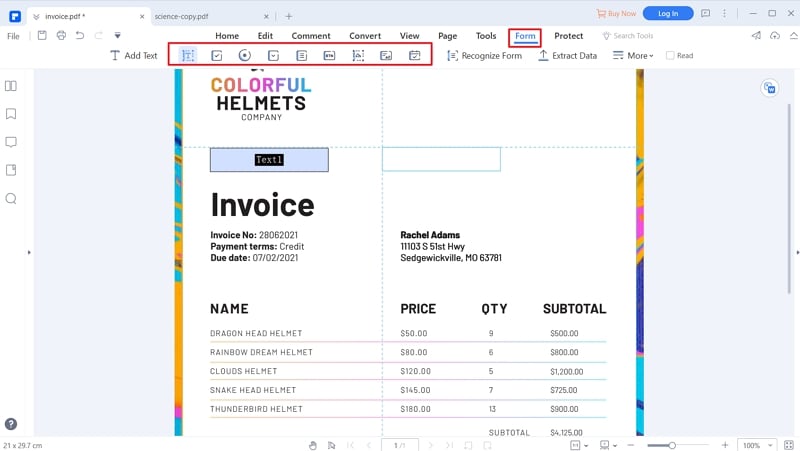 Once you have inserted the form fields, you can edit the field properties to meet your needs. Just double-tap the field to access the "Properties" window. Use the options on the left to choose your field preferences. Once done, click "Close" to effect the changes and exit the preference window.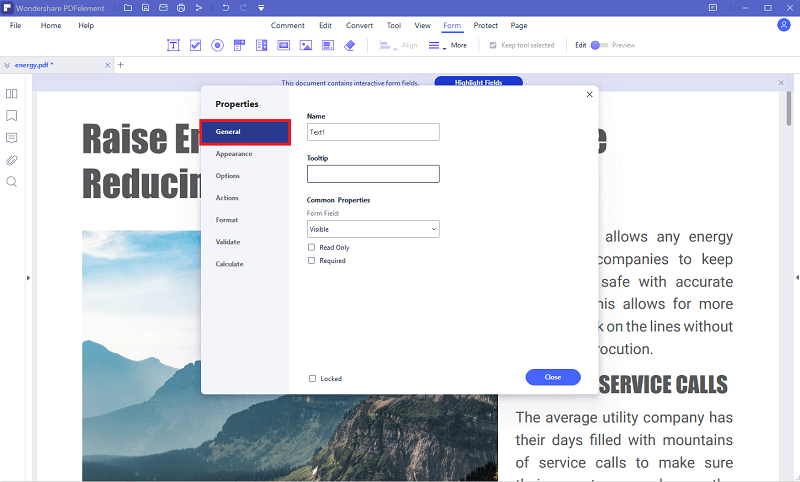 Step 3
Align Form Fields
You can now align the fields to look presentable when you have added the fields and edited the properties. Just click the "Align" dropdown icon and choose the desired alignment. You can choose left, right, top, bottom, and centre.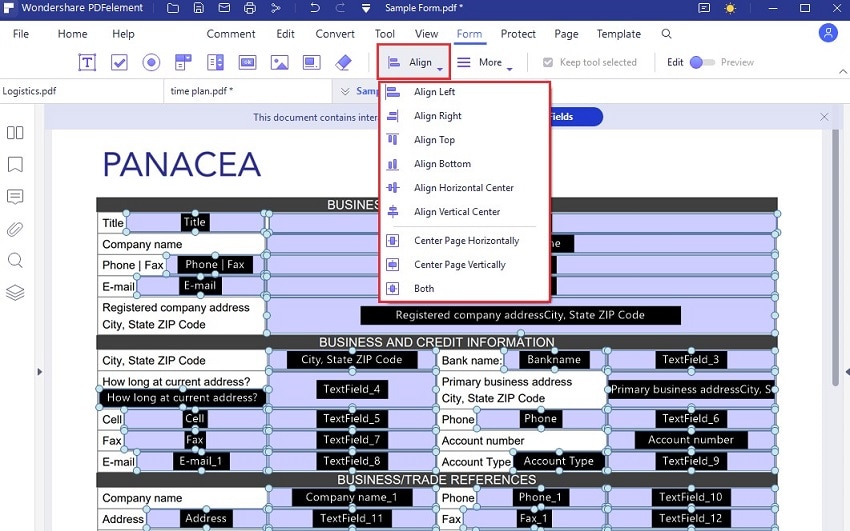 Step 4
Preview and Check Forms
Finally, preview your form to see what you have added. Simply drag the "Edit" slider to activate the "Preview" mode. Click on the fields added and perform the respective actions. For example, enter texts in a text box or click a check box to tick or untick.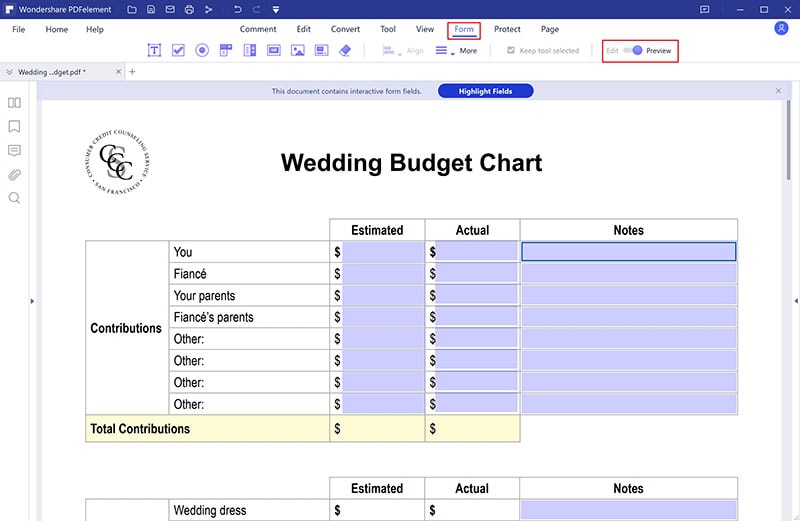 ---
How to Create Fillable PDF Online
Jotform, as the name suggests, is a PDF form creator and editor tool. This online application allows users to create fillable PDF forms free or convert PDF to fillable forms with ease. Although it is a fairly simple tool, the ability to customize PDFs, fill, and submit from their digital devices makes it a good option. You can add form fields like texts, checkboxes, and multiple-choice questions to make it interactive.
How to create fillable PDF with Jotform
Step 1. Using your browser, navigate to Jotform create a fillable PDF online page.
Step 2. Click the "Create a fillable PDF form" tab. If you want to create a PDF form from scratch, hit "Create New PDF Form". Otherwise, hit "Import PDF Form".
Step 3. You should now access the canvas. Switch between "Basic Elements" and "Fields" on the left window pane. Select the form fields and click on the point you want to appear on the PDF.
Step 4. When you have added all the target fields, click "Download" to fetch it.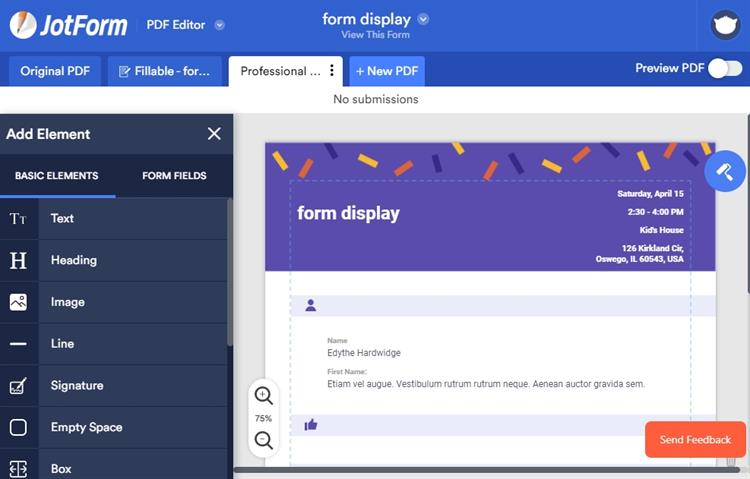 ---
Tips on PDF Forms
It is important to have some of the tips to fill PDF forms effectively when using PDF forms. They include:
• Text Field- It allows users to type texts.
• Radio Button- It gives users choices in which they choose only one item in the group.
• Check box-It gives users a yes or no option by ticking or unticking the box, respectively.
• List Box- provides a list of options that a user can select.
• Combo box allows users to select an option from a dropdown list.
• Signature filed- gives a blank signature field for reviewers to fill.
• Time Field- it gives a date field to display time as per your need.