Did you ever feel frustrated to find out that your excel or word fillable forms are deformed after sending them to your important customers? Are you searching for one format to let your fillable forms look more professional? Most of you already found out that PDF fillable form is the best and highest recommended solution, and a lot of free PDF form creators can be found on the website. You may be lost and do not know which one is best for you. This article will show the top 5 free form creator tools with their cons and pros, which will help you choose the best one.
Top 5 Free PDF Fillable Form Creator
1. PDFEescape
PDFescape is an online form creator free that allows users to create PDF forms for free. It also comes with an editor, which will enable you to edit and view created PDF files. PDFescape also supports you to print or download created forms for offline use. Besides, you can use the online sharing option to share your document with other users.
Pros:
It features a very intuitive interface that makes it easy to create files.
It comes with a PDF form creator that supports you in creating PDF fillable forms online.
It helps to edit, annotate, and organize your pages.
It is free and without a watermark.
Cons:
It has a file size limitation of 10 MB, maximum pages per file of 100 pages, top stored files of 10 files.
It only has a recent file history of 7 days.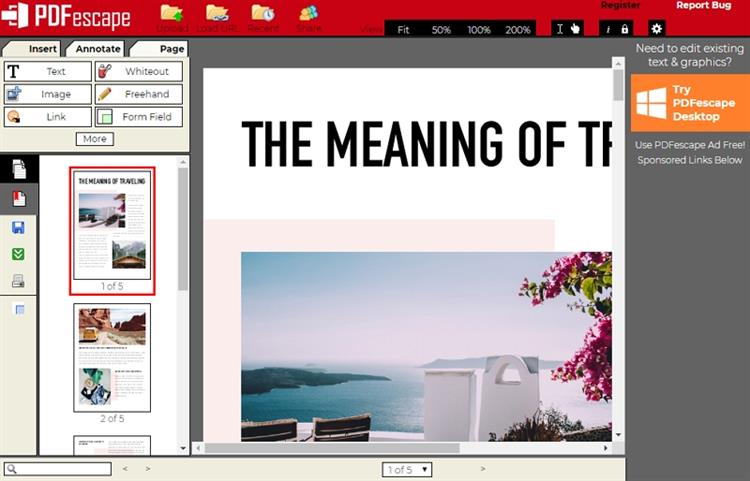 ---
2. JotForm
JotForm is another online form creator for free that makes it easy for you to create fillable PDF forms for free. It comes with an easy-to-use drag-and-drop form creator, making it easy to complete your form's various fields.
Pros:
It is effortless to use, featuring a drag-and-drop form creator.
It comes with various form templates, saving you the time and effort of creating forms from scratch.
It does not require you to register for an account.
Cons:
This free PDF form creator is designed for simple form building only, meaning it can be frustrating when creating more advanced forms.
It is not possible to adjust the form and put elements into the place you want.
Guest accounts are limited to 5 forms and need to delete an existing structure or upgrade to continue using. And no idea where to delete the current system, there is no guide.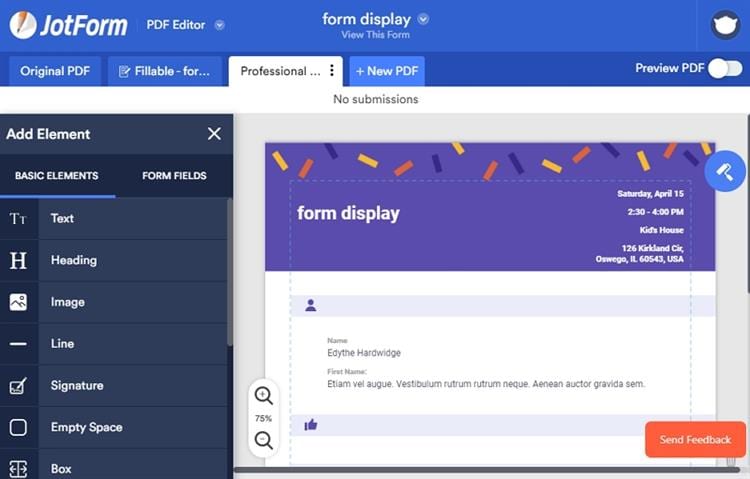 ---
3. DocHub
PDFzen/Doc Hub is a free form creator that allows users to create and fill fillable PDF forms, and you can save them to your computer or export them to Google Drive, Classroom, Dropbox, or OneDrive. To import PDF form templates in the interface, or to use the application's form creator to create new forms from scratch, it's totally up to the users.
Pros:
It comes with an easy-to-use, clean, and simple interface.
It allows for easy sharing of created forms using OneDrive, Google Drive, and Dropbox.
Cons:
Minimal functions. It only has Text Filed, CheckBox, Signature Field, and Initial field to create PDF fillable forms. It is not meet all requirements to complete the PDF form.
You must sign up for an account to use the application.
It has limitations for free users, such as 2000 documents per account, 5 signatures per month, 3 sign requests per month, etc.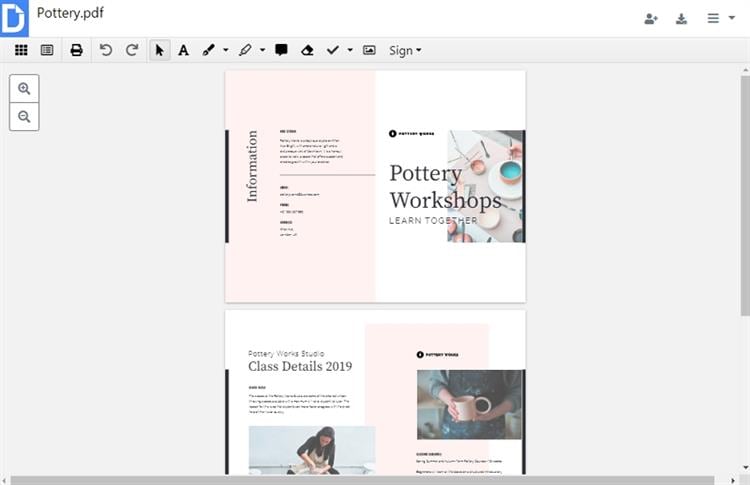 ---
4. Platoforms
Pltoforms is another free PDF form creator that allows users to create online fillable PDF forms. It can be easy to create online fillable forms from existing PDF forms.
Pros:
It is easy to create a free PDF form from an existing PDF form.
It allows you to share PDF fillable forms with URLs and is easy for others to fill in.
Cons:
It does not allow you to download the PDF fillable form. If you download it, it will be unfilmable.
It is not easy for new customers to create online PDF forms with ugly UI.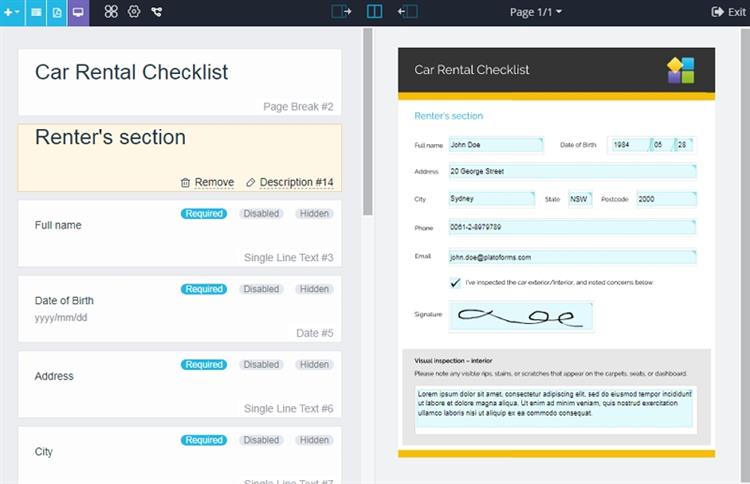 ---
5. Wufoo
Wufoo is another popular online form creator, which allows you to create forms easily. It is a flexible and easy-to-use website that will enable you to create professional documents for various uses such as reports, collecting data, surveys, etc. It features a web interface that is very easy to navigate and comes with a user-friendly form creator that allows you to build forms in a matter of minutes.
Pros:
It is effortless to use. And there are a lot of free templates for you to use.
It can be used for creating professional PDF forms that are more advanced.
You can share the created forms with the URL.
Cons:
You must sign up to use the application.
You cannot download fillable PDF forms
It has limitations for the trial version, such as 1 user, 5 forms, and 100 entries.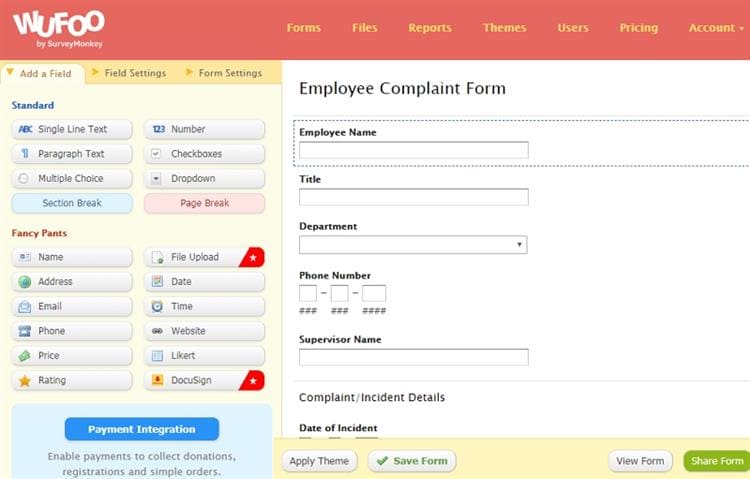 ---
If you test all the above free Form creators, you will find that they cannot meet all your requirements to create a professional PDF form. But PDFelement Pro can meet all your needs and it is one of the best PDF form creators. Compared with the above 5 free form creators, PDFelement has the below advantages.
Functions:
For creating fillable forms, PDFelement Pro can automatically create fillable PDF forms from PDF forms, Excel documents, word forms, etc. But online fillable forms can only support created from PDF forms.
PDFelement Pro can meet most of your requirements for creating PDF forms. You can create PDF forms according to your needs, put text fields, checkboxes, buttons, etc. in another place of your PDF fillable forms. You can create PDF forms as you like. But online PDF form has a limitation of function and can not change elements' place.
PDFelement Pro can also support editing, converting, annotating, protect your PDF files.
Operation Speed:
PDFelement Pro for Mac or Windows can work very fast and stable. But online form creators are very slow and cannot open lots of PDF forms only several pages.
Price:
Although the above free form creator is for free, they have many limitations, and some advanced functions need to pay.
PDFelement Pro also has a free trial version for you to test before purchase, and its price is affordable compared with Adobe Acrobat, Nitro, Foxit, etc.