The PDF (Portable Document Format) file format has seen widespread use. From government offices to international business managers, everybody has a use for PDFs. Then there is also the form filling function of PDF documents which has grown in popularity. For every type of mobile device, there is a PDF form filler App available and some are even free. But the fact that a form filler app is free does not mean it is of low quality, because many of the free PDF form filler app in this review are of very good, and even exceptional quality.
Part 1. Top 5 Free PDF Forms App for Android, iPhone and iPad
#1: TinyPDF
TinyPDF is a very well designed free PDF form filling app that offers a host of functions, which makes it very valuable for a wide range of people. Available for iOS devices, TinyPDF is a PDF forms app that can be used to fill out PDF forms, highlight and underline text in PDF documents, add new texts, create notes and add a signature. The program also offers tabbed reading, full-text search, and the ability to protect your documents using passwords. There are also file sharing functions like dropbox, Google Drive, AirPrint and the ability to email a PDF directly with all its annotations. TinyPDF requires iOS 8.0 or later and is compatible with the iPad, the iPhone and the iPod touch.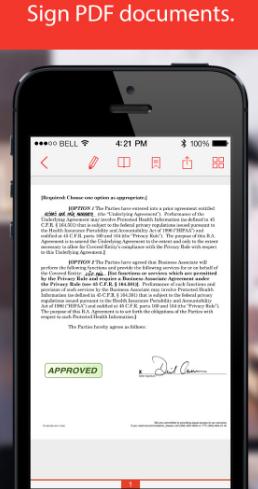 ---
#2: Adobe Fill & Sign
Adobe Fill & Sign is a lovely form filler software for Android phones that can be used for a variety of purposes including scanning files with the camera and then edit it as a PDF document, after which you can even sign and then email it. Adobe Fill & Sign is simply more than a form filler app, it can be used to open files from an email, it will also import or export files to your cloud storage provider, in addition to allowing you to fill out forms much faster. This app is available both on Android, requiring Android 5.0 and later and for iPhone, iPad and iPod Touch with iOS 8.1 and later.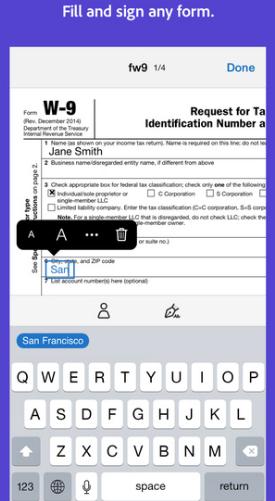 ---
#3: PDF Max 5
PDF Max is another very powerful and yet free PDF forms app to fill out PDF forms. It can be used to highlight text, underline and even squiggle it. It also has a signature tool for capturing and manging your signatures. It can be used to fill out forms and supports all types of elements like text-fields, radio-buttons, drop-down lists and date-time fields. It even supports JavaScript powered PDF forms plus a lot of other cool functionality. PDF Max 5 is a very popular form filler app and is available both from iTunes and Google play for Android devices, starting from 4.0 and iOS devices from 8.0.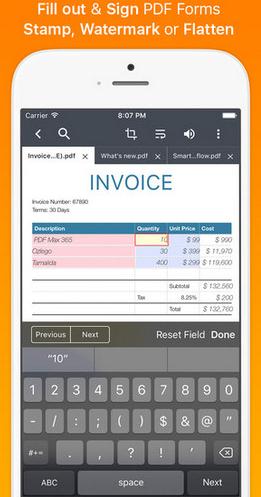 ---
#4: Smart Forms
Smart Forms is another free PDF forms app for filling out PDF forms. It is available only for iOS devices and works on iPhones and iPads from iOS 8.0 upwards. Smart Forms is not just an app to fill out pdf forms, it can also be used to store and to retrieve documents from the cloud, to capture data from any PDF files, and to create your own templates for future use, and also to manage your signatures. The app is totally free but it does place an advert on each exported PDF page.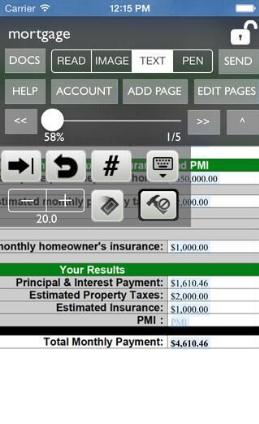 ---
#5: MuPDF
The last and the best Android PDF form filler in this list is MuPDF. It is a light-weight, open source PDF/XPS/EPUB/CBZ viewer for Android and Apple iOS devices. It supports text search, form-filling and text markups. MuPDF also supports text-extraction and Signatures. Although a very small program, it can be a rather helpful PDF forms app and it does feel complete, smooth and clean to use.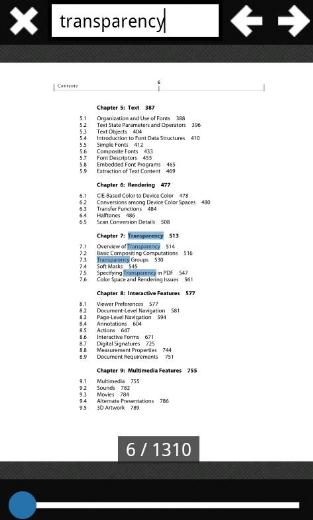 ---
Part 2. The Best Desktop PDF Form Editor
To fill out a PDF form or create a fillable PDF form, you need a smart PDF Form Editor. Here I highly recommend you to use PDFelement Pro. With the help of this PDF Form Filler, you can fill out interactive or non-interactive PDF forms and also can create a PDF form as your needs.
Why Choose This PDF Form Editor:
It allows you to fill out your PDF forms, create a fillable PDF form and extract data from PDF forms.
The advanced OCR feature helps you to edit and convert scanned PDF and extract data from scanned PDF.
With this tool, you can edit, add, modify and delete texts, graphics and images in PDF format with ease.
You are able to convert your PDFs in Word, Excel, Images, EPUB and other Formats, and batch convert multiple PDF files.