Occasionally, while handling password-protected PDFs you may wish to change a PDF password that is easy to remember. Or in circumstances where you feel the password is not secure anymore and there is a need to change the PDF password to ensure its security. Worry not, PDFelement got your back. You can change the PDF password in seconds, just as easily as you set it.
How to Change PDF Password
PDFelement is a full-fledged PDF editor with a powerful range of tools. It provides fast, affordable, and secure PDF solutions. You can create, edit, annotate, compress and sign PDF documents on any platform. It is a leading alternative to Adobe Acrobat. Along with the editor function, there are plenty of options to convert PDFs into easier-to-edit formats like MS Office, Image, HTML, RTF format files, and you can merge, split PDF documents into a single file. Now without further mention let's get into its security features and see how pleasingly easy it is to change a PDF password in PDFelement.
So, if you already have PDFelement installed on your computer, here's how to change the PDF password.
Step 1: Open password-protected PDF file
On the PDFelement interface click on the 'Open File' icon from the home page, to open the PDF file. A file explorer window will emerge that allows you to browse PDF files from your system. Select the intended PDF that is open password-protected and you wish to change the password. Another window will pop up asking you to enter the password to open the file.
Step 2: Change PDF password
When the PDF file is open and accessible on the software, you will be able to see options. Navigate to the toolbar and click the 'Protect' tab and further click the 'Set Password' tab to change the security settings. On that, the 'Security' dialog box pops up. Here you can observe the password is set and enabled. To change the password, simply click inside the password box, remove the existing password, and enter a new password. When you are done with the password of your preference, just click the 'Save' button to allow the program to apply the new password.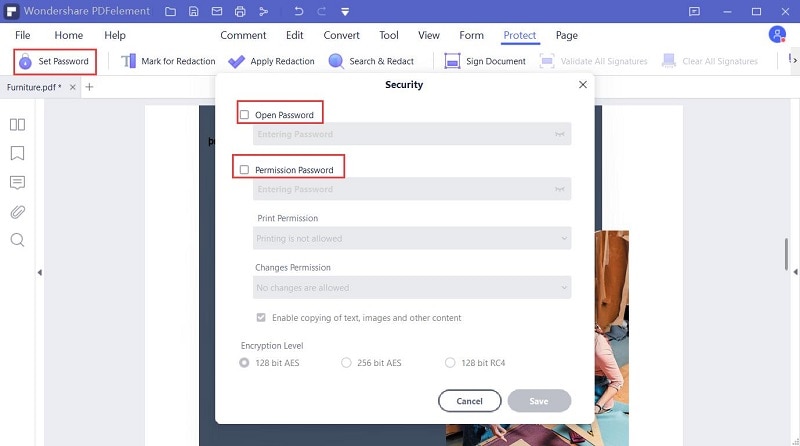 Step 3: Save PDF with password
Once the newly changed password is all set and the process is completed, you have to save the changes in the PDF. Just go to the quick access tab and select the floppy type 'Save' icon. Now, your PDF file is secured with a newly changed password.
As learned above, PDFelement is the best PDF software that offers secure, reliable, and easy-to-use protection features that let you set password for PDF or change the password in just a few steps.