What is a OCR reader?
How do I scan a document with OCR?
OCR Reader or Optical Character Recognition is the technology to differentiate between printed or handwritten text characters in digital images of physical documents, such as scanned paper documents. It plays an important role in converting printed content into digital text files. These digital files can be very useful for children and adults who have trouble reading. This is so that digital text can be used with software programs that support reading in a variety of ways. It is really a useful tool in our daily life.
In fact, there are so many OCR products on market which is hard to select. Do no worry, this article will present 10 best OCR readers for you.
10 Best OCR Readers to Convert PDF to Word, Image or Editable Text
#1. PDFelement Pro
PDFelement Pro is your all-in-one PDF solution. But one of the most attracting part must be the OCR, it can be regarded as an impressive PDF OCR reader for windows which is being used in many fields as well. By using PDFelement's OCR function, it is easy to convert your printed, handwritten text or some digital photos to the editable document. Just click the "OCR" button and this transformation can be done at once. No worry about the complicated process of your handwriting of duplication.
To convert different types of digital image or handwritten file into editable form with excellent accuracy, this OCR function is widely-used in many fields.
The file after OCR can be converted to different formats of documents like Word and PDF.
User-friendly interface and easy-operated system even for beginners.
Trial version available before your purchase.
Quick and effective customer support and services.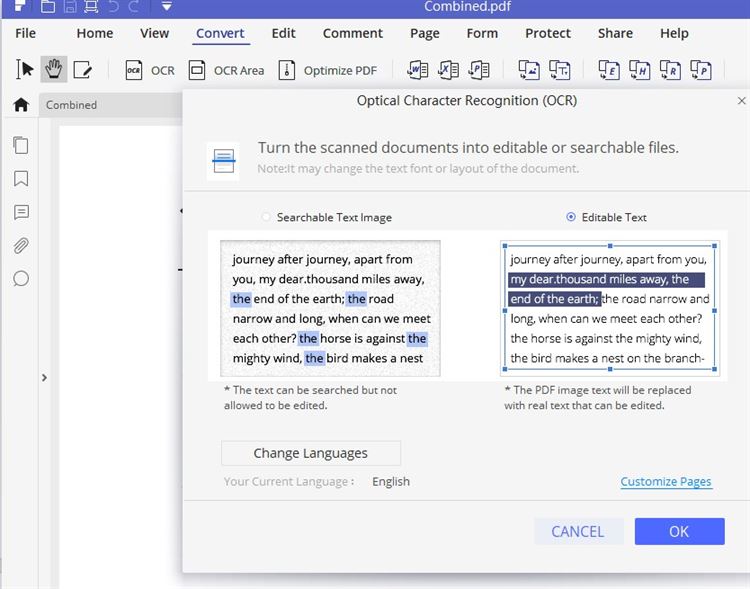 ---
#2. Adobe Reader
Adobe Reader is a one of the best OCR readers for creating and editing smart PDF documents, converting them to Microsoft Office format, and much more. It supports image file types such as GIF, JPG, BMP, TIFF, or PDF with multi-column text.
Pros:
It can recognize text in any PDF or image file in dozens of languages.
You can get a ton of documents you want to do OCR at once.
You can instantly edit any printed document.
It enables you to easily cut and paste the text into other applications.
Acrobat enables you to export the file to Microsoft Office.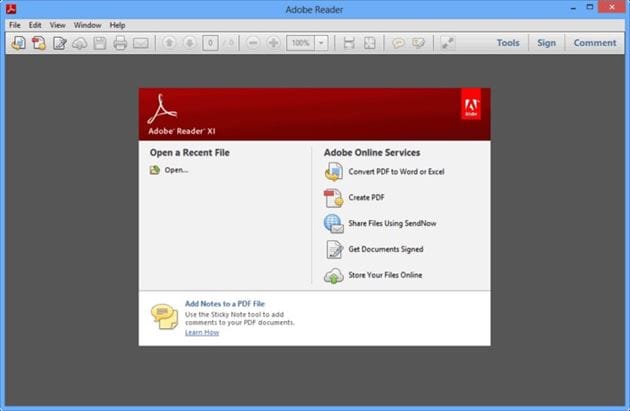 ---
#3. Foxit
Foxit OCR Reader is a image reader OCR that support image file types such as GIF, JPG, BMP, TIFF, or PDF with multi-column text. It also can create, view, edit, digitally sign, and print PDF files easily.
Click here to learn more about how to OCR a PDF file using Foxit OCR Reader.
Pros:
It can help users turn scanned PDFs or image-based PDFs into editable, selectable, and searchable text.
Edit PDFs as smoothly as editing in a Word processor.
Create and convert PDF to/from multiple other file formats.
Extract data from PDF forms into Excel without compromising style.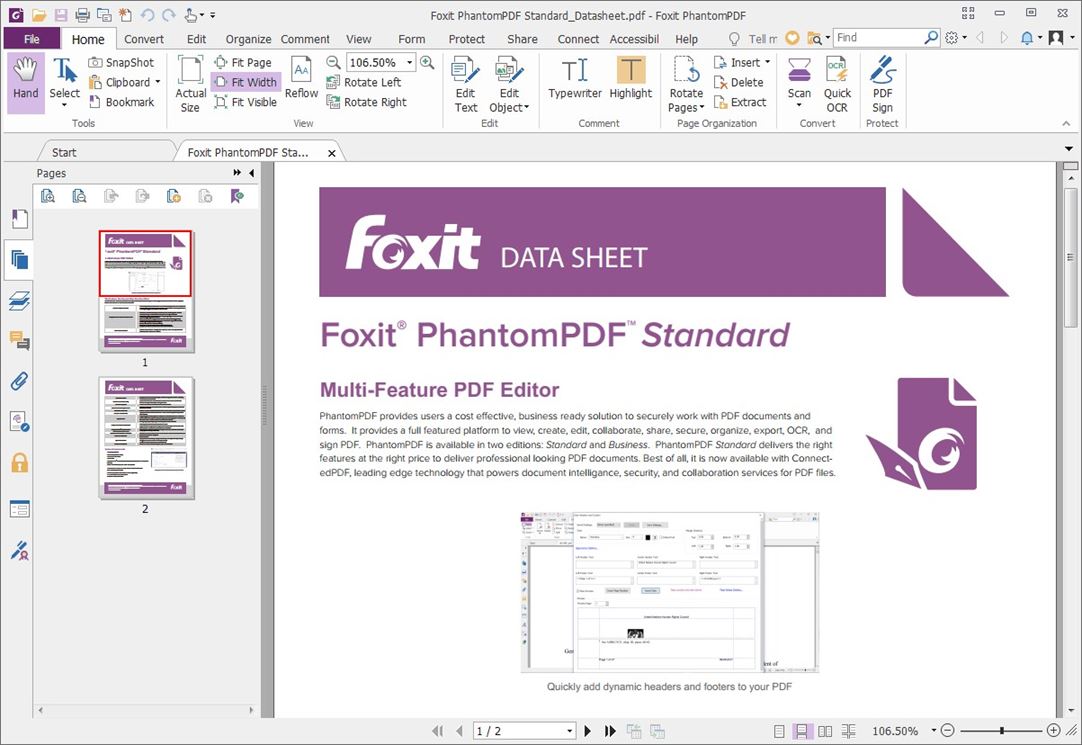 ---
#4. ABBYY
ABBYY offers you the wonderful OCR as well as file conversion high quality. It is one particular of the majority of heavy OCR which arrives with the massive volume of fresh functions.
Pros:
This OCR prepared to turn PDF documents into flexible text that you can alter, update, or reuse, due to the flexible PDF transformation abilities.
It alters PDFs and papers documents into mobile types therefore that you can effortlessly utilize them with pills, mobile phones, or e-books.
ABBYY Cloud Reader provides REST (Representational State Transfer).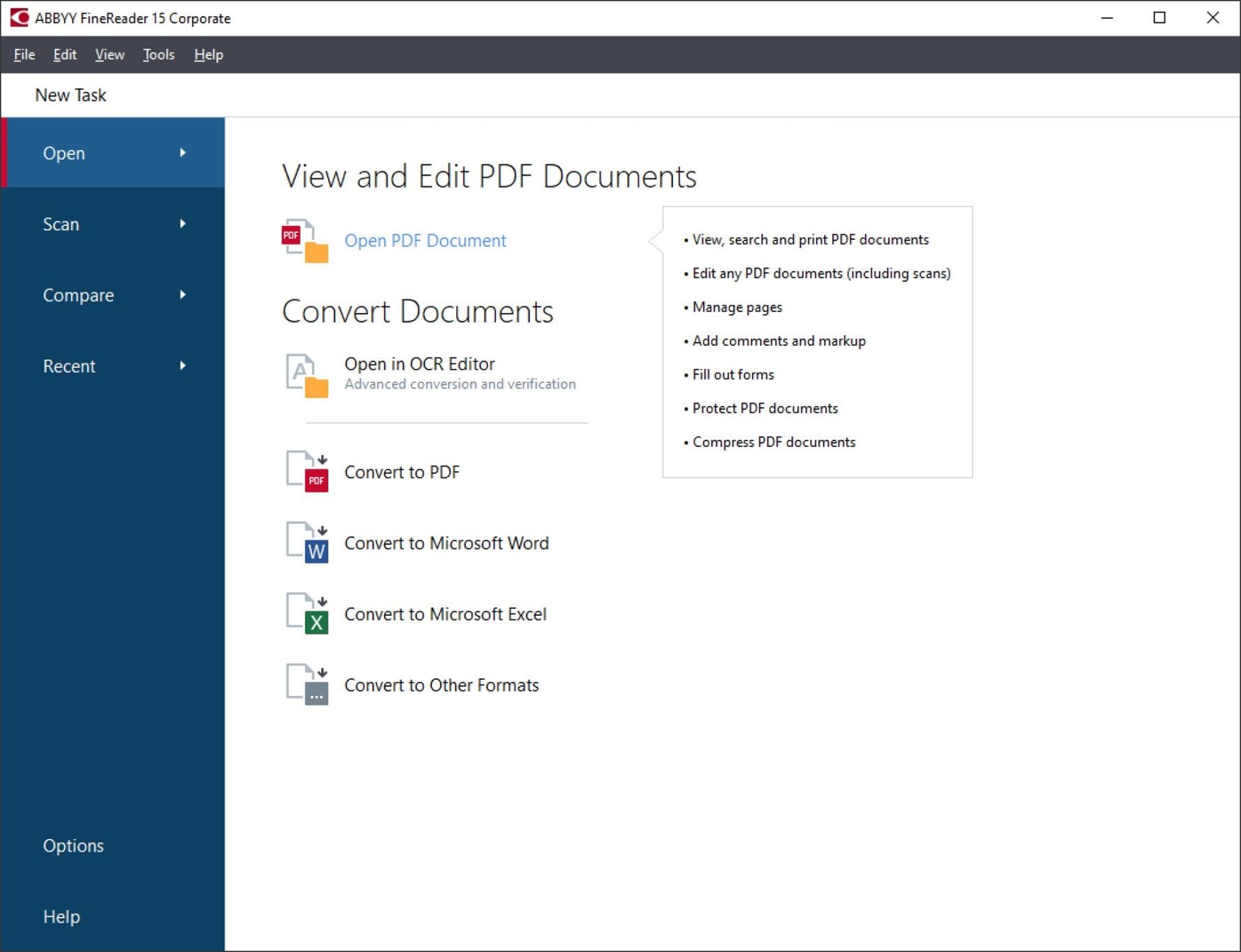 ---
#5. Omni Page Ultimate
Omni Page Ultimate is one of the oldest and the first software to convert editable documents to OCR using OCR technology. It's able to convert photos and digital images into text and convert scanned PDFs to Text, Word, and RTF formats.
Pros:
Ability to find and edit drafts of converted files.
Supports various desktop scanners, multifunction devices, and more.
Documentation Documents can be skillfully converted into editable content.
Listen to any retrieved written folder on your device.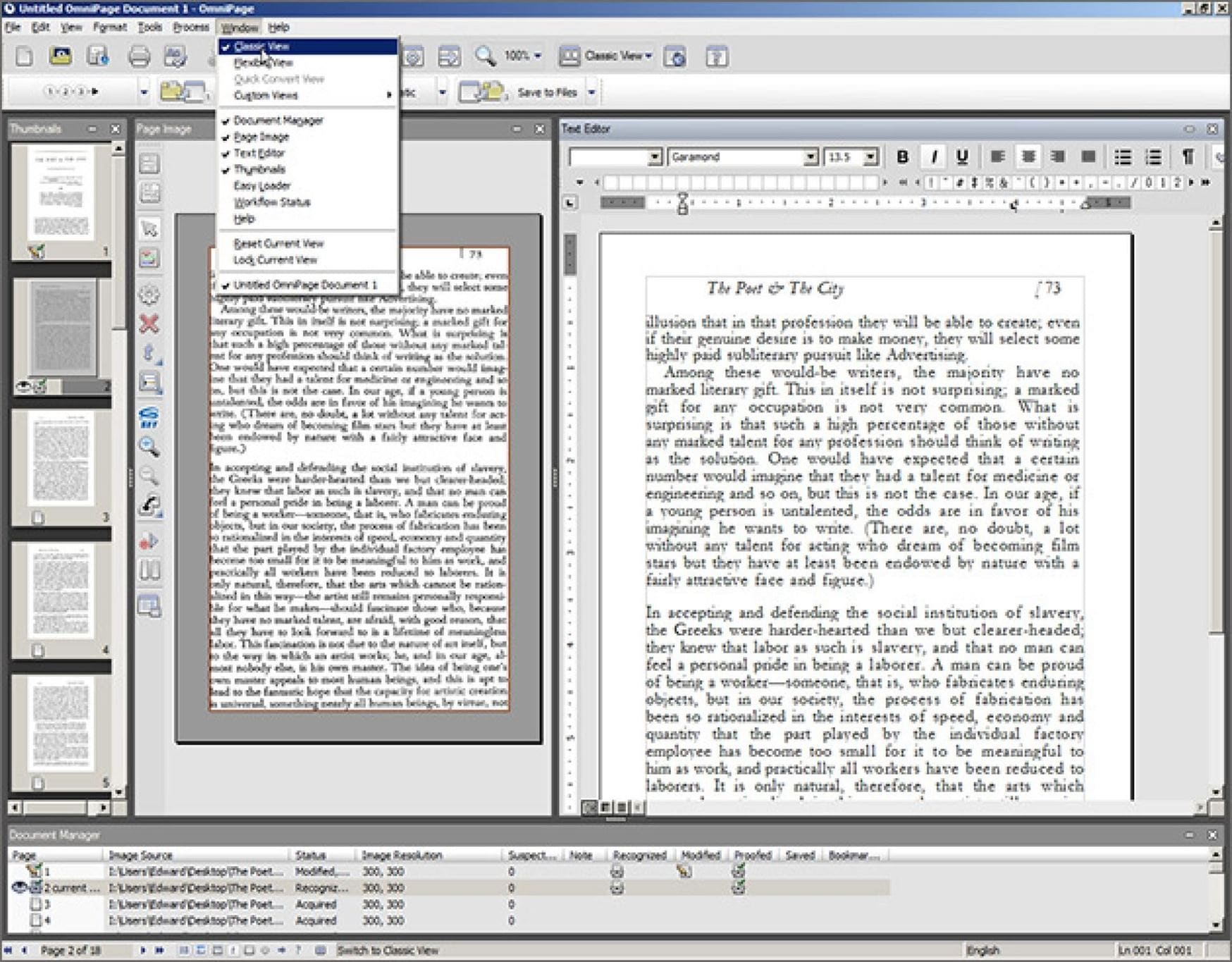 ---
#6. Readiris
Readiris is first and foremost OCR software but comes with other features as well. However, many of the features are challenging to use, as there are no instructions, and they might not work at all times.
Pros:
Business card recognition.
Listen to books in the desired format.
Great OCR accuracy.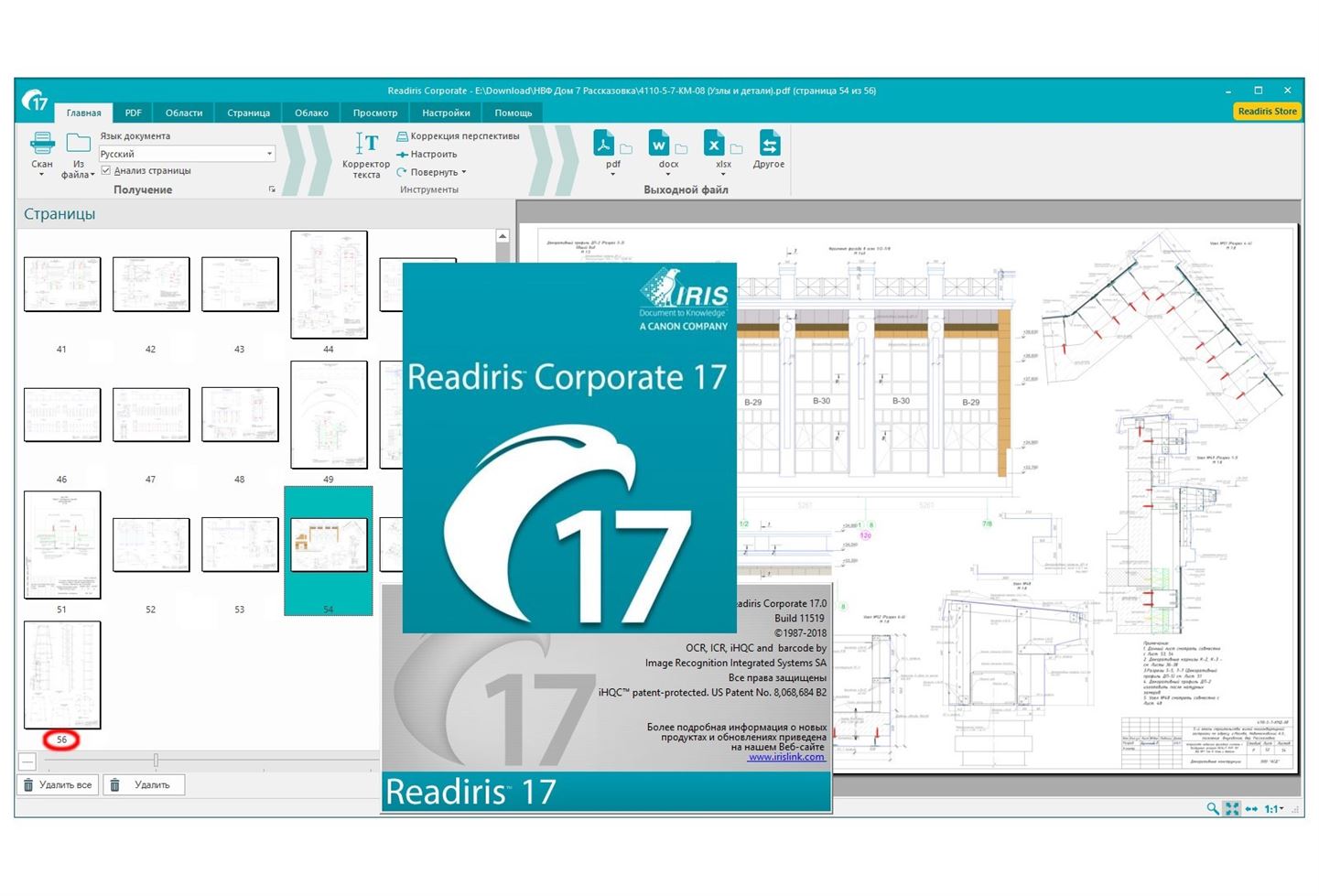 ---
#7. Rossum
This platform can help accounting and bookkeeping professionals streamline their workflows. Users can import PDFs or scans of invoices, and Rossum will automatically extract the relevant data into a structured format without the need for templates.
Pros:
Rossum uses a special type of spatial OCR to scan the files to obtain the patterns and meaning.
AI technology is used by this cloud-based app to replicate the approach for extracting data.
The proprietary deep learning technology of Rossum can recognize the general structure of many files.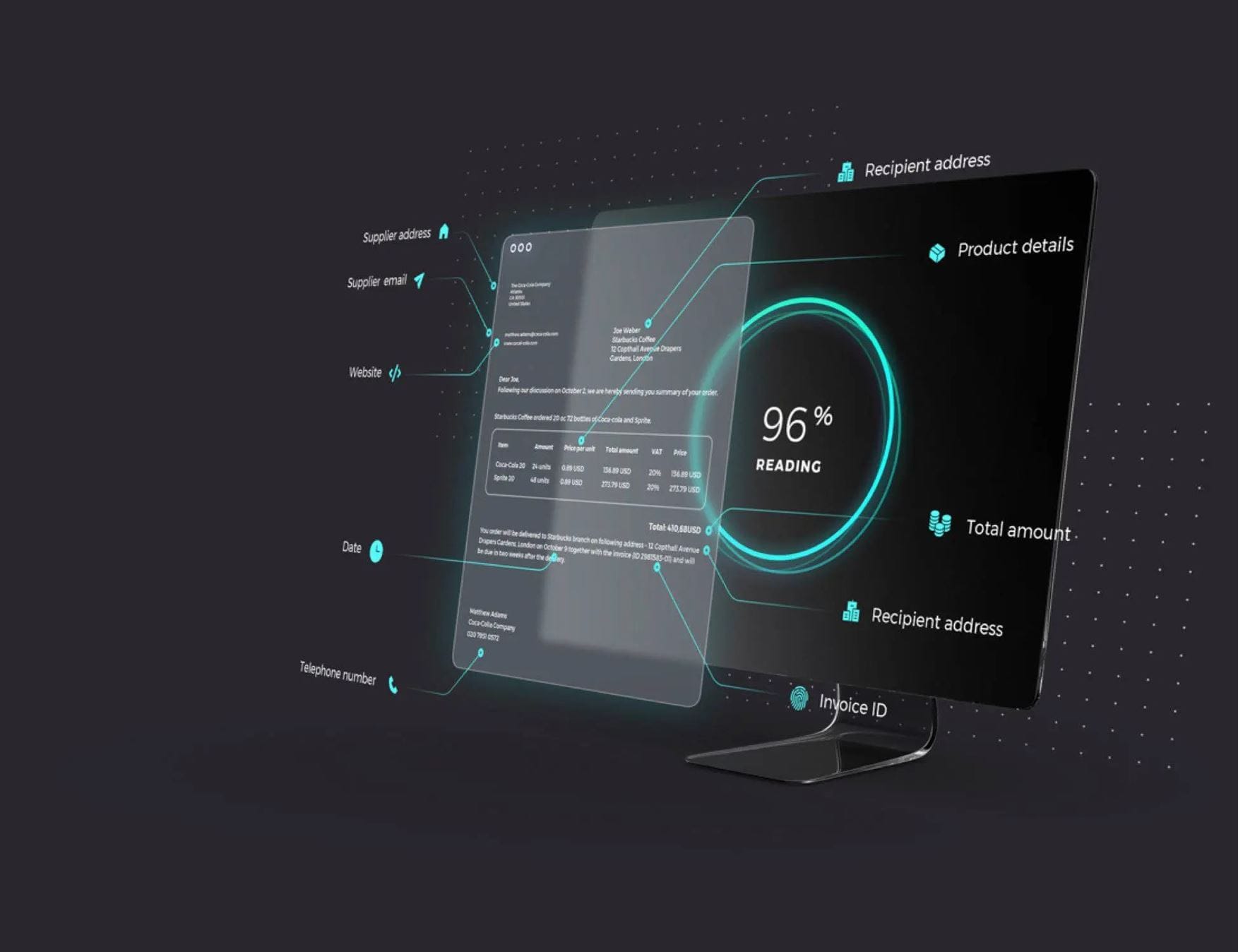 ---
#8. Evernote Scannable
Evernote Scannable is smart OCR reader on mobile that helps you to capture paper and transform it into ready to save files. It enables you to share the file with other people.
Pros:
It can recognize 28 printed texts and 11 handwritten texts.
Using Evernote internal camera in Apple or Android can catch your notes and inspiration at once.
It is compatible with Penultimate iPad.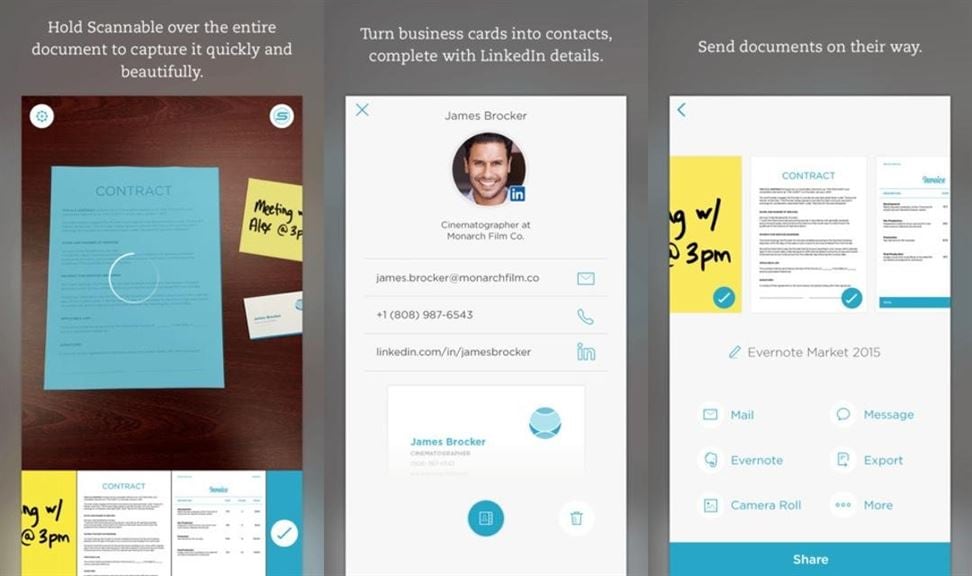 ---
#9. Infrrd OCR
Infrrd is an OCR solution. It enables you to convert documents into easy to read files. This app can filter out text from contracts, financial, and medical documents.
Pros:
It provides OCR solution for all document formats.
Infrrd app can recognize titles and text quickly.
It enables you to filter text from Infrrd using machine learning.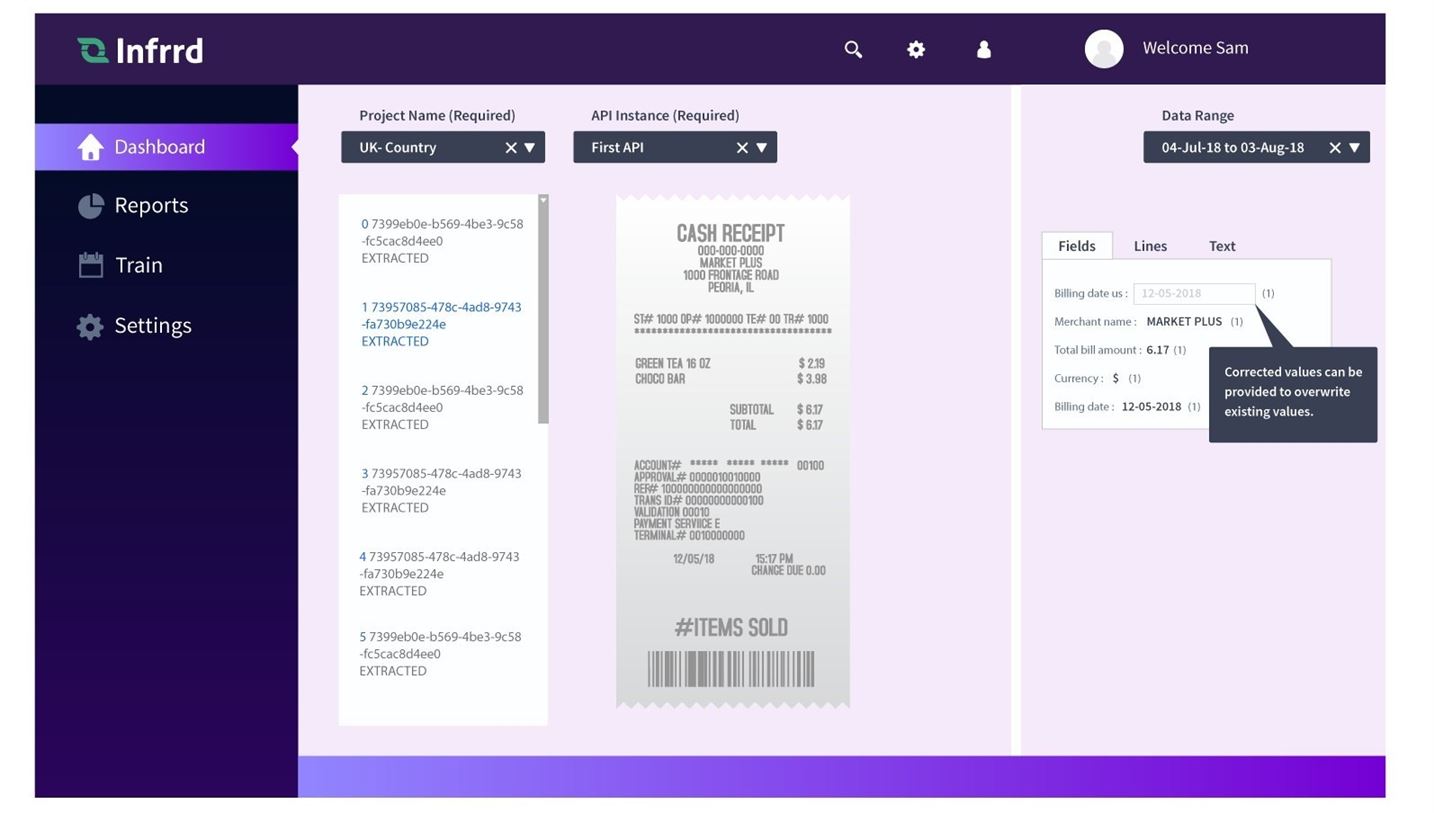 ---
#10. Free Online OCR
Free Online OCR is able to convert screenshots, scanned documents, faxes, and photos into searchable and editable text, such as TXT, DOC, etc. It also allows you to process both large and small images and turn them into editable text.
Pros:
It identifies content written in form or table.
This tool uses API to get data from documents.
It automatically extracts data from forms.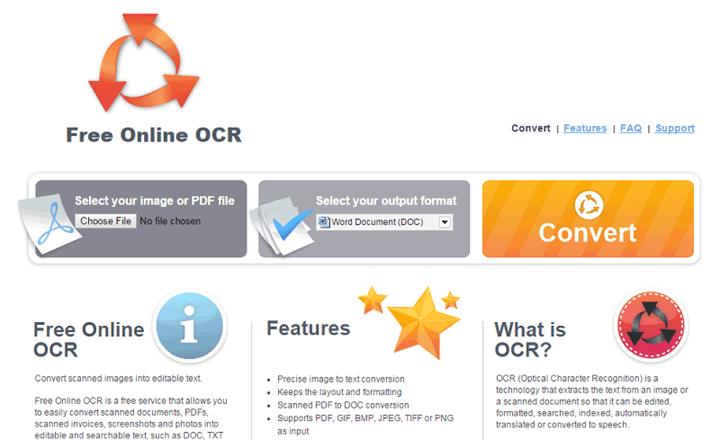 ---
OCR PDF: How to Convert Scanned PDF/Image to Word, Excel or Other Files Using PDFelement Pro?
All OCR readers increase the efficiency and effectiveness of office work. If you have no idea about which smart OCR reader to choose, then I would like to recommend you PDFelement Pro It is absolutely the best option for you. After OCR function, you can edit your scanned documents according to your demands, not only about words, you can edit text, image, annotation, background, page and bookmarks as well. And PDFelement Pro can also convert your scanned documents to many other forms you want, like word, excel, EPUB.
Now let's take a look at how to OCR PDF documents using PDFelement Pro.
Step 1. Launch PDFelement Pro and Load Your File
After open the program, select "Open File" or click the blank area on the interface and then drag and drop the file.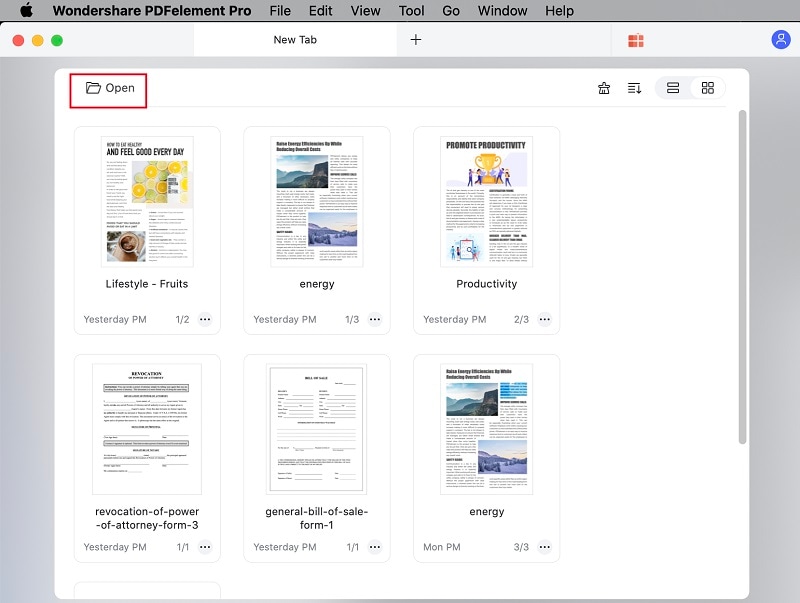 Step 2. Convert Scanned PDF with OCR
Then you can OCR the PDF file by clicking the "Edit" > "OCR" button. In the pop-up window, choose Word as the output format and turn on the "OCR" feature. Finally, click "Convert" to start the scanned PDF to Word conversion.
Before doing that, make sure that you have downloaded an installed the OCR plugin since it must be done separately.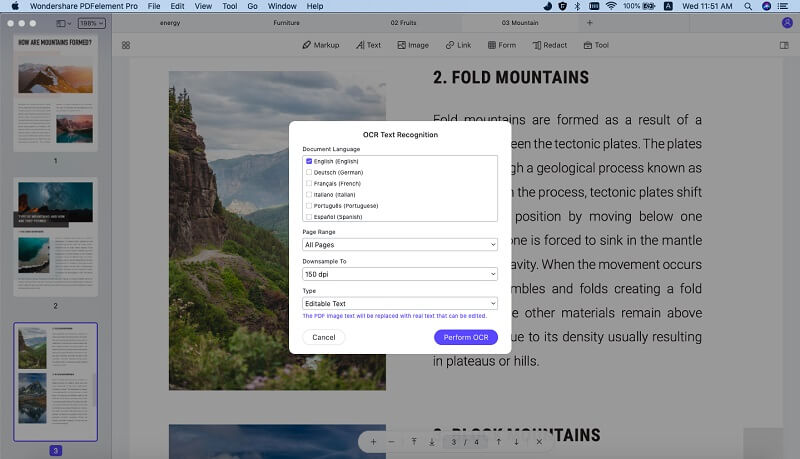 Step 3. Select Output Format and Convert Format
Now you can to the convert menu and start to convert PDF files to formats you want. Click on the "Convert" button and there are many file formats available. You can choose the output format according to your needs.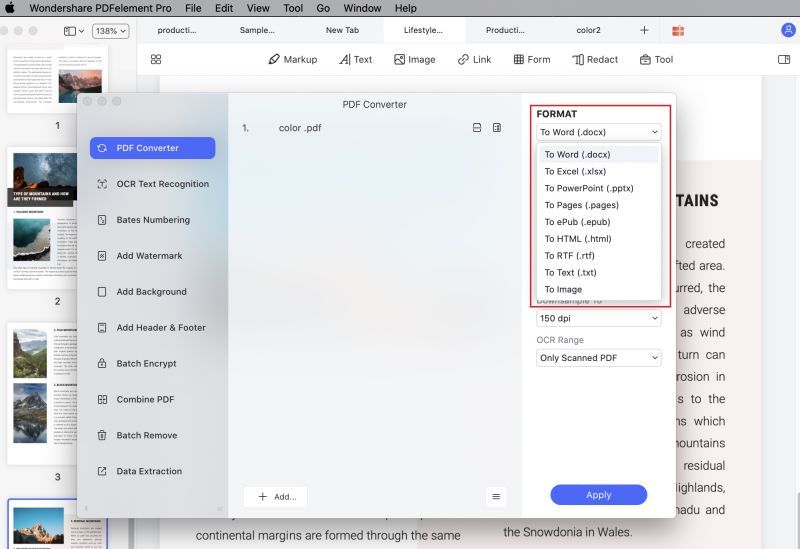 Click here to learn more about how to use PDFelement Pro to OCR PDF/images and convert scanned files to another format.