PDF annotation feature makes it easy for us to highlight and edit important text or ideas within a PDF document. You are also able to write comments on a PDF page without effecting the layout. This article will review 15 PDF annotation software programs, which enables you to easily annotate PDF files on Mac.
Part 1. Top 5 PDF Annotator Software
1. PDFelement Pro
A top of the line PDF editor, PDFelement Pro also works as an excellent PDF annotator for PDF documents. It has a similar style to Microsoft Word, which makes it even easier for those who are more familiar with Microsoft Office programs. You can annotate your PDFs with a wide range of tools like, highlight,underline, strikethrough, wave line, shapes, sticky note, text fields and hand drawing to leave comments on a PDF to collaborate with your colleagues.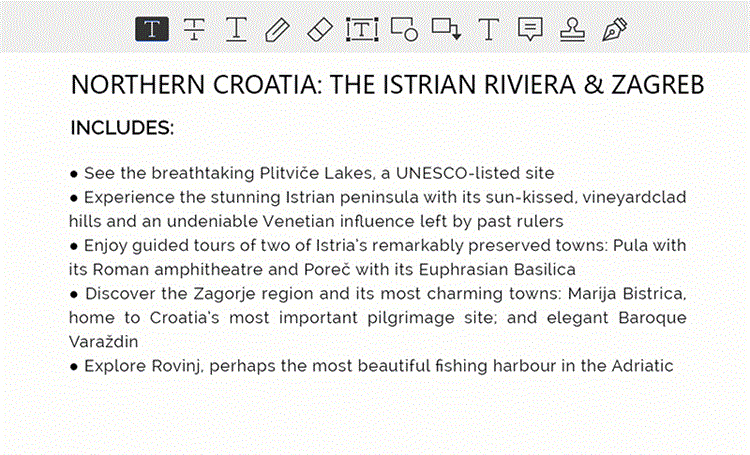 Why Choose This PDF Annotator:
Annotate PDF files with sticky notes, text boxes, and freehand drawing tools.
Add highlights, underline text, or strikethrough text using the vast amount of annotation tools.
You can modify PDF text, links, images, and pages.
Convert PDF to Word, Excel, PPT, EPUB, images, and vice versa.
pluse create fillable forms.
OCR scanned PDFs and combine, split, and compress PDF files.
---
2. PDF Annotator
A simple yet powerful annotator for PDF documents, PDF annotator allows users to highlight, underline or make notes and drawings on a PDF page. One great feature of the software is the ability to restore the document to its original page in one click, effectively removing the annotations without damaging the file or its layout.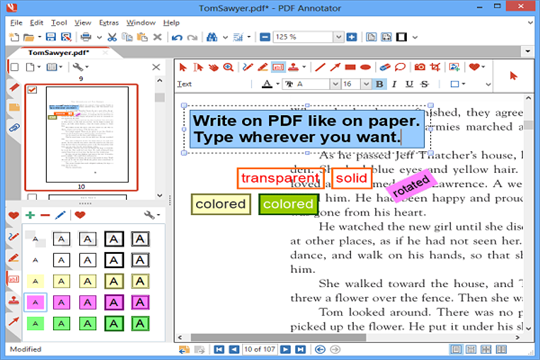 ---
3. Note Anytime/MetaMoji Note
On top of being an effective annotation tool, Note Anytime or MetaMoji Note integrates other features that make PDF editing possible on a whole new level. Its interactive browser also captures and marks up websites within the app and allows users to share files with anyone online.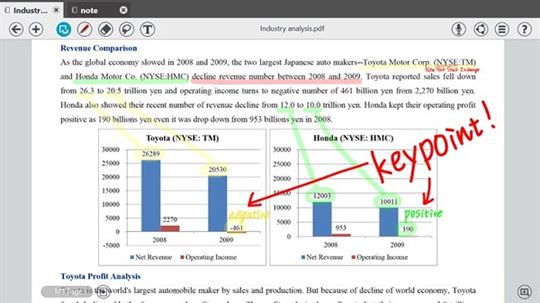 ---
4. PDFNotes
PDFNotes works as a good PDF annotator for iOS devices. The app lets users take notes, comment, print, manage and even add bookmarks on a PDF page.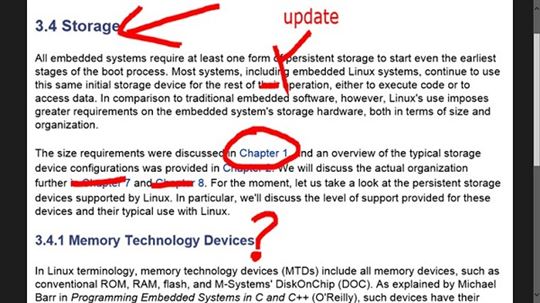 ---
5. PDF Max
Annotating and commenting on PDF documents on a mobile device is easy with this tool. Designed for users on the go, PDF Max includes a cross-platform program that supports major mobile operating systems, putting a focus on mobile users.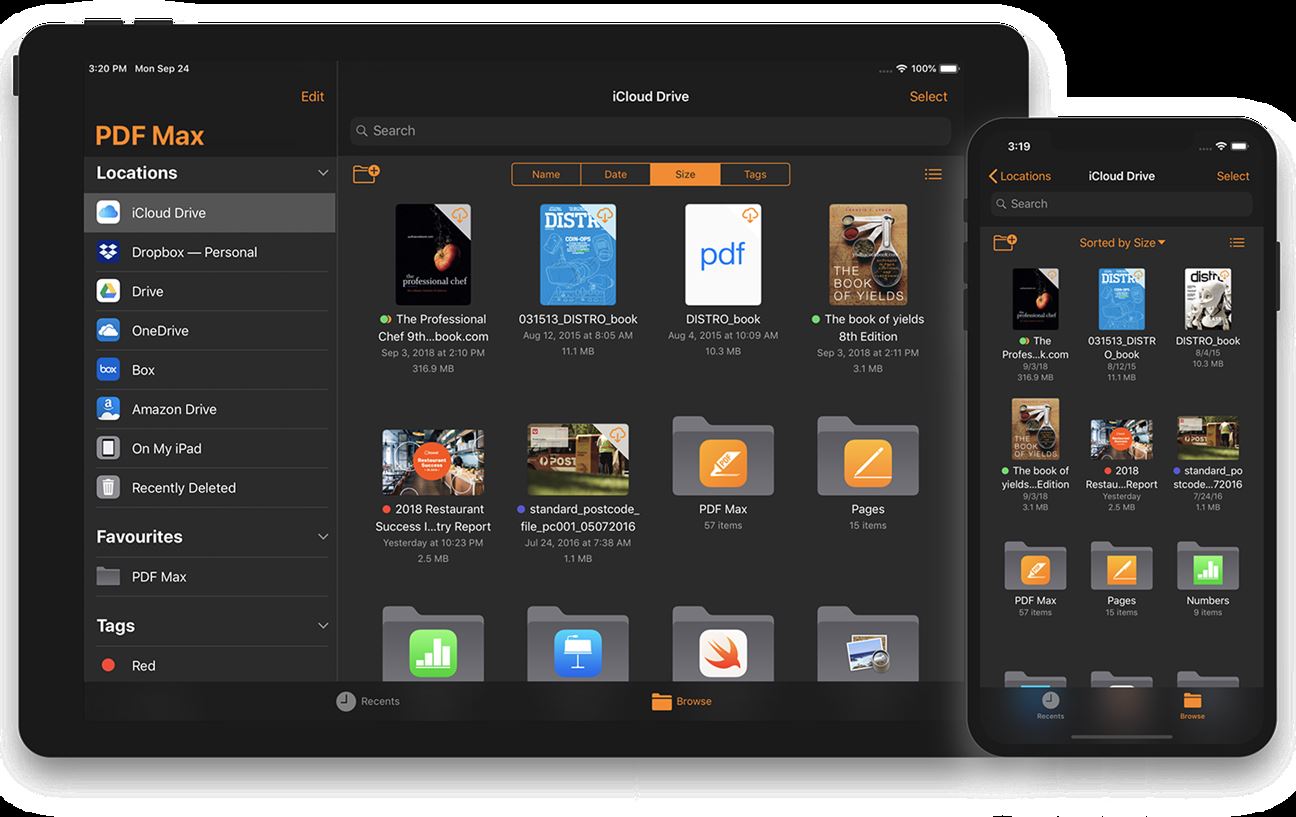 ---
Part 2. Top 5 PDF Annotator Free Software
1. Expert PDF Reader
Sticky notes, text highlighting and strikethroughs are some of the features which are added to this program. This application is though to be one of the most user-friendly online PDF annotators. There are a number of social media platforms added as well. The PDF bookmarking and comment addition is also very valuable with this program. It also has a number of tools which can be used to easily create separate sets of PDF annotations. You can easily review annotations before submitting them for the ultimate convenience.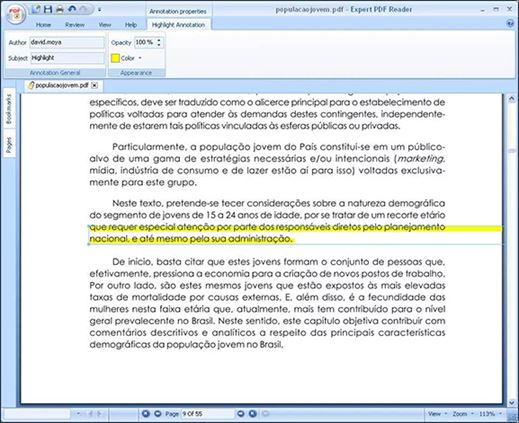 ---
2. PDF X Change Viewer
This program is best for users who are used to Microsoft Word. Since the layout is similar to MS Office, the interface is very easy to learn for beginners. There are many annotation tools available in the program. This program includes the following features: highlight tool, strikethrough, note tools, and drawing tools. You will get a pleasant viewing experience with full optimiztion features. This tool is considered a very popular online PDF annotator.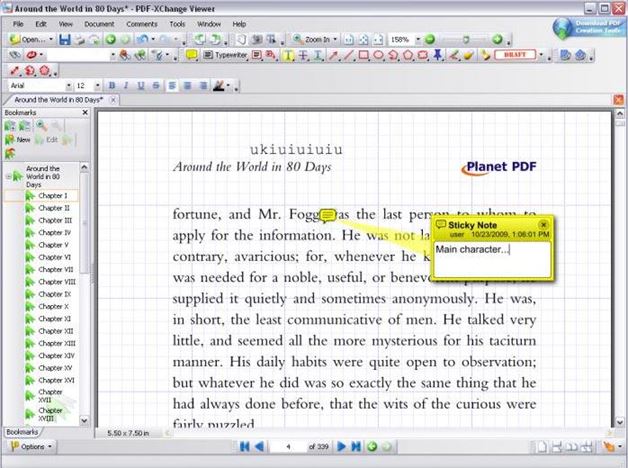 ---
3. Nitro Reader
Nitro Reader does not have a ton of advanced tools, but is still a very useful program. There is a limit of tools which are available, and it doesn't include more advanced annotation tools. The bookmarks, already added annotations and social media sharing is possible however, and standard annotation can be performed, ensuring that the PDF appears clean and professional. PDF files can also be converted to text and vice versa using this program.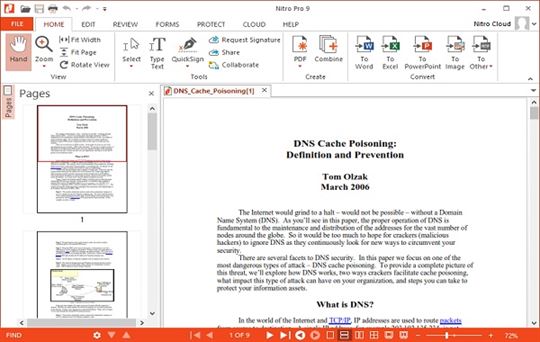 ---
4. Adobe Acrobat Reader
There aren't many programs that can match the level of adobe acrobat reader. This is a system based program which is completely free to download and install. There is a wide range of PDF annotation tools which can be used easily. From adding notes to rotating the your file, this program has it all. Signatures can be added and modified PDFs can be easily stored to the system. It also allows the users to easily print the documents as well.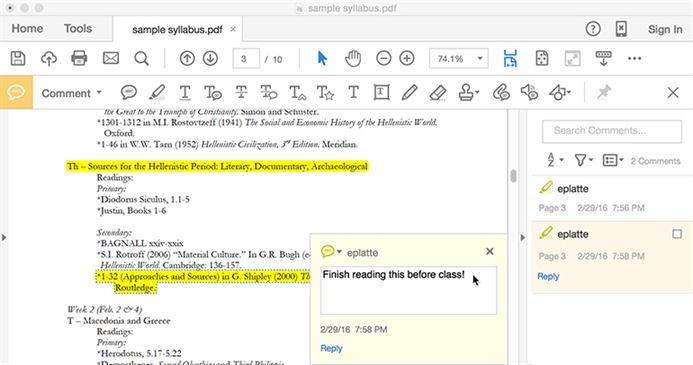 ---
5. Foxit Reader
This is another free PDF annotator that has all the functions you need. It includes the type write tool, note highlighter, strikethrough, double strikethrough, underline and pencil.. The interface is easy to use and therefore it is rated highly by users. Digital stamps, scales, and area highlighters are some of the other functions available as well. The annotations can easily be printed separately and social media sharing has been embedded.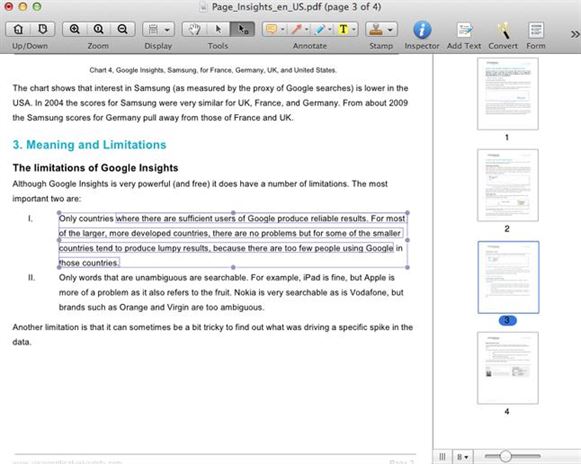 ---
Part 3. Top 5 PDF Annotator Online Tools
1. PDF Online Reader Beta
This annotator requires no account creation and can be used directly online. The file can simply be added by pressing the "Upload a PDF" button. Advanced annotations can be added easily. The PDF can even be manipulated in different ways. It includes signatures, stamps, notes and sticky notes. PDFs can be rotated, and the social media platforms which are integrated ensures that the file is directly shared without needing to save to a computer.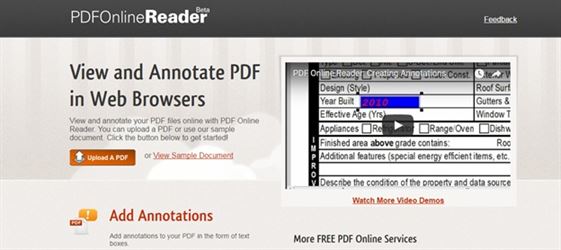 ---
2. FlowPaper
This online PDF annotator lets you collaborate within your PDF documents online. Add notes, highlight text, and draw figures in your PDF documents and share the annotations among your colleagues.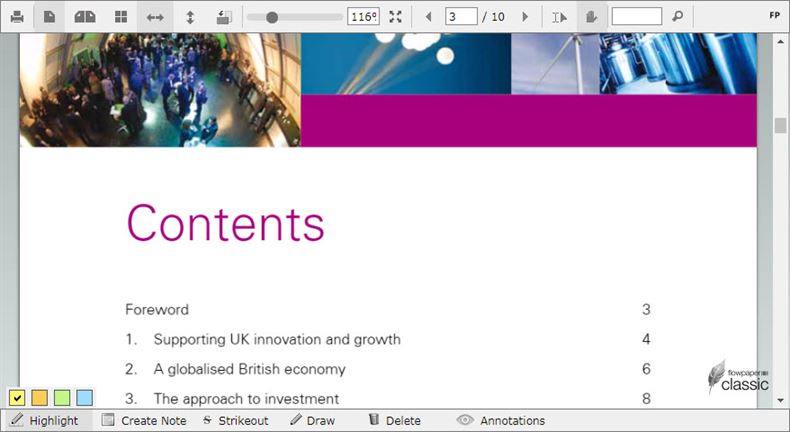 ---
3. PDF Escaper
This app requires signing up before you can use it. The overall usage of this app is simple and therefore requires no technical knowledge. The left panel includes all of the important features. It also allows the users fix errors which other online PDF readers do not include PDFEscape ensures all PDF documents can be opened and read with ease. It is regarded as one of the best alternatives to adobe acrobat reader on the market. This program increases collaboration capabilities between teachers and students. There are also tools embedded within the program to create PDF files.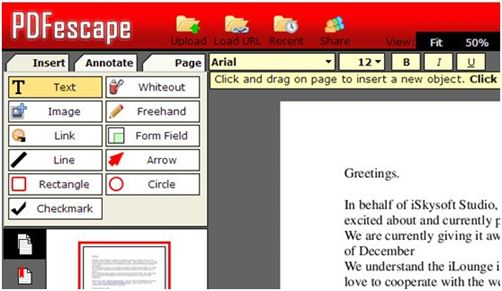 ---
4. A.nnotate
This is an easy online tool to use. The basic annotation features are available to ensure great results. This online PDF editing and annotation tool lets you easily upload PDF, DOCX, PPTX, ODT, ODP,TXT and RTF files. This program is regularly being updates with new formatting options as well. The wide range of PDF annotation tools makes this one of the best tools to work with.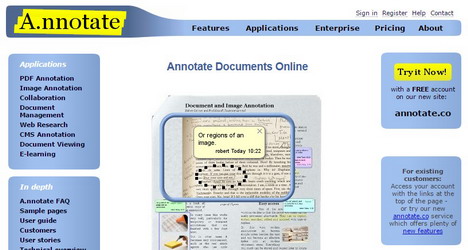 ---
5. Axiom
PDF documents can be easily annotated with this program. It also provides tools to ensure PDF files are organized efficiently. From sticky notes to comments and bookmarks, this program offers a wide range of tools. Unlimited annotations can be made using this program. The system of this website is centralized which means that many people can simultaneously add annotations to the same document at the same time.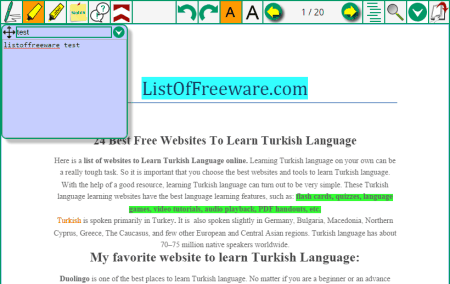 ---
Part 4. Comparison of Top 3 PDF Annotators
Features

PDFelement Pro

PDF Annotator

Note Anytime/MetaMoji Note

Price

USD 59.95 for Standard version
USD 99.95 for Pro version

USD 17.47 per user per year

Free to download on Android with in-app purchases ranging from USD 0.99 to USD 4.22 per item
USD 11.99 for Windows
USD 7.99 for iOS

Supported Versions

Mac OSX 10.10 and Up
Windows XP , Vista, 7, 8 and 10

Windows XP, Vista, 7, 8 and 8.1

Android version 4.0 and up
Windows XP, Vista, 7, 8 and 8.1
iOS version 5.0 and up

Annotation Feature
Excellent
Excellent
Excellent
User Interface
Simple and intuitive which is easy for users to familiarize
Easy to use
Sleek and interactive
Undo Function
Present and fully functional giving users full control with what to delete
Present and fully functional
Feature is present
Advantages

Office like implementation makes it easy for Office users
Ability to support and convert to any other Office format
Convert and edit scanned files (OCR feature required) allowing users to edit those files that were scanned
Supports Password protection to keep the document from unwanted and unauthorized changes

Align annotation function available for an easy to view and organized layout
Add stamps including date stamps, customized stamps are also available with virtually limitless option
Add images to an existing PDF file
Group and lock annotation
Take a snapshot of the work you are doing

Supports voice function
Supports password protection for added security especially for important documents
Cloud auto sync feature
Share works on social networking sites like Facebook, Twitter and Tumbler
Interactive web browser feature

Disadvantages

Free trial will add watermark to PDF

Could not handle large PDF files without sacrificing performance, making it impossible to edit and annotate files with several pages like eBooks
App is just specialized for annotation purpose

App saves the exported file in a proprietary format which is not compatible with other PDF editor software, limiting the users and viewers to those who purchases the app
Thanks to PDF annotators, students and professionals can annotate PDF documents much more easily. Transform your work productivity with handy online tools like the ones mentioned above. With a number of programs to choose from, it is best to choose the one which is packed with important and useful features that best suit your needs. Collaborate seamlessly with other users with the tools we have outlined above.