It is all thanks to the advancement of technology that we can now do almost anything with the help of the computer and the internet. Of course, copying materials from other people is also very easy to do these days considering the fact that we can gain access to their files. If you are someone who does not want the idea of being cheated or if you simply do not want others to edit or print the document you prepared, then it is recommended for you to encrypt or protect your files, especially the PDF documents. Now follow the guide to learn how you can protect PDF.
How to Protect PDF with Four Methods
There are many things you can do in order to protect your PDF with PDFelement Pro. All you need to do is to follow the steps. Once you have completed all the steps required to protect your PDF document, you can now feel that your file is secured.
Watermark is a great tool for protecting your files from being stolen by other people. No other person can use and claim your file as theirs as the file has your own watermark that proves that the file belongs to no one aside from you. Just make sure to place your personal watermark in a very visible part of your file. Don't place it in a position where it can easily be cut out.
The first thing you have to do is to go to 'Edit' tab and then Watermark submenu. Choose the 'Add Watermark' option. After doing that, an on-screen instruction will come up for you to follow. Just follow the steps and you will be fine. Keep in mind that you have the choice to use either or both text and image watermark in PDFelement Pro.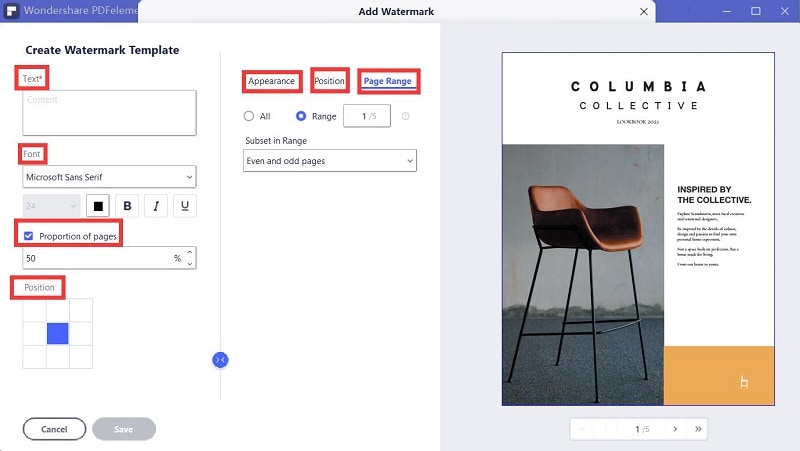 Signature is one of the best indicators that the file is yours. It is because no two people can share the same signature. This is an effective PDF protection tool if you want others to see your document, but do not want them to claim the files as theirs.
Just go to 'Comment' tab and then select 'Add Stamp'. On the drop down list you will find the Stamp. Click on the 'Custom Stamp' button. Then, you can customize the signature. You can choose picture and create a stamp for yourself.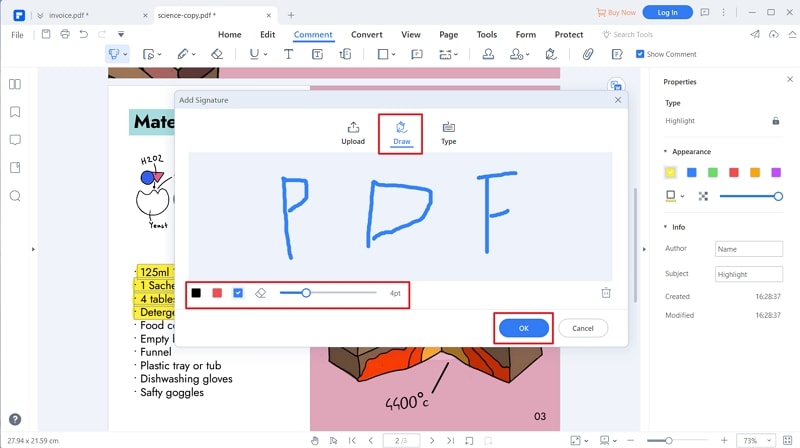 People who are eager to protect their files from file theft resort to adding password. This requires other people to know the password first before they can gain access to it. It is one of the most common ways to keep your file safe from people who want to copy and use it without your consent.
The best thing about PDFelement Pro is that it has a feature that allows you to protect PDF with a password. This restricts other people from accessing, editing or printing your file. To add password, simply go to 'Protect' menu. Click on 'Password' button. Then, you can set the password in the pop-up window that will appear after selecting Security Settings.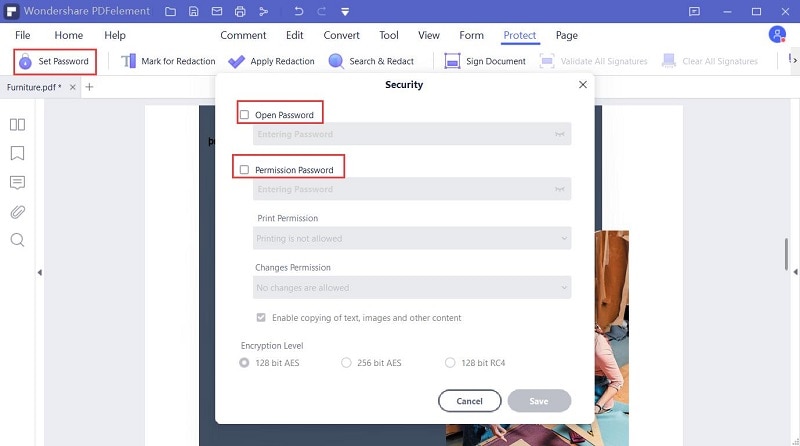 Other file owners are open to the idea of sharing their files to others. Nonetheless, some of them do not agree to the idea of letting others print or edit the files without permission. This is why it is important to set print or edit password so you can filter who can print or edit the document.
In order to set print or edit permission for your PDF, you have to start the PDFelement Pro. Click the 'Protect' > 'Apply password to encrypt the PDF file' > 'Permissions'. Then, set Permission Password for the files. Then your PDFs will be protected from editing and printing.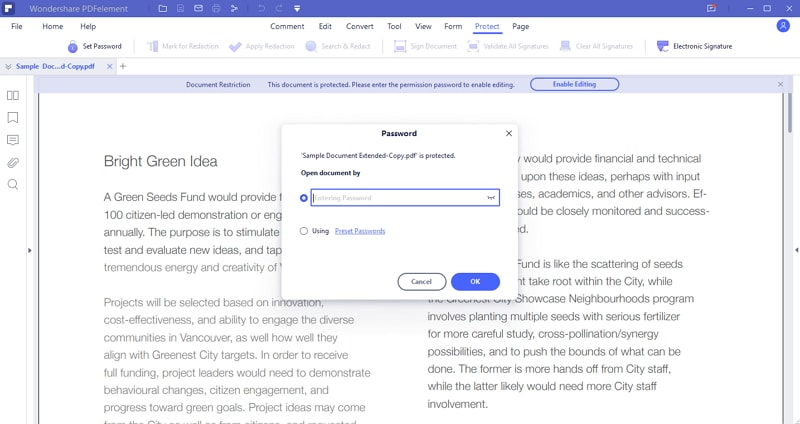 Now that you already know how to protect your PDF, do not think twice about downloading and installing PDFelement Pro. You will need this software if you want to secure your files and if you often need to convert PDF documents to other file formats. You won't regret having this software as this can help you complete all your tasks in the easiest and fastest possible way.
---
PDFelement Pro - The Best Way to Protect PDF Documents
There are many possible ways on how you can protect your PDF documents. One of the best tools you can use to ensure the protection and privacy of your files is the PDFelement Pro. Compared to other conversion or protection tools, this one offers a lot of useful features that you will surely enjoy.
PDFelement Pro can edit and convert scanned PDF that comes with cutting-edge OCR technology, creates and edits PDF forms coming from downloaded templates, converts PDF to a variety of documents formats, lets you quickly sign documents with its personalized signature and stamps feature and many other amazing features.
Why Choose This PDF Protector :
Easily add watermark, e-signature, password to PDF and redact the PDF files to protect the PDF files.
Convert PDF to images, Word, Excel, PPT, EPUB and convert multiple PDFs in batch.
Mark up and annotate PDF files with multiple markup tools easily.
Advanced OCR feature allows you to edit and convert scanned PDF files with ease.