"How can I edit a scanned PDF document without Adobe Acrobat?" "Is it possible to edit scanned PDF no need to convert the file?"
If you have an image-based PDF file and want to edit it, you need a PDF editor with OCR function. However, most of PDF editor programs do not come with such feature. For Adobe Acrobat, it is too expensive and complicated. Luckily, here we will share the easiest and cheapest way to edit scanned PDF with PDFelement Pro in both Mac and Windows systems.
Part 1. How to Edit Scanned PDF Documents on Mac
One of the ways you can edit scanned PDF on Mac (macOS Mojave), is to use a program like PDFelement Pro. This tool presents features that can be used to fully edit a PDF document, even a scanned PDF document. The reason you can use this program to edit a scanned PDF is because it has a fully functioning OCR feature. It can also be used to fully edit the PDF document once OCR has been performed. With this professional PDF editor, you can edit the text and images on the document.
Step 1. OCR scanned PDF
To begin, click the "Open File" to open the scanned PDF Editor program and import the scanned PDF files in Mac . Then you will get a notification showing that the file is a scanned PDF. Go to "Edit" menu and click on the "OCR" button, you can open the OCR panel on the right side of the program interface. Select the page range and the OCR language. And then click on the "Perform OCR" button to OCR the scanned PDF.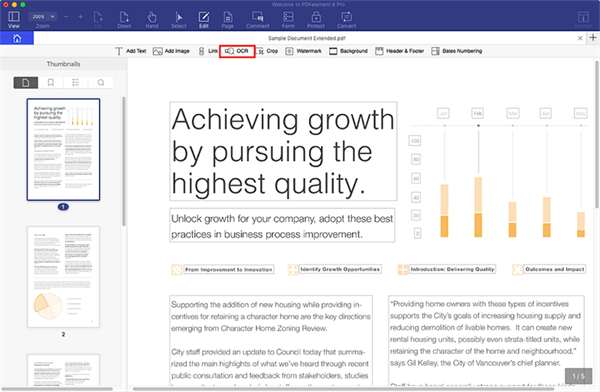 Step 2. Edit text in scanned PDF
After this you can click the "Edit" button on the top toolbar to enter the PDF editing state. Now double click on the texts in the PDF and then do the editing you want. Alternatively, you can also click the "Add Text" button to insert texts anywhere you like.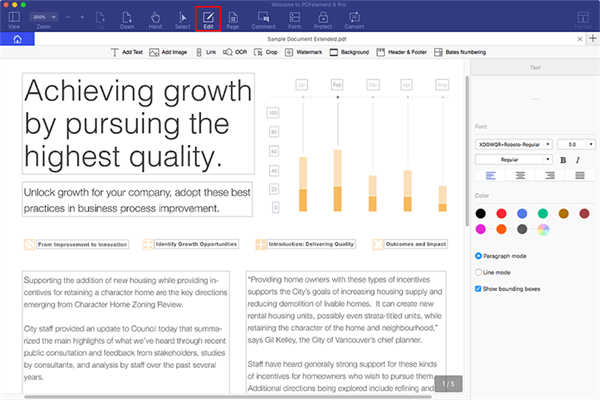 Step 3. Edit images in scanned PDF
After you click the "Edit" button, you can control click (double click) on any image in the scanned PDF and then delete it, crop it or extract the image for other use. You even can click anywhere in the scanned PDF and insert an image to it. You can view detailed guide on how to insert or add image to PDF on Mac or Windows PC.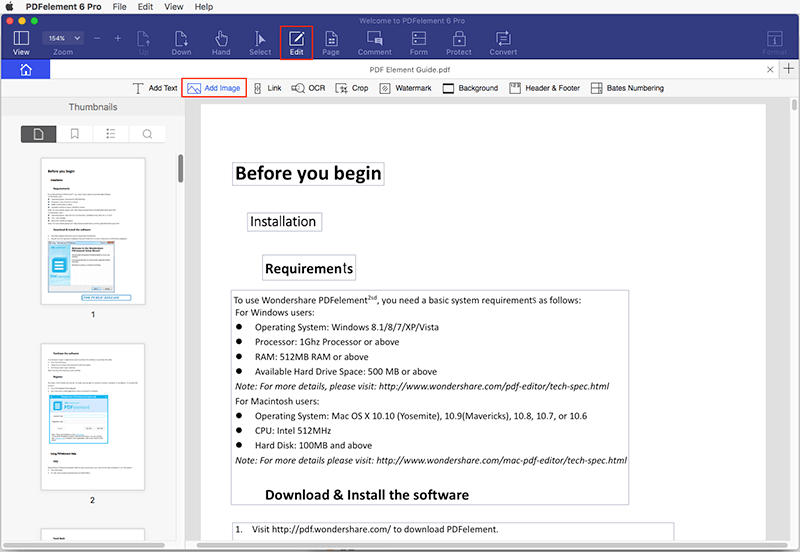 Step 4. Edit pages in scanned PDF
This smart scanned PDF editing tool also allows you to edit scanned PDF pages. Once you import scanned PDF into the program, go to toolbar of the interface and select options to Rotate Pages, Delete Pages, or Extract pages from scanned PDF. See the entire process on how to edit pages on PDF.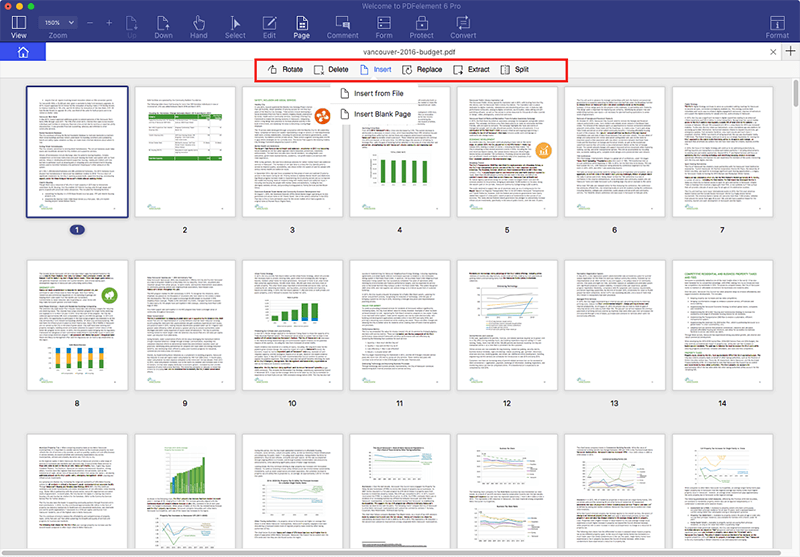 ---
Why Choose PDFelement Pro to edit Scanned PDF
To edit a scanned PDF in Mac OS X (10.14 Mojave included), you will need to use the OCR (Optical Character Recognition) program to edit, add text, and markup your scanned PDF file. Here we would like to introduce you to PDFelement Pro, which is a powerful PDF Editor with OCR technology that can edit scanned PDF documents on Mac (Mojave). It allows you to add tables, notes, text, and pictures to a scanned PDF document without hassle.
This PDF Editor also has other powerful editing features that can fully meet your needs for PDF editing. You can also use it to convert PDF to Word and other popular file formats without losing original layout and quality.
Why Choose This PDF Editor:
Edit scanned PDF with built-in OCR feature.
Add, delete, and edit text and more in scanned PDF.
Convert scanned PDF to Word, Excel, PPT, Text, etc.
Create PDF from PDF, Webpages, images, and text files.
Fill out PDF forms and create PDF forms from templates.
Add personalized signature and stamps to PDF.
---
Part 2. How to Edit Scanned PDF Document on Windows
If you need to edit scanned PDF files on Windows PC (including Windows 10, 8, 7, XP and Vista), you can use PDFelement Pro and enable OCR plugin. With the help of this tool, you will not need to worry about editing scanned PDF on your Windows computer, and you can use the editing tools of this program to add text or markup your PDF files. Just refer to below guides to edit scanned PDF on Windows.
Step 1. Import PDF document to the Windows editor
After installing the editor on your Windows PC, run the program. In the main interface, you will see a big "Open" icon. Just click the icon to import the scanned PDF document you need to the editor. Or you can directly drag and drop the PDF file to the program, and then the file will open automatically.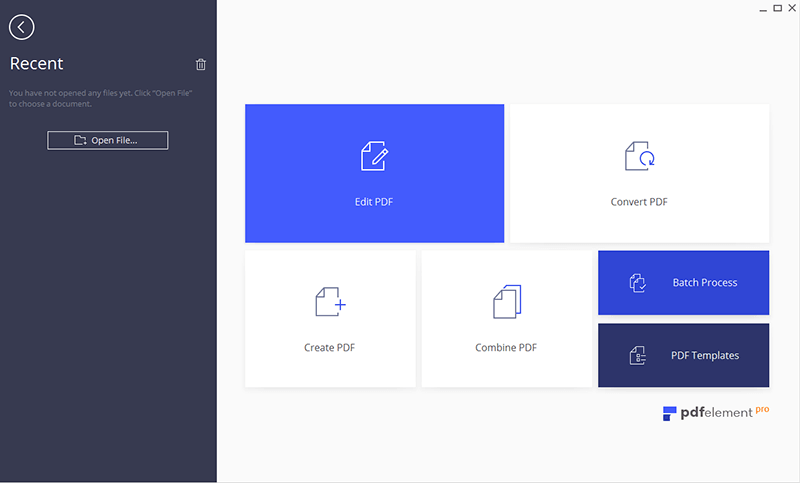 Step 2. Start to edit scanned PDF document on Windows
In this step, if you haven't activated the OCR application, you have to go to the "Edit" tab on the top toolbar and click the "OCR" button to activate this application. Then, you can start to edit scanned PDF file with various editing tools from this editor. You can edit, markup, add images or even can remove the text in your PDF file.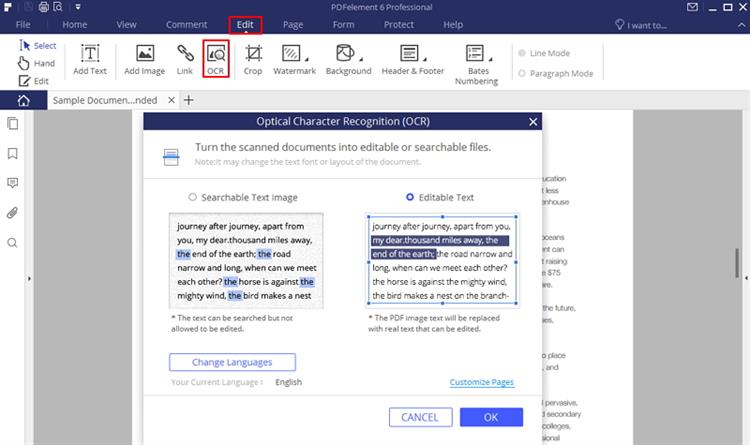 ---
Part 3. How to Edit Scanned PDF for Free
Another way to edit a scanned PDF document is to use a free online tool like Free Online OCR. This tool also has an OCR feature that you can use to convert a PDF image to text and then edit scanned PDF for free. Like most online OCR tools, it is free to use and can be quite reliable although it may limit the number of documents you can work on at a given time. This makes it ideal for a lower volume of documents. The following is a step by step guide to help you use the program to edit scanned PDF documents for free.
Step 1. Go to the official website and click on "Choose File" to upload the scanned PDF into the program.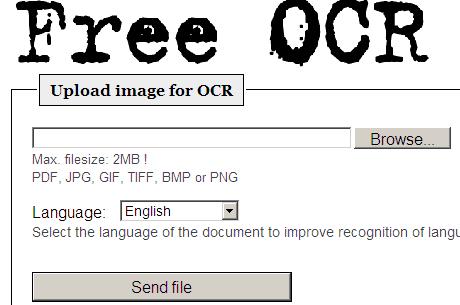 Select the document's language and then click "Start".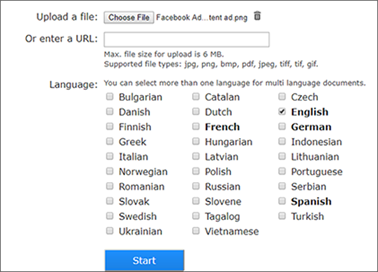 Step 2. Wait for the program to detect the text on the document. Once the process is complete, the text will be displayed on the next screen in TXT format. You can then edit the text in this window. You can download the text in TXT format when you're done.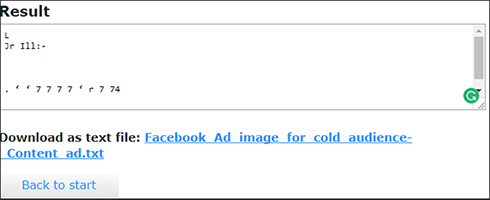 The online tool can be useful for editing scanned PDFs but it does have a few problems. They include the following:
You can only extract the PDFs to TXT format.
The extracted text will lose its formatting including text font and color.
This free online tool may not be able to extract text from multiple documents at once.
---
Part 4. How to Make Scanned PDF Editable
With the help of PDFelement Pro, you not only can edit scanned PDF, but also can make scanned PDF editable. That is to convert scanned PDF to Word , Excel, PPT, EPUB, HTML and Texts thanks to OCR. Below guide will show you how to convert scanned PDF to Word format.
Step 1. Import scanned PDF to the program
After launching the program, you can directly drag and drop your scanned PDF document to the program dock. Then the document will be open with the PDF editor.
Step 2. Start converting scanned PDF to Word
Now in the upper toolbar, click the "Convert" button, and you will get a pop-up window with output format options. You can choose to convert the scanned PDF to Word format and edit it. After you confirm the output settings, click "Convert" to start the conversion.
If you want to convert scanned PDF to other formats like Excel, PPT, EPUB, HTML or Texts, just go to see detailed guide on convert scanned PDF to text, etc.
---
Part 5. How to Scan Documents to PDF
1. What is a scanned PDF document?
When we want to change a physical document into digital form, we won't retype the document manually. The solution is to use a scanner to scan the document. A scanner will take a snap-shot of the document then turn it into PDF using software integrated with the scanner. That comes the scanned PDF document. The computer will only recognize the scanned PDF as an image that contains words, but there is no information structure behind the document. So you are not able to text search the scanned PDF document.
2. Scan to PDF
If you are using a Mac
For Mac users, you can scan a document into PDF by using Image Capture. After your scanner is activated on Mac, place your document on to the bed of the scanner and follow the below simple steps to scan to PDF:
Step 1. Launch Image Capture and check the option of Detect Separate Items. Then Image Capture will automatically scan your document into JPG format.
Step 2. You can click the Show Details button to change the format to PDF. And in the Scan to section, select a destination to save the output PDF file.
Step 3. Lastly, click the Press button and the document will be scanned to PDF in the Image Capture.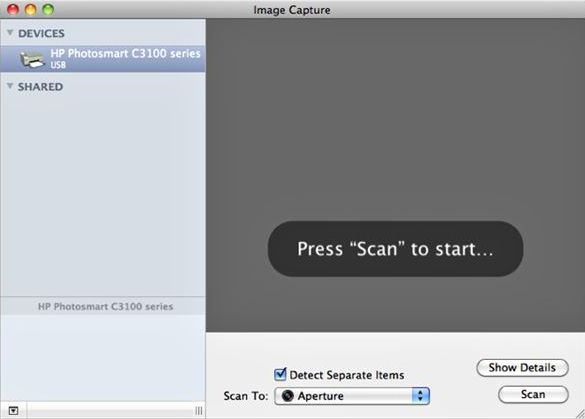 If you are using iPhone
There are many apps available in Apple Store that allows you to scan to PDF without using a printer or scanner device. Here I would like to recommend you to use Genius Scan which is an app allows you to scan documents to PDF on the go. And it enables you to quickly export your documents as JPEG or PDF files. You even can email or organize the scanned documents.
Step 1. Open Genius Scan on your iPhone and click the Camera icon to take a picture of your document.
Step 2. Then press Use to enhance the picture. Or press the arrow to rotate the picture.
Step 3. Now press the Share icon to save the document into PDF format. Lastly, press Save to confirm your changes.