Are you among those struggling to find a suitable PDF comparison tool? If yes, this tool gives you a well-curated list.
Many people, organizations, and institutions compare PDF documents in large volumes. Irrespective of the importance of the documents you want to compare, no one yearns for an under-par comparison experience. This is why everyone desires the best PDF comparison tool. However, finding the right PDF comparison tool is not a walk into the park. Luckily, this article gives you the top 5 PDF compare tools that you should know.
The Best 5 PDF Comparison Tools
Finding the best PDF comparison tool can be a hard nut to crack. However, there are plenty of good PDF comparison tools that you should know. The following are our top five picks.
1. PDFelement - The Best PDF Comparison Tool
PDFelement Pro is a powerful PDF compare tool designed to simplify user needs. This program is used by millions of people owing to its incredible capabilities. PDFelement gives you a good platform to compare two PDFs and find the differences with ease. The good thing with PDFelement is that it allows users to compare other file formats by automatically converting them to PDF format. Other features offered by PDFelement include converting, editing, print, annotating, protecting, sharing, comparing, and compressing. This program is fast, affordable, easy to use, and is compatible with many devices.
How to Compare PDFs with PDFelement
Step 1. Launch PDFelement on your PC, then click the "Compare PDF" tab.
Step 2. From the subsequent "File Comparison" window, click the "Select File" buttons to upload the original and the new files.
Step 3. Once uploaded, click "Compare." The program will display the changes in different colors. Insertions, deletions, and modifications are represented by blue, red, and green colors, respectively.
Step 4. Click the "Previous Change" or "Next Change" arrows to compare your texts.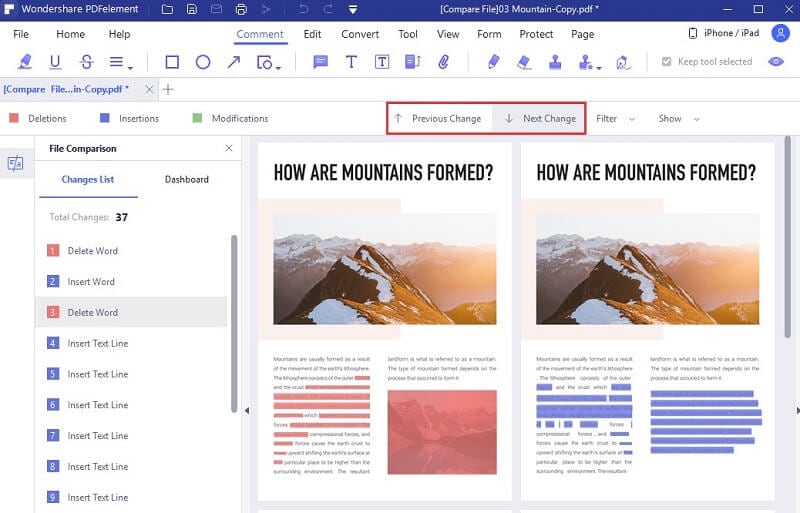 ---
2. Adobe Acrobat
Adobe Acrobat is another great PDF comparator tool in the market. This program has been in the industry for a long time and is reliable. With Adobe Acrobat, you can easily compare texts and obtain any changes in the original file. It comes with a handy highlight bar that makes visual comparison easier. Once the results are ready, you simply go to the results summary tab and obtain information on deleted, added, or modified content. Again, use the filters to view only what you want. You can choose to compare images, texts, annotations, or other formatting options.
How to compare PDFs with Adobe Acrobat
Step 1. Launch Adobe Acrobat on your device and navigate to "Tools" > "Compare Files."
Step 2. Hit the "Select File" button one at a time to upload your old and new PDF files.
Step 3. Click "Compare" to allow the program to compare the two files.
Step 4. When the compare process is complete, proceed to the "Compare Results" summary to review your document.
Step 5. To start reviewing each difference in your new file, select "Go to First Change."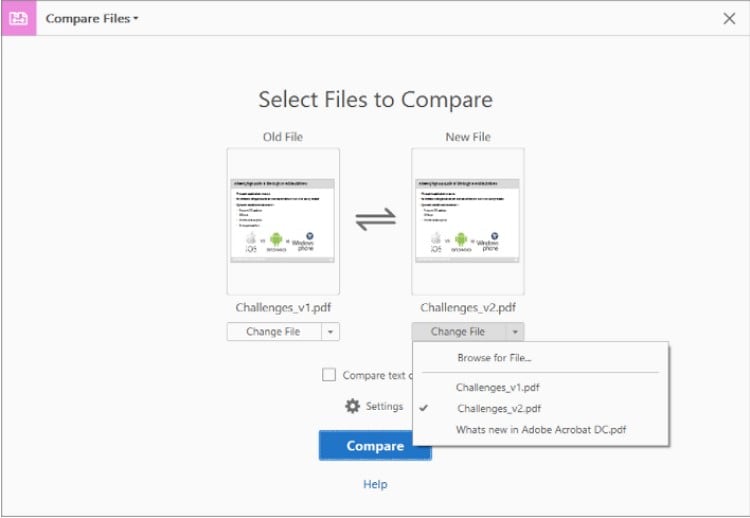 ---
3. Draftable
Draftable is a good online Word and PDF comparator tool worth trying. This program allows users to view documents side by side and get the differences without much struggle. The good thing is that the documents remain in sync as you scroll. You can switch to a single page view to see all changes together in one list or simply save time. Again, access the change list and select a change to that point within the document.
How to compare PDFs with Draftable
Step 1. Using your browser, go to the draftable file comparison page. Here, hit the "Choose file" buttons on the left and right to select and upload the original and new files.
Step 2. Hit the "Compare" button to trigger the comparison, then check the differences. The differences are marked in different colours.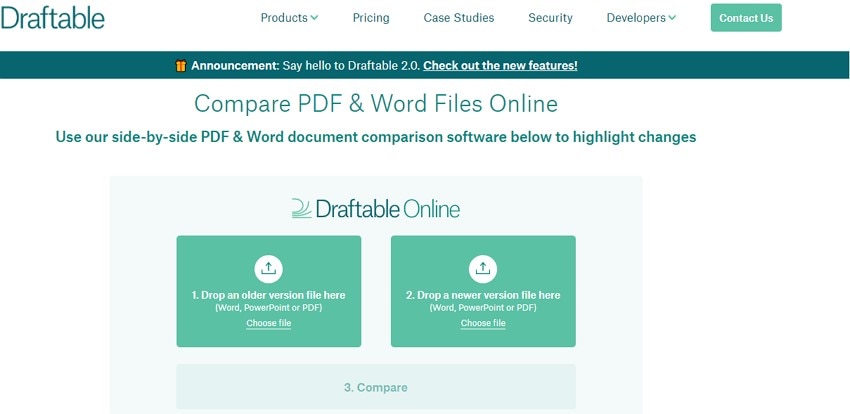 ---
4. PDFforge
PDFForge is a simple yet useful online PDF comparator tool. This program is easy to use and quickly displays the differences in content. It goes ahead to indicate them in their respective line numbers. The good thing with PDFforge is its good security for your sensitive data.
How to Compare PDFs with PDFforge
Step 1. Visit PDFforge PDF compare page.
Step 2. Drop the two files in their respective sections and click "Compare."
Step 3. The differences will be displayed after a few seconds. Choose a suitable view option and check the differences.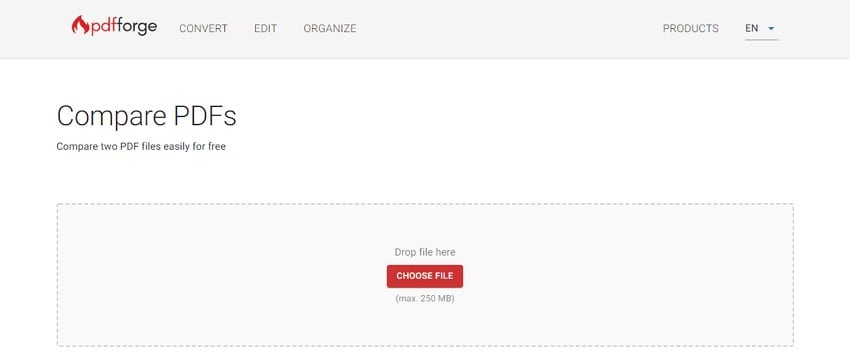 ---
5. Kiwi PDF Comparer
Kiwi PDF comparer is another useful PDF comparator tool in the market. It has a simple design and is easy to navigate. This program identifies the changes in both visuals and texts. Here, headers and footers can be discarded automatically or manually. It can distinguish between modifications, insertions, deletions, and movements.
How to Compare PDFs with Kiwi PDF Comparer
Step 1. Install Kiwi PDF comparer and run it.
Step 2. Follow the on-screen instructions to upload your PDF files.
Step 3. Hit the "Compare" button to generate the comparison results.
Step 4. Customize your results and print them if you like.