If you want a quick and easy solution to converting your images to PDF, then you should definitely try JPG2PDF Converter online. The PDF converter allows you to arrange all your images in one file or download each as a PDF file separately. With a PDF, your document is better looking and easier to export.
How to Convert JPG files using JPG2PDF Converter Online
If you want to convert images to a PDF file quickly, then the JPG2PDF Converter online is an excellent option for anyone. The interface is simple and easy to use. The JPG2PDF Converter allows you to upload images of any size and combine them. It automatically rotates and scales down images without changing the resolution to bring you the optimal PDF file.
Here's how you can convert multiple JPG files to PDF using JPG2PDF Converter:
Step 1. Open your browser and search the JPG2PDF Converter online.
Step 2. Select the JPG to PDF tab if you want to convert images to PDF.
Step 3. Then you can click on upload to upload files from your PC or simply drag and drop the files to the space.
Step 4. You can add up to 20 files and convert them into one PDF. If you need to delete any files, just click on the 'x' sign on the right corner of the image in the queue.
Step 4. If you need each image in a separate PDF, just click on download on each image in the queue.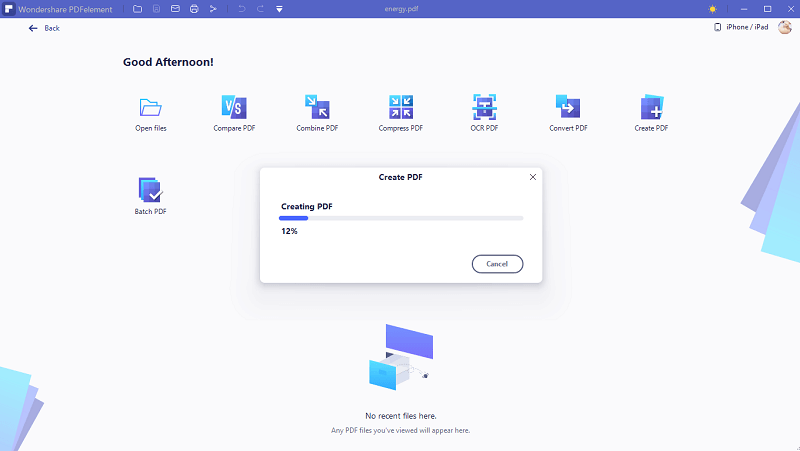 ---
Pros and Cons of using JPGtoPDF Converter
If you are not sure about using an online PDF converter to convert any confidential documents, then here is a list of pros and cons that will help you decide.
Pros
It's an affordable PDF converter.
Easy to use and simple interface.
Cons
Can only convert 20 images in one file.
Limited editing options or file management for the free version.
The interface does not allow to change image positions once uploaded.
No preview before download option.
---
Convert JPG to PDF with JPG2PDF Alternative – PDFelement
PDFelement is another excellent tool if you want to convert images into PDF. Where JPG2PDF has limited options to choose from, the PDF element allows you to create a PDF file from images and then edit it using various features like OCR, annotations, changing margins, scale, etc.
Here is how you can create a PDF using PDFelement:
Start by downloading and installing PDFelement to your PC. Use the onscreen instructions to install it correctly.
Step 1. Locate the file or files you want to convert to PDF.
Step 2. Right-click on the file, and from the drop-down menu, you will see the Create PDF option. This option will be there after you install PDFelement.
Step 3. This will open PDFelement and show that your images have started to convert. Once done, PDFelement will open your file, and you will have multiple tools to edit your file and adjust it to make it presentable.
Step 4. Once done with the changes, you can save your file by going to "File" and then clicking on "Save" or "Save As."