How to Insert Digital Signature in PDF?
Insert a digital signature is a great method to protect your message, document or software. In this article, we will provide you a detailed guide on how to insert digital signature with PDFelement.
The use of digital signatures is ballooning for several reasons, including the several security features it offers. Although it is a useful way of signing documents in the modern digital world, many people still struggle to insert digital signatures in PDF. The most challenging part is finding the right tool to get the job done. With several online tools claiming to offer this feature, it is easy to get confused. This is why this article is here for you. In this article, we give you a detailed guide on how to insert digital signature in PDF.
How to Insert Digital Signature in PDF
PDFelement Pro is the best all-in-one PDF tool used by many companies and people around the globe. This amazing PDF tool offers incredible features that transform the way you handle PDF tasks. You don't have to worry if you are a novice because the intuitive and elegant interface will make everything seamless for you. With PDFelement, you can convert, create, annotate, edit, protect, print, perform OCR, and share PDF easily.
PDFelement Pro
Download PDFelement Pro below and follow this guide to insert a digital signature in PDF easily and quickly.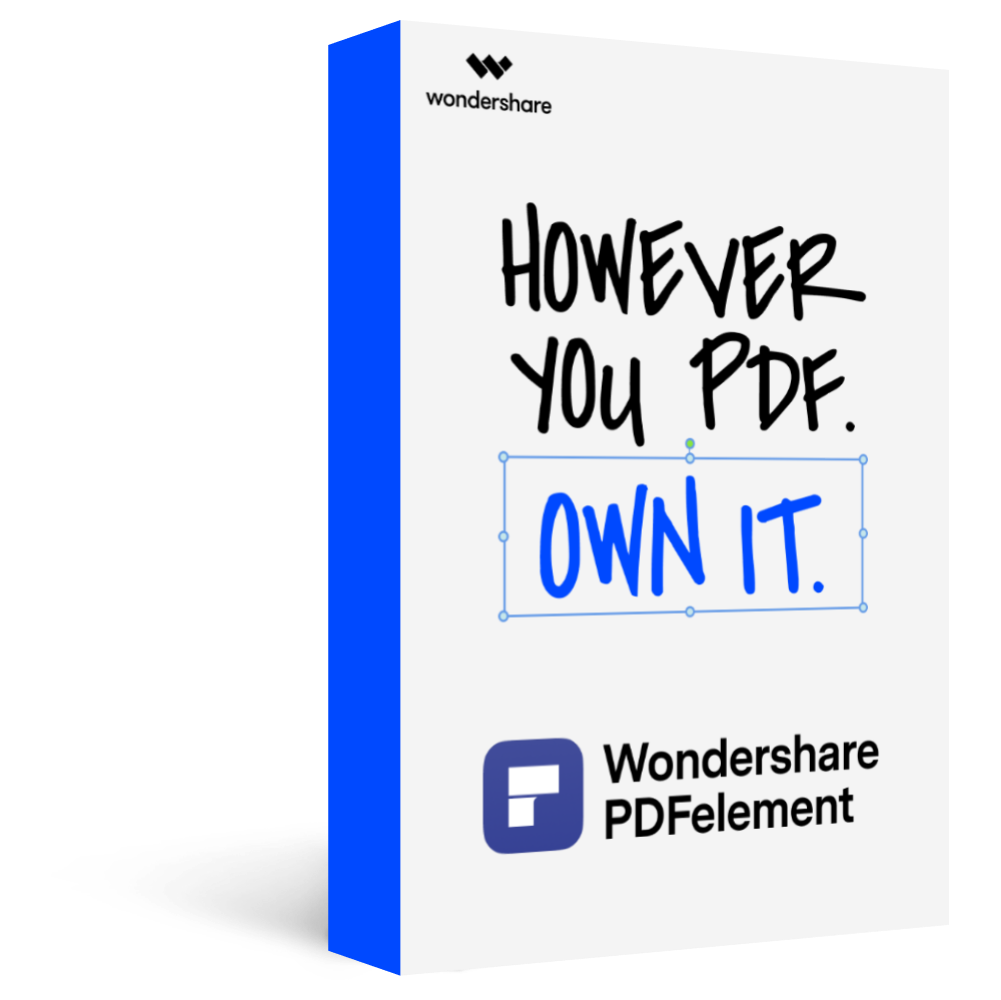 How to Insert Digital Signature in PDF using PDFelement
Below are steps on how to Digital Signature in PDF using PDFelement.
Step 1
Open a PDF File
Launch PDFelement Pro on your computer to open the primary window. Locate and click the "Open" icon to access the file directory window. Here, browse for the target PDF file and upload it to the PDFelement window.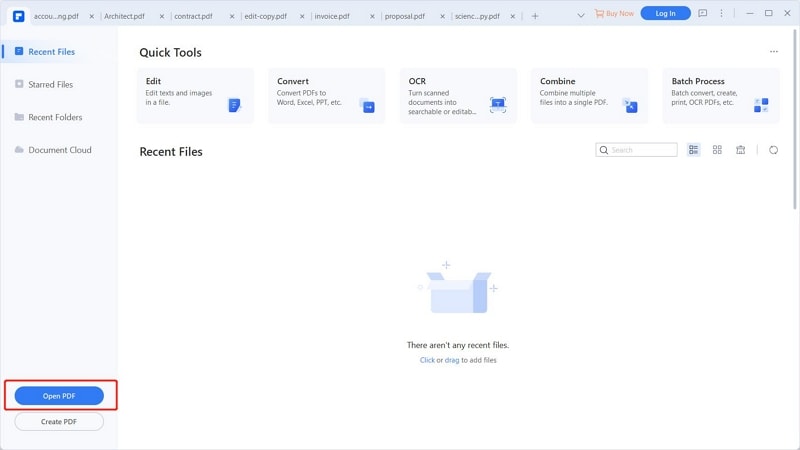 Step 2
Insert Digital Signature
Once the PDF file is uploaded, head to the toolbar and click the "Protect" tab. From the options displayed below this tab, click the "Sign Document" option.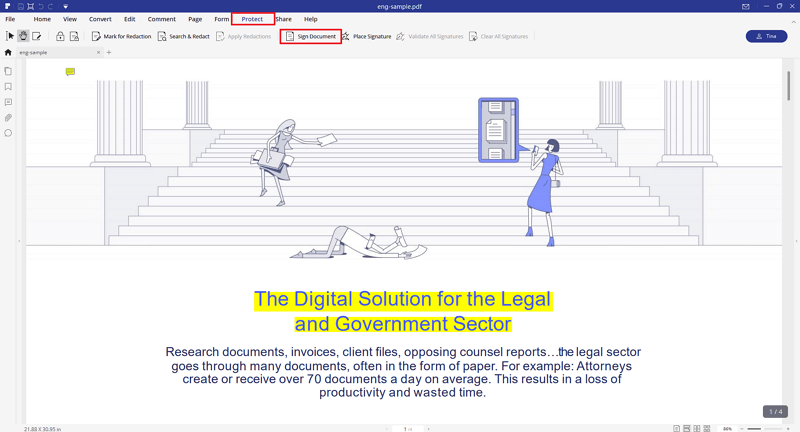 Step 3
Create Digital Signature
The "Sign Document" dialog box will now pop up. Click the "New ID" tab, and the "Add Digital ID" window will be displayed. Here, you can add your digital ID from an existing file or choose to create a new one by checking the respective buttons. If you choose to upload the existing ID, simply browse and provide the respective password in the "Password" field.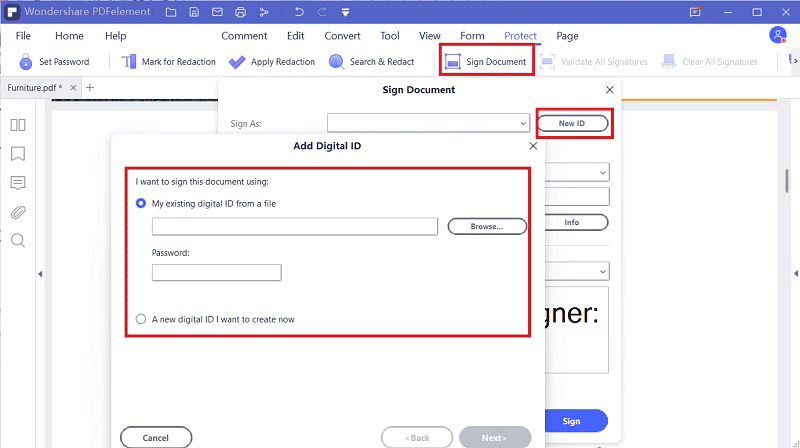 Step 4
Insert a Digital Signature to PDF Document
When your digital ID is uploaded from a file, click "Next" to head to the "Sign Document" window. Click the "Sign As" drop-down button and select the "Refresh ID List" option. Choose the uploaded digital ID and select desired ID preferences within this window. Once you are satisfied with the selections, hit "Sign" to apply your digital signature. When the digital signature is added, click the "Save" icon on the top of the window to save the changes that you have made.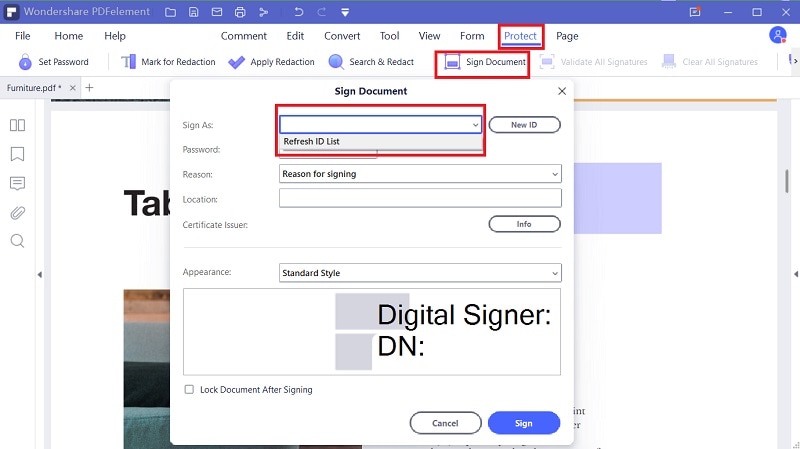 ---
The Differences between Electronic Signature and Digital Signature
The words digital and electronic are usually used interchangeably when describing a variety of things. However, digital signatures and electronic signatures are not the same things. Both of them are signatures but vary on several grounds. Some of the common differences between electronic signatures include:
1. Electronic signatures are traditional signatures signed on a digital file using a mouse click or tracing via fingers. On the other hand, a digital signature consists of data or characters that are attached to a file.
2. Electronic signatures are primarily meant to verify a document, while a digital signature is used to secure a document.
3. A digital signature has more security features compared to electronic signatures.
4. A digital signature can be used to obtain the details of the signatory, while the electronic signature cannot hold such information.