This article gives you the easiest, most reliable, and most effective way to create a PDF portfolio with the best tool-PDFelement.
PDF portfolio offers amazing file flexibility and explains why droves of people create PDF portfolios. You may want to combine original documents, images, spreadsheets, and presentations on a single document while keeping their original formats. Irrespective of the push, it's clear that many people struggle to create PDF portfolios, yet it is heavily needed in several fields. Nevertheless, creating a PDF portfolio is only seamless if you pick the right tool. The choice of the tool to create a PDF portfolio can make or break your experience. In this article, we take you through a simple guide on how to create PDF portfolio.
Know about PDF Portfolio
A PDF portfolio is simply a PDF file that contains multiple documents assembled into a single unit. It is just like a combined/merged PDF, but files retain their original formats, resolutions, and sizes. In merged PDFs, the different files are combined to form a single PDF, and the output file takes the PDF format. However, a PDF portfolio merges multiple files into a single file, but each file retains its own formatting.
A PDF portfolio can include texts, spreadsheets, emails, images, forms, PowerPoint presentations, and drawings in a single file. This way, users can share the file containing different segments without splitting.
PDF portfolio finds extensive applications in a variety of fields, including banking, HR, and schools just to mention but a few. Here, original images, forms, and several documents can be integrated into one file without altering the original formatting. This offers file flexibility, and users can share files in their original formats without compression or tweaking resolution.
How to Create a PDF Portfolio
PDFelement is the best all-in-one PDF software to create a PDF portfolio. This program is equipped with an amazing collection of features that transform the way you interact with PDF files. The good thing about PDFelement is that it is easy to use, fast, compatible with several devices, supports nearly all file formats and is affordable. Some of the key features of PDFelement include annotate, convert, edit, create, print, compress, share, protect, and PDF OCR. You can download the free trial version then upgrade to the unlimited pro version.
Step-by-step Guide on How to How to Create PDF Portfolio with PDFelement
The following steps show how to create a PDF portfolio with PDFelement. Make sure you have downloaded and installed PDFelement on your device.
Step 1
Create PDF Portfolio
On PDFelement, navigate to the "File" menu, then choose "Create." From the options given, select "PDF Portfolio."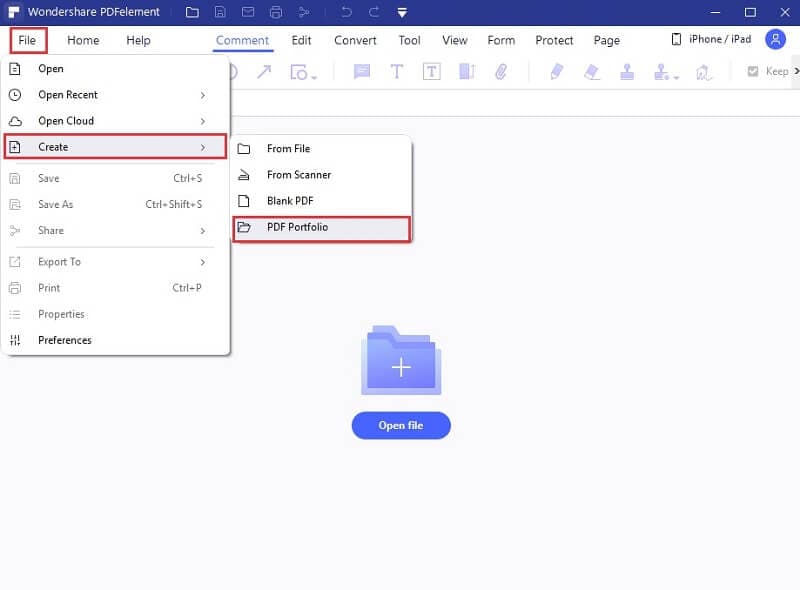 Step 2
Add files or add Folder to PDF Portfolio
Now, click the "Add Files" or "Add Folder" button on the interface to add the files or folders that form your PDF portfolio. Select the files or folder in the file explorer window, then upload them to the PDFelement interface.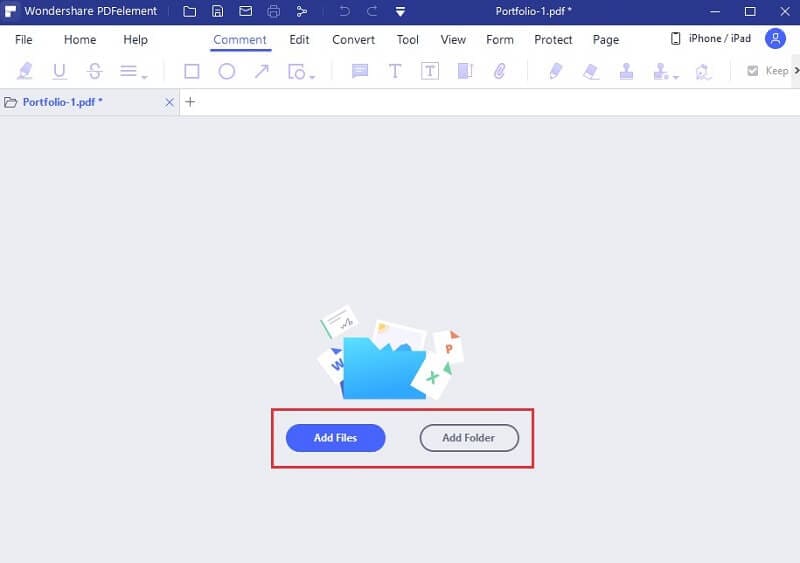 Step 3
Open Portfolio Files
Once the files are uploaded, you should see them on the left window pane. If you want to open the files for viewing or editing, simply hit the "Open" button at the top of the page.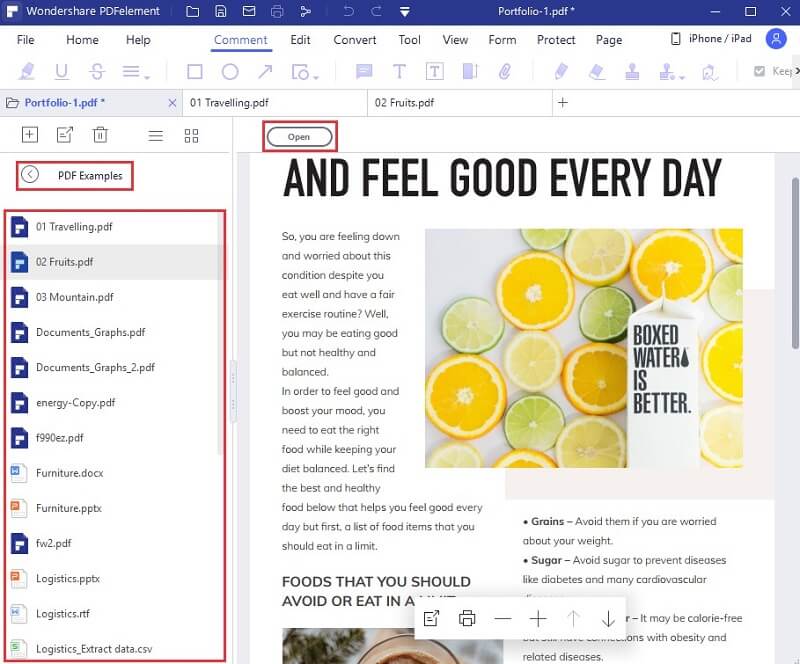 Step 4
Add more Files or Folder to PDF Portfolio
Depending on your need, you can also add more files and folders to your portfolio. Simply hit the "+" icon at the top-left of the current page. Here, you can choose to add files, folders, or create folders. Choose a suitable option and add files or folders from the file explorer window.