This article gives you a simple yet effective way to create a blank PDF with PDFelement.
For several reasons, you might be obliged to create a blank PDF. Perhaps you just want to start adding content from scratch, or simply need a blank page or so. Whichever the case, the blank PDF doesn't have content. While creating a blank PDF sounds easier, it can prove an uphill task if you don't have the know-how. It becomes worse if you use the wrong tool to create a blank PDF. However, this article simplifies everything for you. Here, we take you through a complete guide on how to create blank PDF.
How to Create a Blank PDF in 3 Steps
PDFelement is without doubt one of the best PDF software you can think of. This amazing PDF tool has plenty of excellent features that make it a top choice for many people, organizations, companies, and institutions. It is fast, easy to use, compatible with many devices, and is affordable. Features of PDFelement include convert, annotate, edit, protect, create fillable forms, print, share, compress, and perform OCR on PDF files. You can download the free trial version then unlock more experience with the pro version.
Step-by-step Guide on How to Create Blank PDF with PDFelement
PDFelement offers an easy way to create a blank PDF. Seasoned users and newbies alike can do this task without challenges. The following steps highlight how you can create a blank PDF with PDFelement.
Step 1
Create Blank PDF
To begin with, open PDFelement on your device and navigate to the "File" section. From the drop-down menu, choose the "Create" option. Ignore the other two options and choose the "Blank PDF" option. The blank PDF will now be created and displayed on the PDFelement window.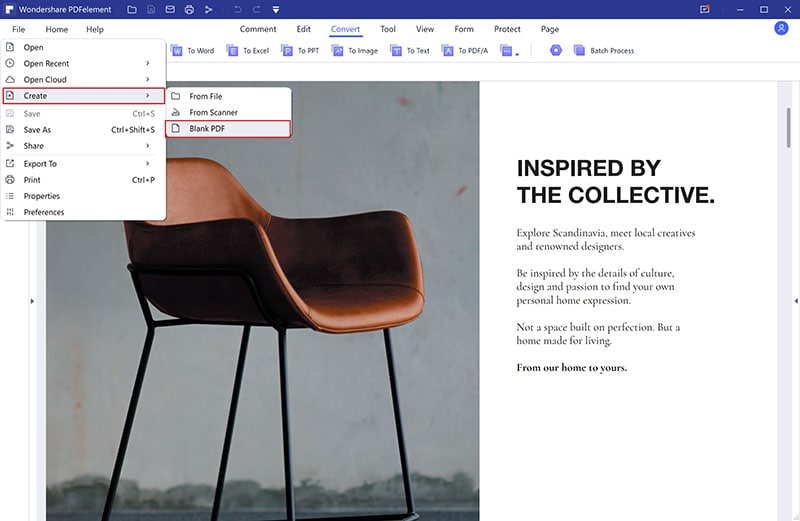 Step 2
Add Text to PDF
With the blank PDF created, you can now choose to add text. Simply go to the toolbar and click the "Edit" tab. From the Edit menu, click the "Add Text" icon. Click the area where you want to add text on the blank PDF and start typing desired texts inside the box. You can add as many texts as you like.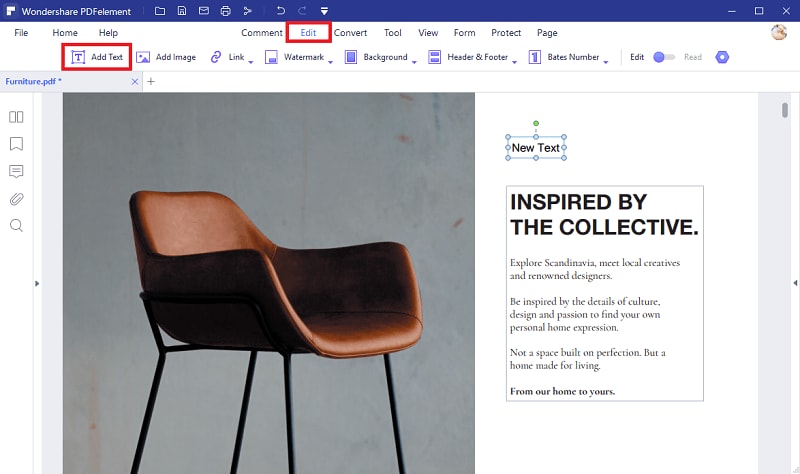 Step 3
Add Image to PDF
Again, you can add images to the blank PDF. To do so, navigate to the "Edit" section on the toolbar, then choose the "Add image" icon. Browse the target image from the file explorer, then click "Open" to upload it into your blank PDF.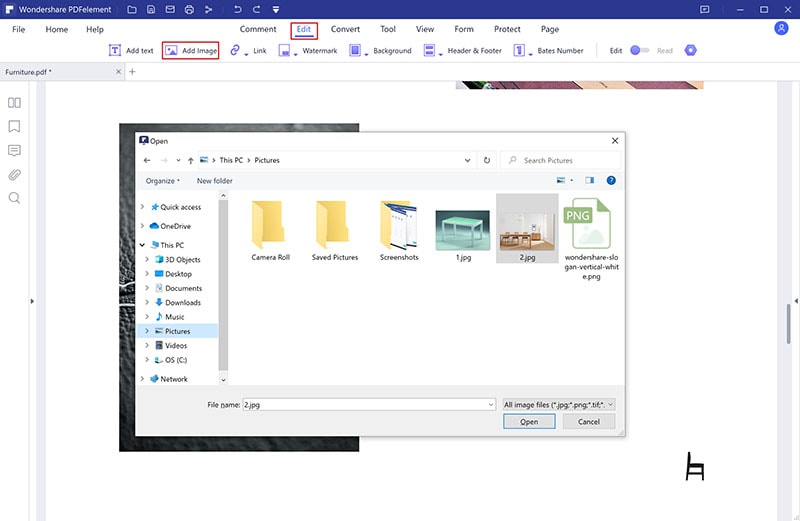 Step 4
Save PDF File
After adding desired texts and images to the blank PDF file, you need to save your file to avoid discarding the added content. Navigate to the "File" menu and select the "Save" button to save your PDF file.