This article guides you on how to compress Word to PDF using the best all-in-one solution - PDFelement.
Compressing Word to PDF can be an uphill task. However, the same process can become extremely simple if you know how to do it. The secret is picking the right compressed Word to PDF tool. If you are a newbie, it can be trickier to find the right tool. However, this article simplifies everything for you. Here we give you a step-by-step guide on how to compress Word to PDF using the best PDF tool.
How to Quickly Compress Word to PDF
PDFelement is the best all-in-one PDF software designed to transform the way users handle their PDF tasks. This program is fast, easy to use, affordable, feature-rich, and compatible with many devices and file formats. PDFelement allows users to convert and create PDFs from any file format, edit, annotate, unlock texts from scanned images with OCR, protect, share, print, compress, and organize PDF files. This program offers a free trial version, and users can download it to check the amazing collection of features before upgrading to the affordable and unmatchable pro version.
Guide on How to Compress Word to PDF with PDFelement
PDFelement is known to provide one of the finest interfaces for all users. With PDFelement, you have several ways to compress Word to PDF. This method discusses how to compress Word to PDF on PDFelement. We first convert the Word document to PDF format and then compress the PDF file. The following steps illustrate how to compress Word to PDF using PDFelement.
Step 1
Create PDF File
First, open PDFelement on your device to access the main interface. When the main window is displayed, drag the Word file you want to compress onto the PDFelement interface. Now, PDFelement will create a PDF from the Word file uploaded. PDFelement will open the file on its interface as a PDF file when the process is complete.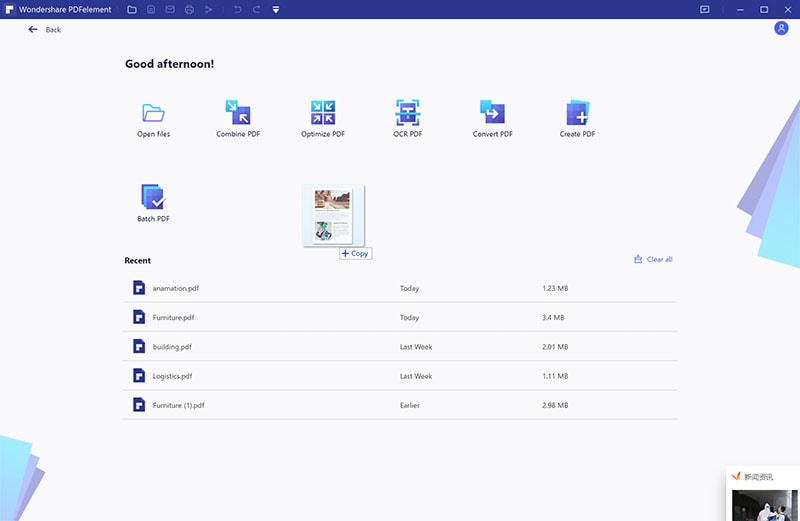 Step 2
Compress Converted Word File to PDF
With the PDF file now open, click the "Tool" section on the toolbar, then hit the "Compress PDF" button. Upon clicking this button, the "Compress PDF" window is displayed on the screen.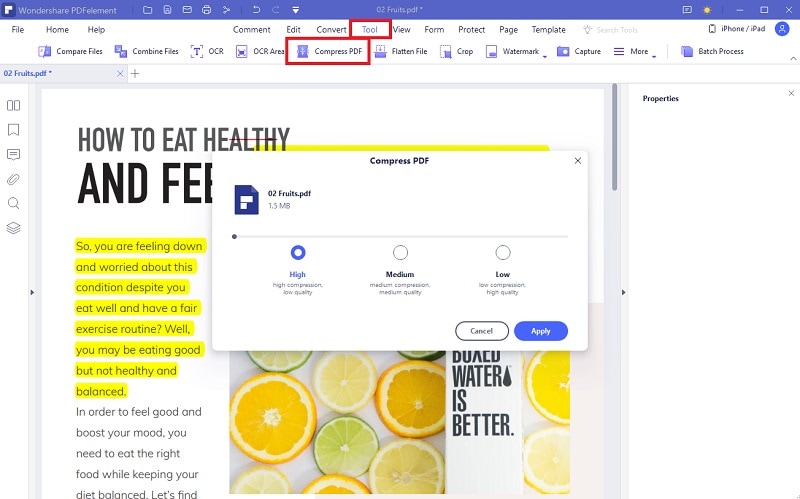 Step 3
Choose Compression Degree
Choose the desired compression degree on the "Compress PDF" screen. You can choose High, Medium, or Low compression degrees. You should see the respective qualities below them on the screen. After choosing a suitable compression degree, hit the "Apply" button to compress to PDF.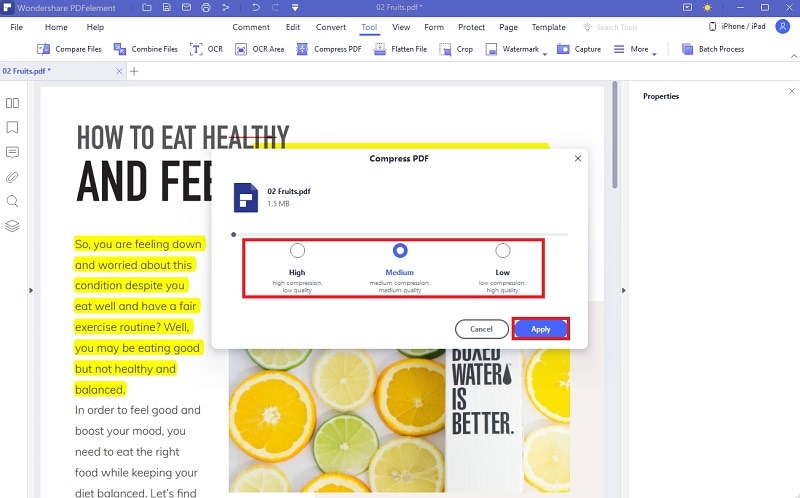 Step 4
Save PDF File
When the program completes the compression process, click "Open" to open your newly compressed PDF file. Finally, go to the "File" menu and choose the "Save" icon to save your compressed Word to PDF file.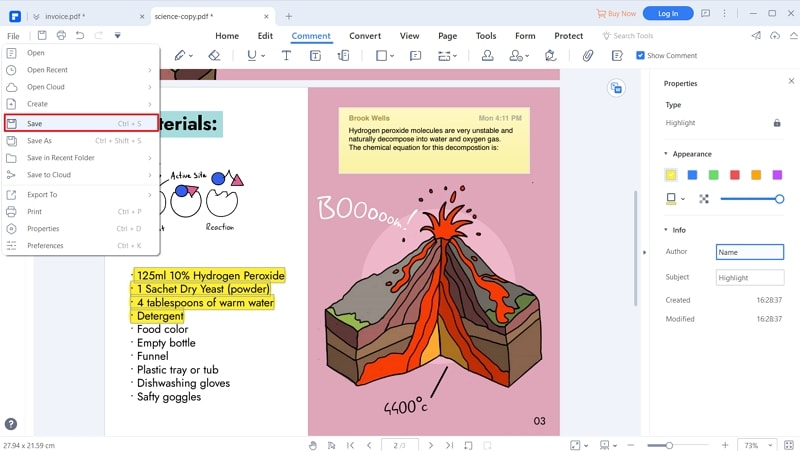 ---
How to Compress Word to PDF in Another Way
Microsoft Word offers another simple way to compress Word to PDF by compressing the size of pictures in the document. The following steps illustrate how to compress a Word file in Microsoft Word.
Step-by-step Guide on How to Word to PDF in MS Word Directly
Step 1. Open your Word file on Microsoft Word, then select a picture in the document. This should open the "Picture Format" tab.
Step 2. In this "Picture Format," navigate to Adjust>Compress Pictures>Compression options and choose either the "Apply only to this picture" or "Delete cropped areas of pictures."
Step 3. Go to the "Target Output" section and choose "Use default resolution."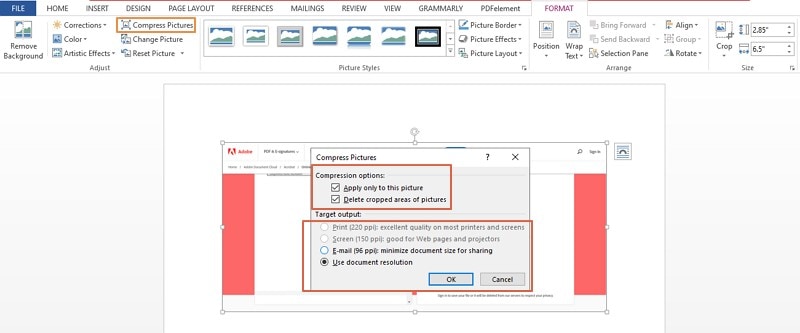 You can also compress your Word file by saving pictures at a lower resolution, as explained below.
Step 1. Navigate to "File" > "Options" > "Advanced" and move to the "Image Size and Quality" section.
Step 2. Choose the "Discard editing data" and select a lower resolution under the "Default resolution" drop-down arrow. A resolution of 150ppi or lower is often 150ppi or lower.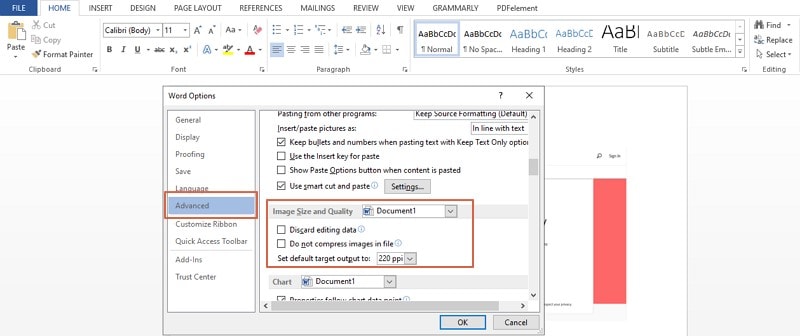 Step 3. Now that the Word file is compressed, open PDFelement and drag the compressed Word file to PDFelement.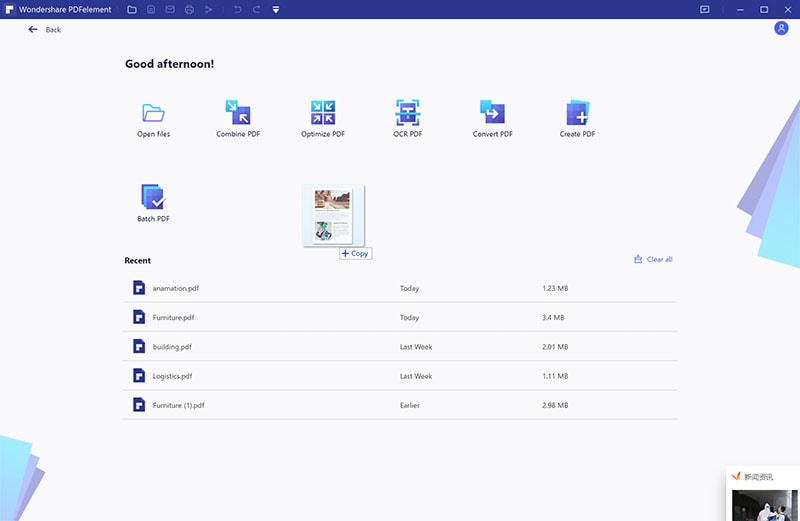 Step 4. When you have uploaded the Word file, PDFelement will immediately start creating a PDF file out of this Word file. You can monitor the progress in the background until it is completed.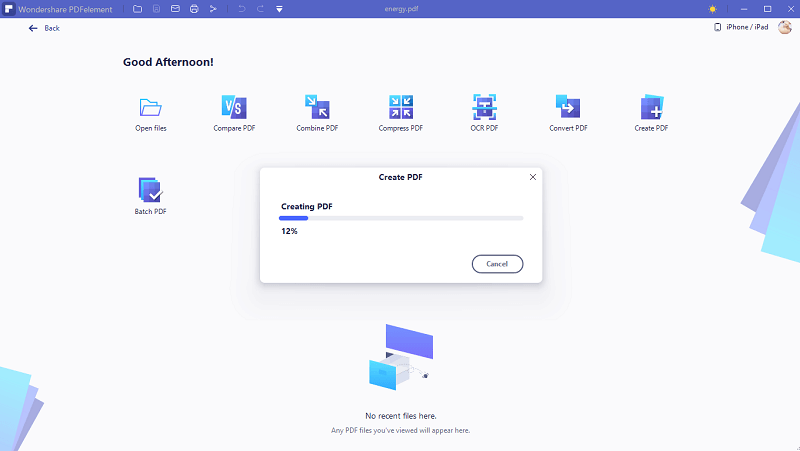 Step 5. PDFelement will open your Word file as PDF on the interface when the process is done. Your Word file is successfully compressed and converted to a PDF file. Finally, you need to save this file to avoid being discarded. Go to the "File" menu, then click the "Save" option.